Types of call centers: Which is best for you?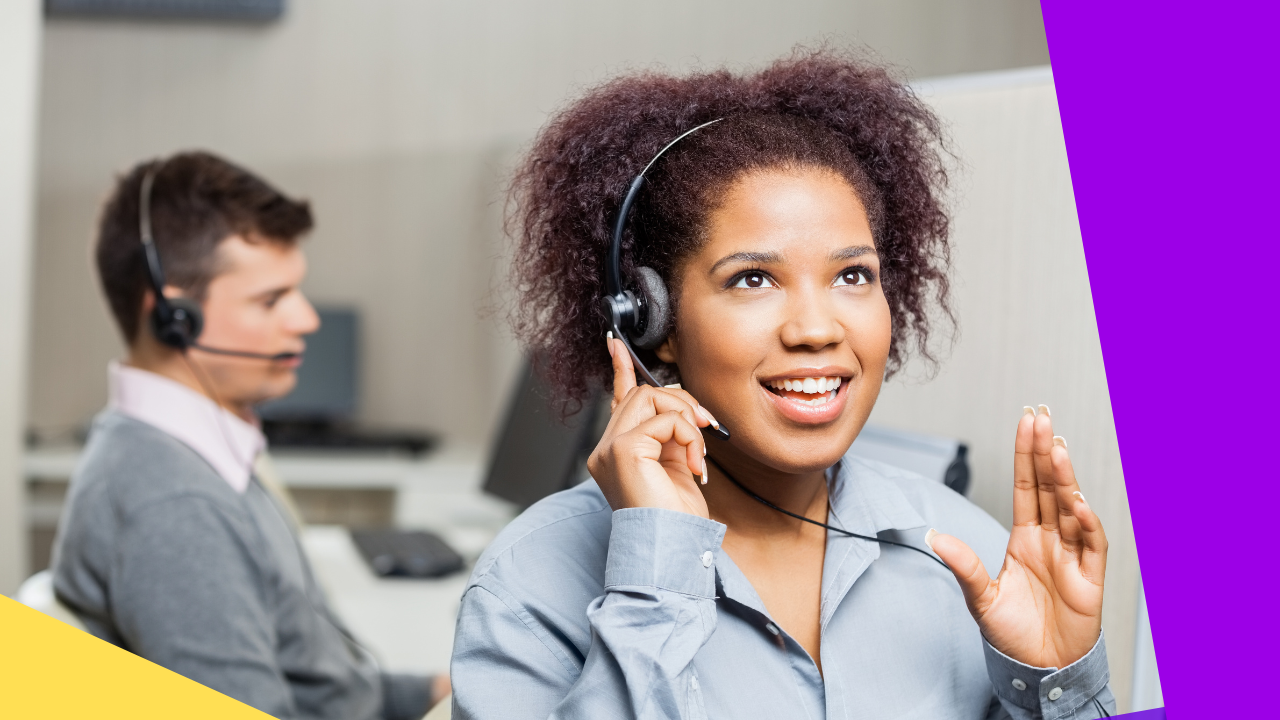 Types of call centers Which is best for you
The outsourcing industry has long since taken the business world by storm. With the sector's success, numerous business process outsourcing (BPO) firms offering various types of call centers have emerged.
These BPO firms cater to just about every other economic sector there is. From healthcare and education to finance and banking, businesses have no shortage of different types of call centers.
However, the number of choices can be challenging to business owners new to outsourcing and call centers. With the many types of call centers available, which one is best for your business?
Read on below to learn more about call centers and which type is most suitable for your business.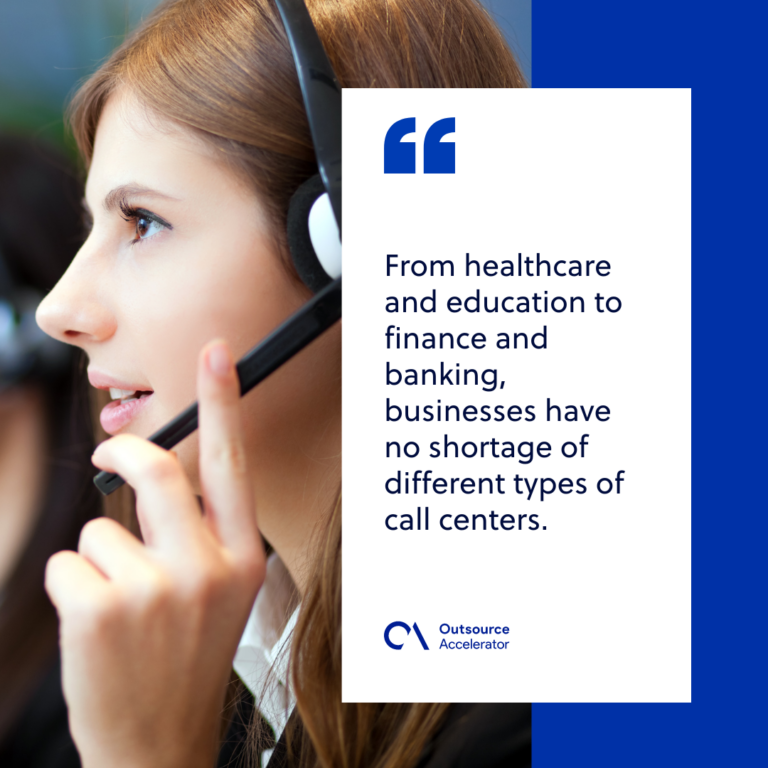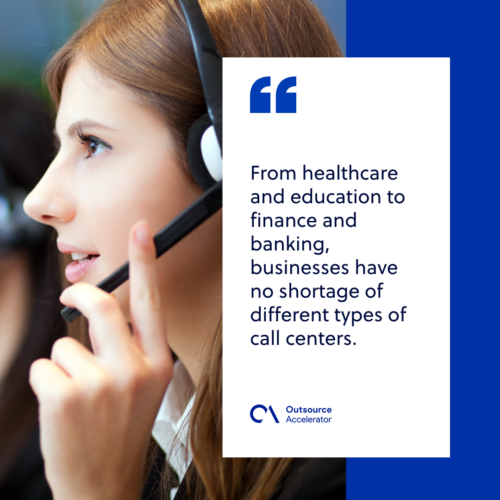 What are call centers?
Call centers, as the name suggests, are facilities where dedicated employees, or agents, field calls for businesses. They are locations where people respond to calls and inquiries from a company's customers. 
The term may refer to the call center itself, the group of people who work in the call center, or a combination of both.
The typical call center has a manager and multiple telemarketers who answer and resolve customer problems. These establishments often have operations in offshore locations, typically developing countries like the Philippines and India.
Operating in these locations allows call centers to leverage these countries' low-cost labor[1] and existing infrastructures conducive to their business operations.
As mentioned earlier, call centers have become integral to many business processes in various sectors. But the demand for call center services varies per business. 
Some companies have only one person answering calls, while others have hundreds of employees working simultaneously during peak hours or seasons.
There are also various types of call centers to consider, as one type of call center may better suit a business than another type.
Different types of call centers
Call centers are not a one-size-fits-all solution for businesses. Various types of call centers may work for different kinds of businesses.
The versatility of call centers is one of the reasons why they are indispensable business solutions for many companies, regardless of industry.
Below are the different types of call centers you can choose from:
Inbound call center
As implied by its name, an inbound call center is focused on handling incoming calls from a business's customers.
The duties of an inbound call center agent may include:
Answering customer queries

Providing technical and customer support

Handling inbound sales calls

Processing customer orders

Dispatching and rerouting calls to appropriate channels
Sometimes called inbound service centers, these types of call centers are designed to handle incoming calls.
Inbound call center agents use various software tools to help them become more efficient and productive. These tools include:
Automatic Call Distribution (ACD) software

– to shorten the waiting time of calling customers.

Interactive Voice Response (IVR) software

– for automation and provide a self-service option for callers.
Businesses that sell products or services often utilize inbound call centers to improve customer satisfaction[2] through a faster resolution of issues.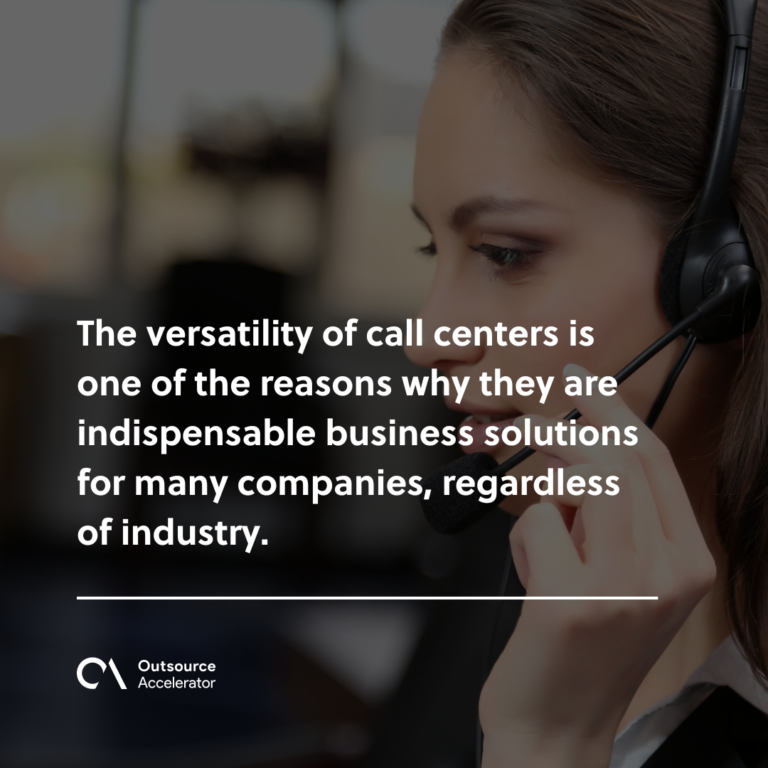 Outbound call center
In contrast with inbound call centers, an outbound call center handles outbound calls to a business's existing or potential customers. Outbound call center agents take the initiative and reach out to customers instead of the other way around.
Businesses have many uses for outbound call centers. These uses may include:
Telemarketing

Conducting phone surveys

Lead generation

Market research

Customer onboarding

Payment collection
Due to the nature of their work, these types of call centers are required to comply with national Do Not Call registries.

This regulation is designed to stop outbound call centers from spamming customers with unwanted calls. However, it also favors call centers, preventing them from wasting time with fruitless calls.
Businesses use outbound call center services from various industries. For instance, healthcare companies use outbound calling for billing purposes, while real estate firms reach out to potential clients through cold calling.
Blended call center
Blended call centers, sometimes called hybrid centers, are a mix of inbound and outbound call centers. 
As a combination of the two types of call centers, blended call centers offer more comprehensive services than either. It also means hybrid call centers use software tools for inbound and outbound calling.
Typically, the inbound call center handles customer service issues and sales inquiries. Meanwhile, the outbound call center is responsible for marketing and lead generation.
This type of call center is an excellent choice for companies that want the best of both worlds: 
High-touch customer experience

Low-touch approach to lead generation
Small businesses with limited resources often use blended call centers. Instead of hiring two separate teams, they can hire one with both inbound and outbound capabilities.
Virtual call center
Virtual call centers are like the aforementioned types of call centers.  However, virtual call centers differ from traditional inbound, outbound, or blended call centers in their organization.
Conventional call centers are in single centralized locations (typically office buildings). However, technological advancements have allowed virtual call centers to operate in a decentralized manner.

A virtual call center agent in the Philippines may work with a teammate from India for their employer in the US. Virtual call centers let businesses run remote operations from various locations and time zones across the globe.
Because of their remote nature, virtual call centers present cost-reduction opportunities for companies. Business owners can hire virtual call center agents from offshore locations with low labor costs, reducing salary and overhead expenses.
Omnichannel/Multichannel call center
Omnichannel and multichannel call centers are like virtual and blended call centers. These types of call centers can handle both inbound and outbound calls and operate in conventional or virtual settings.
As the terms imply, multichannel and omnichannel call centers facilitate contact with customers over multiple channels (i.e., not limited to calls). These types of call centers may use the following channels to connect with clients:
Email

SMS

Live calls

Live chats (in a business's social media profile or website)

Video conferencing

Apps
While both types of call centers cover a wide range of communication channels, there's one significant difference between omnichannel and multichannel call centers.
Multichannel call centers have multiple isolated channels, while omnichannel call centers bundle every communication channel in one central platform. This difference makes omnichannel call centers more efficient than multichannel call centers.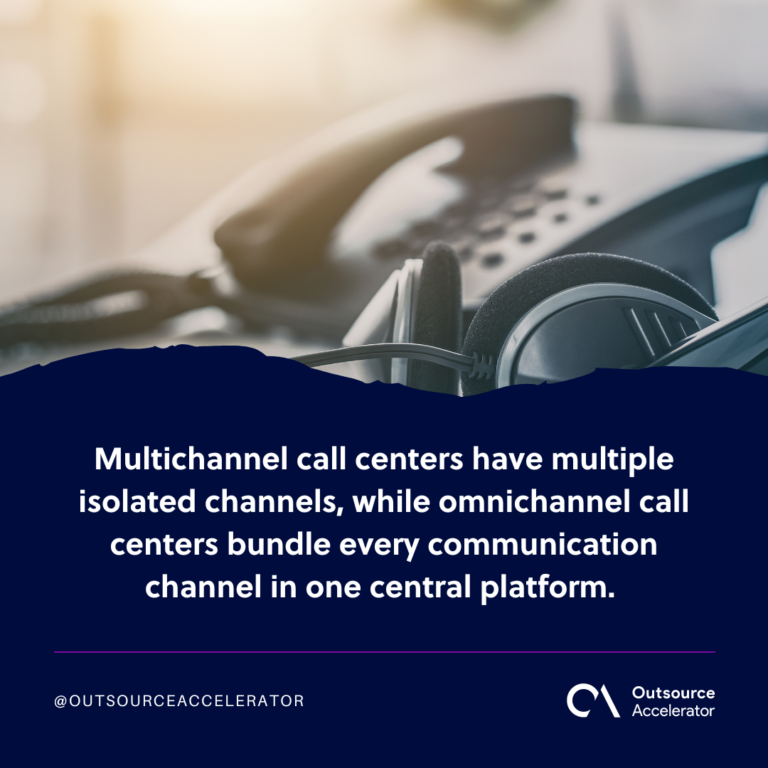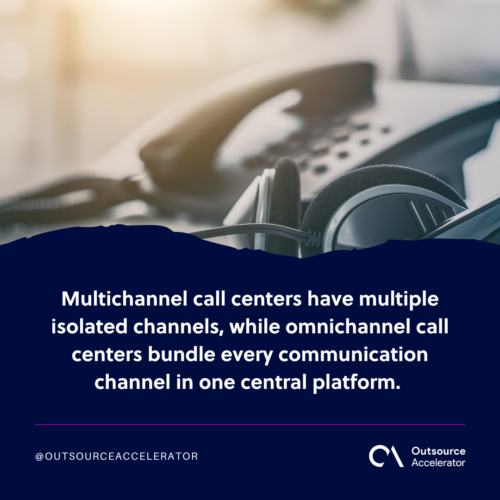 Industry-specific call center
Industry-specific call centers are types of call centers that specialize in servicing customers from a particular industry. For instance, a call center services provider may cater to businesses in healthcare only.
These types of call centers can provide an array of services for the customer, including tech support, billing inquiries, and general customer service. 
Industry-specific call centers often offer better services than their generalist counterparts due to various reasons, such as:
Agents with specialized training and industry knowledge

Access to leading industry software

More focus on the industry compared to generalist call centers
Some examples of businesses relying on industry-specific call centers include:
Insurance companies

Credit card companies

Telehealth companies
The main advantage of industry-specific call centers is it allows companies to hire people who already know how their business works and how their customers behave.
This makes selling products or services easier as they don't have to train new agents on everything from basic sales techniques to complicated technical issues (e.g., troubleshooting software problems).
In-house vs. Outsourced types of call centers
Call centers can be either in-house or outsourced. In-house call centers are those that the company owns and operates itself. They are typically found in business-to-consumer (B2C) companies, where the business is directly responsible for customer service.
In-house call centers are usually smaller than outsourced ones, often with fewer than 100 employees. They also tend to have more specialized roles within the center, such as lead generation or sales support.
Outsourced call centers are those a business hires from another company, usually BPO firms. These are often much larger than in-house call centers and have more advanced technology at their disposal.
Due to the availability of offshoring options, an outsourced call center can prove to be a more cost-effective solution than building one in-house.
Types of call centers: Which will work best for you?
Choosing which one to adopt for your business among the many types of call centers can be daunting. Even after you've picked which kind of call center you'll use, you still have to decide whether you want an in-house or outsourced call center.
There are several factors you need to consider before choosing. These include:
Size.

You'll want your call center to be just the right size for your business – not too large that there are surplus employees, nor too small that your staff are overworked.

Security.

Security is a major concern for call centers as agents handle potentially delicate customer information.

Cost.

Like all business ventures, you'll want to settle for the lowest possible cost with the highest possible quality of service.

Experience.

Call centers represent your company's brand to customers. As such, you'll want to delegate this responsibility to experienced hands.
References:
[1] these countries' low-cost labor. World Trade Organization et al. (2019). "Global value chain development report 2019." Geneva, Switzerland. Available at: http://www.iberglobal.com/files/2019-1/gvc_dev_report_2019_wto.pdf#page=73
[2] improve customer satisfaction. Ribeiro, H. (2022). "What determines satisfaction with call centers? The case of UK Telecom." Services Marketing Quarterly, 43(4).  https://doi.org/10.1080/15332969.2021.1994176