How can a virtual call center be a game-changer for the BPO industry?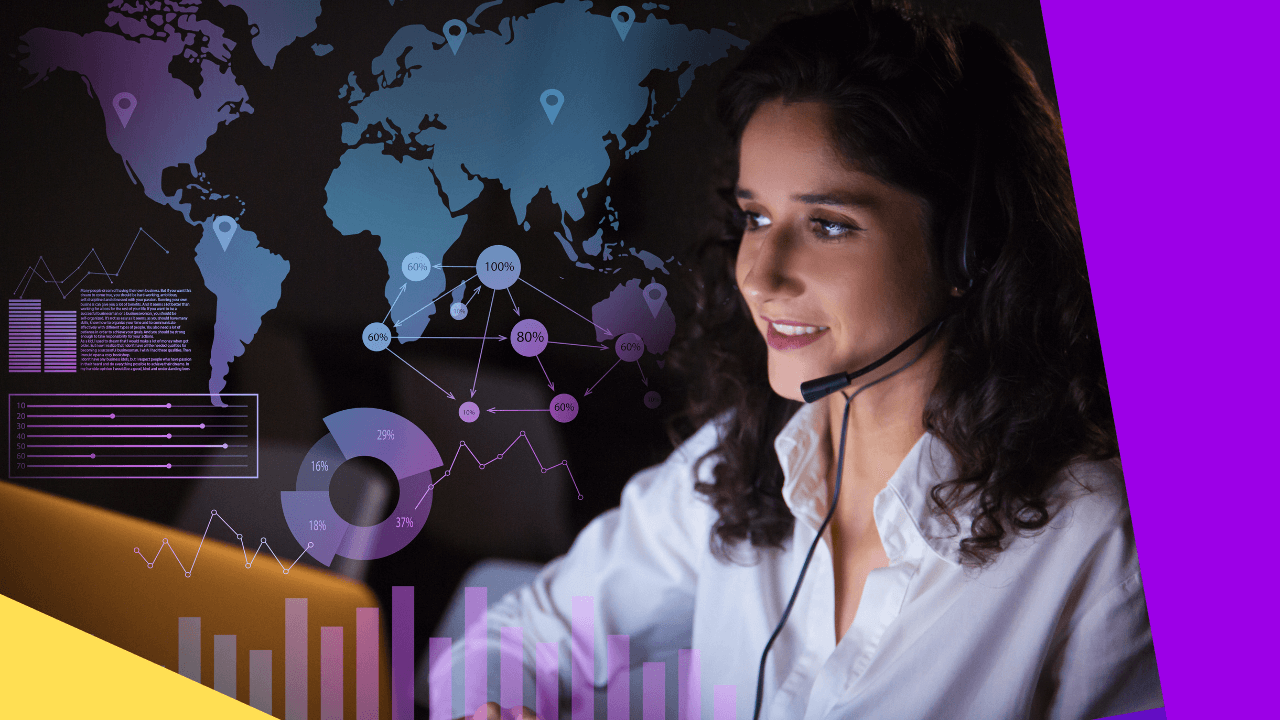 Ever since the pandemic made its way worldwide, there has been a drastic change in the work setting. Companies started to shift from on-site to remote immediately. There was no choice then but to keep the operations from running.
Was it hard for companies to adjust? Of course. 
Thankfully, there are several options on how employees can connect virtually. It may be better initially, but it is the only way to keep the company progressing.
The BPO industry, as well, was greatly affected. Thousands or even millions of companies worldwide were forced to move from office to home settings. These businesses made adjustments to ensure that clients would be safe. 
As more and more companies continue to adapt to digitization, different types of software are slowly launching to adjust to the current worldwide situation. Virtual call centers are now at large to accommodate the BPO industry.
See how a virtual call center can be a game-changer for BPOs today.
What is a virtual call center?
It is a call center where the group of people who are part of the team is geographically dispersed. This kind of setup can be hybrid, where some members work in an office, and some work remotely. 
A virtual call center is the same as a customer service call center, wherein support agents are responsible for taking in customer concerns via call or chat. 
Virtual call software connects the whole team working remotely to their respective clients. It allows all team members to function as a single unit and give answers to customer concerns.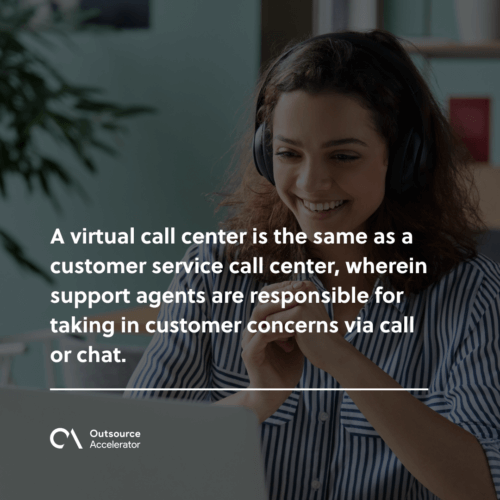 How do virtual call centers work?
The goal of a virtual call center is to provide aid to different customers worldwide from diverse time zones. It helps businesses save up the total upfront costs of having an office-setting call center.
Most virtual call center software is cloud-based and uses Voice over Internet Protocol (VoIP). Video conferencing tools like Zoom or Microsoft Teams help increase team communication.
There are two types of calls that agents handle in a call center – inbound and outbound calls. It enables agents to receive and make calls as often as needed. 
Here's how the two differ:
Inbound calls

are typically from potential and current customers who need help with a particular concern regarding a product or service. These problems include account management, technical support, complaints, and other issues. 

Outbound calls

are calls for current or potential customers performed on behalf of an organization or business. Cold-calling potential prospects are one example of it.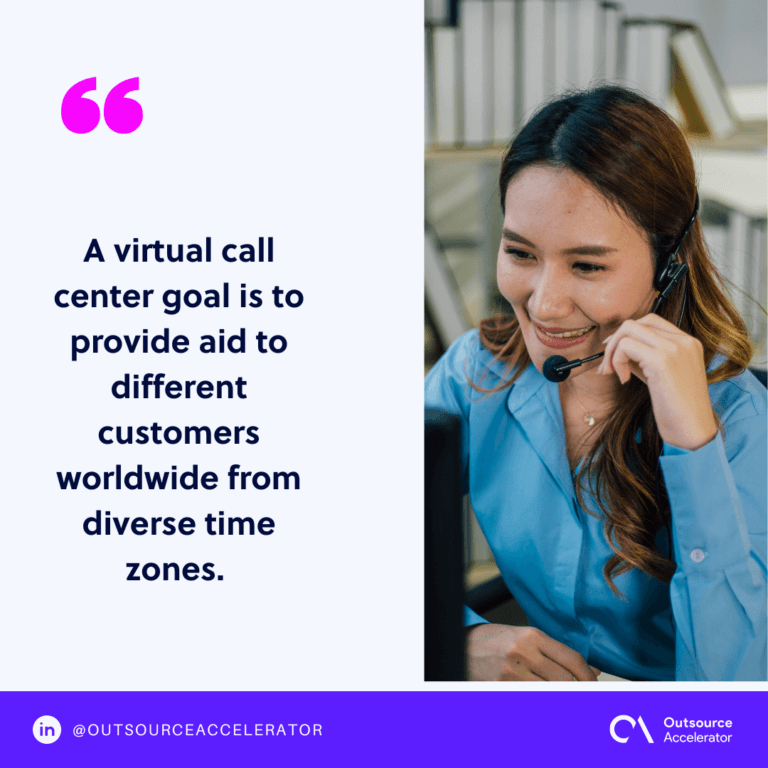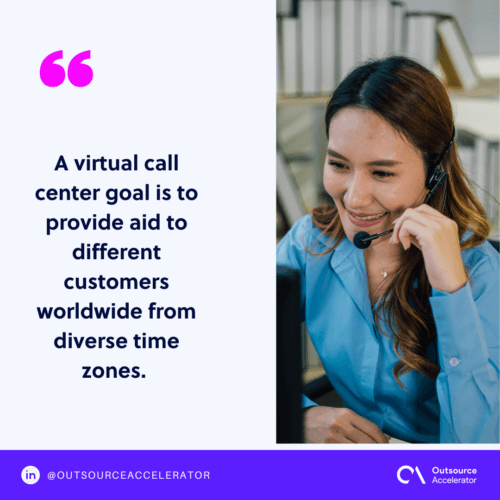 What are the benefits of a virtual call center?
The BPO industry is yet to fully adapt to the new market trend, virtual call centers. While there hasn't been a complete shift in how things are for work settings, there are a couple of benefits to trying out this option.
Lower cost
Creating an office space is no longer necessary since people can work remotely. Be it in a house, cafe, or shared working space, a virtual call center is possible—no need to travel daily to your office. 
You are good to go if you have the essential equipment–a computer, a good internet connection, and noise-reduction headphones.

Flexible option
Timing is flexible with this type of work. Unlike a traditional call center setup, you can set up your schedule depending on your teammates. You can do your errands and have the work-life balance you always aim for.
More team members can join
There's always the necessity to add more people to the team when the going gets tough. Large-scale businesses often require more support staff to handle customer concerns. 
A virtual call center is ideal, as it can cater to as many agents as possible through technology. It is more beneficial than a physical call center which can only accommodate limited staffing.
Team members worldwide
One of the reasons customer service agents tend to feel burnout is the need to take the graveyard shift. Most accounts have a different time zone, requiring these agents to adjust their schedules. 
Fortunately, having a virtual call center reduces this schedule adjustment as your teammates can be worldwide—no need to adjust to a different time zone to handle an account.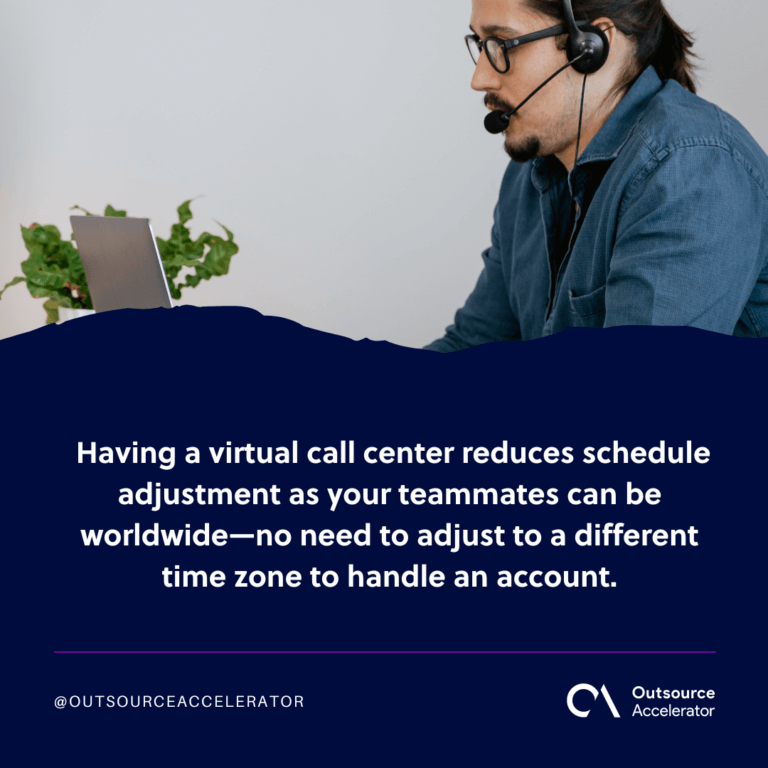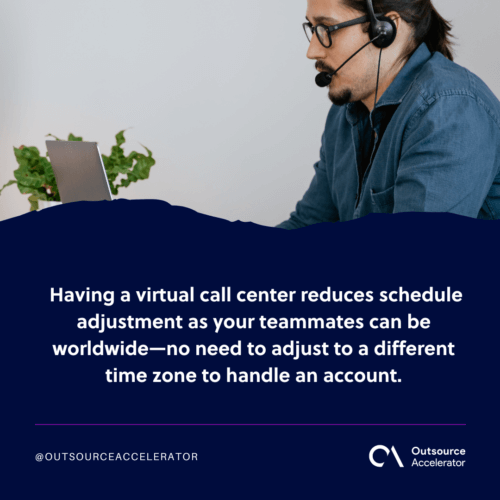 Easy monitoring
Supervisors usually monitor their team from time to time to check if everything is going great. There are instances when customers or agents can go overboard, affecting their communication. 
With the team spread out across the globe, it is now easier for supervisors to check their progress without going to their desks every time. They can offer assistance in an instant using their centralized software for work.
Is a virtual call center the right fit for your business?
Businesses of all shapes and sizes can benefit from this work setup. Virtual call centers use remote technologies, such as cloud-based or VoIP systems, to keep staff members engaged worldwide. They only require a reliable internet connection. 
It is a cost-effective solution for businesses to support their global staff. With the pandemic still at large in some countries, having an option like this is a game-changer.
Are there drawbacks to a virtual call center?
For sure, some problems will arise with this type of setup. There are always drawbacks to systems that are still in the development process. However, in a virtual call center, the pros outweigh the cons. 
Some downsides of this setup are the following:
Difficult to train people 
Since everyone in the team works globally, it can take a lot of work to meet at a common time to conduct training sessions. Each team member must adjust to an agreed schedule to attend workshops essential for career growth.
Inability to instantly provide IT services
These are readily available for people working in a physical call center. Ask for an IT consultant's help, and they can immediately check your equipment or connection problems. 
Unfortunately, for a remote setup, you cannot do it on your own. You can also seek help from experts outside. 
Challenge to create team camaraderie
The struggle to develop teamwork within the organization for this kind of setup is possible. Only some team members will be participative since they have different work setups at home or wherever they are working. 
Disadvantages like these may occur, but the team can always counter them with a proper system and workflow within the group.
Virtual call centers in the upscaling BPO industry
The BPO industry is increasingly adapting to full digitization. Several companies outsource jobs to adjust to the current pandemic situation. However, the gradual shift to physical call centers has made it harder for employees to bounce back. 
Going beyond traditional call centers can significantly impact the BPO industry. A virtual call center can help progress rural areas with high unemployment rates. Improving shared values through impact sourcing can create a more sustainable and socially responsible BPO sector.