16 technical support tools to look out for in 2024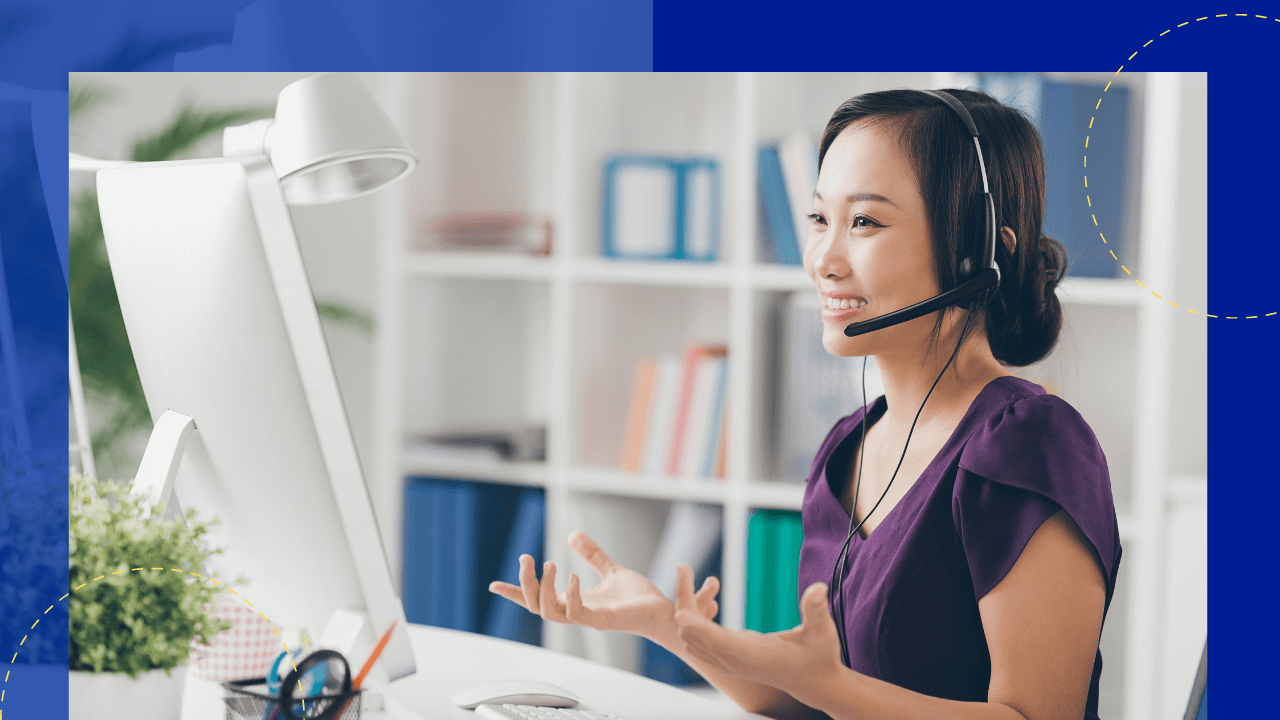 With so many people using electronics today, there are bound to be mishaps that can't be avoided and must be addressed.
Companies often have a specialist team on standby for those instances. The team, like any other department, needs assistance in the form of technical support tools.
Working with technical support tools lessens the burden for the team with every inquiry they receive on a daily basis. Not to mention, some tools are used internally, streamlining processes for a more efficient workflow.
More and more businesses are outsourcing their support services too—in tandem with acquiring the best tools in the market. With these in pair, there is not a thing that tech support teams can't accomplish.
The tech support industry
The tech industry relies on professionals and innovators who create solutions to problems that consumers may face while using a product or service.
More and more college students are choosing to get STEM degrees, focusing on technology, and they usually take the first steps into the tech sector through entry-level positions in tech support. That said, the technical support industry is one of the fastest-growing sectors crucial to people's experience of modern innovations. 
Even the industry itself has had a lot of catching up to do — in order for tech specialist teams to provide the most efficient and seamless assistance, they've had to adapt to modern methods. Support and repairs are expected to be delivered in a snap, and this is where technical support tools have become crucial.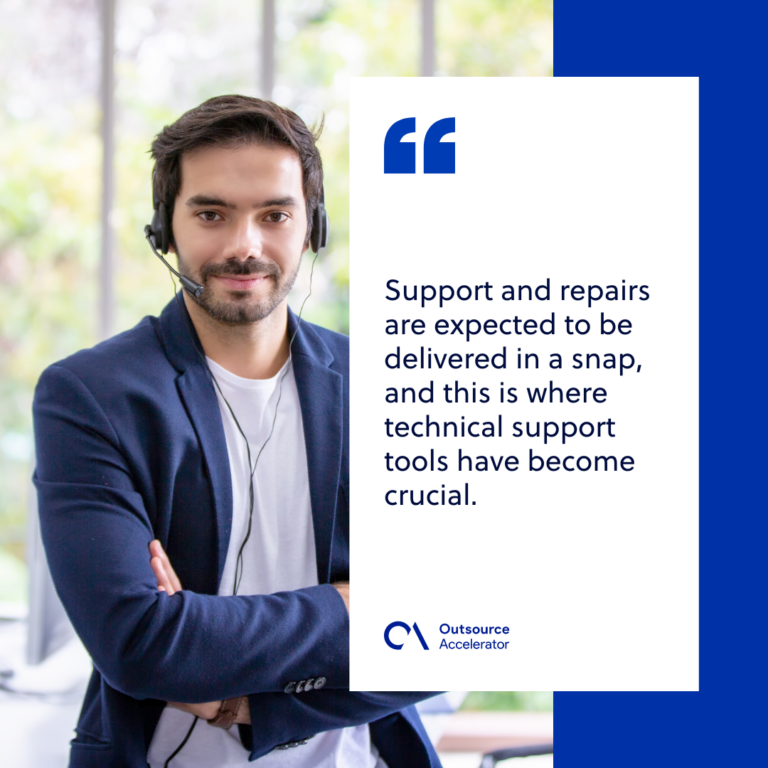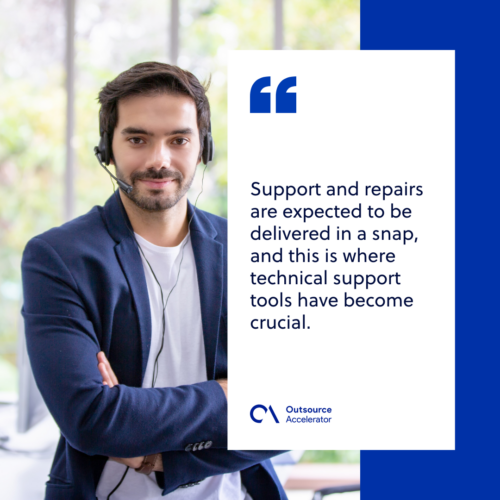 Technical support tools that every company needs
A tech support tool can eliminate basic administrative tasks such as organizing tickets and prioritizing incoming requests. 
As much as it's a menial task, organizing and prioritizing tickets is a good way of identifying requests that need to be addressed first. In turn, this helps the team to be more efficient in handling big requests and questions.
To an extent, a tech support tool can handle a huge amount of requests made by customers around the world, 24/7. This is why when a system goes down, even just for a minute, companies lose revenue almost always.
Below, we've listed different types of technical support tools that can make various processes more efficient.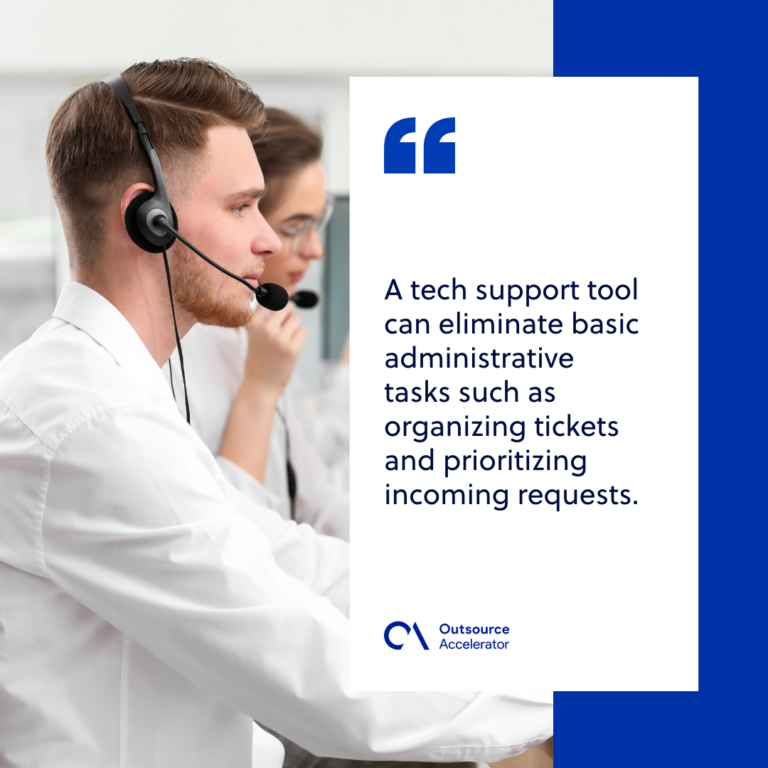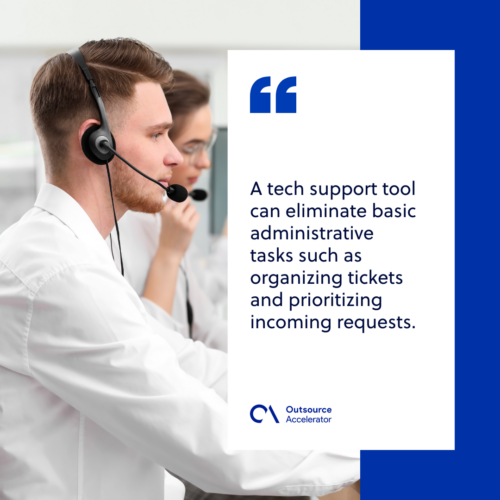 For tech support team communication
These tech support tools can help the department communicate internally. As in any group of professionals, communication is a must. These tools and apps will help the team be connected no matter where they are located and especially in the remote work setup or distributed workforce. 
Used by millions of people worldwide, Slack is best known for its multi-platform channels that connect departments and coworkers together.
Features:
File and link sending

Pinning important messages

Multi-threads and channels

Setting reminders
Since the sudden rise of remote working, Microsoft Teams has become the secondary communication tool for teams who got spread apart.
Features:
Dedicated document storage

Audio/video conferencing

Different channels and group chats

Full telephony
With Skype's all-in-one approach to communication—from instant chatting to video conferencing, it's not a surprise that it became popular for the folks who work at home.
Features:
Presence status updates

Out-of-the-office messages

HD meetings

Exchanging calendar information
For project management
Every tech department needs a technical support tool that will help them keep track of any projects that come their way.
Be it a new work process or a new implementation, these project tracking tools will boost accountability and responsibility in the workplace. Always keep in mind that those two are important in keeping the workplace productive and efficient.
Asana is fully customizable with its boards, members, and collaborators. All the team needs to do is to sign up with their work email, join their department, and it's ready to go.
Trello is another app that can track a project as it progresses through steps, through different members of the team, or through various departments.
Once regarded as a one-stop shop for project management, Monday.com is a multi-platform and omnichannel technical support tool with numerous APIs to kickstart any project.
For tech support and ticket management
As mentioned earlier, technical support tools provide assistance to the team members so they can help customers and clients as well. The apps listed below are just some of the best ones in the market right now.
Jira is a bug tracking app that helps locate and track bugs in a system. It's primarily used to identify bugs that might prevent end-users from enjoying a program or software to its full capacity.
Zendesk is a queueing system that prioritizes incoming tickets based on their tags and urgency. Depending on how many agents are available, the system delegates the tickets to the next person available.
Userlike is a technical support tool that utilizes chat and the live messaging channel for apps, websites, and other platforms. Using this technical support tool allows the department to look out for customers who opt for chatting instead of calling.
Zoho is a one-stop shop for everything SaaS, providing an omnichannel reach for its end-user base. From email support to remote tech support, Zoho has it all.
HubSpot is an all-around business suite used for customer service, technical support, marketing, and sales activities. Right off the bat, clients that use HubSpot can choose from four different suite classifications, namely:
Marketing Hub

Sales Hub

Service Hub

CSM Hub
Modernizing work processes doesn't have to be a hassle. ServiceNow aims to revolutionize the tech specialist department with its software IT workflows. They are driven by customer-centric ideals, perfect for companies with the same values.
LiveAgent allows the tech team to stay connected with customers 24/7. This is one of the most preferred technical support tools as it connects each available agent to a customer as soon as possible.
With their omnichannel presence, customer satisfaction is within reach.
For technical support knowledge bases
Online knowledge bases are the customer's and tech's first line of customer support. These knowledge bases act as a self-serving frequently asked questions section of a website.
Groove allows companies to create unlimited entries and helpful articles for their online base. It aims to be a platform where customers can find more information about a product or a service.
Freshdesk allows the specialist department to prioritize the most asked and searched-for questions on their knowledge base. In a way, this allows the team to know which features need to be fixed and updated.
Document360's knowledge database isn't just aimed at text-based entries and articles. The team can also add any media tie-ins to these entries to help customers understand the solution more.
What does it take to be a tech support representative?
Being a technical support representative is a rewarding, albeit challenging, role. The position often requires a vast knowledge of computer programs, apps, software, and even hardware specifications.
Depending on what level you're at, required skills and qualifications may vary.
Having reliable technical support tools in place is essential for any business. 123Employee is dedicated to providing top-notch support and helping its clients succeed.
Skills and qualifications:
College degree, vocational training, high school diploma, or equivalent

Advanced technological knowledge

Flexibility in work management

Customer-centricity

Goal-orientedness

Multitasking skills

Teamwork

Grace under pressure
Many people are asking, "Do I need a college degree to get into tech support?" This depends on the required job level and the discretion of the company. 
However, business process outsourcing (BPO) companies are often lenient with their educational requirements, with some accepting applicants who graduated high school or are undergraduates.
That said, these people are subject to extensive training amongst their degree-holding peers. But more often than not, college graduates have more opportunities than their counterparts.
The future for technical support tools and agents
The future for the technical support sector is bright—as the demand for high-quality products and services arise, the room for error narrows as well. 
Much like customer service, the tech support line acts as the company's first point of contact with the outside world. Agents will know issues and questions firsthand and that's one of the reasons why continuous learning plans should be put in place for them.
Not only will it hone their skills and product and service knowledge, but it will also lead to a better understanding of the customers' needs and expectations.
While some are afraid that these tools—especially AIs—would replace them at their jobs, the customer service department will always need a human behind the scenes for it to work.