Your quick walkthrough in strategy leadership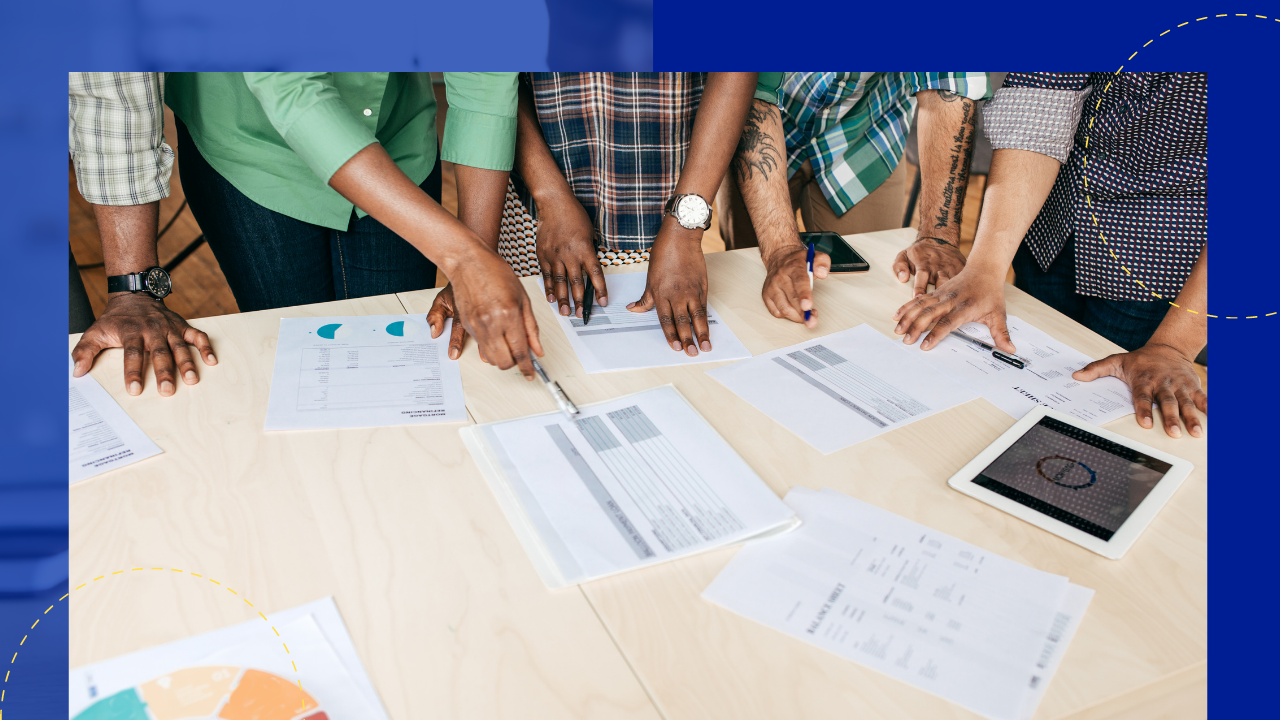 Most companies worldwide are still comfortable in maintaining a "status quo" in their companies. While this could work for them now, the changing times continuously demand them to improve their leadership styles.
(Almost) gone are the days of managers having autocratic power over their employees. Now, especially when managing a remote team, they should be more adaptive and flexible with the times and modes for work.
Choosing a leadership style for a team helps challenge traditional ways, scale a company, and prevent having a negative work environment. Strategy leadership best thrives with this change. 
What is strategy leadership?
Strategy leadership, more known as strategic leadership, refers to a practice where the management uses its potential to express its vision for an organization and motivate others to pursue them.
Using different management styles, the management runs the company to be able to adapt and remain competitive in changing environments. 
Productivity and management mindsets play huge roles in strategy leadership. A strategic leader's mind reflects agility and the ability to see how the big picture relates to the current times
The relevance of strategy leadership in managing a team
Strategy leadership aims to boost productivity, streamline processes, encourage innovation, and cultivate employees to be independent and enrich their ideas. 
Usually, strategic leaders make sure their employees are comfortable and confident to do the tasks at hand. They balance their consistency in updating data and skill sets with their understanding of each team member and their value to the company. 
This trait helps them bring higher workplace satisfaction and motivation, which translates to better productivity.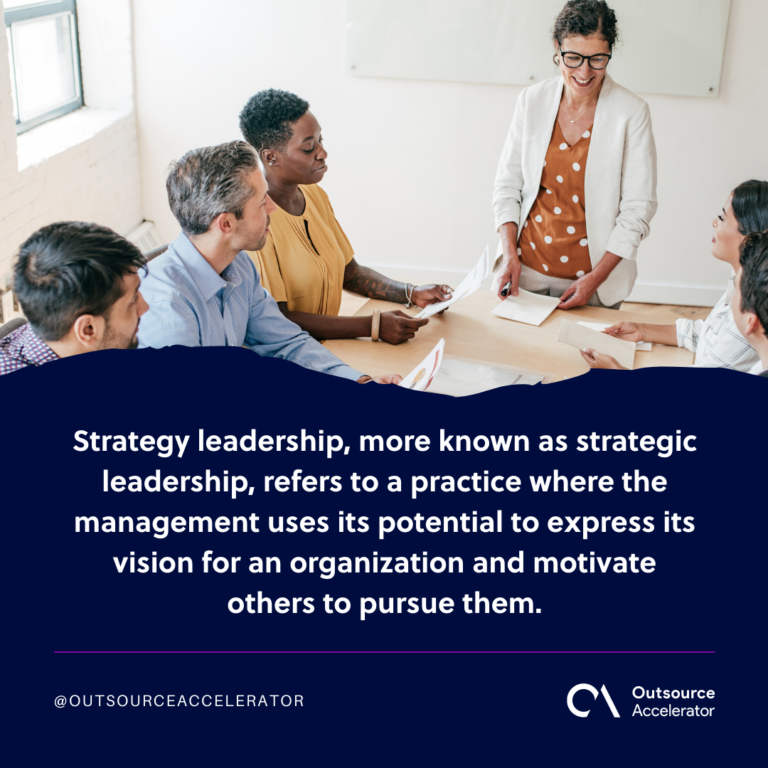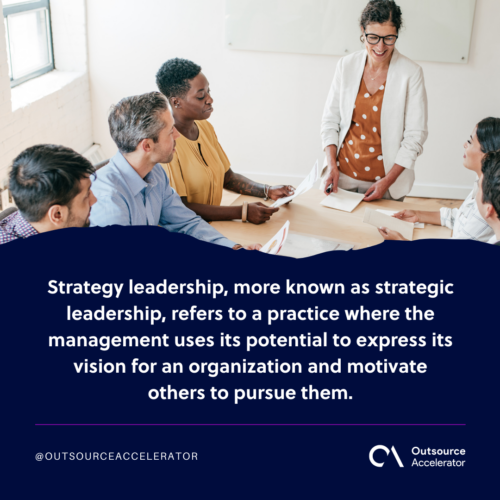 In comparison with other leadership styles
Strategy leadership is among the most effective leadership styles, aside from democratic and coach-style leadership. However, this style lies in between the company's operations and its growth opportunities. 
Strategy leadership tests a leader's flexibility in working to make a company more adaptive to growth while maintaining a conducive work environment for everyone. It combines several styles of management according to the company's needs and goals.
When applied to a company, this is composed of mainly top-level management responsible for the decisions of an organization.
Strategy leadership principles
The 10 principles of strategy leadership are divided into three aspects that leaders look upon. 
The first group gives an approach to transparency, innovation, and decision-making. The second and third groups, on the other hand, focus on the welfare of their employees and how they can look at improving the company in the future.
Systems and structures
Distribution of responsibility
Firstly, strategy leadership is gained through practice. Distributing responsibilities to potential strategic leaders allows them to take risks and see their outcomes. 
It even develops their adaptability, resiliency, and collective intelligence by taking them outside the traditional decision-making process.
Honesty and openness on information
The traditional management design of companies is aimed to limit the flow of information distributed to the organization. As a result, this limits the team's ability to decide accordingly.
The company should practice open-book management when training potential strategic leaders. This practice provides an honest and broad base of information to employees to help them formulate informed decisions.
Creating paths for testing ideas
A strategic leader can develop and present multiple ideas. To make this happen, companies should encourage innovative thinking and let their creativity run through every decision-making process.
People, practices, and policies
Embracing failure
Strategy leadership is learned from both failures and successes. Companies should embrace failures and the employees' willingness to accept failures so they can recognize what among those mistakes can turn into successes.
Fostering collaboration
Let potential leaders meet and work with their colleagues across the organization. 
Recognize employees who are capable of questioning, challenging, and disrupting the system and gather them in groups to work with each other.
Learning through experience
Traditional leadership training helps develop managerial skills for employees. However, strategic leaders arise from experience-based learning.
Companies should provide a challenge to a team of potential leaders that aim to create a fully-developed solution to a problem. The challenge could be in the form of a simulation or a real project with a certain deadline to meet.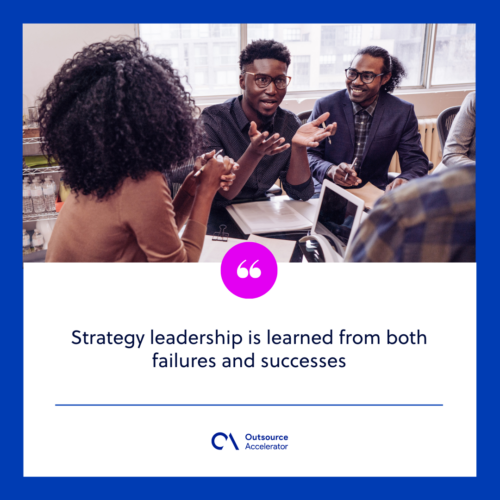 Hiring for transformation
Most managers tend to hire employees that are much like themselves over their real capabilities and experiences. 
Encourage managers to hire for the company's transformation. This can be done either by providing real-life situations to applicants or conducting interviews delving into their psyche and abilities.
Self-improvement
Bringing experiences to work
Strategic leaders draw from their lessons and experiences to solve the most demanding situations and problems. They use their full interests, experiences, and passions to come up with innovative solutions and veer away from those that don't align with their values.
Having time to reflect
They are also skilled in "double-loop learning," or studying a situation, its problems, and their perceptions about it. 
Reflection helps them learn from their mistakes and gives them time to think about how they can make the situation better. However, psychologists warn about "rumination" or the feeling of being stuck from too much dwelling.
Recognizing leadership development is ongoing
Lastly, strategists recognize that their leadership development process is still ongoing. This helps them to learn from others by letting them be the experts in some circumstances.
They also are keen to recognize the potential strategists within the organization and the talent pool. Strategists know and realize that those with potential leadership skills are either outside the company or are constrained within the organization. 
As a result, they move to change things and allow these employees to develop their skills.
Strategy leadership applied in the workplace: examples
Companies practice strategy leadership in different ways. Below are some examples of strategic management applied by known organizations.
Toyota
Seeing the success of American car companies like Ford, Toyota once tried to study and analyze their competitors' best practices. 
They then integrated some of their processes into their own to develop better products. What's more, Toyota even analyzed the weaknesses and focused on making their products more efficient and innovative.
Paypal
Online card payments were still a challenge for merchants when Paypal launched in 1999. Here, they created a great breakthrough on how businesses and individuals send and receive money online.
So instead of becoming another bank, Paypal applied some of their strategies and practices in making their system possible. They even chose to partner with merchants to bring their products closer to the market.
Google
Being a household name today, Google has notable strengths and strategies to thank for in reaching its current status. 
They have always embraced innovation in their company culture. They empower employees in different ways and channels, especially with being open to information. 
For instance, the company established "Google cafés" to encourage interactions between teams across the company.
Honda
Honda learned to embrace their failures as a way to achieve success. Once, a piece of faulty equipment led them to recall around 8.5 million vehicles. The company's leaders recognized that the failure lies in not having enough attention to the faulty equipment ahead of time.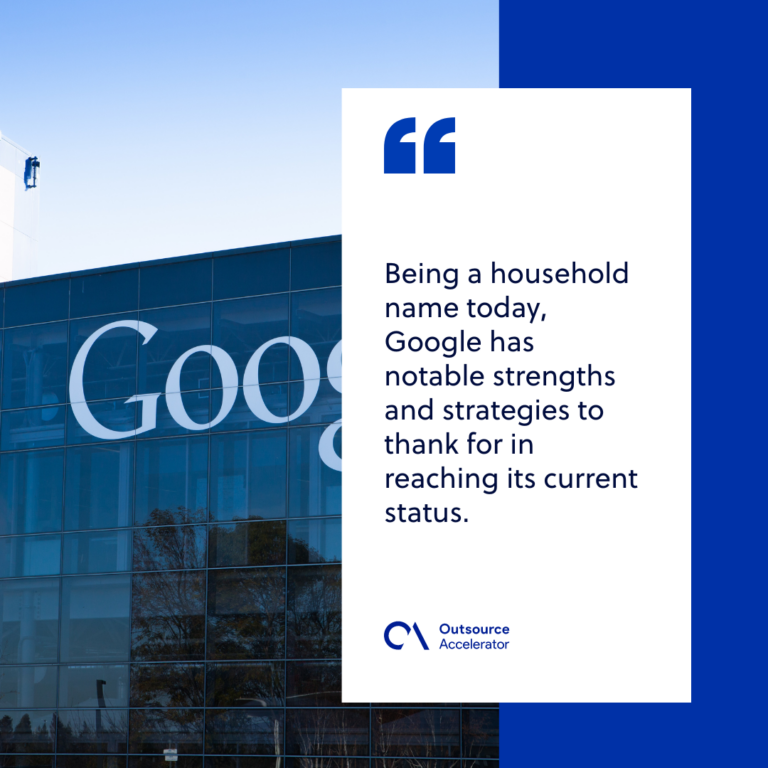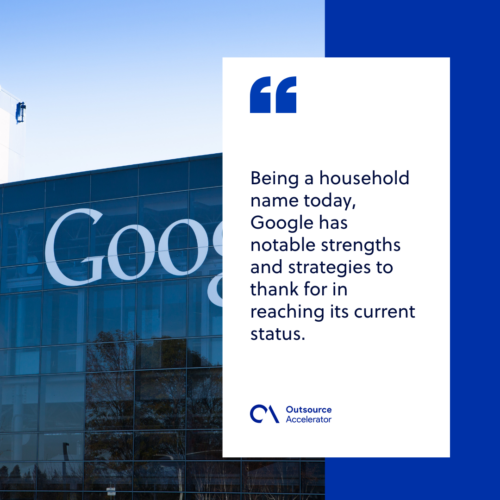 How one can possess strategy leadership skills
A 2015 PWC study on 6,000 executives revealed that only eight per cent of the respondents turned out to be strategic leaders. This makes their organizations less capable to adapt to large-scale transformations when needed.
The lack of enough strategic leaders in an organization even forces them to bring in leaders from the outside. 
While outside leaders can contribute fully to the business, it's still best for the management to lead from within their structure. Fortunately, they can develop potential leaders through their employees through the following.
Acknowledge potential from the existing teams
First, companies should acknowledge potential from emerging strategic leaders in a team. Basically, a strategic leader has key capabilities such as the ability to do the following:
Anticipate

threats and opportunities that can affect a business.

Challenge

assumptions and examine a problem in different lenses

Interpret

and seek new insights

Align

by finding common ground on conflicting views, and

Learn

from their outcomes in a constructive way
Develop a full grasp of the company's purpose
Leaders should have a full grasp of why the company exists and how they provide value for their customers. This purpose serves as a guide in developing their mission statement and embodying the company's culture.
Practice the strategy leadership principles
Lastly, it's best to start practicing at least a few strategy leadership principles at hand. Organizations must learn how to slowly integrate all of the principles over time so they can further attract, develop, and retain their current strategic leaders.