Why staff recognition is important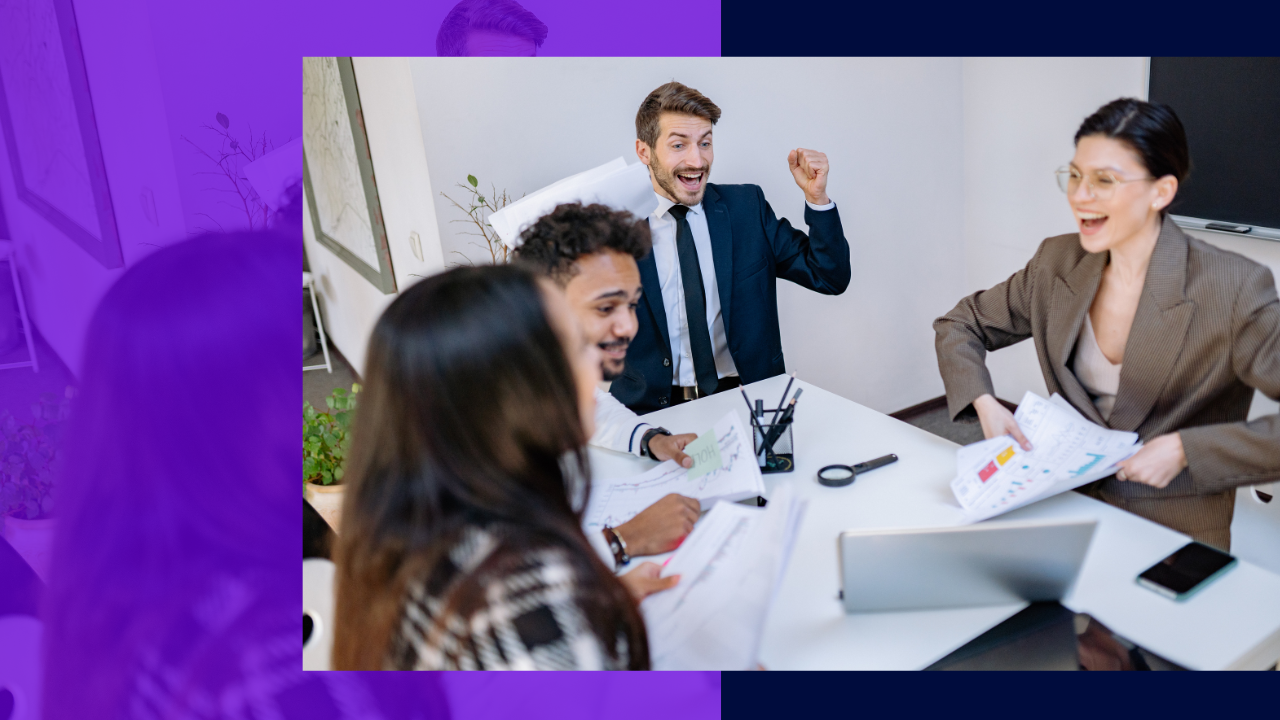 Staff recognition is one of the most important aspects of being an employer. Employees are what makes the company run, from the smallest of roles to the biggest of tasks. Rank-and-file workers often look up to senior executives, managers, and leaders—it's one of their responsibilities to provide positive feedback when it's due.
As an employee, having your boss and co-workers recognize you and your hard work means so much already. A simple thank-you email or a special name mention after a hard day's work is sometimes enough fuel for the incoming days ahead.
What makes an employee feel appreciated?
As briefly mentioned above, staff recognition can stem from a simple email. Remember that communication is key when it comes to the workplace. Congratulating your team for doing their best is part of that. An employee feels appreciated when they are validated, heard of, and seen (figuratively).
Oftentimes, even the smallest of things won't go unnoticed. Harvard Business Review made a study based on what employees would like to see and hear more from their respective managers.
What follows below is what makes employees feel appreciated. 
Utilize weekly meetings
Touch base with the employees early on the week, praising their hardworking efforts for the previous week. Use this time to check in with the team—be it on a professional basis or on a personal note.
Balanced feedback
Sometimes, praises can only do so much. Good teammates yearn for constructive feedback on where they can improve. On the other hand, don't overdo giving constant tips-on-how-to-improve. Balance is key, give credit when and where it's due.
Don't hold people back
Having someone resign for your team is hard. Especially if it's a tight-knit one. Keep in mind that people go to get better opportunities outside of their comfort zone. The best a manager can do is to encourage this growth.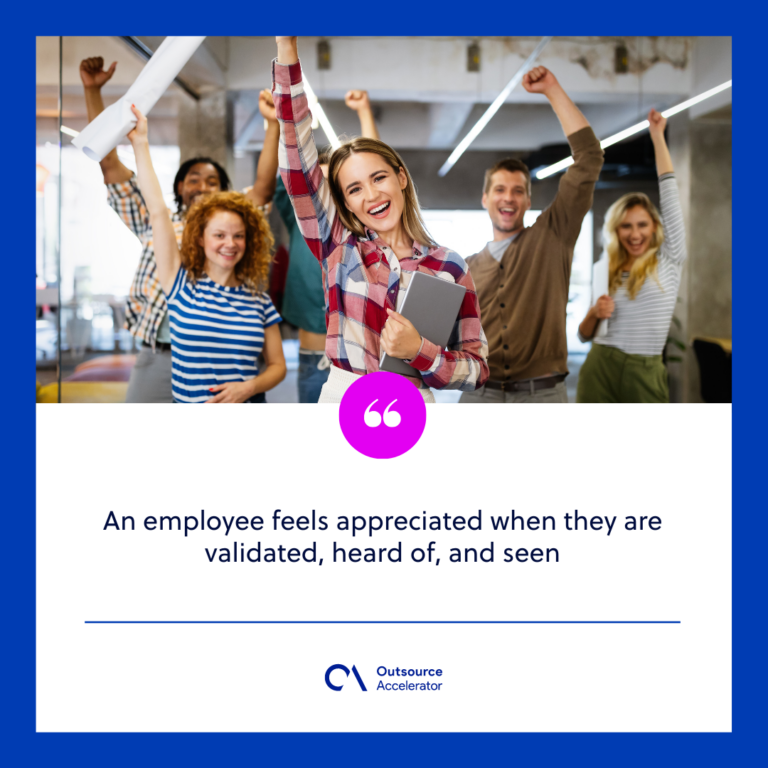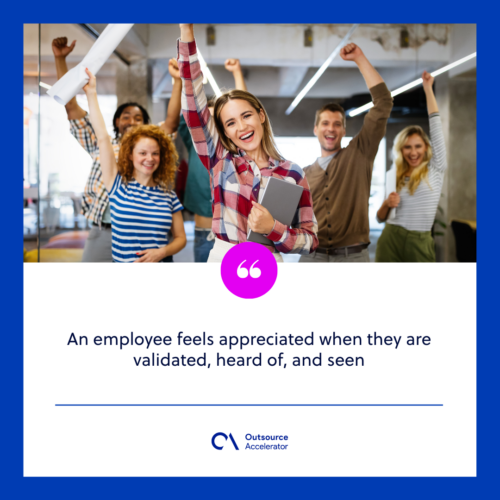 What does recognition mean to an employee?
Objectively speaking, recognition almost always means that it's a positive message. According to Quantum Workplace, "employee recognition is the open acknowledgment and praise of employee behavior or achievement.
It's used by organizations to express appreciation, motivate employees, and reinforce desired behavior."
To their career
Recognizing one's achievements can contribute to them expanding their niche, interests, and career path. In today's labor market, it certainly doesn't hurt to learn a new thing or two. 
Employers actually encourage their employees to broaden their horizons with continuous learning—all expenses paid.
To their personal attachments
Like anyone else, when our strengths get acknowledged, we feel as though our hard work is paying off. These little bouts of inspiration are what drives us to stay focused on our goals.
From the abstract of Positive Practices in the Workplace: Impact on Team Climate, Work Engagement, and Task Performance written by Perry E. Geue, "positivity in organizations accentuates that which is flourishing and life-giving to discover and promote the best of the human condition, exemplified in the recent focus on positive practices, behaviors that enhance positive affect in employees and lead to organizational performance."
How do you give employees recognition?
As a manager or a team leader, it's somewhat crucial that you know different ways to give recognition. A simple greeting may work on others while on some, it may not. It's important to know your employees' preferences when it comes to communicating with their bosses.
It's said time and time again: communication is key.
Via verbal and/or written appreciation
Before the mandatory work-from-home orders, departments and offices usually would have team lunches to recognize a team effort.
With everyone working productively towards one goal, it almost usually calls for a celebration. This is where verbal appreciation happens. The team leader calls out a team member who gave their best effort, letting them know that their hard work didn't go unnoticed.
However, sometimes it's more subtle than that. A department-wide email will be sent, congratulating everyone for a job well done, mentioning those who put in the extra effort into the project.
Via rewards system
In a more casual setting, a rewards system is put into place. The most notable employees are given incentives such as vouchers, collectibles, and sometimes cash for a job well done.
The general reward system is often open to all employees working in their respective departments. It's put into place to motivate employees to put their best foot forward when working.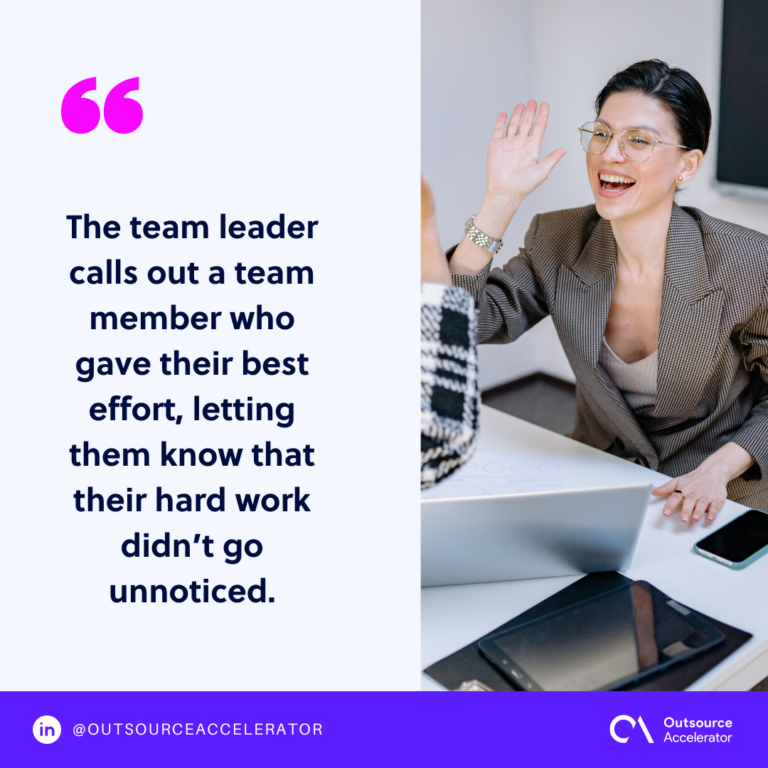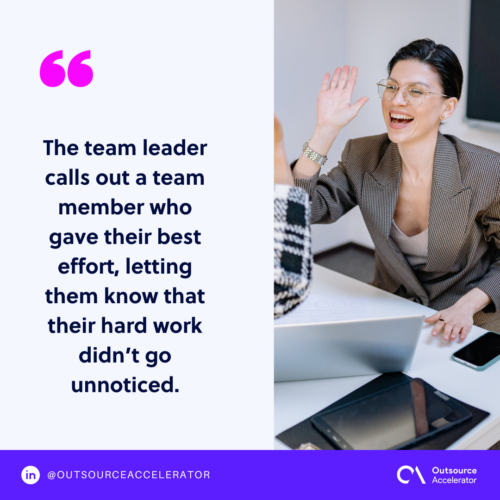 Via promotion
One of the most well-known ways to recognize good work is via a promotion. Even with all the paperwork involved, promotions are almost always welcomed by deserving employees. 
Promotions are also one of the reasons why workers value their tenure in their company. This just gets to show that loyalty begets loyalty.
How do you know if you are valued at work?
Value is often subjective, whether in general or in the workplace. There are some telltale signs that you are valued at work—the questions will almost always answer themselves if you are truly valued at your workplace.
Do you feel satisfied with your work?
Do you learn new things from your team?
Do you feel fairly compensated for your efforts?
Is the management open to your suggestions and feedback?
These questions may help you determine if the job you're holding onto right now is making you feel valued and recognized.