5 Benefits of staff leasing your small business can get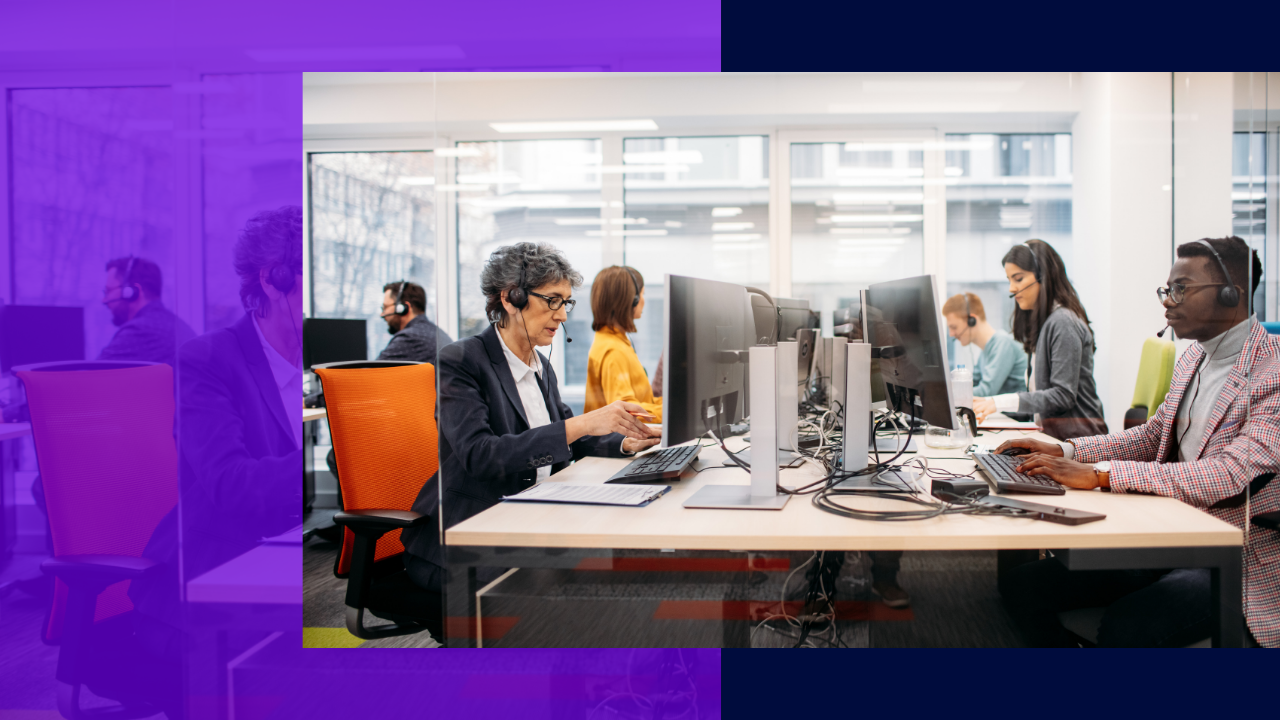 More companies looked to outsource their services, especially during the pandemic. Given the limited resources and restrictions in hiring employees, businesses looked up to offshore countries to delegate their functions.
One of the most popular types of outsourcing nowadays is staff leasing. Businesses can hire more flexibly – starting up to one remote worker, to do most basic data entry and graphic design tasks.
The benefits of staff leasing involve more than cost savings and efficiency. Jamie Booth, Managing director at Booth and Partners, discusses this with Outsource Accelerator CEO Derek Gallimore in episode 368 of the OA podcast.
Why do companies choose staff leasing?
Staff leasing or employee leasing refers to hiring remote workers with the help of a service provider, whether onshore or offshore. In this setting, the service provider is tasked to hire, train, and manage a company's team according to their given roles and requirements.
Staff leasing is more flexible than large-scale outsourcing. Companies can start with a single employee to do certain tasks and then expand.
With the limited resources that small businesses have, as Jamie observed, some of them "don't have robust talent acquisition, human resources, or accounting departments." This makes staff leasing more viable for their operations.
Usually, businesses do staff leasing for the following reasons:
Hiring difficulties

. With the

mass resignation

in developed countries, businesses find it increasingly difficult to hire and retain in-house employees.

Increase in remote work

. According to Jamie, the companies are "now comfortable with remote work," knowing that employees get motivated and productive more with this method.

Cost savings

. One of the main reasons businesses do staff leasing is for

cost savings

. They get to save up to 70% on labor costs and resources when they delegate functions to service providers.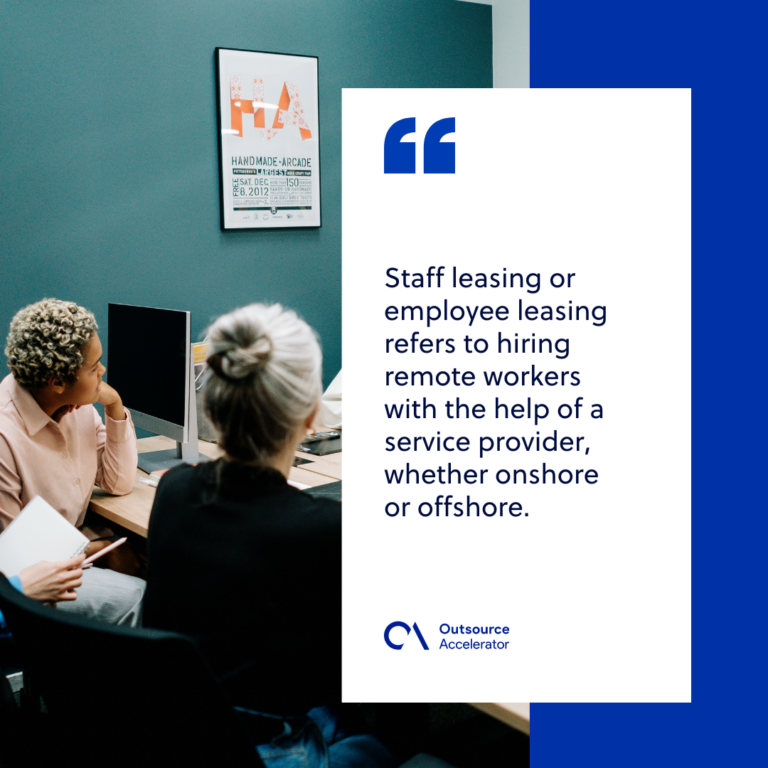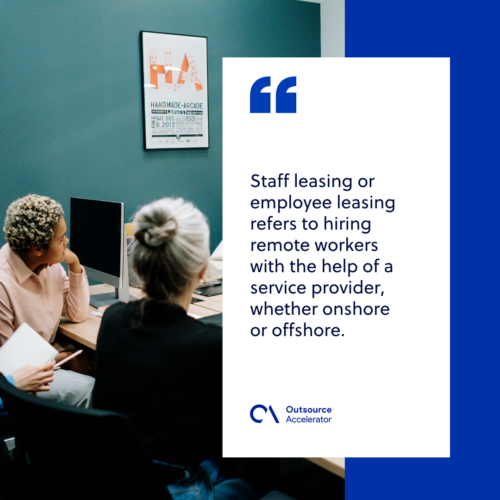 Benefits of staff leasing
Per Justin, 50% of their business deals more with fully-managed solutions. However, he finds staff leasing more interesting since it "leads more to co-managed service" and is most suitable to the SME market.
Meanwhile, companies that hire offshore get the following benefits of staff leasing.
Operational risks are lessened
One of the crucial benefits of staff leasing to companies is lowered operational risks. They get to share risks in operations and employment with their service provider. 
Some of the legal and regulatory requirements in hiring are taken care of by their service providers. With this, they get to lower their risks since they have their service providers to help resolve them.
You retain control of your daily functions
Despite having a part of their functions and staff outsourced, businesses still retain control over their daily operational processes. This allows them to implement their work culture and engage with their employees better to motivate them.
In the case of Booth and Partners, their clients are "engaging with [their[ staff in unique ways," maintaining the co-managing side of their business.
The leased staff has more variety in roles
Another aspect that Jamie prefers in staff leasing is its variety. Staff leasing allows a "wider scope of roles and activities" compared to outsourcing a single function.
Here, they can delegate a combination of roles and services to their team, including accounting, marketing, and graphic design. Jamie explains that this setup allows clients to "have a better [team structure]" since their managers don't focus on a single area.
Workforce management is taken care of
With staff leasing, service providers take care of related functions such as recruitment, human resources, and payroll. Though most companies see this as a disadvantage, employment concerns usually go through the provider, including salaries and regularization.
This lessens the clients' burden in dealing with HR-related aspects since they have a team that to take care of it.
You enjoy additional support for your team
According to Jamie, the big difference between hiring staff in Seattle and hiring in the Philippines is "having a provider like Booth and Partners behind [their operations]."
Indeed, companies can enjoy more than cost savings when they prefer staff leasing. They get the additional support they need in managing their employees, freeing them from this task. In return, they get to "focus on their growth and innovation."
How you can succeed in staff leasing
Pre-COVID, some businesses still have doubts over outsourcing and staff leasing services. Most of them still prefer working with their teams in a single office, where they can see what their employees do.
With the rise of remote work, outsourcing "has become a household name" to industries worldwide. As more companies want to dip their toes in staff leasing services, the next challenge is to succeed in improving their functions.
Jamie recommends clients the following steps to succeed in staff leasing.
Start with "vanilla roles."

Per Jamie, companies new to outsourcing should "start with 'low-hanging fruit'" that they can delegate, including customer support. Since most of these

basic roles

have "a large talent pool of employees," it makes hiring easier.

Categorize specific tasks

. Understandably, some roles require teams to do several roles at once. However, it's still best for companies to "departmentalize" some of these functions and "have someone to do specific tasks."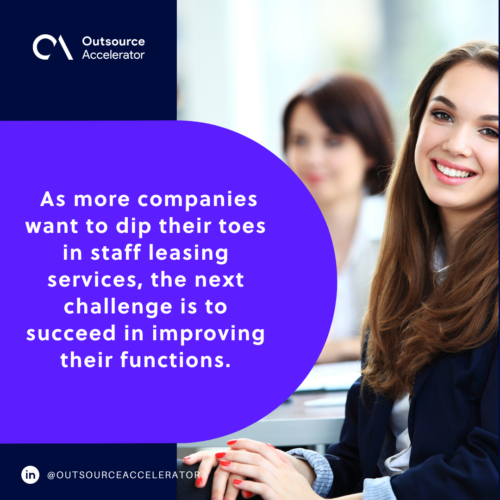 Booth and Partners in providing the right people for your business
Booth and Partners provide suitable talent and solutions tailored to its clients' changing needs. By offering staff leasing and fully-managed services, they empower businesses to build offshore teams and treat them "as an extension of their companies."
The company sticks to its tagline: "Right people, right solutions."  While they allow businesses to interact with their teams their way, Booth and Partners implement structured processes and integrations to maintain an utmost level of service.
Check out Booth and Partners' website at https://boothandpartners.com/ and listen to episode 368 of the OA podcast here.