12 Sales closing techniques to boost your conversions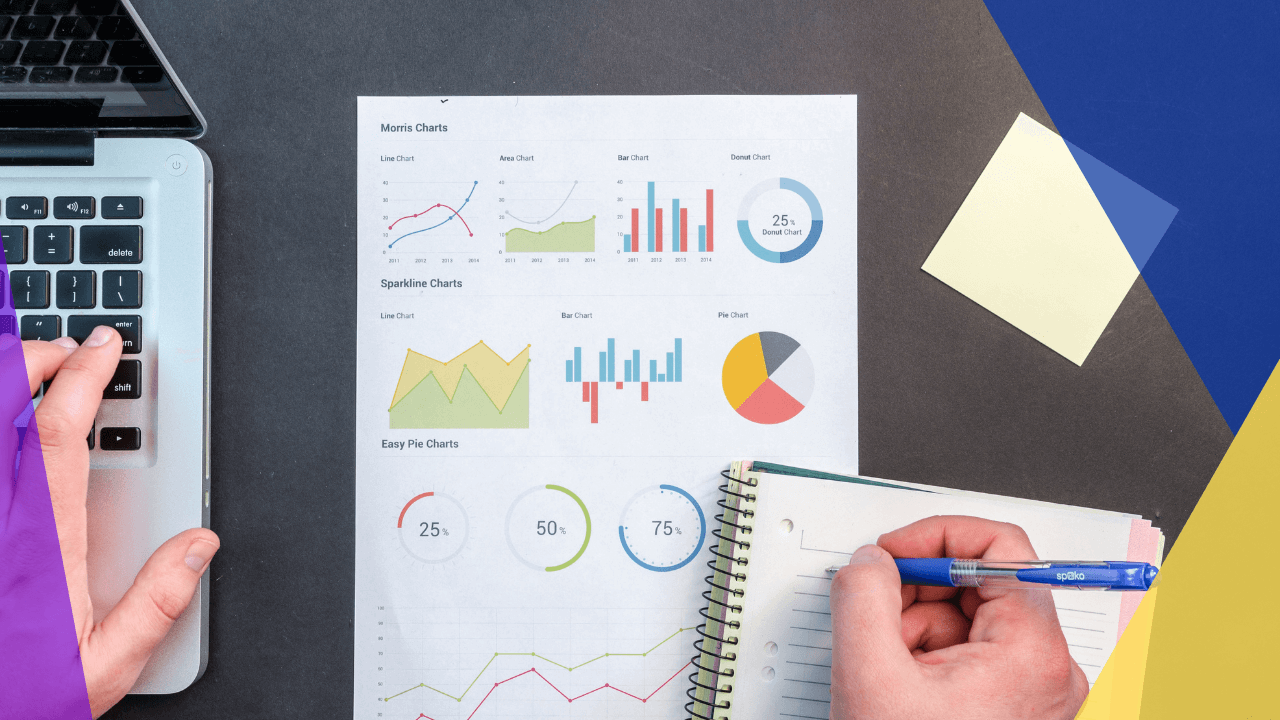 As a salesperson, finishing off a deal must feel euphoric. Getting that yes from a customer or a client is the end goal for salespeople all over the world. But how do they get there? Is there some sort of master class on how to become a great salesperson?
Sales mainly involve showcasing the advantages of the goods and services with a calm and confident attitude. However, customers don't like pushy salespeople, be it over the phone or in person.
Nonetheless, there are ways to finish a deal. They're called sales closing techniques, and they often evolve with how companies handle their sales and marketing campaigns.
Here are 12 of the most popular, tried-and-tested strategies on closing a sale:
Why sales closing techniques are important
Sales closing techniques serve as the home run of a sales spiel or telemarketing script. These are important because they help salespeople reach their quotas effectively. 
It's comparable to calls to action, often found at the end of an online written campaign or a landing page. Both sales closing techniques and CTAs are simple, straightforward, and clear. But there are times when salespeople need to get creative.
Closing deals isn't as easy as it sounds—it involves developing a professional relationship with leads, knowing the item's advantages, and being firm and assertive without being too pushy.
Companies may choose to outsource sales calling, such as to firms like Remote Employee. Due to their experience, these firms have a myriad of ways to train their callers to close deals effectively.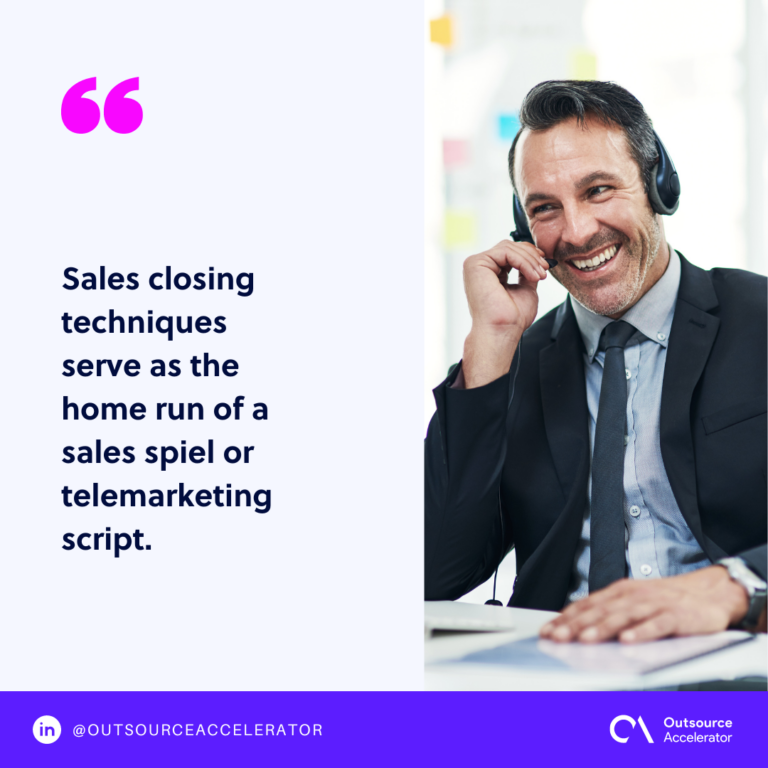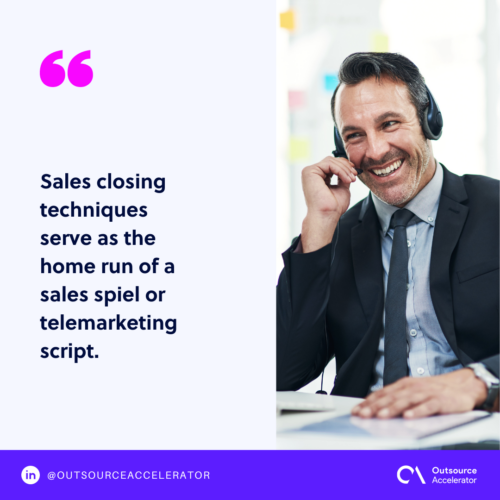 12 effective sales closing techniques for 2023
For salespeople, adopting sales strategies is one way to guarantee that they will reach their weekly and monthly quotas. With these methods, they can make more deals without much effort.
While most tactics tend toward using persuasive methods like emotional appeals, there are other techniques that are actually effective at promoting success rates when used correctly.
Keep in mind that what works best for one may not necessarily work out for another. 
1. Instilling a sense of urgency
Examples: 
"We're only offering this rate until the 15th…"
"If you get this item today, I'll throw in X and Y for free…"
"We only give this discount to customers who purchase before 12 PM…"
Salespeople have always been creating a sense of urgency in their prospects. With this strategy, they are motivated and more likely to make a purchase. 
This works especially for customers who already have an interest in the product but are hindered by indecision or the idea of finding other alternatives. 
2. Letting FOMO take over
Examples:
"You've just missed a deal that would take 10% off your total…"
"Just last week we had a big sale for this item…"
FOMO, or fear of missing out, is a term that Patrick J. McGinnis from The Harbus coined back in 2004 while writing for the Harvard Business Magazine. At present, brands are already taking advantage of FOMO to boost their sales.
For salespeople, intensifying a lead's FOMO can end up as a successful transaction. 
3. Using an empathic approach
Examples:
"This is such a big decision, and I'm glad to be a part of it…"
"I understand how you feel…"
"I'm confident that you would love this product…"
By playing up positive emotions, salespeople can close a deal purely based on how the prospect feels while in the middle of the transaction. This is one of the most popular and effective ways of closing a deal.
4. Listing the advantages of the product
Examples:
"This item is perfect for…"
"I'm confident that this will help you with X…"
Salespeople should know the advantages of the item they're selling, as these are one of the first few things that customers will ask. Also, using the advantages as a selling point will help them peddle the product more effectively.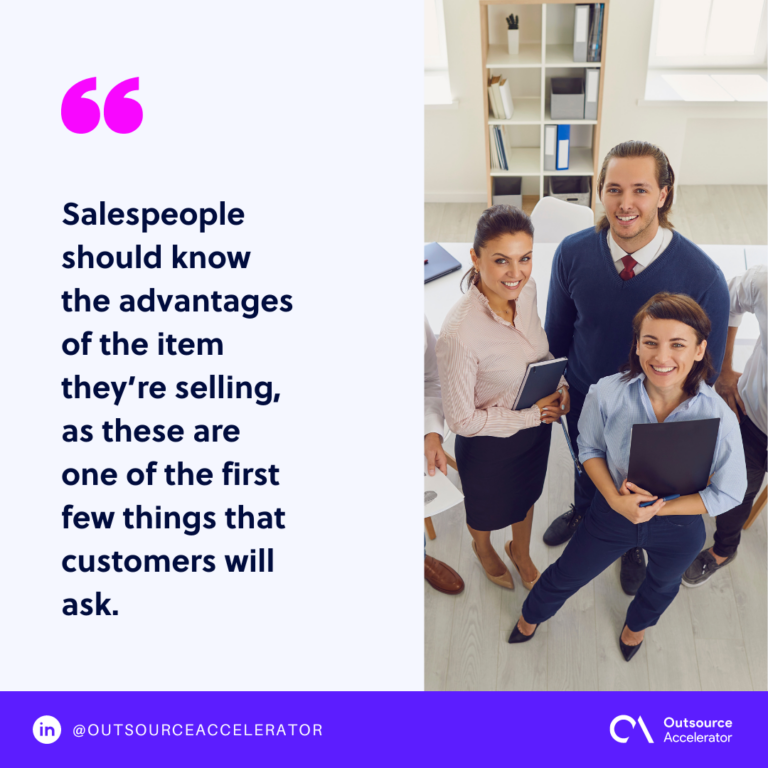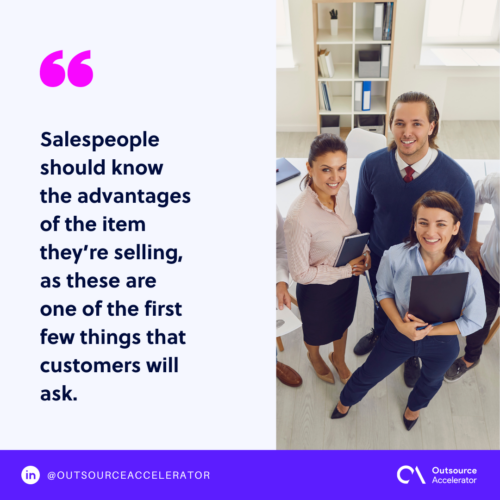 5. Being proactive
Examples:
"I've noticed that you're looking for X. Have you thought about using Y instead?"
"From what you've shared, I think you're better off using X…"
Being proactive in sales is a quick and surefire way to initiate relationships with prospects and leads. 
With this sales closing technique, not only is the sales representative connecting with their lead, but they are also letting the prospect know that they are empathetic with their cause.
6. Asking the one-question pushback
Examples:
"Is there any reason why you cannot purchase this item today?"
"If the circumstances were different, would you buy it from us?"
The one-question pushback can be a salesperson's last hurrah before finally tagging the transaction as unsuccessful. This can also be a way to gauge the prospect's interest in the product. 
For instance, if the customer is hesitant to buy the item because of monetary constraints, the salesperson can offer to call back when the circumstances are much more favorable.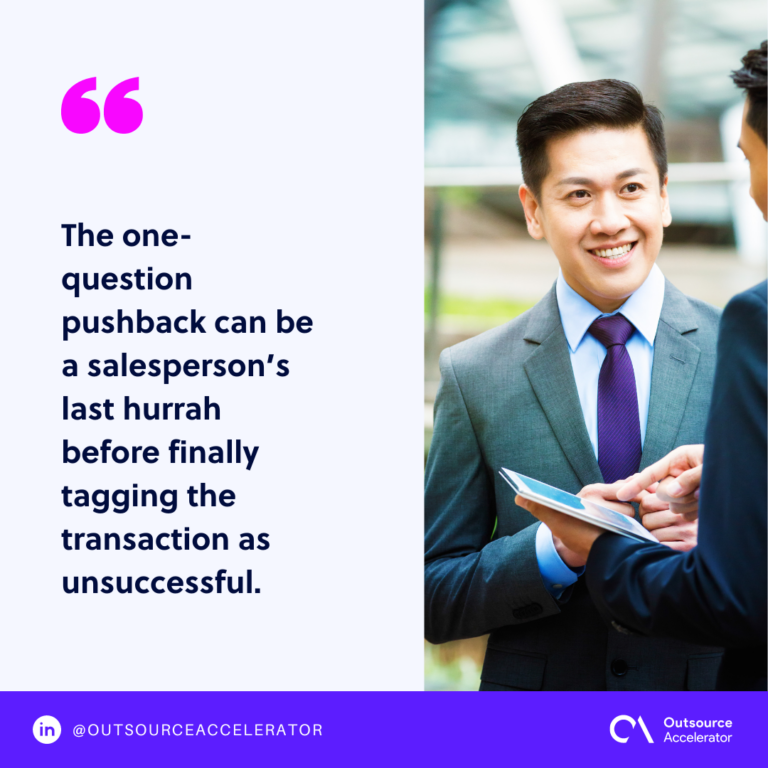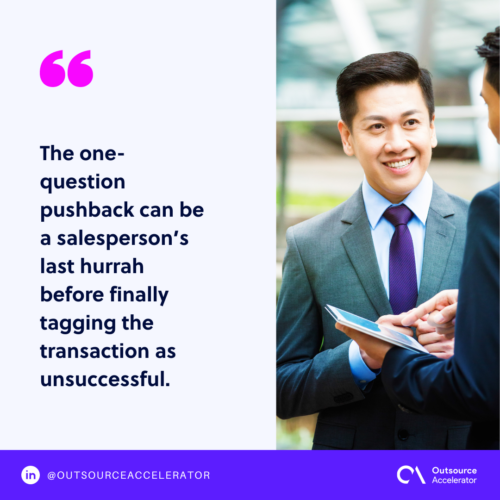 7. Letting their imagination take over
Examples:
"Just imagine how productive you'll be when this product becomes yours!"
"Can you imagine the savings if you take this deal today?
"This product could help you in more ways than one…"
Warm and hot B2C or B2B leads have already visualized what the product looks like once they start using it. So why not fan the already burning flame?
Letting prospects mull over the details of the item will only build more excitement, and hopefully, this will allow them to close the sale as soon as possible.
8. The "now or never"
Examples:
"I can't guarantee that this will be available after today…"
"This is the last available stock…"
In the same vein as instilling a sense of urgency, this sales closing technique plays with the customer's emotional response to missing out on deals and discounts. 
It's important for salespeople not to overdo this strategy. Otherwise, they risk the customer losing interest, thus leading them to buy from a competitor or not buy at all.
9. Adding a freebie
Examples:
"As a thank-you, I'll be adding this item for free…"
"If you'd like, I could add A to B, free of charge…"
If a sales representative adds a freebie or two, prospects will be more likely to continue their patronage with the company. This also makes it easier to get a "yes" if their prospects already expect a freebie every time they make a purchase.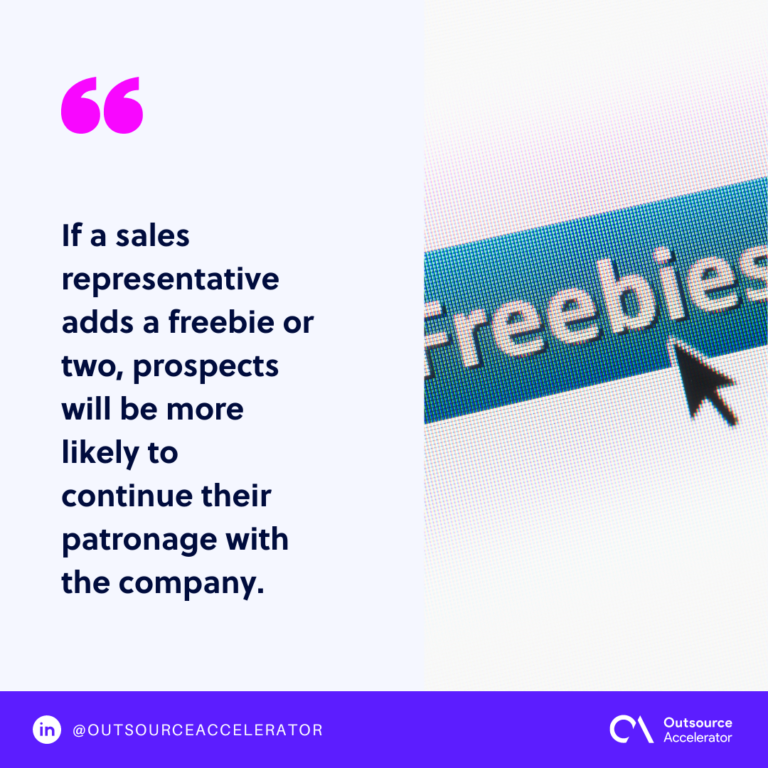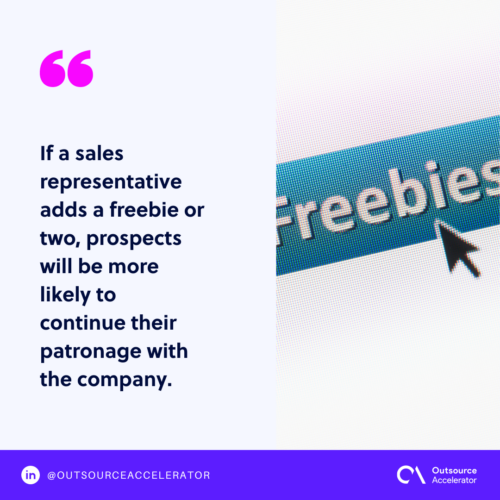 10. Summarizing selling points
Examples:
"To summarize, this product can help you with X, Y, and Z…"
"You've mentioned that you want A, B, C; this product can help you with that and also with E, F, and G…"
"Just to run through these points quickly…"
By summarizing selling points, a salesperson can use this phase to let the prospect remember the reasons why they want to purchase the product in the first place.
This can also prompt the prospect to ask the salesperson questions that can lead to an upsell.
11. Letting the customer take over the next steps
Examples:
"So, what do you think we should do next?"
"Would you like to hear more about X, or are we all good already?
Letting the prospect choose between options is a great way to get them to interact with the salesperson. This is always a good idea as both parties connect with each other while showing respect for each other's choices and opinions.
12. Using the SARB sales closing technique
SARB stands for Summary, Ask, Recommend, and Book. Originated by Saleshacker author Emily Meyer, this sales closing tactic is a mixture of most of the strategies in this list. 
We've already tackled summarizing and asking questions as part of being proactive. Meanwhile, recommendations or referrals are highly encouraged when it comes to connecting with prospects. Referrals can be further made into leads and closed deals soon enough.
Booking the next meeting, whether it's just a short meeting or a catchup call, is important for salespeople to stay connected with their contacts.
This SARB tactic is a highly recommended formula for newbies in the sales industry. It's simple and straightforward.
The key to closing your sales strong
When people think about sales and marketing, the first thing that comes to mind is making money by selling items. While that is the inherent nature of the job, there's also a holistic approach to both of the practices.
Services and products are made and developed to assist us on a daily basis. With that in mind, some sales and marketing strategies revolve around promoting and selling solutions instead of products.
Software-as-a-service providers are a pioneer in this niche. They generate smarketing content that highlights their services' advantages and ways how they can help out a business.
To conclude, more and more businesses are opting to create their own campaigns revolving around how their products and services can help the public.