Best practices in crafting an excellent call center script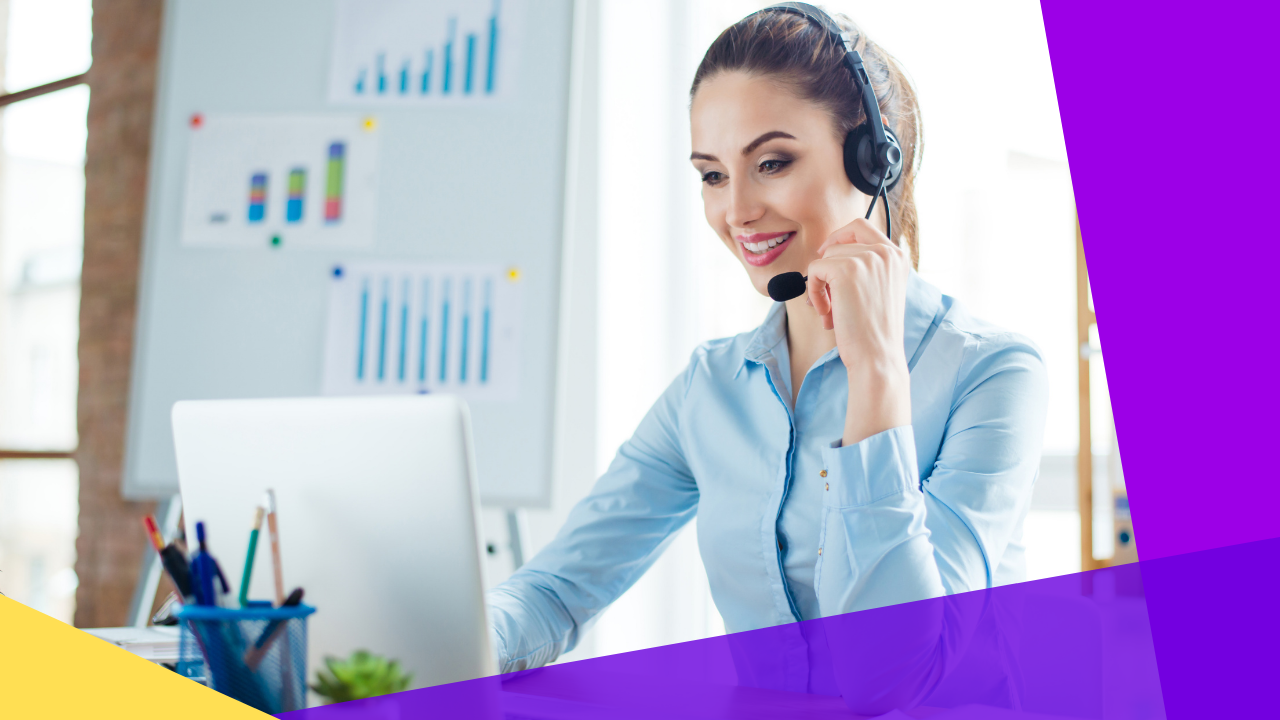 As companies strive to improve customer experience, the majority of them still utilize live agents to their advantage. Indeed, customers still prefer interacting with an agent for complex concerns that can't be addressed with a bot.
You can take advantage of this move as a growing business. By hiring an in-house or outsourced customer service team, you can establish a better connection with your clients and keep them satisfied.
Aside from your agents, a call center script can further make your customer service more efficient. The right script can make a difference in providing the level of care your clients deserve.
Learn how you can craft an excellent call center script for your team through this article.
What is a call center script?
A call center script is a document that serves as a guide in customer interactions. It showcases spiels and common answers to everyday conversations with customers throughout the entire call.
One of the reasons for creating a call center script is to provide customers with the most accurate and consistent information possible. With this, agents will know how to help customers solve their problems and know more about the company.
Responses indicated in a call center script may vary depending on the situation and channel.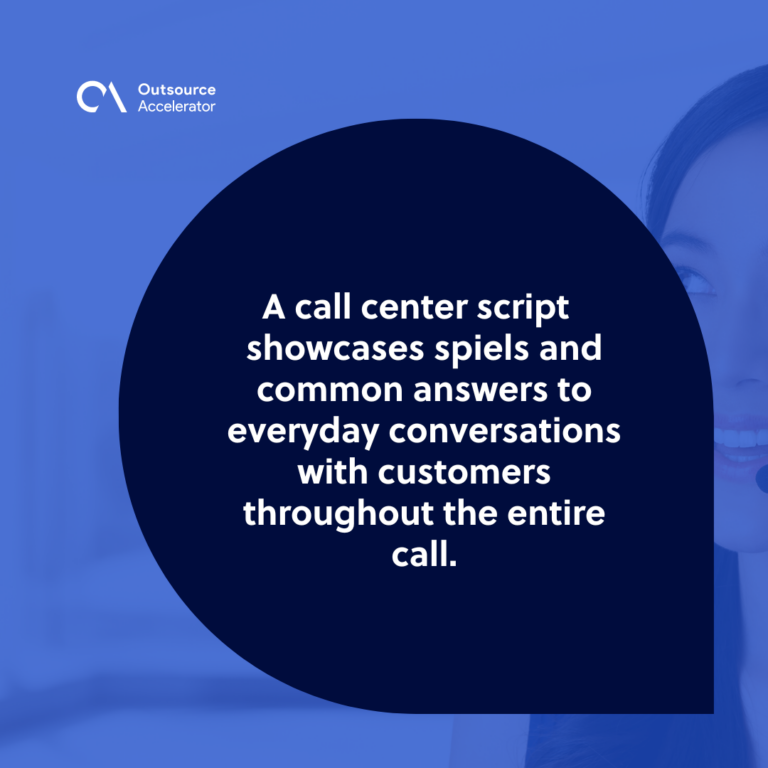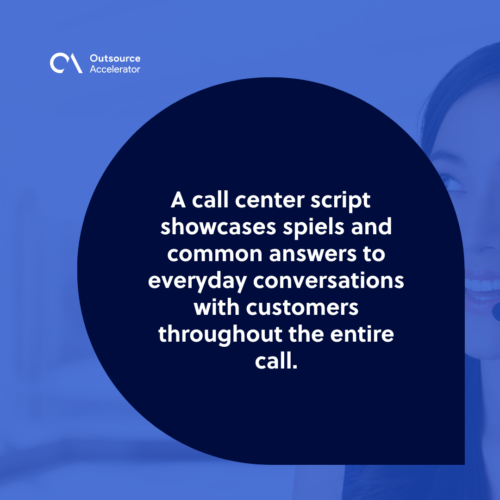 Call center script vs call flow
A call center script includes fixed dialogues and answers in a customer call. Commonly used in call centers and BPOs, these scripts are updated to accommodate complaints, inquiries, and even outbound sales.
Meanwhile, a call flow simply provides a set of procedures on the entire call, from answering to after-call work. It does not indicate exact spiels and answers to deliver. However, it gives agents the freedom to maneuver a call using suggested language, making it sound natural.
More organizations either use call flows as a substitute for a script or a combination of the two.
When should you use a call center script?
Call center scripts are used in many industries that provide products and services to customers. Some of the industries that use them include:
Business process outsourcing (BPO)
Telecommunications
Travel and tourism
E-commerce
Real estate
Elements of a call center script
A good call center script contains the following elements.
Introduction for greeting customers properly and asking how they want to be assisted
Getting further information about their concern
Spiels and procedures for putting customers on hold
Procedures for transferring a call
Crisis handling for irate customers
Spiels for upselling and cross-selling
Follow-ups for concerns and closed sales
Responses for rejections, which applies most to outbound sales
Conclusion for closing a call
Best practices in crafting a call center script
As much as possible, you would not want your agents to sound robotic during customer interaction. This is why your call center script should sound as natural and conversational as possible.
Here are some of the best practices to achieve that.
Get to know your customers
It's best to understand your customers and their common concerns before drafting your call center script. While you cannot always address all types of customers in your business, you can at least address their needs and expectations in calling.
Use some of your previous call recordings and live chat logs to list common concerns and what you need to improve in your script.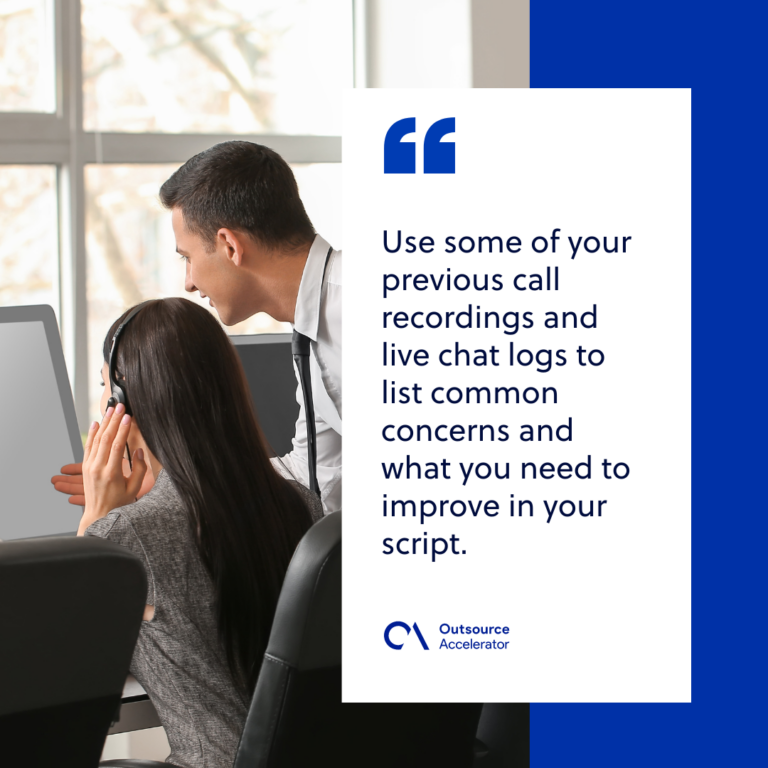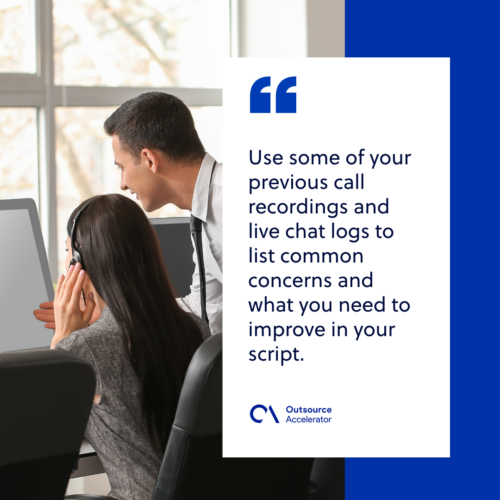 Integrate best practices from previous calls
Aside from knowing your customers, your call recordings are a good way to examine best practices from your customer service reps.
Take a call from a satisfied customer and note the best practices done by the agent, from their tone and wording to the actual responses.
Draft an impressive introduction
Your call opening leaves an impression about your branding and reputation. Creating an impressive introduction shows that you're willing and ready to help your customers solve their issues. This even helps start your interaction on the right note.
Establish your agent's name and the company early on to create a connection with your customers. If you're dealing with returning customers, personalize their greetings as a warm welcome. You can then ask for their concerns after greeting.
Make use of positive reinforcements
Positive reinforcements are a great way to encourage customers to interact with your call center reps. It shows them that they made the right decision to call and ask for help in their purchases and inquiries.
Start with a simple "Can I help you?" or "How can I help you today?" to build your first interaction. During the call, verify the information you gathered and ask questions that prompt them to answer "yes" when needed.
Reword negative responses
Find a way to turn negative responses into positive ones. Especially when writing a telemarketing script, there are times when you will receive a "no" from a client.
You can still turn these negative responses into positive actions. This is a good way to show empathy and understanding about your customer's situation. A sincere "I understand" as a response goes a long way.
Be mindful of your language
Always use conversational language when talking to your clients. Be mindful of your tone and avoid using too much jargon as much as possible.
Remember that your goal is to solve their concerns quickly and efficiently. With this, keep your responses straightforward and short. Always review your script to check your responses and make sure detailed information is included.
Apologize sincerely
You will sometimes encounter an irate customer in an actual call. When canned upbeat responses don't work, try to win back their trust by apologizing first.
Offer sincere apologies and understanding regarding their situation. Make sure to follow this with the assurance of helping them with their concerns. Nothing will make them more satisfied than making sure you act on their issues quickly.
Leave room for flexibility
Flexibility keeps your call center script from sounding too canned and robotic. While you can write what your agents should say in a call, it's best to leave room for improvisation and the agent's creativity.
Flexible scripts even encourage better conversations with customers. With this, agents can easily act on additional questions, redirects, and interruptions from clients.
End the call on a high note
Before ending a call, make sure that you've reached their expectations and solved their issues. You can ask them for other concerns they have in mind and if they're satisfied with the interaction.
You can also offer an upsell to your existing clients when needed. Lastly, wrap up your script with a simple "thank you" and wish them a great day.
Review and edit your script regularly
Once you've drafted your call center script, make sure to review and edit it even when it's used in calls. Check recordings that use the current script and see what needs to improve in every aspect.
Keep in mind to consider customer needs, policy changes, and new channels when improving your call center scripts.
Review and edit your script regularly.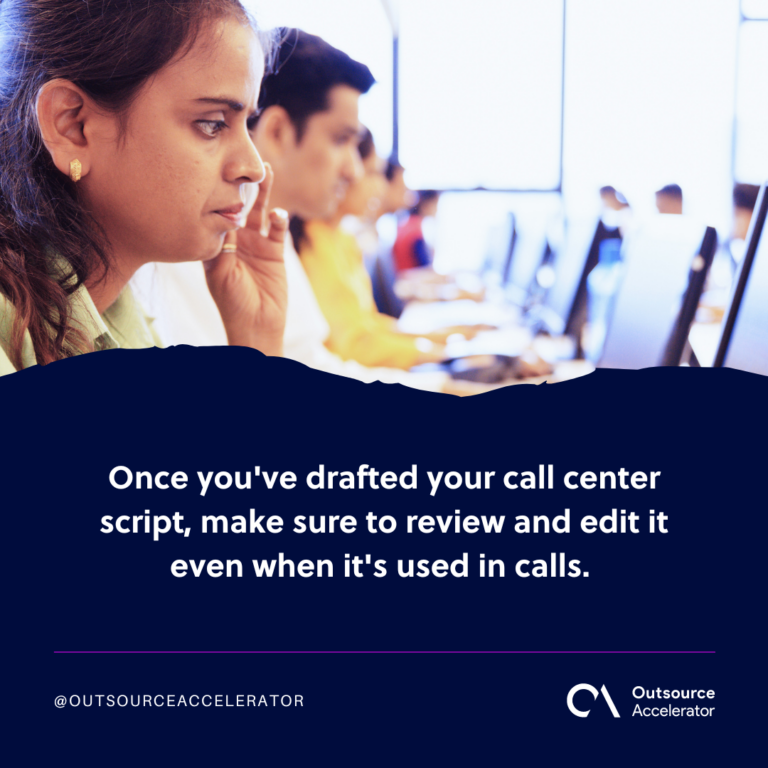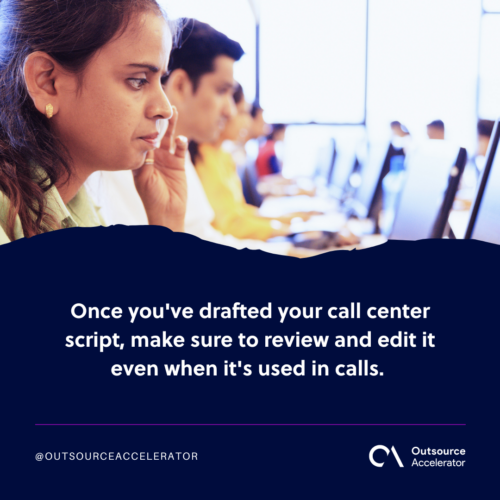 Call center script templates
Crafting a script is not as difficult as everyone thinks. Tons of resources and examples online can be used as a guide for your first call center script, aside from your actual recordings.
Most customer service software in the market has script templates you can use and edit for your team. They contain basic outlines and spiels for different situations and channels, whether inbound or outbound communications.
For outsourced teams, meanwhile, you can coordinate with your service provider on the script to use and how you will improve it. All in all, you won't need an extravagant script as long as it can help increase your customer satisfaction.