What are the ten types of customers you will encounter?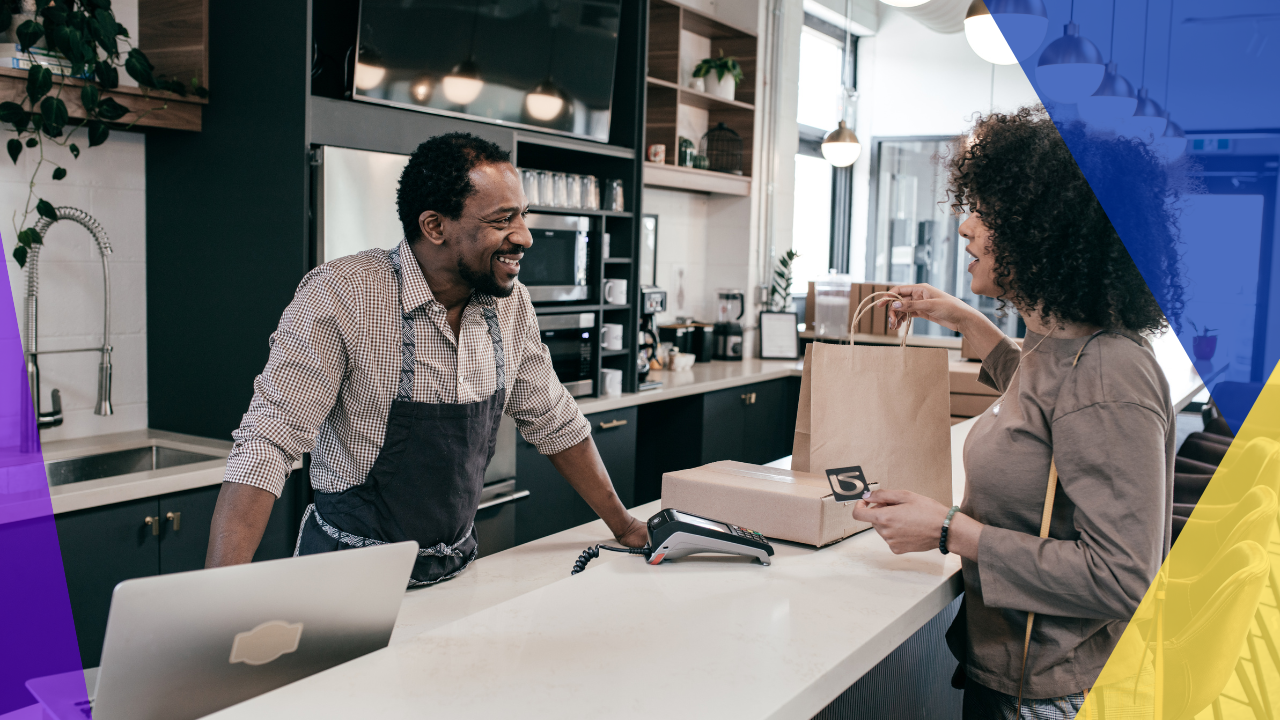 What are the ten types of customers you will encounter
Businesses depend on how much customers love their products and services. However, in order to please present and prospective clients, a business has to do its homework by getting to know its market, as well as its customers. Who are your customers? What are the different types of customers? How will you deal with the different types of customers effectively?
Who is a customer?
A customer is an individual or business that purchases goods or services from another store or business. Customers play a very significant part in business, as they drive revenues and are the main reason why businesses function.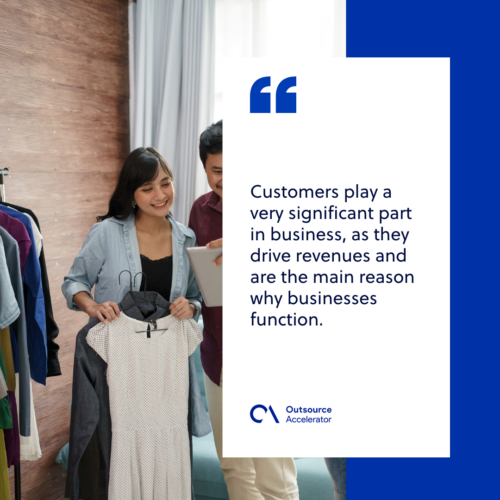 The ten types of customers you'll encounter
In order to create a fulfilling and lasting relationship with their customers, businesses need to take the time to get to know their customers. There may be more, but here are the top ten types of customers that your business will encounter:
1. The new customer
The new customer is, well, new. She may be a first-time buyer of the product that you offer or a first-time buyer from your store. Either way, create an excellent first impression and quality customer service. After all, she wouldn't purchase from you for the first time if she didn't like what she saw. Continue to provide better service, she might end up being a loyal customer and ambassador.
2. The discount customer
Discount shoppers are thrifty customers who love to make a bargain. Their shopping decisions heavily rely on the amount of discount they're going to get from a certain transaction. They usually don't buy at full price. 
3. The loyal customer
Loyal customers love you, and you love them! These are the customers that keep coming back for more. This person's opinions about your products and services should matter. If you can, take the time to ask your loyal customers for feedback and suggestions. Feel free to also give them a platform and feature them on your social media accounts.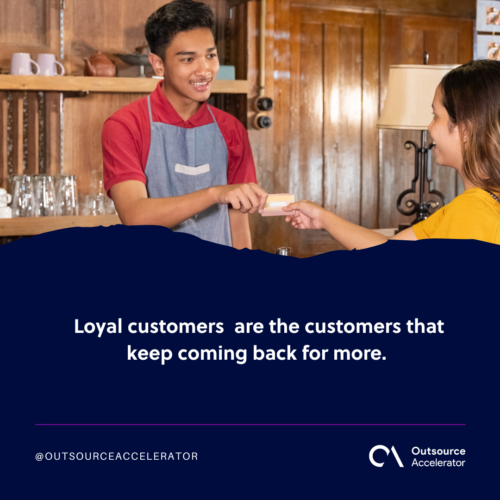 This is the best customer to sell to. In fact, all your physical store's displays, or online store's featured products should be catered to this group. They don't need much convincing to buy a product, and will gladly purchase without any assistance, as long as the conditions are right. 
5. The analytical customer
The complete opposite of the impulsive buyer, the analytical customer does heavy research before every purchase. They're definitely looking for the best version or brand of the product that they need. When you encounter the analytical customer, make sure to answer their questions with facts and reliable statements. 
6. The wandering customer
"Just looking," is this person's motto. This type of customer contributes to your store's traffic, but usually, this traffic hardly reflects sales. They may only be canvassing, window-shopping, or looking for something to buy in the future, but keep in mind that a wandering customer will remember their experience in your store. Provide a good impression so that when it's their turn to buy, they'll know where to go.
7. The practical customer
Practical customers are driven by a specific need. They go to the store to buy the things they need and those only. They could be frequent and loyal customers, especially when they're satisfied with the product and customer service. 
8. The referral customer
You know you've done something right when your business has a referral customer. A referral customer is a customer sent to your store by a glowing recommendation from a happy customer. This type of customer is willing to take the time out of their day and spend their hard-earned money to try out your products or services, so make sure to not disappoint. 
9. The unhappy customer
They may be unhappy because of a mistake in their order or they didn't like the service provided, but unhappy customers' issues can be fixed through excellent communication and customer service. Listen to their reasons and make them feel that you care about them. If the issue is fixed and they're satisfied with how you handled it, the unhappy customer can even become a loyal one.
10. The rude customer
The rude customer is the easiest to spot, though acknowledging this type of customer may be subjective. This article by Business Insider showed some employees' horrifying stories of angry and rude customers crossing the line. They may lack manners or power trip, just make a quick decision if this person's behavior is something that you can tolerate. Customers will always be a priority but keep in mind that you can always refuse service as a last resort.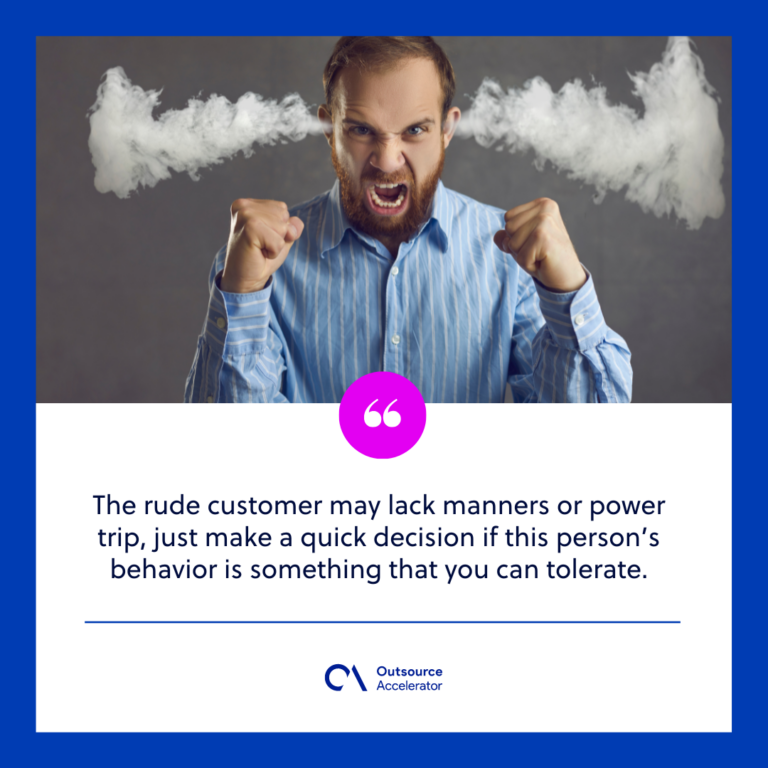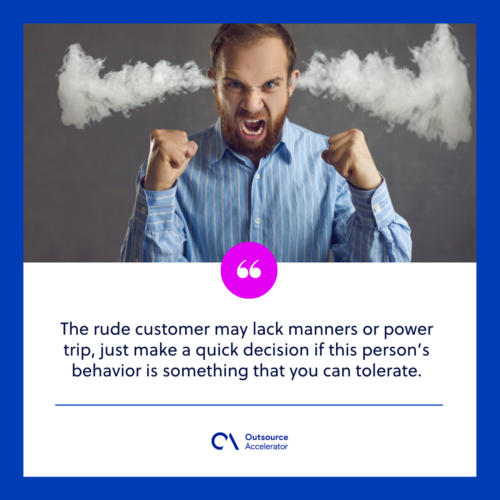 Why do you need to know the types of customers you'll encounter?
Getting to know the types of customers you'll encounter, whether for your physical or online store, will help you learn more about your market and how to please them. Learning about the different types of customers your business will encounter will also help you prepare for unprecedented circumstances, like shipping errors.
Whether you have an outsourced or direct staff, it is also important to train them about the types of customers they'll encounter, especially new hires. It encourages proactivity and preparedness. Seeing and sensing your customers' needs and adjusting accordingly will always result favorably on both sides.