Common misconceptions about outsourcing sales reps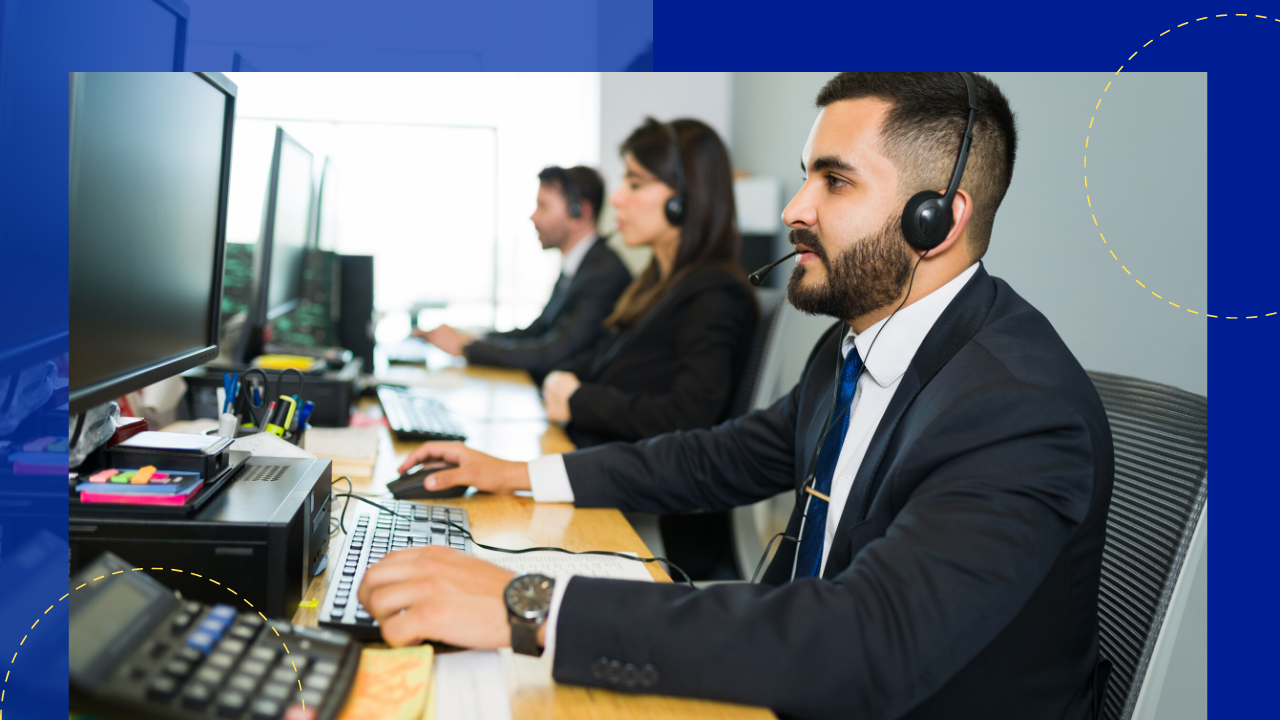 Although outsourcing, in general, brings in greater opportunities to businesses of all forms and sizes, other organizations still remain reluctant to do so due to various reasons. Specifically with outsourcing sales reps, business leaders tend to be hesitant as they fear treading uncharted waters. 
Sales in particular is considered as one of the core activities of businesses and it is not quite easy to have it handled by a third party. However, there are lots of sales outsourcing misjudgments that organizations have to be kept aware of in this modern age. 
In this article, we'll cast light on the common misconceptions about outsourcing sales reps and its actual impacts to business growth and development. 
Outsourcing sales representatives
Finding and hiring the right sales people can be a pretty challenging one. Without sales, any business will not grow as it is considered a lifeblood of organizations. 
Just like any forms of outsourcing, outsourcing sales reps refers to contracting out sales representatives to handle and manage this part of the business function. Nevertheless, organizations also have the option to outsource their entire sales or its specific functions.  
As for outsourcing sales representatives, they serve as a point of contact between a company and its customers. More so, part of their usual roles and responsibilities are as follows: 
Selling products or services to prospective customers.

Generate new leads.

Maintain and nurture customer relationships

to ensure future transactions.

Maintain customer records.

Monitor other market competition by gathering certain current market information.

Prepare weekly and monthly reports.

Resolve customer complaints and answer inquiries about the company's products or services. 

Takes in and processes orders.

Synchronize sales efforts with marketing programs. 
Typically, sales reps should be able to meet certain sales targets and outcomes at an agreed upon schedule.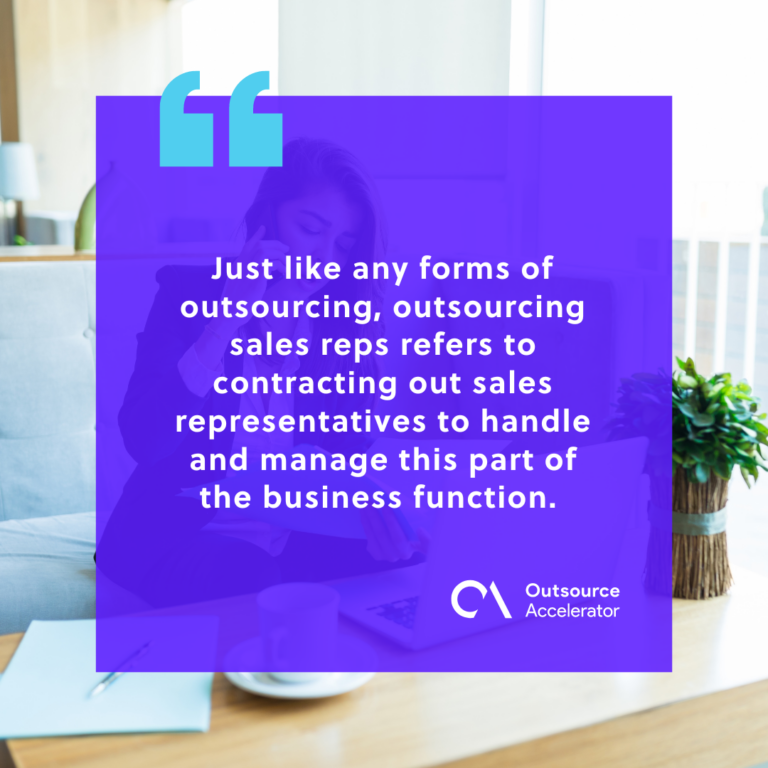 Common misconceptions about outsourcing sales reps
Despite numerous companies utilizing outsourcing sales reps as a strategic practice for aiding their growth and development, others still fail to recognize its benefits. This is mainly due to the following misconceptions. 
Only big corporations can outsource sales reps
This has always been one of the popular misconceptions of outsourcing sales reps. Others tend to believe that startups and small to medium sized companies usually don't have enough financial capacity to outsource. 
Outsourcing sales results in low quality work
According to some, no one can effectively promote a company's own products and services more effectively than its own in-house staff. This type of problem usually stems from poor communication with regards to specific sales goals, and also the lack of skills. 
Truth is, this may occur either to both in-house or outsourced sales teams. 
Outsourcing sales reps ruins the company's brand
There's also this common belief that no one knows a particular brand more than its own in-house sales employees. This also goes with what a lot of people tend to believe that "only you can sell your own products and services effectively".   
Loss of control over the outsourced sales staff
Some business leaders tend to believe that once they outsource sales reps, they lose control over this specific business function. This misconception also goes with outsourcing any type of business process. 
Language barrier
Language barrier is one of the biggest misconceptions in terms of offshore outsourcing sales reps. One perfect example for this is with foreign companies that are looking to offshore their sales in countries where the English language is not the first language. 
But then again, English language is considered as the universal language and it is also one of the top spoken languages in the world. Further, it is a language that is spoken in businesses across the world.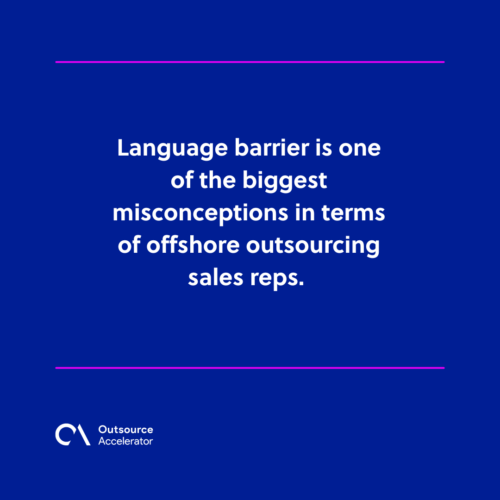 The reality of outsourcing sales reps
In reality, outsourcing sales representatives has significant advantages to a thriving company's growth and expansion. Part of these advantages are the following:
Expert skills 
Outsourcing providers usually have sales representatives with expert experience for several years. Aside from that, also invest in training and honing their staff's skills and capabilities through continuous training. 
Most outsourcing companies today are backed with years of industry experience working with different clients from various industries. Thus, outsourcing clients are able to leverage these experiences to their own full advantage. 
Promotes greater performance
As mentioned above, outsourcing means that companies will be working with forward-thinking sales experts that know exactly what they are doing. Working with an external sales team also brings in new perspectives and fresh ideas to an organization's overall sales strategy. This can majorly help in amplifying their daily sales operations. 
Flexibility and scalability
In terms of business growth, scaling may also mean that businesses will be required to hire more people to add more sales. In outsourcing, companies are given the advantage to scale immediately. 
Given today's impacts of the COVID-19 pandemic, a lot of companies were forced to reduce their workforce as a way to remain afloat and survive. This is normal practice with outsourcing companies as they usually have seasoned accounts for sales reps. 
New markets expansion
Outsourced sales experts can help businesses to tap into new and underserved markets successfully. Since outsourcing is way cheaper and clients can withdraw anytime, they also have the liberty to explore and test new strategies. 
Leapfrog technology restrictions
Aside from investing in their staff, outsourcing vendors also ensure their clients that they are always up-to-date with the latest technology. This does not just serve as their competitive edge in the outsourcing industry, but it also helps them perform top of the line services for their clients. 
Your trusted sales services and outsourcing advisory provider 
Outsource Accelerator is the current leading outsourcing advisor and integration services provider for different industries around the world.We offer sales outsourcing solutions that are tailored according to your types of requirements. Book a call with us today! Let us start working on achieving your business goals together.