What businesses need to know about smarketing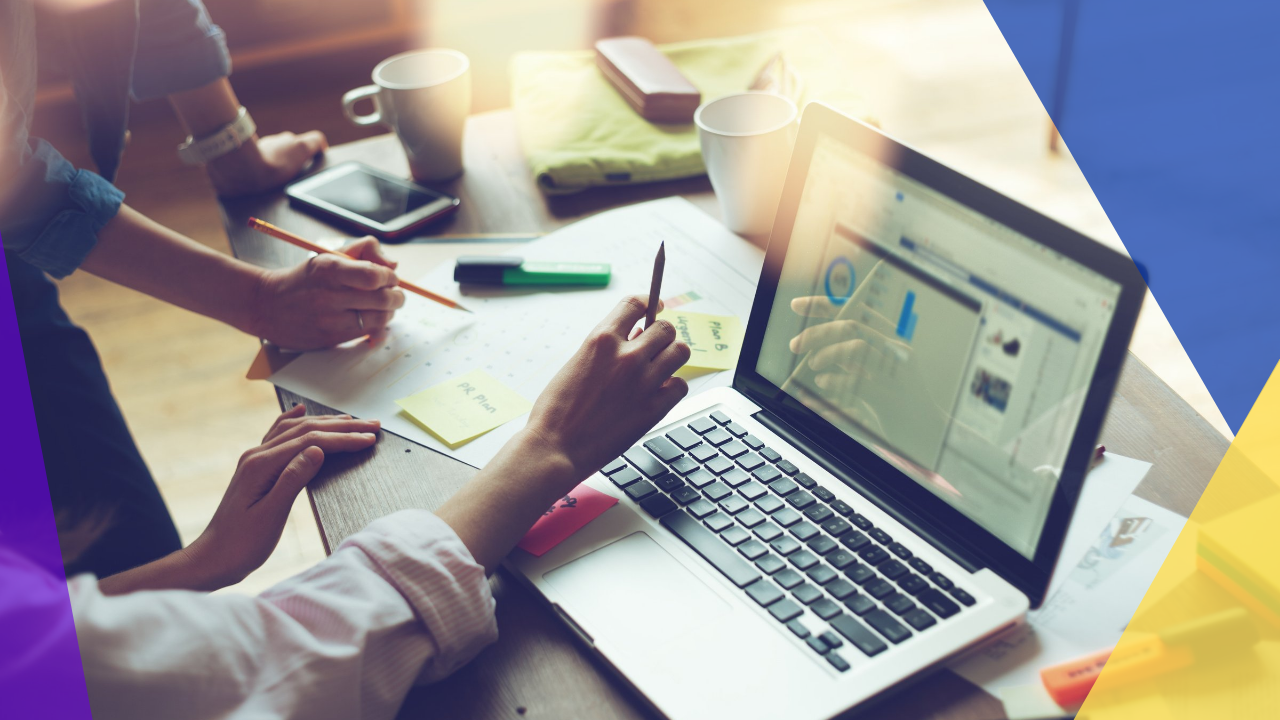 The result of sales and marketing combined, "smarketing" was coined by HubSpot executives Dan Tyre and Mike Volpe. Since then, it has caught on.
Both the sales and marketing departments often have an unsaid tension between them. This may be brought about by workplace pressure, unhealthy competition, and miscommunication.
This spurred Tyre to originate smarketing, envisioning a future where both departments work together with no friction whatsoever.
More and more companies are adopting this hybrid strategy of sales and marketing, much to their delight. With little to no friction between the departments, revenue has gone up drastically.
Let's take a closer look at smarketing and how businesses can benefit from implementing its strategies.
Defining smarketing
Smarketing is a strategy that introduces the sales and marketing departments to each other. This compels members of the separate teams to step up and work together. 
A hybrid of sales and marketing, smarketing merges sales and marketing activities into one major department. This allows companies to market their products to potential customers and clients while integrating sales strategies into the process as well.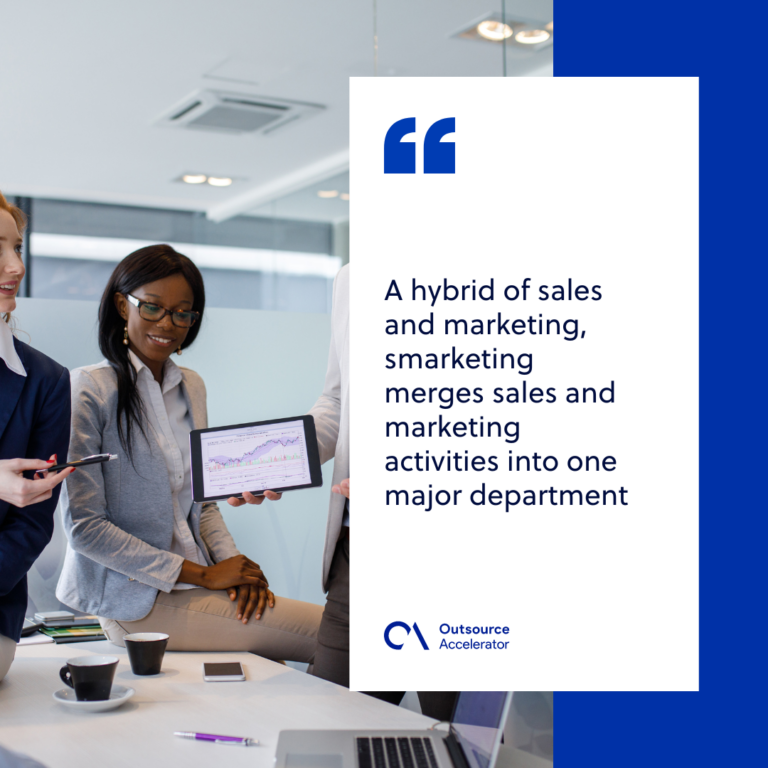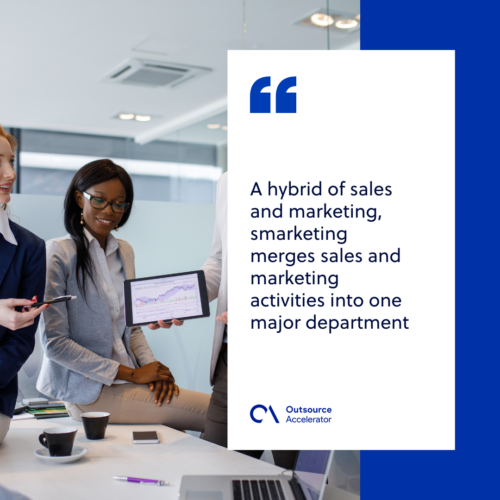 The dictionary definition of smarketing stays consistent no matter how one looks at it. But it may differ from company to company.
Some companies fully integrated both departments into each other, while some just delegate sales activities onto their marketing team.
The latter practice has the risk of employee burnout due to the mishandling of task delegation. However, if it's done right, it could positively impact how a business will run in the future.
The sales and marketing hybrid
The sales and marketing departments have overlapping responsibilities such as spreading brand awareness, knowing the basic product details, and bringing in new business.
As most of us know, they work hand in hand as marketing affects sales and vice versa. Without an effective marketing strategy, sales quotas will not be met.
By putting sales and marketing together, managers and higher-ups can monitor their departmental goals closely. With one smarketing department, they can ensure that everybody is working efficiently.
Some might argue that joining sales and marketing departments together will just create lapses. 
While some of their points may be valid, most of it stems from the fact that a handful of companies don't successfully integrate the departments together.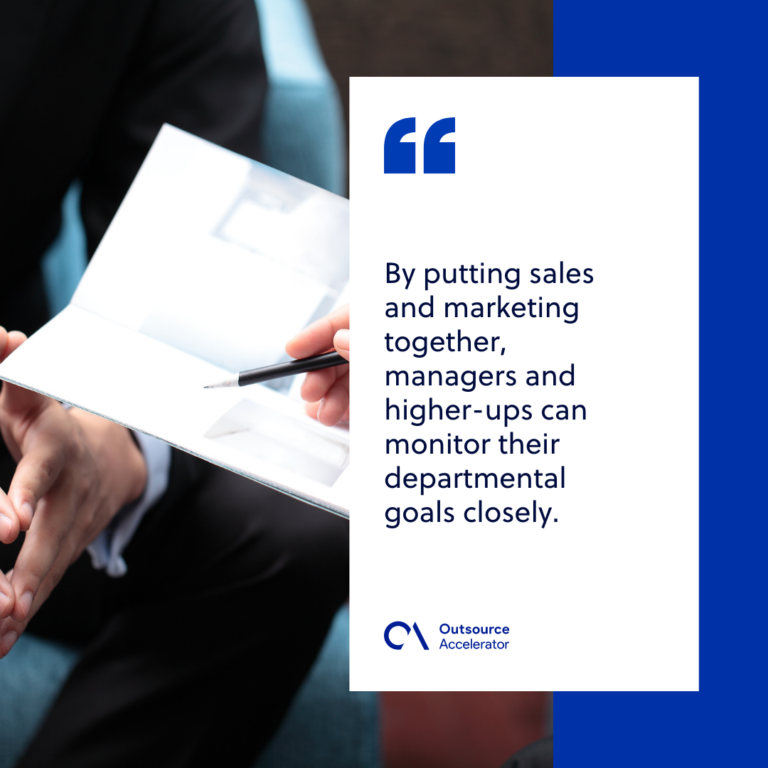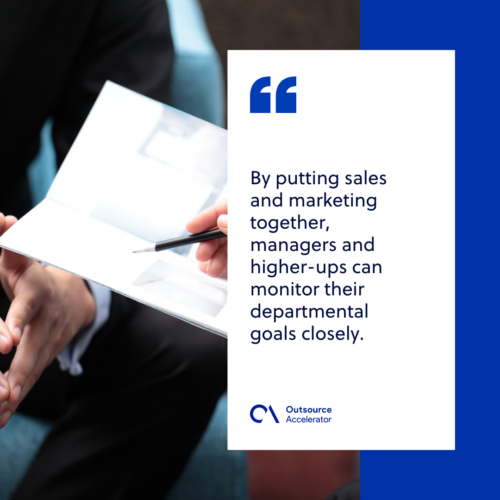 Why businesses need smarketing
One reason why businesses need smarketing is to combine the efforts of both departments without any hitch. By doing so, they're also saving up on resources.
Companies that adopt this strategy don't need to allocate funds and technologies separately as the two teams are directed toward a common goal.
Without the two working harmoniously together, businesses will fail to thrive and achieve the milestones the leaders have set for themselves.
Smarketing strategies to use in 2023
Trends and industry practices evolve as time passes. And oftentimes, these dictate and influence marketing strategies.
That said, strategies need to evolve and develop with the times as some of them become outdated and too weak to apply in customer interactions
Our friends in the smarketing department are working hard to come up with ways on how to stay on top of the trends. Below are the top smarketing strategies to use today.
Targeting the right audience
One of the foolproof ways to get new customers is to target a specific group of people that might need your product or service in their daily lives.
For instance, if a company makes a line of home office furniture, their smarketing strategy should be directed toward professionals who are working from home.
Targeting the right audience can actually save money. To put it simply, if the marketing strategy works, the smarketing department won't need to allocate more resources and effort into re-running the same campaign over and over again.
Retargeting old customers and clients
Part of reaching the right audience is retargeting old customers. It may sound daunting at first, as their likes and dislikes may have changed over time. 
But by reengaging with existing customers, there is a huge chance of them becoming patrons or regular customers.
Another thing that old customers can provide is insights into their past purchases. This is important because brands use customer feedback to improve their products and services.
Aligning goals with present data
Smarketing isn't always about coming up with strategies and upselling. There are parts of the department that deals with analyzing consumer behavior and data.
By doing so, the organization can align future goals with the data presented by the department. Historical data is a good medium for figuring out which trends are coming back around.
Meanwhile, the smarketing department can interpret the newest data into consumer behavior and dictate how the trend will go and how long it will last.
SMART goals
The SMART acronym stands for Specific, Measurable, Achievable, Realistic, and Timely. 
This widely used mnemonic helps team leaders, managers, even rank-and-file employees set goals that can be accomplished efficiently and effectively.
Goals set using the SMART way have a great chance of success. And with more goals achieved, the department will be more excited, productive, and efficient in their work.
Maintaining a customer relationship management database
A customer relationship management (CRM) database is vital to the smarketing department. Without a functional CRM system, it would be hard for both marketers and sellers to keep track of active and inactive customers.
For small businesses and solopreneurs, a CRM system can mean a simple Excel spreadsheet. But for bigger companies and organizations, it can be enterprise-grade, paid CRM plans.
With the help of CRMs, businesses—no matter how big or small—can manage their customer database in the best way possible.
Making marketable content
Content nowadays is made to be marketable. Ads have catchy phrases that fit into an Instagram post, while some commercials are filmed vertically to accommodate mobile phone users.
Marketable content doesn't have to be fancy to be trendy. If done right, it can surpass expectations and become viral overnight. Often, the simplest versions of content are what's making rounds on the Internet.
Tip: In creating marketable content, every letter counts. In each ad copy, words should carry a message. There's no room for fluff, especially if it's a social media advertisement. So be concise, catchy, and short. Let the graphics (assuming that there is) speak for themselves too.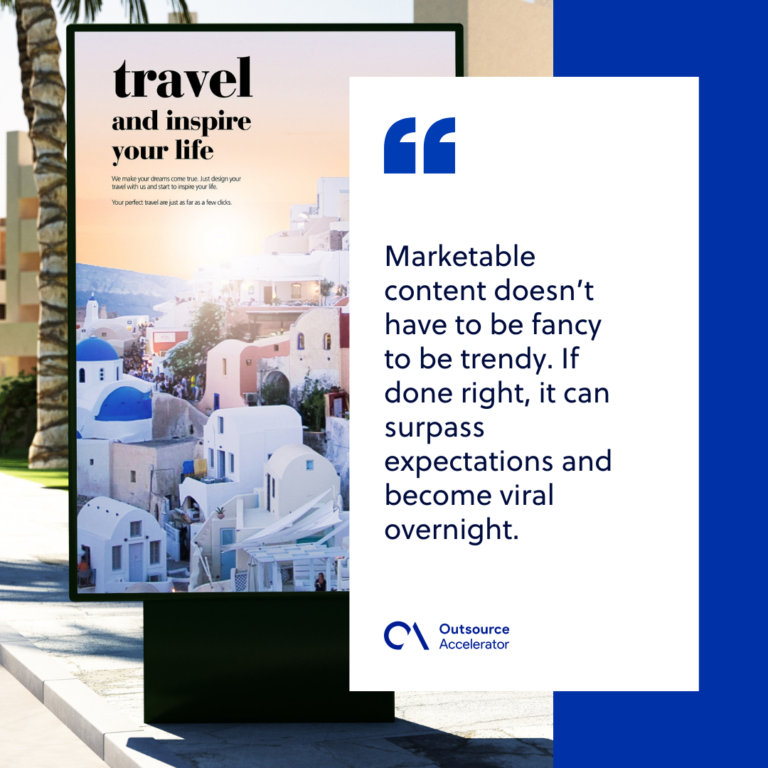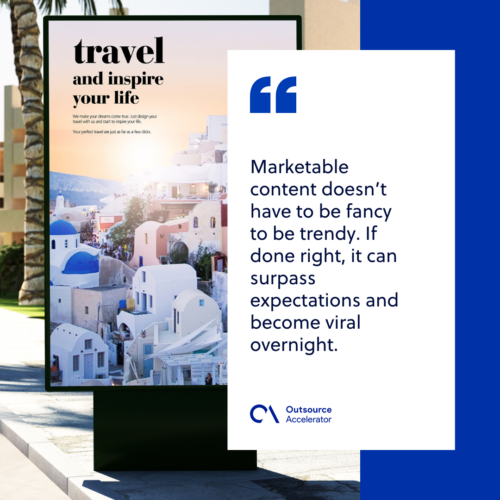 Why content calendars are important
Content calendars are used by marketing groups to keep track of their multi-platform posts. By using an organized calendar, the department can make content based on current trends and seasonal promotions.
Without content calendars, the turnaround for content will be a mess and deadlines hard to track. They can also provide the bigger picture, giving the smarketing teams a better perspective of their online activities.
Closing the gap between the sales and marketing departments
Smarketing is a concept born out of the vision of sales and marketing departments collaborating over projects and campaigns.
Closing the gap between these two departments is a big feat that any company can accomplish—as long as the managers and their team members work together. 
Here are factors that play a role in integrating sales and marketing successfully.
Two-way communication
When bridging the gap between two departments, having two-way communication with any team member or manager is essential to running things smoothly.
Open communication also means maintaining a safe space for anyone to ask questions, voice out any concerns, and share ideas.
Attainable goals
The goals are the backbone of every successful campaign, and they should be realistic and attainable. With realistic goals, everyone in the team can work together and complete them ahead of time.
Meeting quotas and achieving goals are good indicators of a team efficiently working together. Not to mention, these milestones open up avenues for employee recognition and positive interactions with the rest of the group.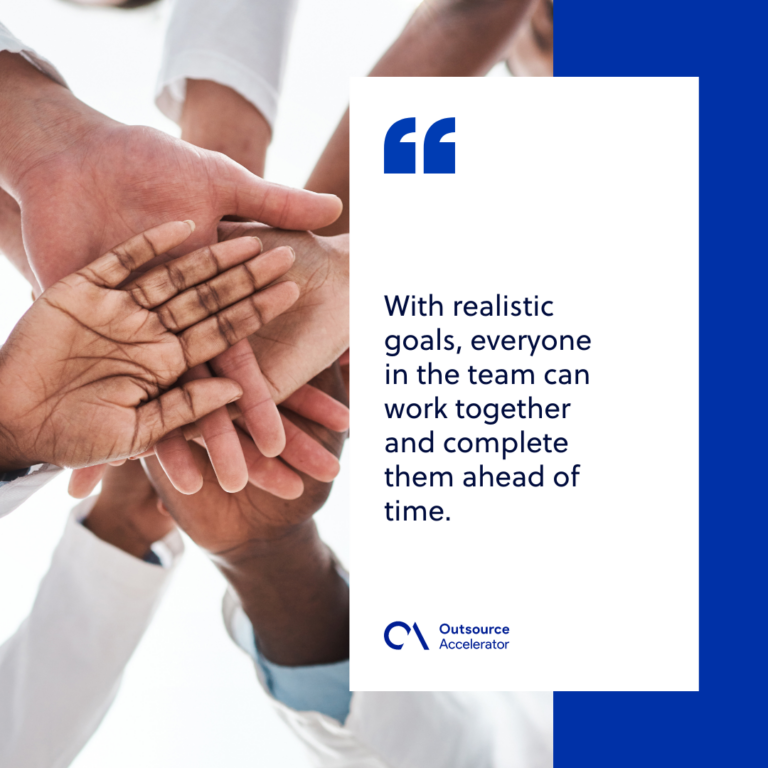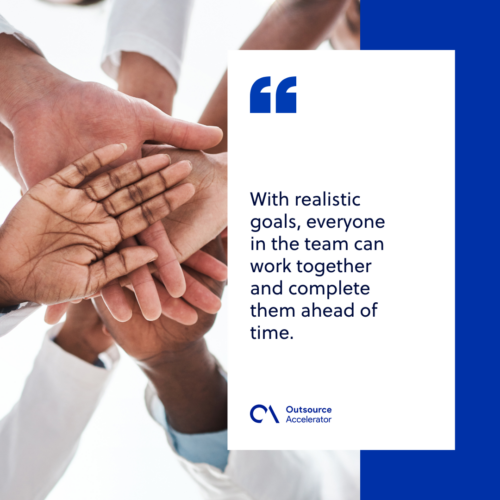 Positive reinforcement
Positive reinforcement, alongside constructive criticism, leaves room for development and growth both in a professional and personal manner.
Some team leaders and managers often miss the point of giving positive feedback. They dish out criticism one after another, not knowing that it can impact a teammate's morale regardless of whether it's meant to be constructive.
Staff recognition
As with any department, it is a good practice to recognize individual and/or team efforts that made a significant impact on the company. Recognition can come in many forms and is not always monetary. 
Regardless of how big or small the recognition is, it can impact the department's morale and camaraderie all together. 
From a personal thank-you email to an award, staff recognition is always important.
Is smarketing on the rise?
Smarketing is on the rise as more and more businesses adopt a more flexible, productive, and efficient approach to sales and marketing. 
2023 is anticipated to be the year when every market will 100% open up again, despite being ravished by the pandemic.
Managing the sales and marketing departments separately can be a hassle for small businesses and enterprises. But thanks to the modern concept of smarketing, there is now a solution that can bring out the best of both worlds.
That said, smarketing and its strategies have varying results. No two companies in any sector are exactly the same, and it is up to their teams to adopt smarketing in ways that align with their own goals.