A quick guide on the average salary in Thailand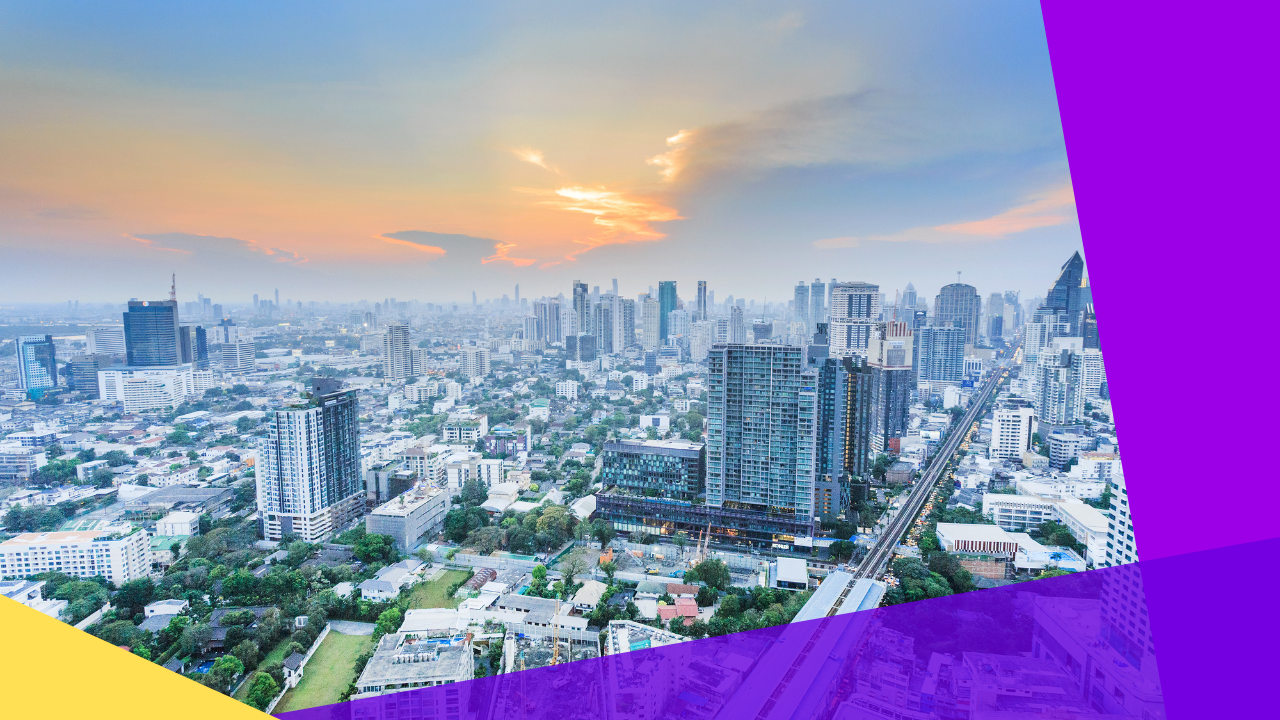 Thailand still has one of the biggest economies in Asia despite the effects of the pandemic. It experienced staggering economic growth over the years, establishing itself mostly through tourism.
The country is known to be welcoming to ex-pats and migrant workers. At the same time, it is a rising outsourcing destination for low-cost manufacturing and facilities management.
While the average salary in Thailand is higher than in the Philippines and India, it can still compete with the United States, Hong Kong, and Singapore in terms of labor costs.
The average salary in Thailand
In 2020, the average salary in Thailand was US$619. It rose to THB 27,352 (US$877.64) per household, based on the 2021 insights by the National Statistical Office (NSO).
The country ranked higher (57th) than the Philippines in the overall average global wages. With the proposed flat rate approved by the Tripartite Wage Committee, the average salary in Thailand is expected to increase.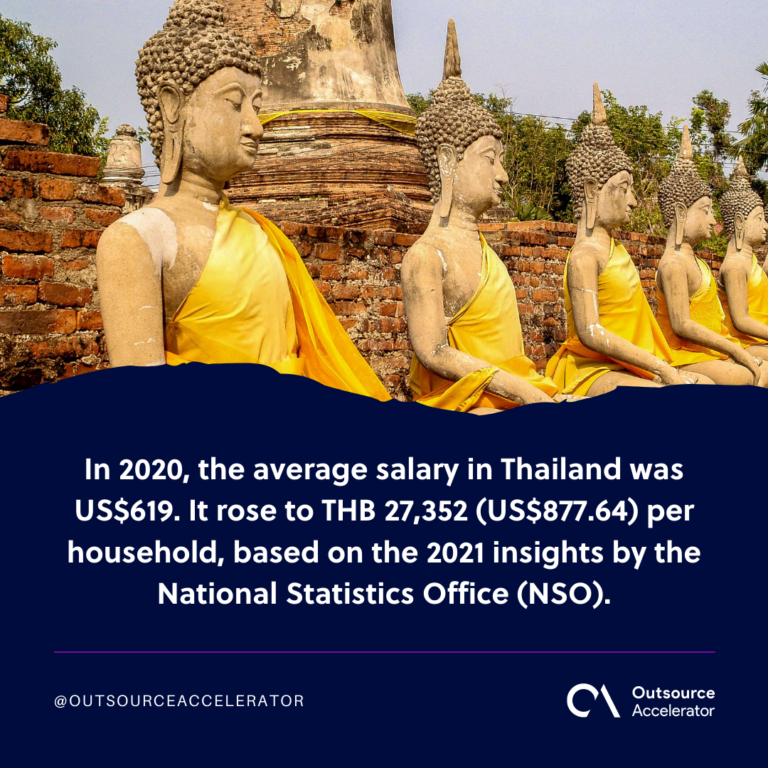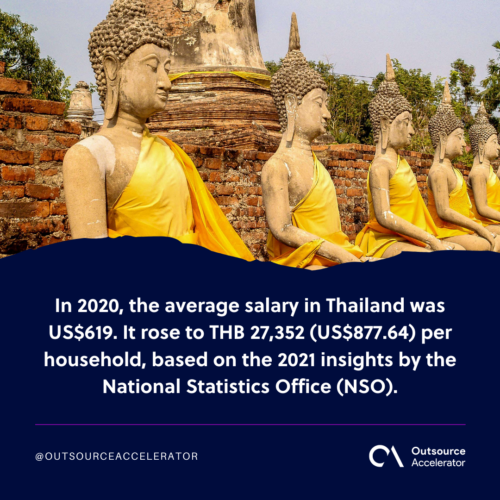 The elements that affect the average salary in Thailand
A worker's average income in Thailand is affected by several factors, such as the following.
Educational background
Like in most countries, the education level in Thailand matters in getting a good salary.
A 2022 report by the Bank of Thailand revealed that workers with a bachelor's degree could earn at least THB 24,026.42 (US$692.80) a month, while master's degree holders get up to THB 39,606.77 (US$1,142.06).
Non-degree holders can still earn up to THB 15,621.56 (US$450.45) monthly. However, most of them don't have the chance to increase their earnings compared to most college graduates.
Location
The average wage in Thailand also varies according to the regions where the employees work.
In October 2022, Thailand's daily minimum wage increased by 5%, ranging from THB 328 to 354 (US$9.46 to 10.21). Like in other countries, wages in most large cities are higher compared to the provinces.
Here is a table of the minimum wage in major cities in Thailand.
| | |
| --- | --- |
| City | Daily minimum wage |
| Bangkok | US$10.21 |
| Chiang Mai | US$10.02 |
| Udon Thani | US$9.87 |
| Ayutthaya | US$10.02 |
| Chonburi | US$10.36 |
Cost of living
The cost of living in Thailand is US$688.60, according to the NSO. Per Numbeo, rent and expenses in Thailand are up to 20% higher than in the Philippines, yet still lower than in the United States.
Bangkok, Chiang Mai, and other Thai cities that used to be among the most expensive cities in Asia fell down the 2021 global rankings by ECA International. Travel restrictions and the drop in tourism are some of the reasons cited for this drop.
Roles and expertise
Salaries in Thailand may even vary depending on the role and expertise of a worker.
Surgeons, judges, and lawyers are among the highest-paid jobs in the country, according to SalaryExplorer. They can earn up to US$17,629.87 monthly, depending on their experience and length of tenure. Software engineers, meanwhile, can earn at least $1,536.11 monthly.
Here are different salaries of other professions in the country based on data by Payscale.
| | |
| --- | --- |
| Profession | Average pay |
| Project Manager (General) | US$2,497.09 |
| Marketing Manager | US$2,379.69 |
| SAP Consultant | US$1,624.68 |
| Business Development Manager | US$2,311.43 |
| Software Developer | US$1,301.07 |
| ESL Teacher | US$899.11 |
| Graphic Designer | US$863.11 |
| Customer Service Agent | US$1,044.15 |
| Team Leader (IT) | US$2,995.09 |
Industry
Different industries in Thailand provide different pay scales for their workers. During the pandemic, many of these industries offered more competitive pay for employees.
Even in 2019, medical services are among the industries in the country with the highest pay. Healthcare professionals remained on the lead in salaries due to the COVID-19 pandemic.
In addition, the IT and banking industries ranked higher with the effects of digital disruption in Thailand.
Per August 2023 statistics by the Bank of Thailand, meanwhile, professional, scientific, and technical activities have the highest average salary range.
Professionals in the private sector earn as much as US$1,026.89 per month, while public sector workers earn at least US$775.40.
JobsDB's latest Thailand Salary Report listed the highest-paid industries in 2021.
| | | | |
| --- | --- | --- | --- |
| Industry | Officer | Supervisor | Manager |
| Information Technology (IT) | US$1,276.07 | US$2,076.62 | US$2,895.97 |
| Professional Services | US$1,220.49 | US$1,982.53 | US$2,822.02 |
| Telecommunication | US$1,198.18 | US$2,083.26 | US$2,935.78 |
| Medical Services | US$1,158.09 | – | – |
| Insurance | US$1,081.75 | US$1,979.49 | US$2,815.04 |
| Accounting | – | US$1,812.32 | US$2,673.60 |
| Banking | US$1,167.49 | US$2,000.28 | US$2,931.87 |
| E-commerce | US$1,094.88 | US$2,010.43 | – |
| Engineering | US$1,103.82 | – | US$2,630.71 |
| Transportation/Logistics | – | US$1,726.09 | US$2,503.61 |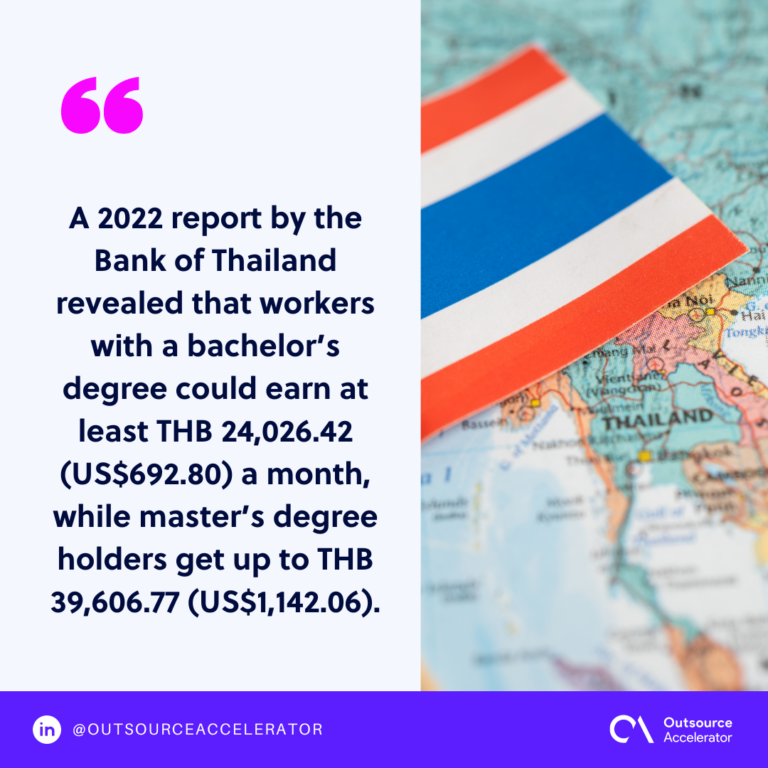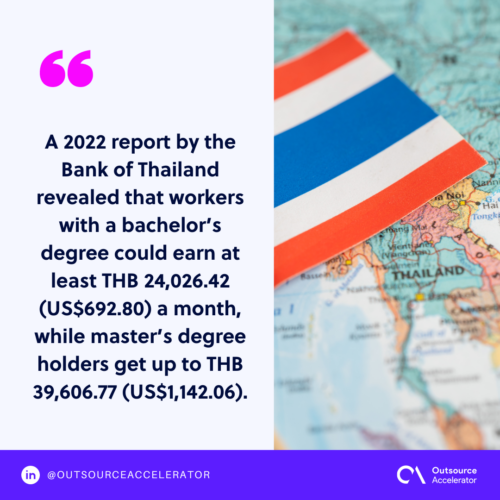 How the average salary in Thailand fares globally
Given the figures above, rates in Thailand could be more expensive than in the Philippines and India. However, it can compete with the costs and quality of outsourcing destinations in Europe and Africa.
At the same time, outsourcing to Thailand can still be up to 70% cheaper than in developed countries. Here's how Thailand fares in the world in terms of average salaries.
| | |
| --- | --- |
| Outsourcing destination/market | Average salary |
| Thailand | US$877.64 |
| Poland | US$1,348 |
| South Africa | US$1,503 |
| Puerto Rico | US$1,858 |
| United States | US$4,626 |
| Australia | US$6,992 |
| United Kingdom | US$4,071 |
| Singapore | US$3,516 |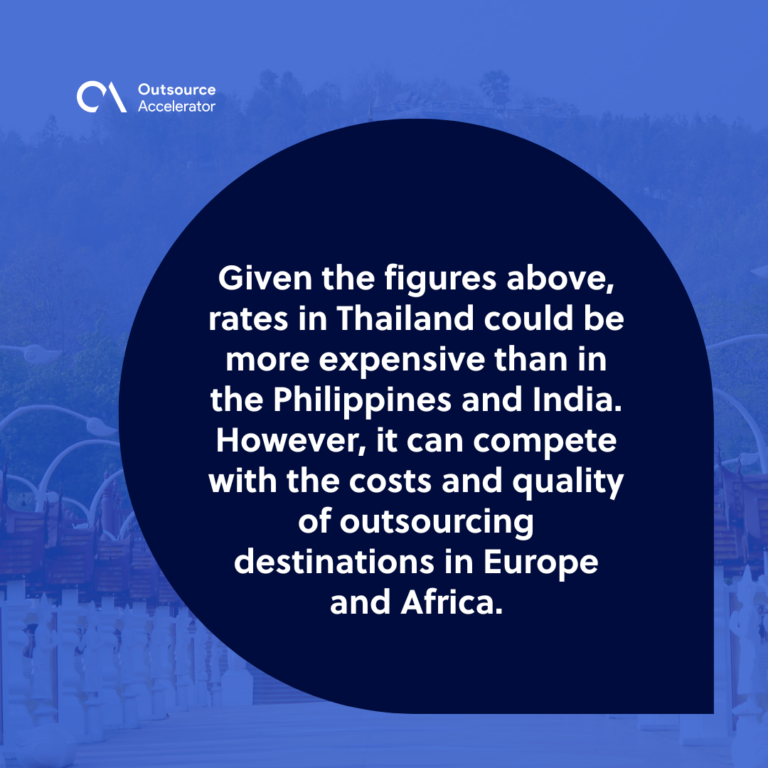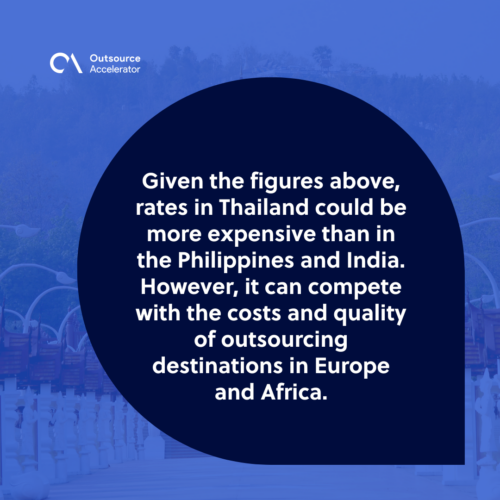 Outsourcing to Thailand: its advantages and provisions
Thailand is gaining popularity as an outsourcing powerhouse for logistics management services.
For one, companies are attracted to low-cost manufacturing in the country. Thailand can compete with China, especially when American companies slowly pull out their operations.
At the same time, quality infrastructures in Thailand cost less, making it a viable option for setting up business operations.
However, outsourcing in Thailand still has its downsides:
English proficiency. Despite being expat-friendly, Thailand ranks 100 out of 112 in global English proficiency. The country continuously needs ESL teachers to teach English for business and other aspects.
Looming labor shortage. Thailand planned to allow more migrant workers to enter the country. This is due to the labor shortage it faced in manufacturing.
Cybersecurity issues. Data protection is still loose in Thailand despite having an approved Personal Data Protection Act. Data breaches could continuously occur until the law is implemented in June 2022.
With this, companies looking to outsource to Thailand for other roles should still tread carefully on their plans.
It's best to properly research and look for a reliable service provider in the country to ensure the quality and security of their outsourced services.