What is an aggregator model?
Have you ever visited a site that lists every possible thing that you searched for? You might not have given it much thought, but this is an aggregator model at work.
From your favorite online shopping site to business-to-business (B2B) activities, this model has revolutionized how companies work with customers and with each other.
It brings convenience like no other and even levels the playing field for companies. It's a win-win situation no matter how you look at it.
How an aggregator model works
The aggregator model is most notable in e-commerce stores such as Amazon, Alibaba, Shein, and Lazada. By its nature, the aggregator model partners with merchants, other businesses, and clients to "market" their products on their platform.
It's a network of business entities that are often competitors and are sharing the same target market.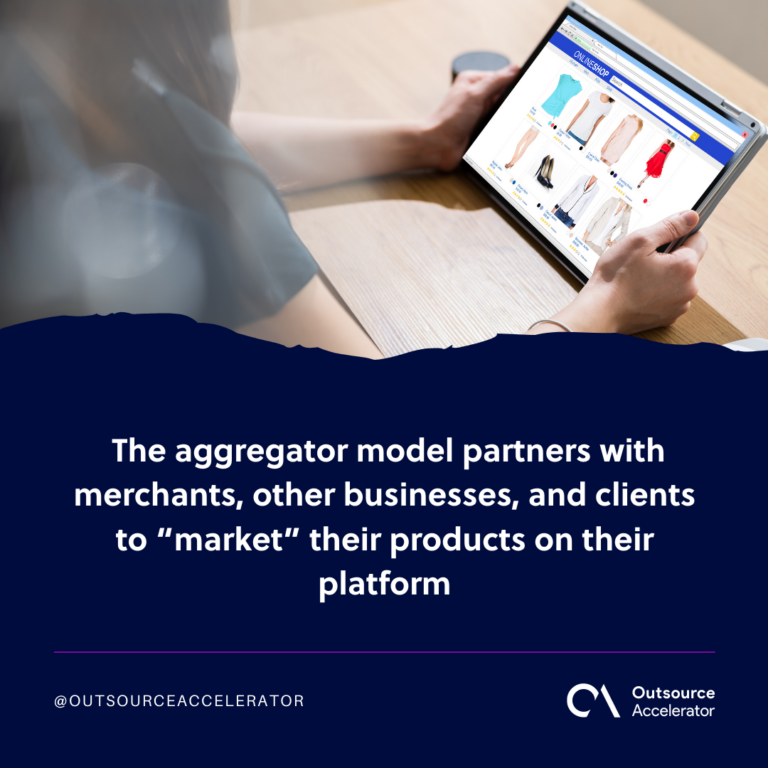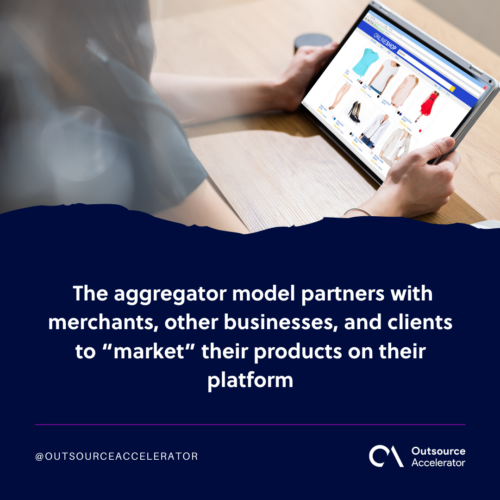 Examples of the aggregator model
While e-commerce sites, as mentioned, are the most familiar forms of aggregators. However, the aggregator model spans across different industries, from outsourcing and employment to travel and leisure.
E-commerce marketplace aggregators
As briefly mentioned above, the e-commerce industry has this model at its very core. E-commerce apps and platforms operate with both their merchants and their merchants' customers. 
They act as the middleman, to put it simply. When a merchant successfully closes a transaction, they often have a cut from the sale itself.
Outsourcing aggregators
If we're going to cite an example, we're not straying any farther. Outsource Accelerator is a B2B aggregator platform that caters to multinational and local business process outsourcing companies.
The platform makes it easier for clients looking to outsource to find their perfect match from Outsource Accelerator's directory of outsourcing providers.
Travel and leisure aggregators
Expedia, Agoda, Trivago, and Airbnb are the staple names when it comes to the travel and leisure industry. These platforms act again as the middlemen between travelers, accommodations, and airlines. 
They offer a marketplace in which customers can freely pick, choose, and customize their travel itinerary.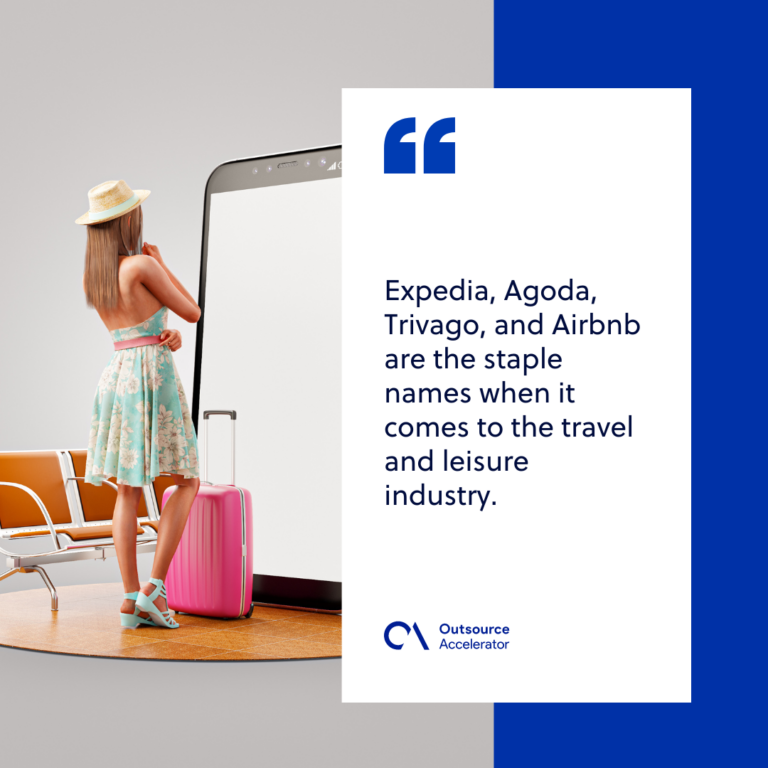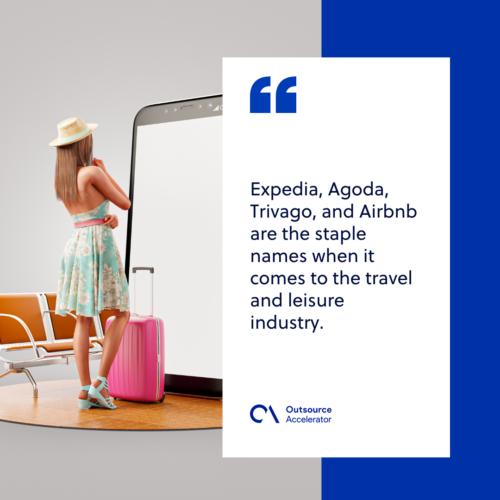 Job and employment aggregators
Another prominent example of an aggregator model at work is job listing sites. Indeed, Glassdoor, CareerBuilder, even the local Onlinejobs.ph, are all examples of employment aggregators.
These platforms adopted the aggregator method for companies and organizations looking for new talents. Most of the time, businesses need to pay for membership on these platforms.
Recruiters have a different user experience than those who are looking for jobs. They have access to countless résumés that applicants upload on the platform—all they have to do is to search and sift through.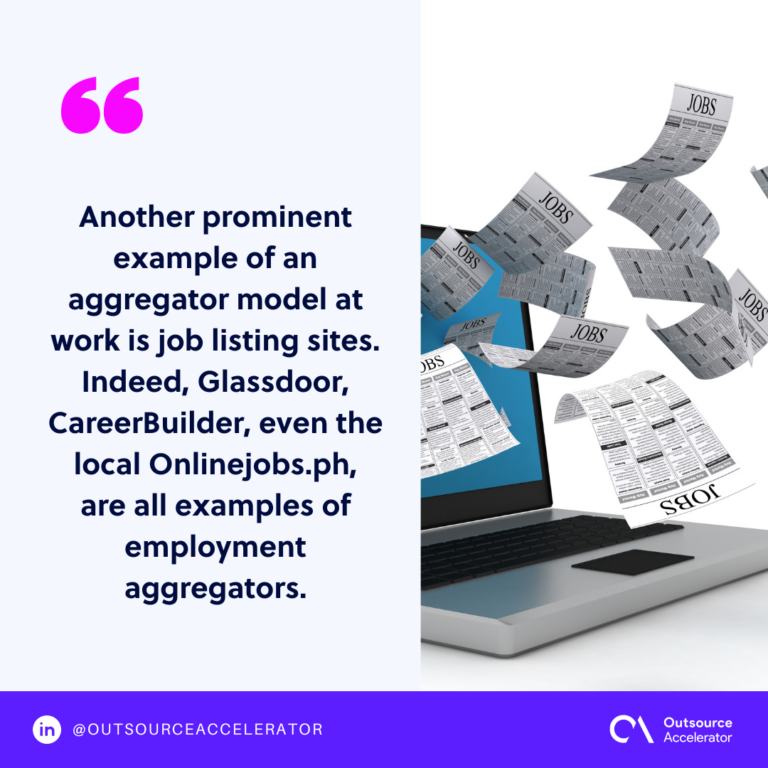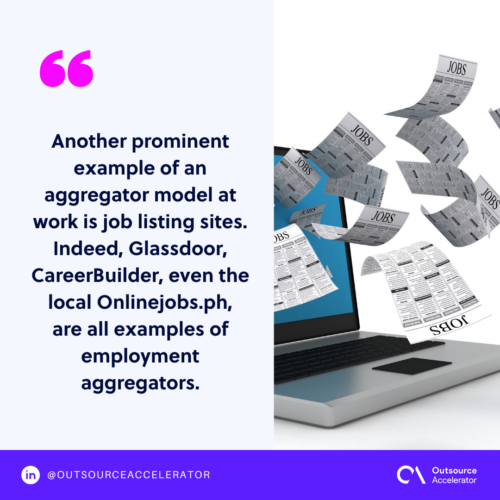 How RPO companies utilize job aggregators to source candidates
Recruitment process outsourcing (RPO) companies utilize these job aggregator platforms to look for candidates. They find viable candidates through the "back doors" of the site. Sometimes, they partner up with these platforms to get exclusive features.
Recruiters use the boolean search to find the ideal candidates. This method is proven efficient as it automates the search and narrows down the number of candidates with the specifics of the job.
For example, if the recruiter is looking for a web developer with HTML5 and CSS experience, their search string would look like this:
"Web developer" OR "web dev" AND HTML5 AND CSS
Running this boolean search string on their end would result in dozens of candidate profiles with the exact match. This saves so much time and effort of scrolling through unrelated and unqualified profiles the whole day.
That brings us to the second part of how RPO companies and recruiters utilize job boards: posting a job advertisement. 
RPO specialists post a job ad when they want the candidates to reach out to them first, and we're all familiar with this setup. The candidate applies to the job ad (and other posts), the recruiter gets the notification, and depending on how active they are, the recruitment process begins.
How the aggregator model revolutionizes industries
The aggregator model evens the playing field for a lot of industries. With how competitive each sector is, it would be hard for a startup company to even get a leg up. 
But thanks to this business model, even small to medium-sized companies can compete with staple names in the business world. It gives every business a chance to be discovered by their target market with minimal marketing involved. 
Not only is it convenient for end-users, but it's a platform to further connect with demographics that businesses haven't had the chance to reach yet. These platforms often have users worldwide—just look how big of a reach Amazon has today.