What is the average salary in India? Get the figures here!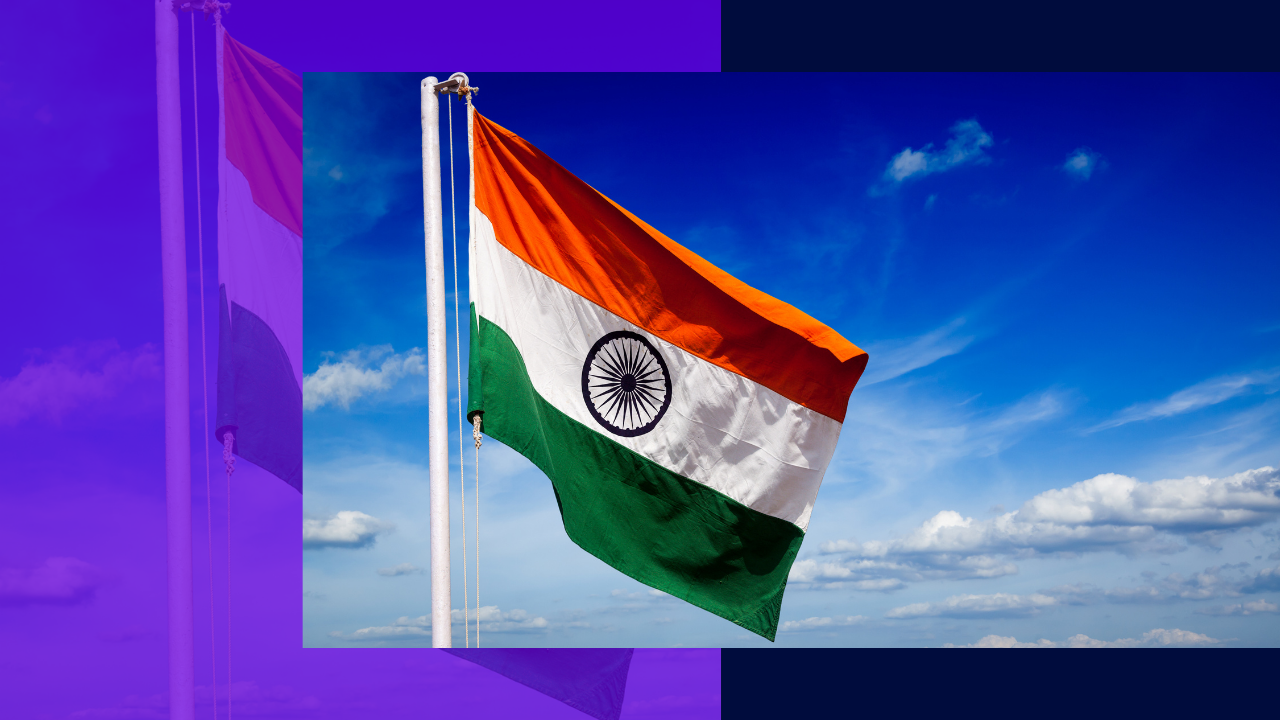 Being an outsourcing powerhouse, India is most known for its low costs and round-the-clock services. Businesses go to the country to delegate IT and other related services at a portion of the cost in more developed countries.
Contrary to what most skeptics say, outsourcing services to India and other destinations is not slave labor. Rather, BPO workers in these locations are paid more than their minimum wage.
If you're curious about how much an employee in India is paid, look no further. Find out the average salary in India and the factors that affect this rate in this article.
The national average salary in India
Per discount platform Picodi, the average salary in India as of 2020 is INR 33,120.47 or at least USD 438. The country ranked 72nd on the list of average wages worldwide, which is one of the reasons it is ideal for foreign investment and doing business.
The minimum wage in India
An average Indian worker earns a minimum rate of USD 2.36 per day, according to Trading Economics. 
Depending on their profession and other factors, they could earn as much as USD 47.16 per month for a skilled worker and up to USD 1,894.25 for professionals. Highly skilled employees in tech-related roles can make even more.
Wage policy
India was one of the first developing countries to formulate a minimum wage policy, with the Minimum Wage Act of 1948. Continuously amended and developed, the country introduced the national minimum wage floor in 1991 and gradually increased it to its current rate.
The average salary in India is determined by an organization's investment to hire each worker, known as Cost to Company (CTC). Originally, the wage code in the country did not set a specific percentage on how much a worker's basic salary should be.
Recently, a new wage code was introduced and will be implemented after April 2022. This sets the basic salary to be at least 50% of a business's CTC, while the remaining half can be used for their allowances.
While it can increase private employee wages by a minimum of INR 21,000, it also decreases their take-home pay with taxes and other deductions.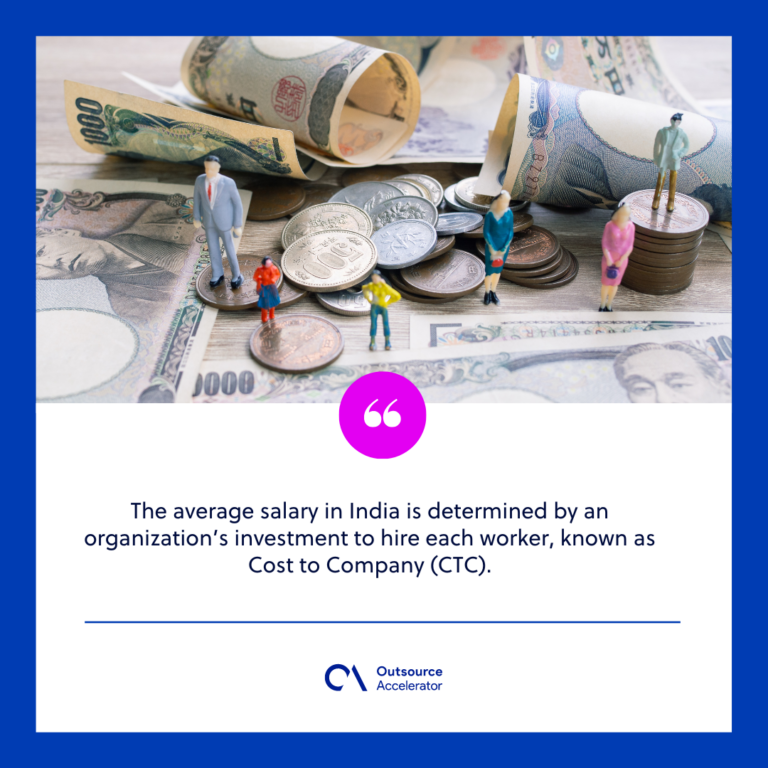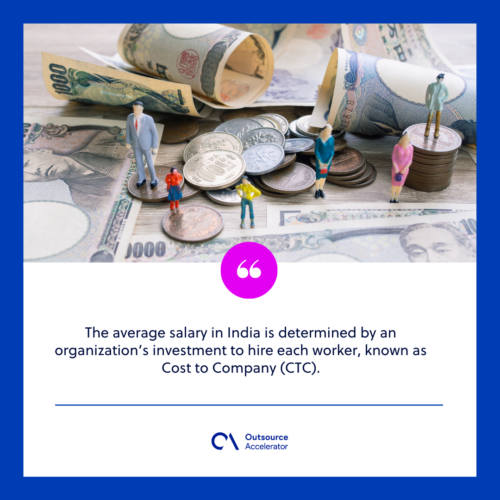 Factors that affect the average salary in India
An employee can earn higher or lower than the average salary depending on other factors that affect an employer's set rate.
Here are the main factors that affect the average salary in India. 
Cost of living
Mercer's 2021 Cost of Living survey revealed that Mumbai is the most expensive city in India to live in and one of the most expensive in Asia. Yet, with its 78th ranking in the world, it is still cheaper compared to New York, Chicago, and other developed cities.
According to Numbeo, a single person living in India has a monthly average cost of USD 321.57 without rent. Costs in rent and other expenses are even up to 46% lower than in the Philippines.
Education
Unemployment in Indian youth has increased by 9.3% since the pandemic began. However, this does not stop Indians from investing in education since they know it will pay off in the future.
Indian college graduates earn at least 17% more than high school graduates. They even ascend the pay curve quicker than their non-graduate peers.
Roles and expertise
Roles and tenure even matter in setting an employee's pay scale.
PayScale lists some of the popular jobs in the country and their median pay as follows.
| | |
| --- | --- |
| Job title | Median pay |
| Software Engineer | USD 7,877.76 |
| Software Developer | USD 6,890.60 |
| Project Manager | USD 17,167.52 |
| Data Entry Operator | USD 2,489.50 |
| Graphic Designer | USD 3,985.69 |
| Call Center Agent | USD 2,400.37 |
| HR Manager | USD 9,271.67 |
| SAP Consultant | USD 8,987.43 |
| Team Leader | USD 10,134.62 |
Like in other countries, the average salary in India can also increase as employees get more tenured. It is said that a worker's salary doubles the time they reach ten years of experience.
According to data by Aon PLC, workers in the technology sector get the highest annual salary increase at 11.2%. While the rates slumped during the pandemic, they have been recovering since 2021, with the average rates rising from 6.1% in 2020 to 9.4% in 2022.\
Location
Due to its federal structure and laws, India is said to have a more complicated minimum wage structure compared to other federal countries. This is why each region in India has a different average salary. 
Take a look at the average salaries in some of the popular Indian outsourcing locations.
| | |
| --- | --- |
| Location | Average salary |
| Delhi (NCR) | USD 569.39 |
| Punjab | USD 366.28 |
| Uttar Pradesh | USD 492.81 |
| West Bengal | USD 443.97 |
| Hyderabad | USD 387.36 |
Employment status
Regular and non-regular workers in the country also experience huge pay gaps depending on their sectors.
In 2018, regular workers earned as much as USD 180.63 per month while non-regular workers earned US$77.96. While regular workers have great chances of increasing their wages over time, salary increases in their non-regular counterparts could be unlikely.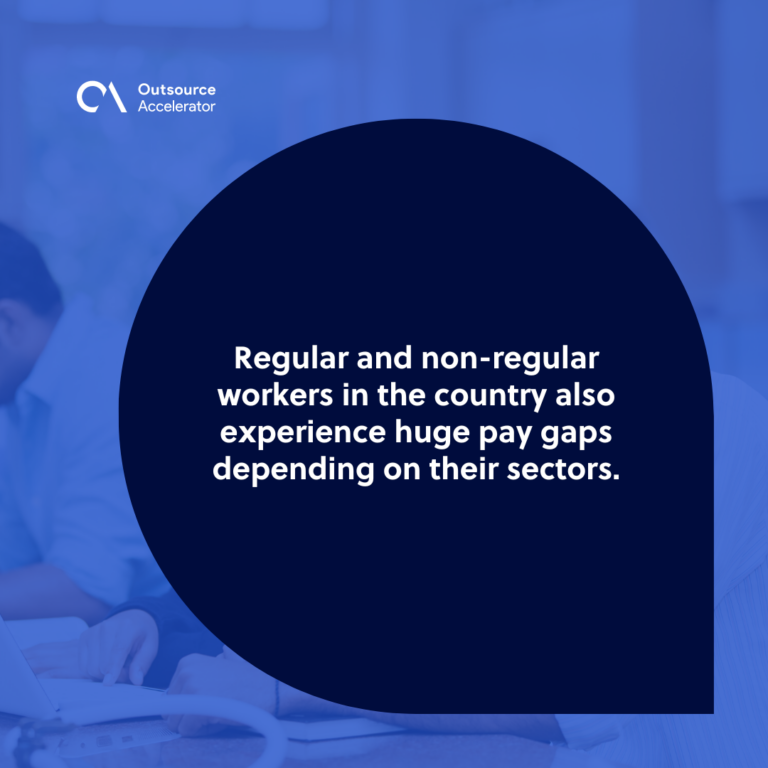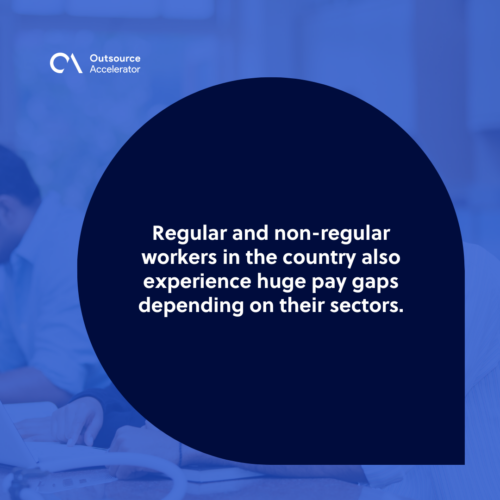 The average salary in India vs other countries
As mentioned, the average salary in India is lower compared to developed countries such as the US and the UK. It even offers competitive rates as with other offshoring destinations.
The following is the salary comparison of India to other outsourcing countries and their markets.
India vs offshoring destinations
| | |
| --- | --- |
| Offshoring destination | Average salary |
| Philippines | USD 308.00 |
| South Africa | USD 1,594.26 |
| Ukraine | USD 816.50 |
| Poland | USD 828.00 |
| Brazil | USD 347.00 |
India vs outsourcing markets
| | |
| --- | --- |
| Outsourcing market | Average salary |
| United Kingdom | USD 2,416.00 |
| United States | USD 3,534.00 |
| Australia | USD 3,333.00 |
| Switzerland | USD 5,989.00 |
| Germany | USD 2,689.00 |
Outsourcing to India is worth your investment
There's no doubt that outsourcing to India is worth your investment. With the average salary for each area of expertise, you can expect that your $100,000 will go a long way.
However, not all companies can guarantee the best service you can get by focusing on the costs alone. Rather, your end goal should be optimized services and solutions to satisfy your customers and retain a good relationship with them.
The right outsourcing provider can give you these added-value services. All you have to do is to plan your strategies, reach out to your preferred service provider, and prepare your processes to delegate.