6 must-have remote working equipment in 2024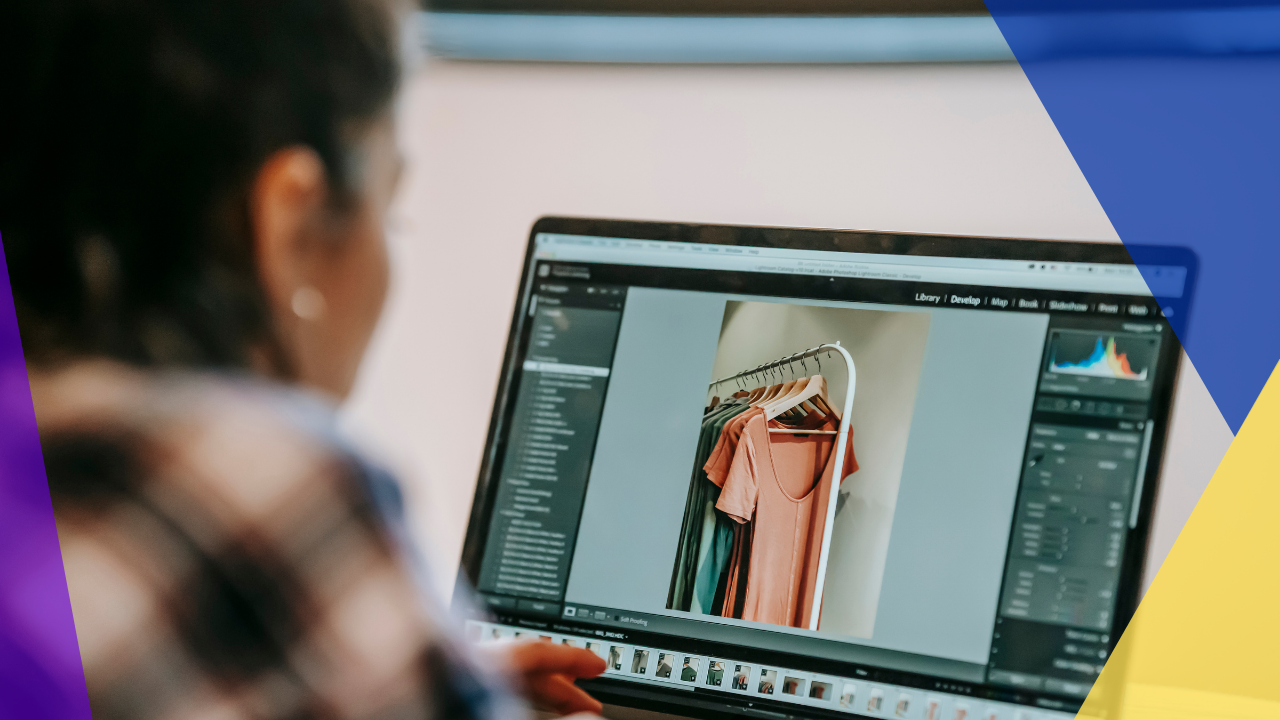 Remote work has been a common practice in some companies even before the onslaught of the pandemic. Not all businesses were open to this type of work model, but many were driven by the pandemic to embrace the remote work model to stay afloat.
The inevitable shift to remote working has paved the way for a new work model and culture where employers are able to trust their employees as they work from home. 
Even in the post-pandemic world, the remote working setup is here to stay. Aside from the employers, remote workers have made adjustments to their lifestyle which includes incorporating an office setup into their homes.
It is important to have a dedicated space for work inside the house. In this guide, we've listed the six must-have remote working equipment as well as tips to set up your home office efficiently. 
Why should you invest in remote working equipment? 
As the recent pandemic has proven, there are wide-scale occurrences that can affect companies' office operations. However, it is crucial to maintain day-to-day operations to keep their businesses afloat, and remote work proves to be crucial for survival. 
In a survey conducted by FlexJobs, out of the 2,100 respondents who are working remotely, 65% prefer fully remote work post-pandemic. Moreover, 24% already have their actual home office, while 34% have set up an office space at home.
Being remote-work-ready and investing in the right working equipment is a must to help you perform your job effectively and productively. This is especially important if your remote team members are located in different parts of the world. 
Employees today have to be creative in putting together their remote work environment. That means investing in the right equipment and software tools.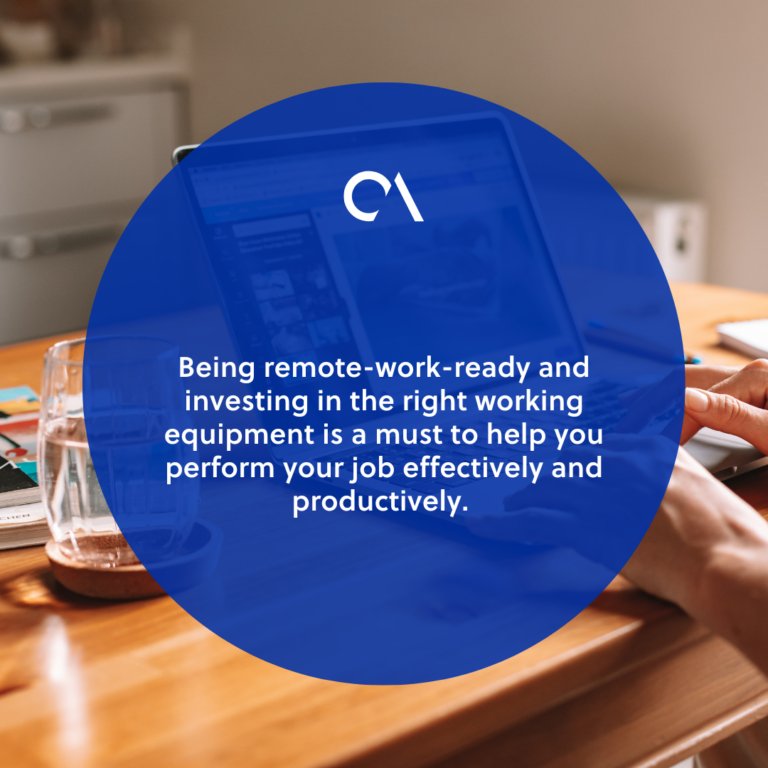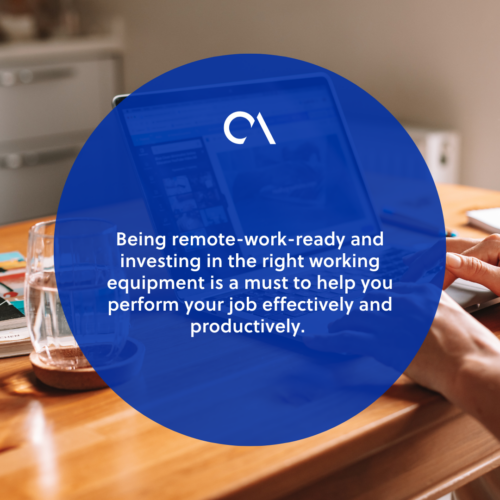 6 must-have remote working equipment for your home office
Buying the right remote working equipment for your home office is crucial to the success of your job. Be sure you have these six remote working equipment worth the investment in 2022: 
1. Laptop
Some employees may opt to use desktops at home. Although a desktop PC is more cost-effective, a laptop is more convenient, especially if you're the type of remote employee who is always on the go. 
The good thing about remote work is that it allows you to do your job in different places or go on a "workation." For this purpose, a laptop is very handy so you can enjoy the flexibility of remote work. 
Before you shop for your laptop, always check the specs. A notebook is a good option for the types of work that involve research, browsing, and word processing (e.g., writers, social media managers, or marketers). 
Meanwhile, a high-processing laptop is perfect for software developers, web developers, and graphic designers.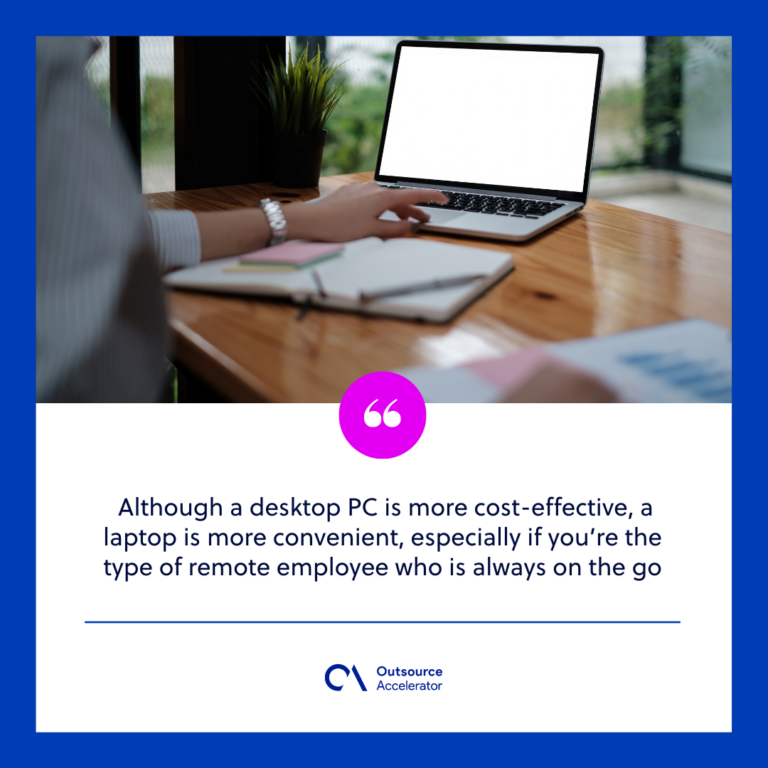 2. Noise-canceling headphones
Remote work comes with regular virtual meetings, video conferences, and audio calls. Clear and proper communication is critical to the success of this work model, and that is why you need a high-quality headset. 
One of the struggles of work from home is the noise from pets, children, and other family members. A noise-canceling headset is a perfect solution especially during one-on-one and group meetings online. 
You have two choices for a noise-canceling headset. You can either choose a Bluetooth wireless set or a noise-canceling headset that can be plugged into your laptop. 
3. High-quality webcam 
A webcam is not required for remote workers using laptops as they already have built-in cameras. 
However, if you're using a desktop or simply want better video resolution, a top-quality webcam is a must. It is best to choose a webcam with a microphone, 4K resolution, and 360-degree rotation. 
4. Standing desk
Although working from home relieves people from enduring a stressful daily commute, it may also lead to an unhealthy and inactive lifestyle. 
Seating all day may result in various health problems. These include osteoporosis, neck and back problems, muscle degeneration, and even cardiovascular disease.
A standing desk will help you minimize these health risks. In fact, you can burn 100 to 200 calories an hour by just standing. 
More importantly, it mitigates the chances of developing back problems or neck pains. In turn, you'll be able to focus more on your tasks at hand, boosting your daily productivity. 
5. Ergonomic chair 
At present, you have tons of options of ergonomic chairs to help support your body type as you sit down and go on with work. 
As a rule of thumb, look for a chair with an adjustable height, lumbar support, and armrests as the basic features. 
6. WiFi booster 
You need a fast and reliable internet connection to get all your work done. However, WiFi connections may not reach different parts of your home. For this, a WiFi booster or extender helps you have a much broader wireless connection all over your household. 
You can connect a WiFi signal extender directly to your router. It sends WiFi signals to your devices and lessens the loss of signals across your walls at home. 
6 essential tips to set up your remote working equipment and home office 
It is not enough to just know which remote working equipment to use for your home office. Let us complete setting up your office space at home with the following helpful tips: 
1. Envision your ideal home workspace 
Picture out what your ideal workspace would look like. Choose an area in your house that is free from noise and distractions.
Ideally, it is best to have a separate room with a door for your working station. This will help you establish a clear representation of your workspace and home. 
However, not all people have enough rooms at home. In this case, you can use room or desk dividers, curtains, or shelves to set the boundaries between your work and personal spaces.
2. Get the right remote working equipment 
In addition to getting the remote working equipment we've listed above, ensure you have enough space in your room and on your desk. You should be able to comfortably place work essentials such as your laptop, coffee mug, notepad, and work files on your desk.
If you are an animator or a graphic designer, you will need a bigger workspace to accommodate all your equipment. 
The same goes if you are, say, a real-estate consultant. You may need a file cabinet to keep all your clients' documents. 
3. Pay attention to your health
As we have mentioned earlier, working from home can easily lead to a sedentary lifestyle. Invest in remote working equipment that will also help cater to your health, like an ergonomic chair and a standing desk.
You should also consider purchasing blue-light glasses. This is especially if you are stuck on your computer screen for the entire duration of your working day. 
Paying attention to your health by investing in these types of remote working equipment will help you avoid health problems that may slow down your productivity.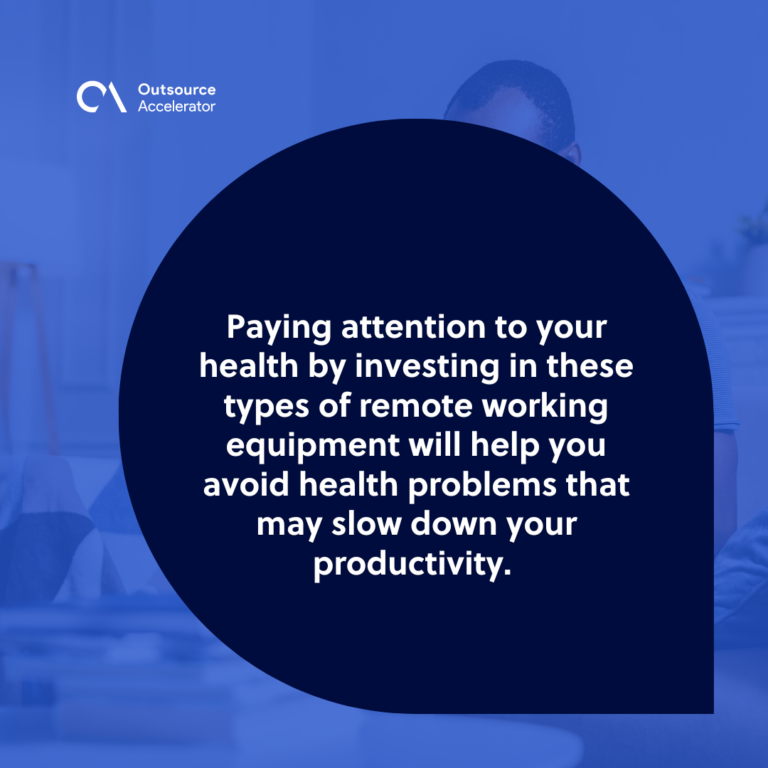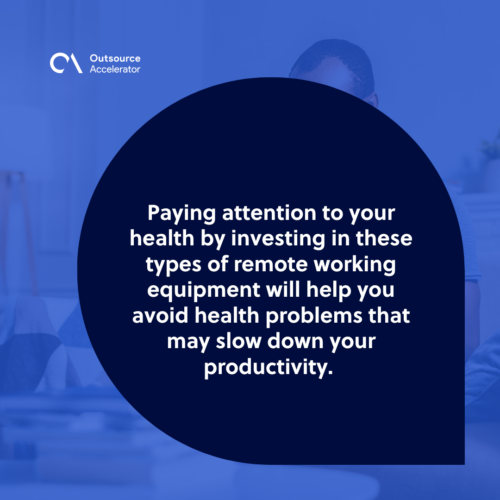 4. Put all your work documents in one place
Working in the comforts of your home may also lead to having your personal and professional belongings mixed up. Ensure that you have a designated area where you can store all your work stuff. 
Have storage for your work files, invoices, client files, business cards, and other important records. 
5. Keep track of your time 
It is easier to lose track of time when you work from home. A study has shown that remote workers are highly likely to work for longer hours, compared to office workers. This is because remote workers often end up losing the structure of their day-to-day living. 
To help you keep track of your time daily, you can also put a clock on your desk, set an alarm for your breaks, and end a work shift. You can also use your smartphone to set your alarm. 
6. Keep hydrated and well-nourished 
Always keep your water bottle close, so you don't forget to hydrate yourself. It is also good if you already have some snacks ready with you as you perform your daily tasks. This saves your precious time of having to go back and forth to your kitchen or fridge. 
But of course, make sure that you store healthy snacks like nuts, biscuits, veggies, or fruits. Another thing to consider is to limit your caffeine and sugar intake to help you steer clear of the dreaded couch crash in the afternoon. 
Importance of effective remote working equipment 
Having effective remote working equipment can help you fully transition into remote work. Knowing which remote working equipment to invest in will help you have a fully functional home office that supports your health and well-being. 
As more and more professionals opt for remote work, seeking for remote work job opportunities can be a challenge. Grow your professional career while working from home with Outsourced!
Outsourced is a Philippine based outsourcing company providing remote full-time staffing solutions to global clients.