What is a remote reservation agent?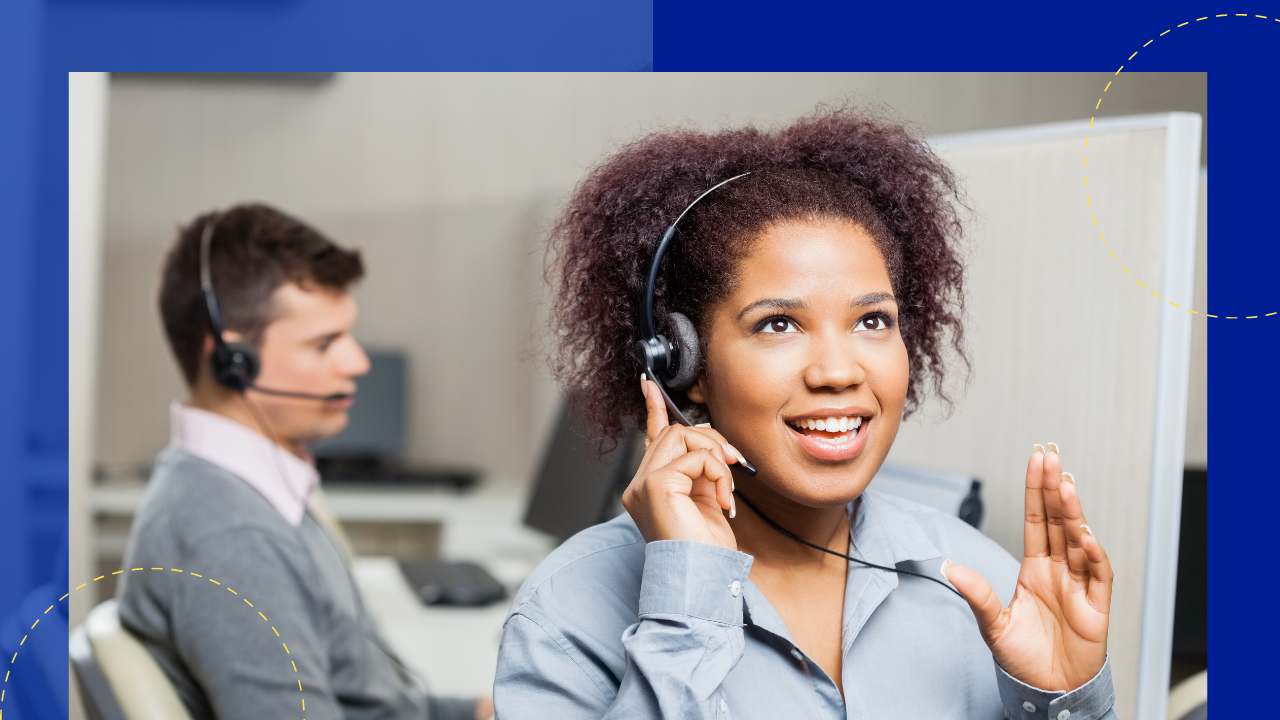 Hotels, resorts, travel agents, and many others in the hospitality industry were among the hardest hit in the recent pandemic. However, like many other businesses, they have found ways to rise up to the challenges and adapt to pandemic-driven trends like remote work, coworking, and virtual interactions. 
From administrative to operations management, hospitality businesses have gained benefits from hiring remote workers and outsourcing providers. Among them is the remote reservation agent.
What is a remote reservation agent's job?
A remote reservation agent books hotel rooms, flights, cruises, and other types of travel arrangements for clients. They are considered a remote employee since they work from home or other places outside a company's office.
The remote reservation agent's job is to identify and understand what the clients need. It could be something that travelers would want to accomplish while on vacation. They can also find travel destinations while considering their customers' budgets.
Tasks you can delegate to a remote reservation agent
Answering questions, checking itineraries, and reserving rooms are all part of the day-to-day duties of a remote reservation agent. Due to the 24-hour nature of the hospitality industry, their work hours can also vary at any time of the day.
Make bookings and reservations
Remote reservation agents are like customer service representatives that specialize in travel bookings and reservations. With the help of these agents, customers may get exactly what they need without the hassle of coordinating with individual providers.
Agents ensure that the desired dates are available and completed successfully. They help minimize any issues related to booking, and if they do arise, the agents can also assist in resolving them.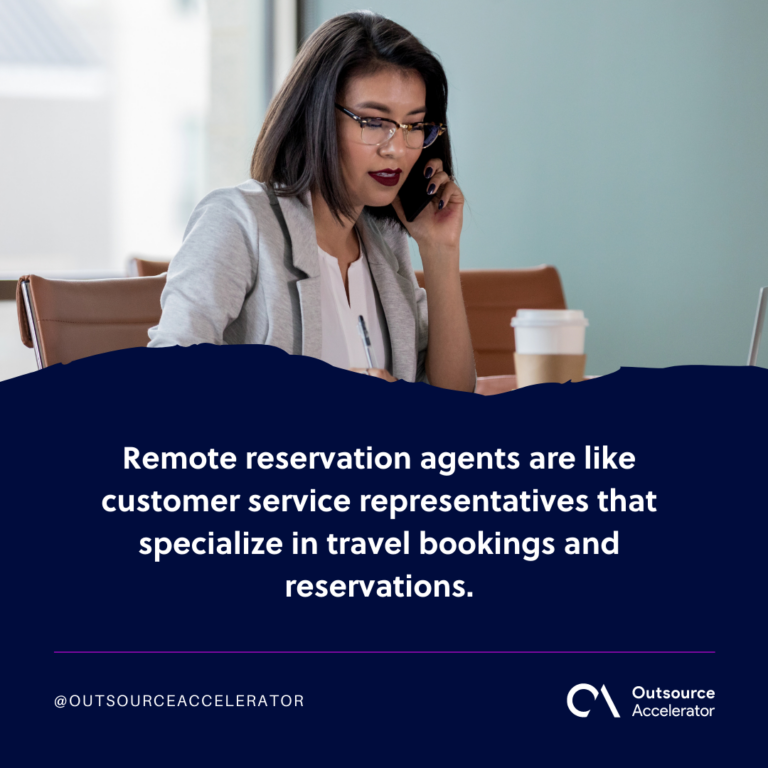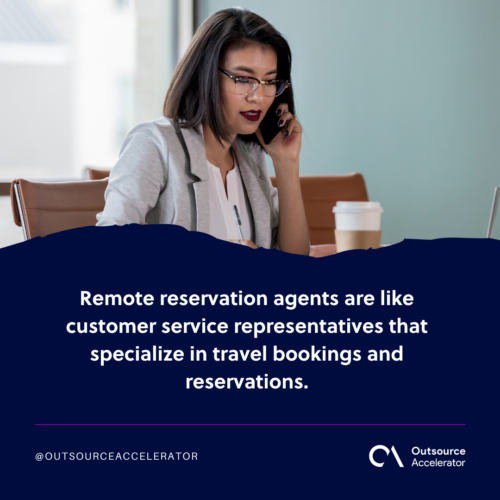 Handle customer complaints
Even in the hospitality industry, there are still a lot of inconveniences. For example, a client's travel plans get canceled or don't go as planned.
In this case, clients often turn to the reservation agent for assistance. Agents are trained to maintain a calm demeanor and assist the customer in resolving the issue.
Manage payments and refunds
Remote reservation agents usually handle and verify payments and refunds. For example, reservation agents confirm when a customer book a flight. And if a customer wants to cancel a reservation, the agent will process and issue refunds.
What type of companies hires a remote reservation agent?
Remote reservation agents are common in the hospitality industry. Here are the things they do for different companies:
Hotels
Room bookings, payments, and any other information needed by hotel staff when dealing with a guest are the responsibility of the hotel remote reservation agent. 
They also keep track of past guests and reach out to them to gain their interest in returning to the hotel.
Outsourced, a reputable offshoring company, provides remote reservations agents who are able to support your operations for 24/7. More so, Outsourced also offers flexible and scalable solutions according to its clients' needs.
Hiring remote reservations agents through Outsourced lets businesses save up to 70% on their costs compared to employing in-house.
Airlines
Airline travelers can obtain travel information from reservation sales professionals by phone or email. In most cases, this entails information on trip planning, vehicle rentals, availability of seats, fare information, schedules, tours, meals, and other information pertinent to the customer's flight arrangements.
Travel agencies
A remote reservation agent accurately responds to inquiries and handles incoming calls. They also manage emails. Thus, most agents are expected to be skilled in both oral and written communication.
Most travel companies use software to book flights, cars, and hotels. Remote reservation agents can organize cruise and tour bookings even they are not in the office with the right software.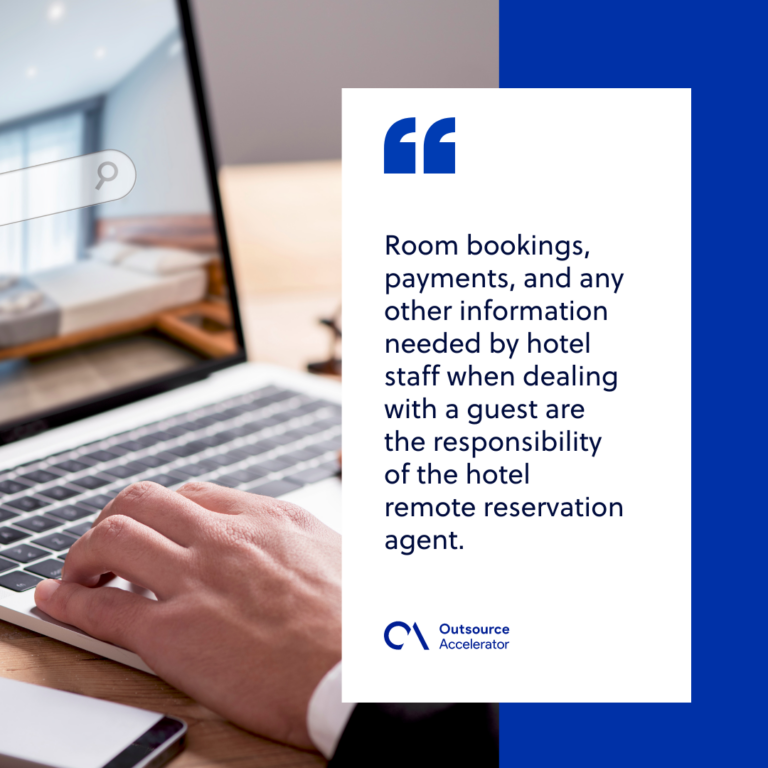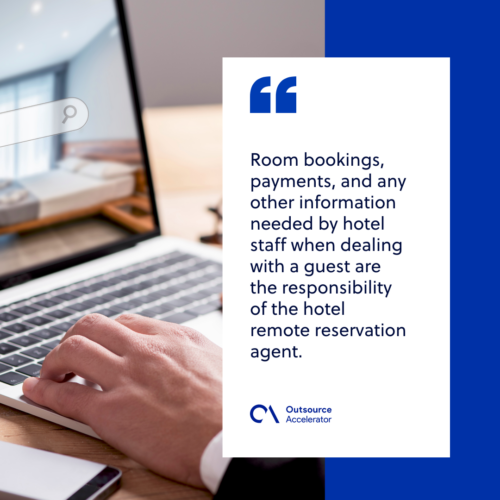 What makes an excellent remote reservation agent?
There are various requirements for remote reservation agents to work in hospitality. Successful reservation sales agents have a combination of the right skills, attitude, and training.
Here are some of the skills required as a remote reservation agent:
Customer service
After all, remote reservation agents are like any customer service agent in other companies. It is important to have good customer service abilities to satisfy clients. Active listening and non-verbal reasoning are examples of these traits.
Customer-centricity is an integral part of customer service. Remote reservation agents must have professionalism, patience, and a willingness to help. 
What makes an excellent remote reservation agent?
Data entry
Data entry is the process of entering data into a company's system. A reliable agent must have comprehensive knowledge about the online booking processes, software, and platforms.
Having a stable internet connection is also essential as part of the work-from-home setup. 
Accuracy
Remote reservation agents must be able to provide accurate information. Sensitive information or facts such as dates and prices are crucial and thus should always be precise when given to a customer.
Every piece of information about the reservation must be error-free, relevant to the customers' inquiries, and put together by a trustworthy vendor.
Active listening
In actively listening, you pay attention to what your customers are saying. The goal of the agent is to always end a client conversation with a resolution or a positive experience.
This is especially important in cases where a customer is stressed out. A remote reservation agent with active listening skills can make them feel heard and understood, effectively de-escalating any issue.