Reasons for outsourcing 3d rendering on your next real estate project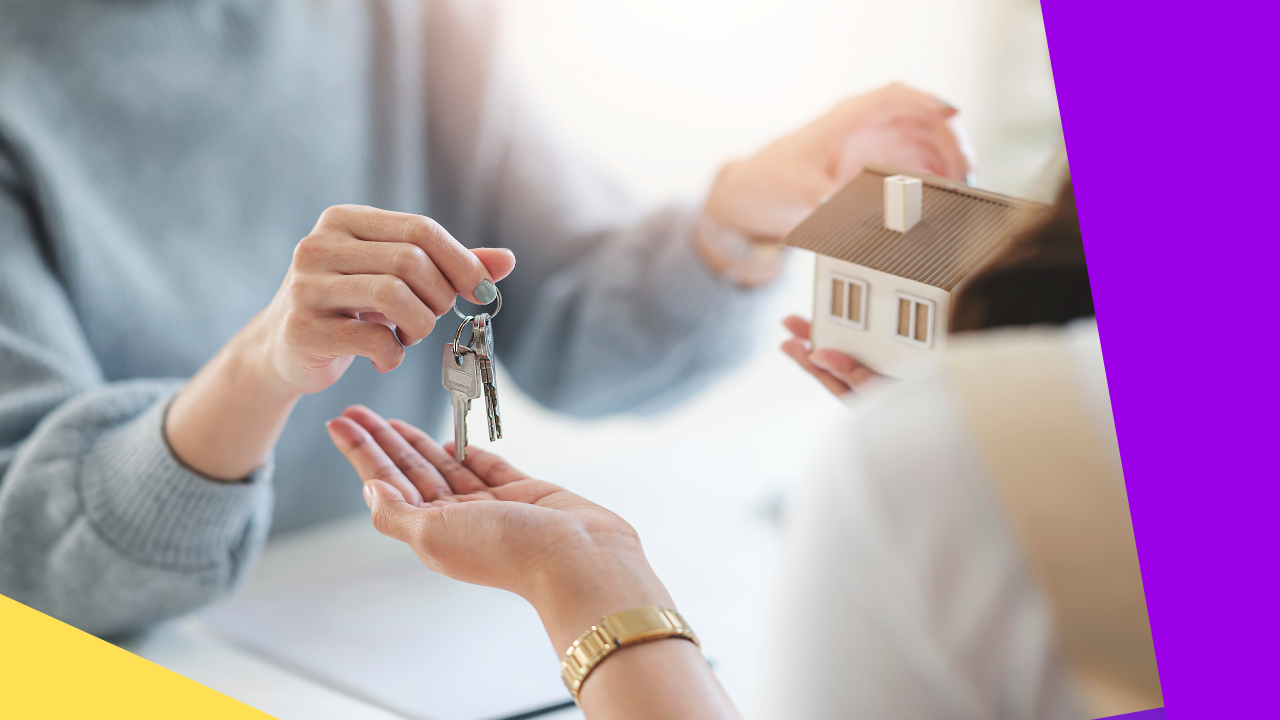 Reasons for outsourcing 3d rendering on your next real estate project
Real estate demands a lot of things if you're planning to establish your business in this industry. It requires time as you'll need to meet your clients, and it also needs an agent who can help you further in providing extended services. An excellent agent can give incredible sales talk to any potential buyer. However, if you put yourself in your clients' shoes, an incredible sales talk is not always convincing.
You may need an excellent real estate agent to help you win buyers, but it's vital for your customers to see the design of the property they're interested. Surely, you can provide them usual prints of floor plans, but as technology progress from time to time, typical prints don't convince clients easily. It's one of the reasons why some real estate businesses lose their clients to their competitors who can provide more visually enticing documents.
If you want to be competitive, 3D rendering is the crucial point in convincing your clients to buy the property.  As you consider investing in 3D rendering services, you'll be able to show your clients a better presentation of properties that you're selling.
Use of renders in real Estate: why you should invest in it
As you outsource 3D renders, you get the worth of your investment because you can use it on different situations. There's no need to buy expensive 3D rendering software and build your team as your preferred outsourced team can help you further in cost-effectively providing exceptional representations of your properties for sale.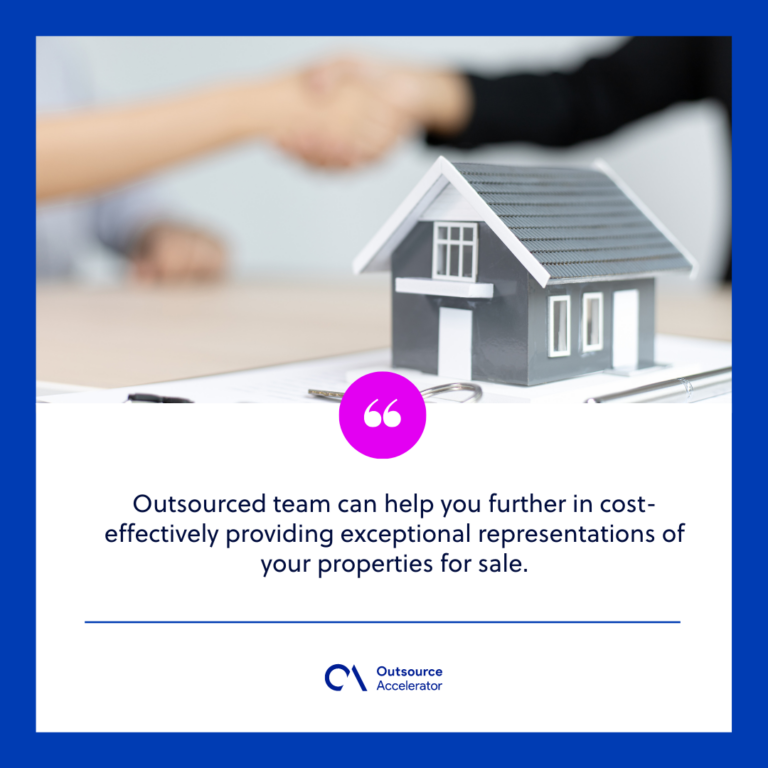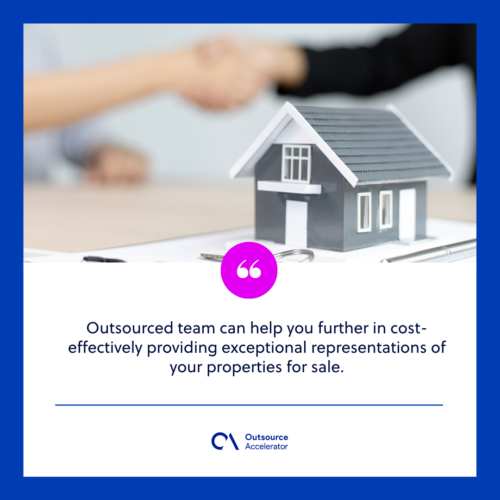 Online advertising for new properties or developments
3D render services are useful for online advertisements, especially if you're promoting new developments or properties. It quickly attracts more potential clients since they can already see a glimpse of your properties on sale without them going personally to the site.
For client presentations
When you outsource 3D modeling designs, you will no longer have to worry about what to present to your client. Your preferred team will prepare the presentation for your real estate agent. Having designs modeled in 3D helps potential clients visualize the property better, which helps them make better decisions.
Promote architectural designs and developments on social media
With the help of outsourced 3D rendering services, you get the confidence in sharing your property or development's design in different social media platforms to reach out to a wider audience.
For marketing materials
Aside from promoting it on social media accounts, you can also use your outsourced designs as your marketing materials. You take advantage of the high-tech ways of presenting your services like animations and 3D images.
Why is 3D rendering the next big thing? here are 3 reasons why
If you're still wondering why 3D rendering is the next big thing, these are good points why: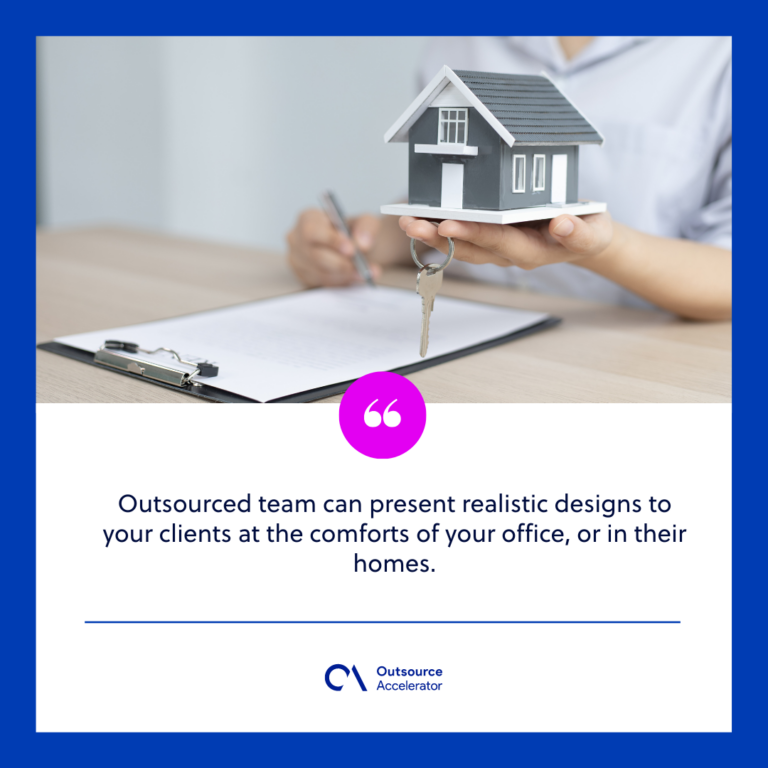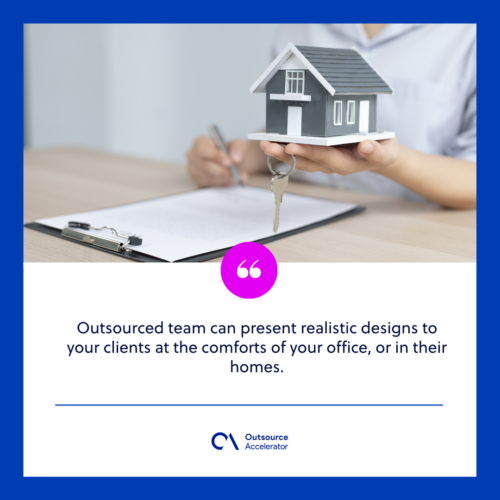 3D rendering images depict precisely what the design will look like in real life
Clients would prefer to see realistic designs to convince them. With the help of your outsourced team, you can present realistic designs to your clients at the comforts of your office, or in their homes.
3D rendering will make your company stand out from the crowd
If one of your goals is to stand out as a real estate business, outsourced 3D rendering services will make you a standout. Your outsourced designs will increase your chance of winning buyers.
Using 3D rendering services will save construction cost
If you prefer to be cost-wise, investing in an outsourced 3D rendering team will surely save you construction costs. No need to build model houses which you couldn't put up on sale; your potential clients can easily visualize the property using a computer and a software.
Why do you need to outsource 3D renderers?
If you are to put up your own 3D rendering team, you'll have to spend a lot of money on it. You'll need a group of professionals, appropriate equipment, and the latest software. Some businesses may have the budget, but for most, outsourcing is their best option.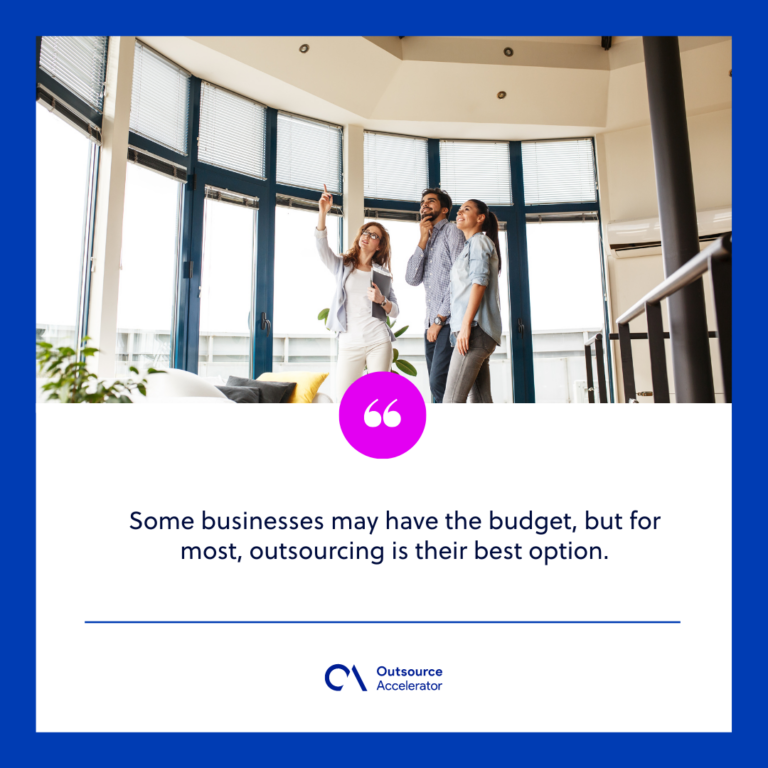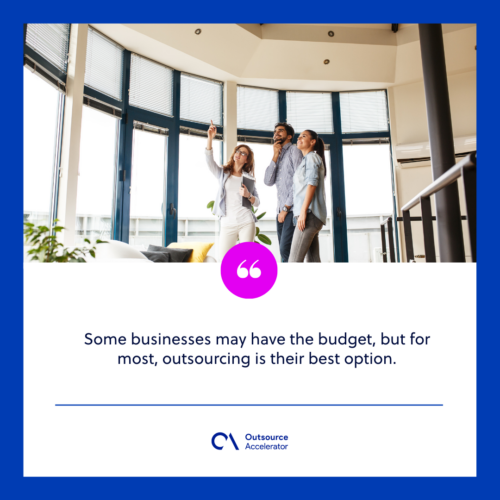 Most real estate businesses outsource CAD drafting services and invest in hiring outsourced 3D renderers because of the following reasons:
No overhead and training cost
If you are to make your designing team, you'll also have to allot money for overhead and training costs. If you are to outsource your team, you'll no longer need to worry about these costs because your preferred outsource team can do the job efficiently without spending too much.
Consistency and quick turnaround time
As you hire your outsourced team to do the job, you can guarantee consistency. Moreover, you can assure a quick turnaround time because your preferred outsourced team has enough professionals to work on your designs. Meeting deadlines will not be a problem at all.
Availability of 3D rendering software & infrastructure
Software are costly, and if you're in the real estate field, it is an unnecessary investment since you don't need one on a daily basis. The good thing about outsourcing your 3D rendering team is that you can guarantee the availability of right software without necessarily buying one.
Superior quality at a fraction of the cost
Your outsourced team consists of professionals who are skillful enough to do designs, specifically for real estate business. You can guarantee superior quality on every design as you invest in outsourced 3D rendering services.
Security and confidentiality of data
Aside from impressive designs, your data's confidentiality is a priority as well. It's crucial to keep all designs secure. With the help of your preferred outsourced team, you'll no longer have to worry about securing your data. Most service providers stipulate this in the contract and it is better to emphasize having one in yours.
Before you build your real estate business' designing team, you have to consider how much it'll cost you. If you're new in the business field, it's ideal to outsource reliable 3D rendering services who can help you with your designs at a reasonable cost. By this, you can win more clients, and at the same time, you don't have to spend too much money to win them.