How to outsource 3D modeling activities the right way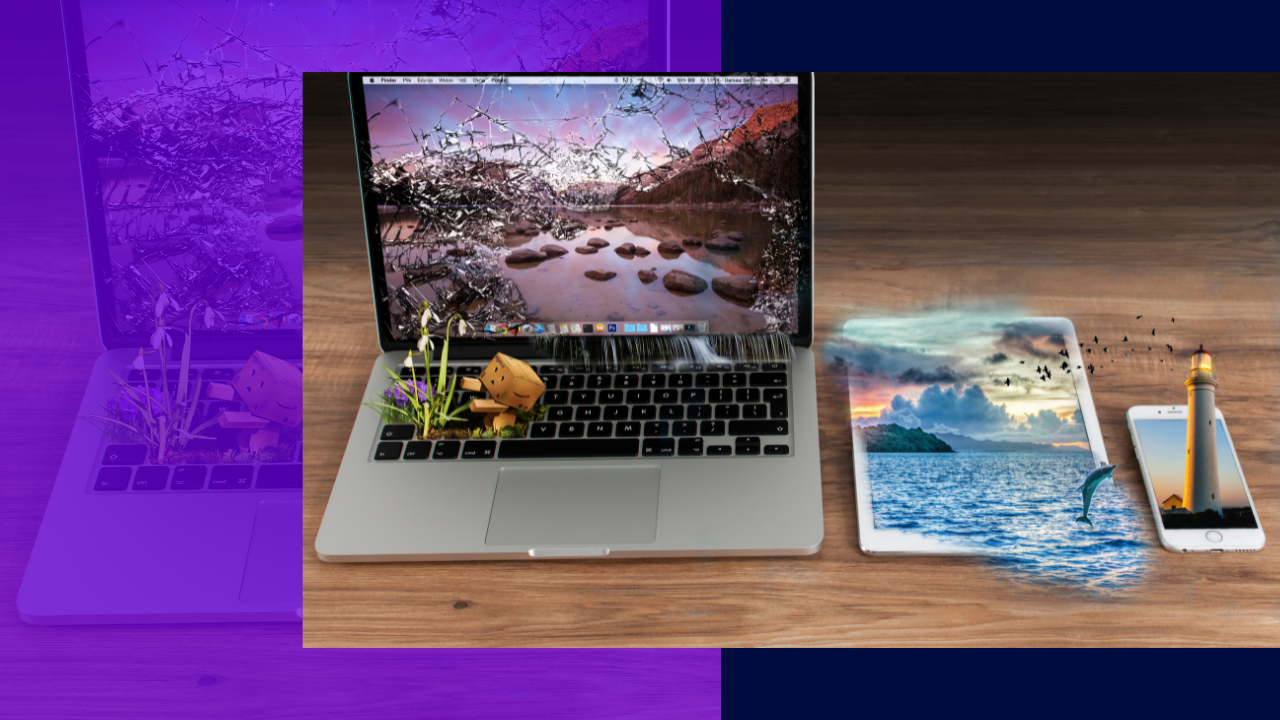 3D models and renderings are a part of most visual content out there. Ever since animation technology developed programs and tools to create 3D models, content creators have taken advantage of it.
Businesses, even those outside the realm of STEM, have been utilizing 3D models for their product campaigns and marketing. This resulted in high demand for 3D artists and design firms, not to mention the rise of outsourcing agencies with services spanning industries.
To outsource 3D modeling, companies have to find a service provider or hire independent contractors. But there are things one needs to consider first before diving into the world of outsourcing.
What is 3D modeling?
3D modeling refers to the process of rendering mathematically oriented objects on a computer using a special application. This process allows the creator to study and manipulate the surface of each model, often to create shapes in a 3D-simulated environment.
Artists and designers who use simulated environments are trained to utilize different shapes to determine dimensions. It can influence the process of designing and, subsequently, the production and budget.
How does 3D modeling help industries?
Technology-focused STEM industries are heavily reliant on 3D modeling as engineers, architects, and interior designers use renderings to visualize their projects.
Even creative fields such as animation and film use 3D models to create movies, TV shows, and other visual media for consumption.
Without these real-life applications, we wouldn't have so many things to enjoy today.
Should you outsource 3D modeling activities to external providers?
3D rendering services are on the rise for some outsourcing companies, those serving STEM and tech-based organizations. But bigger businesses have their own in-house artists, so why is outsourcing still a viable option?
One reason is that outsourcing 3D modeling—much like any business activity—is a great way to save up on resources, be it financial or labor. There are two paths you can take: through BPOs or freelancers.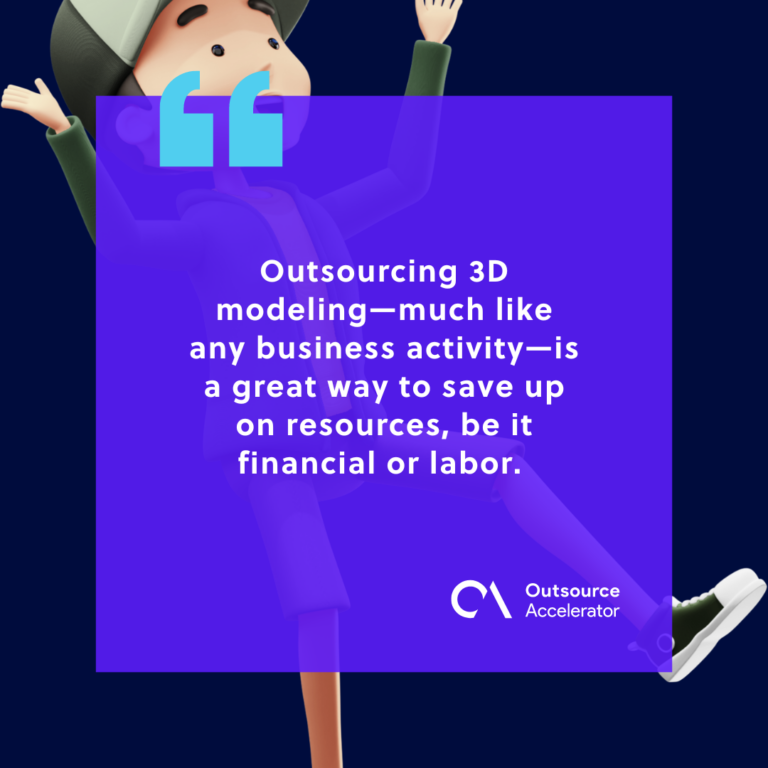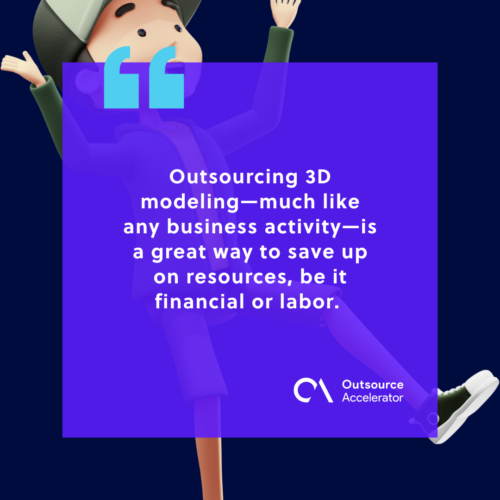 Business process outsourcing (BPO) companies
Several BPO companies already provide 3D modeling services to businesses that need a dedicated team of experts for their visual projects but lack the capacity and budget to build an in-house department. 
Outsourcing vendors are a popular option as they implement meticulous training procedures and are usually equipped with the latest technology and infrastructure. 
If a company needs a department full of artists and designers, it's much safer and more cost-efficient to get assistance from BPO agencies.
The key to successfully outsourcing 3D modelling activities is by partnering with reputable firms, such as Outsourced.
Freelancers
Freelancers are an alternative go-to for short-term or minor 3D modeling needs.
Independent contractors and freelancers are individuals not affiliated with any entities and operate independently. They take on projects from clients, usually on one-off projects although some opt for longer contracts.
Nevertheless, freelance 3D model artists and designers are a good bet for when a startup or small organization prefers direct and seasonal contracting.
4 things to consider before you outsource 3D modeling services
Before one can truly outsource any business process, there are things to be considered first. The same goes for outsourcing 3D modeling services.
The price of outsourcing
Outsourcing is not cheap, but it does offer cost savings when done right. Nonetheless, it can still take up resources, time, and effort from both parties involved. 
Whether a business is partnering with an outsourcing company or freelancers, they have to take into account the specific services, the quantity, and the quality they require.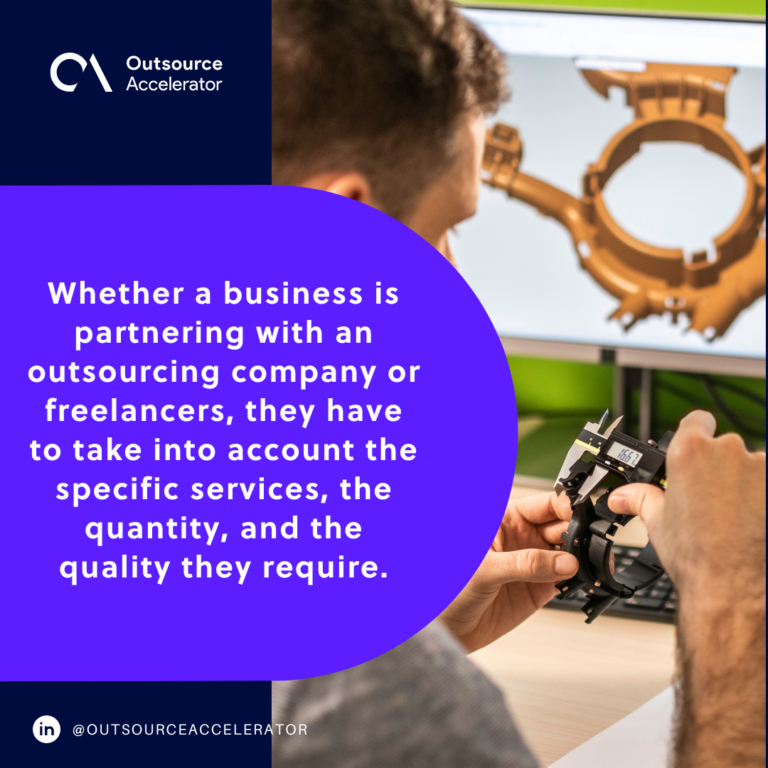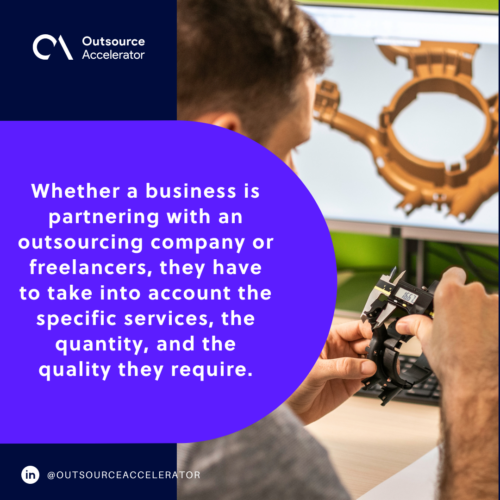 The deadlines
3D modeling and rendering is a tedious process that cannot be rushed. If it can be, it won't be as high-quality as others.
When outsourcing to external parties, it's only right to give them ample time to create the designs and deliver the final product.
Another way around this is to pay a rush fee that some freelancers and individual contractors charge if the project needs to be done on a time-sensitive basis.
The subject matter experts
Some individuals may pose as experts in rendering and designing. It's up to the employers to thoroughly check their credentials for any huge red flags and discrepancies in their papers.
The expanse of the project
In terms of time and effort needed to finish the project, the expanse needs to be considered before one can successfully outsource 3D modeling activities.
Not only would it help in planning goals and milestones, but it will also help outsourced artists and designers be more flexible, efficient, and productive.
Is there one right way of outsourcing 3D modeling?
There's no one right way to outsource 3D modeling, but you can find the best solution to your specific needs.
The gig economy opened up so many opportunities and so did the practice of outsourcing.
Outsourcing is an adaptable business model that helps companies grow and develop beyond their expectations. It is incredibly flexible and can be molded and curated based on one's business needs.