Why you should outsource real estate call center services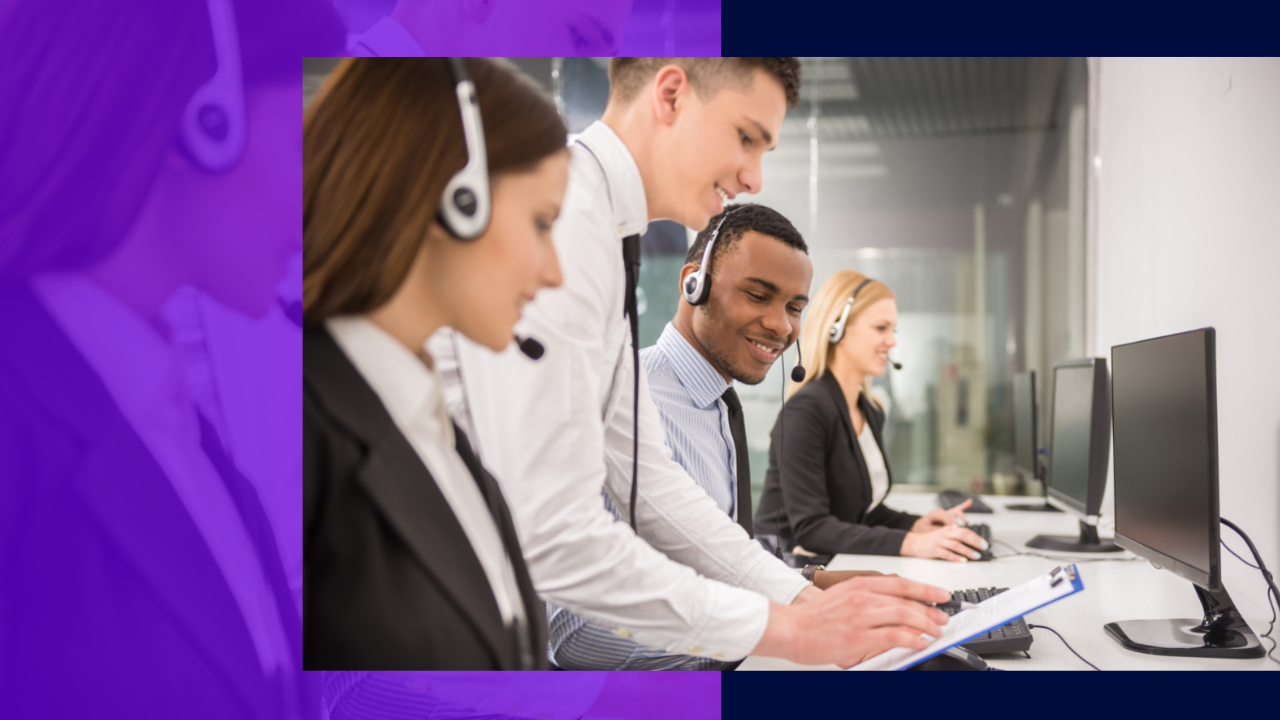 Because of its many proven advantages, the idea of outsourcing has become popular in IT, back-end office administration, and customer service roles. 
Its widespread use has also wriggled through other industries, such as real estate. Real estate agents are beginning to recognize the benefits of outsourcing routine work.
Through outsourcing, real estate agencies can focus on operations intended to generate income. It also helps them to effectively follow up on leads. 
Ultimately, they can delegate repetitive, non-income generating but important duties like real estate call center to the outsourcing business. 
Real estate call center overview
The majority of real estate professionals eagerly anticipate touring properties with their reliable clients. 
However, only a few are excited about cold calling and other mundane, repetitive activities. These tasks, as uninteresting as they seem, are equally important because they can help them keep old clients and gain new ones. 
Here's where the role of a real estate call center comes in.
Real estate call center services assist brokers and agents by taking incoming calls, making external calls, setting up appointments, and answering client questions. Typically, a third-party vendor with expertise in real estate support will offer these services. 
The main objective of a real estate call center is to free up agents' time by taking care of mundane duties. In turn, they can concentrate on more important aspects of their businesses, like closing sales and cultivating customer relationships.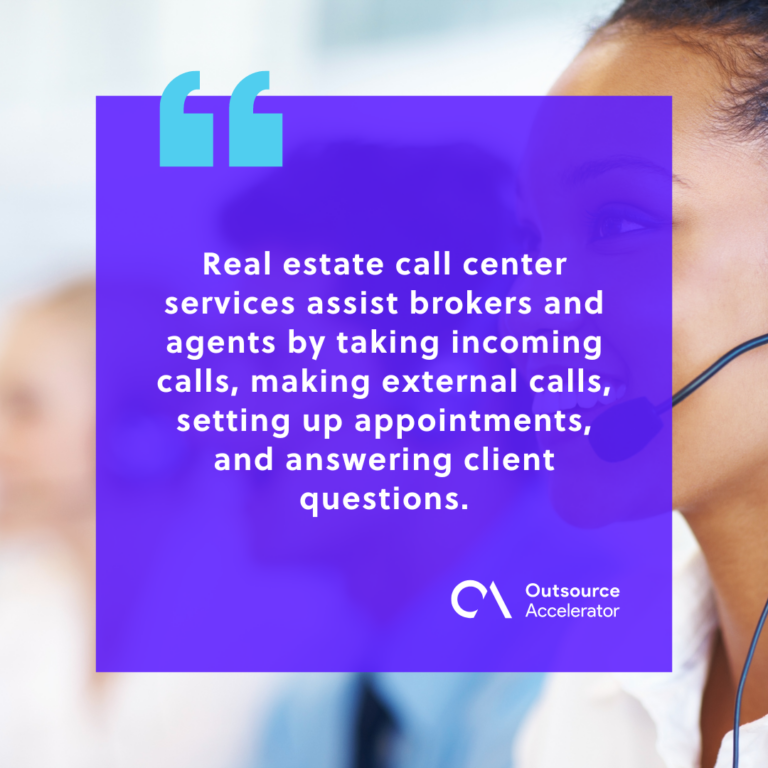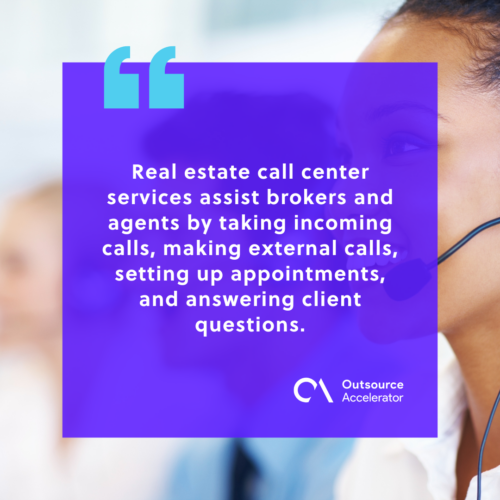 Components of real estate call centers
A real estate call center has become essential for the success of a real estate business. It is a centralized facility that uses advanced technology and highly trained personnel to provide these services. 
The following are the key components that make up a real estate call center: 
Call center agents
Call center representatives are the face and voice of the real estate call center. They are responsible for answering incoming calls and customer inquiries, scheduling appointments, and providing general information about properties and services. 
These agents are highly trained, professional, and friendly, allowing them to provide excellent customer service. They are also knowledgeable about the real estate industry, products, and services, making them effective in responding to customer inquiries. 
Call routing and queuing systems
Another important part of the real estate call center is the call routing and queuing systems.  They help ensure that calls are answered promptly and efficiently by transferring them to the next available agent. 
These systems also provide call prioritization and call overflow, meaning calls can be directed to other agents if the call center becomes overwhelmed. They also provide real-time data and reporting, which helps call center managers monitor and optimize performance. 
Customer relationship management software
Customer relationship management (CRM) software helps manage customer interactions and data throughout the customer journey. The software also provides agents with a comprehensive view of the customer, including their history, preferences, and contact information. 
The customer information in the CRM allows agents to provide personalized customer service. Plus, it helps track leads and manage follow-up activities which can increase conversions and sales.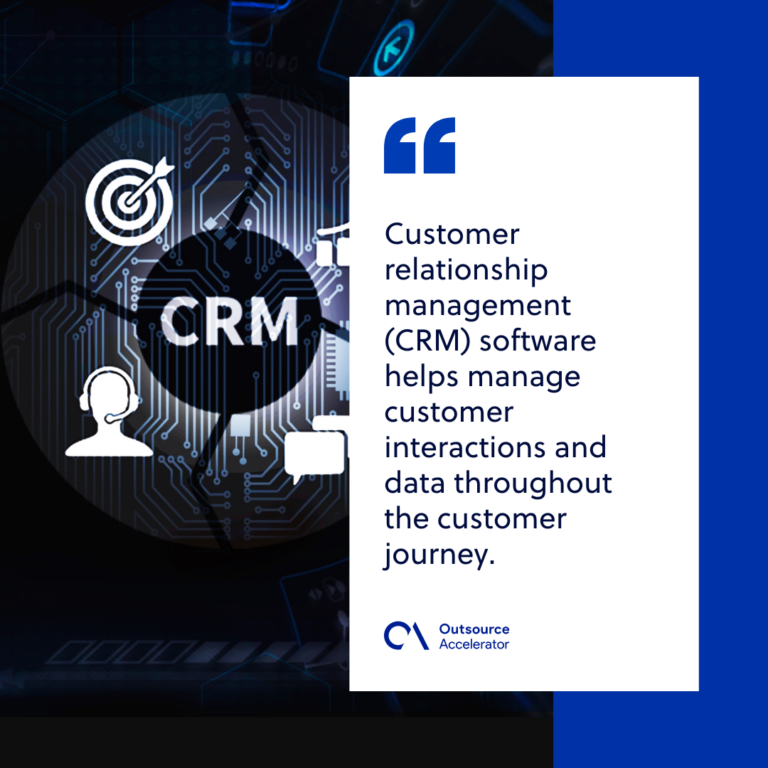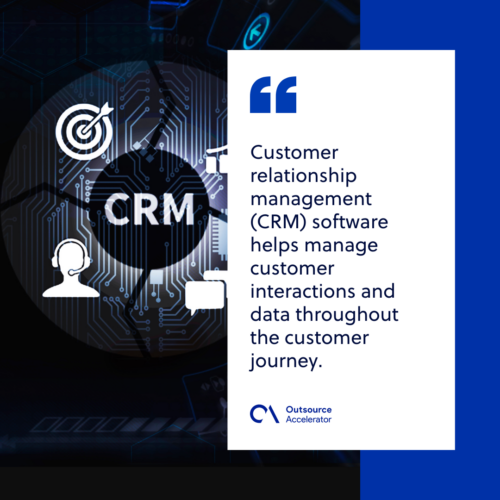 Interactive voice response system
The ever-famous voice prompts in call centers, or IVR systems are an automated technology that allows customers to interact through voice commands. These systems can handle a variety of tasks, such as:
Gathering client information

Diverting calls to the right department

Providing general information
The IVR systems can also be integrated with CRM software for a more seamless customer experience. 
Reporting and analytics tools
Tools for reporting and analytics offer insightful data on how well a real estate call center performs. They allow call center managers to keep an eye on important indicators, including call volume, handling time, and customer satisfaction. 
These technologies also offer real-time data and historical trends, which can be used to identify areas for improvement and make informed decisions. 
Quality assurance systems
Quality assurance systems help ensure the agents are providing excellent customer service and following the best practices. This is done through call monitoring, call recording, and scorecards which provide detailed assessments of agent performance. 
These systems also provide valuable feedback to agents, which can be used to further develop their skills and provide better customer service.
Training programs
Training programs in real estate call centers contribute to ensuring that agents are knowledgeable about everything in the real estate industry. They also help hone agents' customer service, communication, and problem-solving skills, and  further develop empathy.
Ongoing training and development is important to ensure that agents are equipped to handle the challenges of the real estate industry and provide excellent customer service.
Communication and collaboration tools
Tools for collaboration and communication ensure that agents can interact and collaborate effectively not just with customers, but also with each other. These tools include instant messaging, email, video conferencing, and shared databases. 
These tools help improve communication and reduce response times, enhancing customer satisfaction. They also promote teamwork and increased productivity by allowing agents to share information, best practices, and resources.
Data backup and recovery systems
Systems for data backup and recovery help protect customer and business data in case of a catastrophe or system failure. 
These systems guarantee that data is frequently backed up and can be recovered quickly and easily if necessary. They also help ensure the continuity of operations and reduce the risk of data loss.
Benefits of outsourcing real estate call centers
Outsourcing became a popular concept across multiple industries because of its numerous benefits. Here are some of its advantages in the real estate industry:
Cost savings
Cost reduction is among the most important advantages of outsourcing. Companies that outsource real estate call centers do not have to bear the cost of hiring and training employees, maintaining office space, purchasing equipment, or paying for benefits. 
Outsourcing companies have economies of scale, which allow them to offer their services at a lower cost than in-house operations. The saved costs can be allocated to other aspects of the business to increase profitability. 
Improved customer service
Compared to in-house operations, outsourced real estate call centers provide improved customer service. They have call center agents specifically trained to handle real estate-related inquiries and provide prompt and professional customer service. 
These agents have the knowledge and expertise in the industry, which helps increase customer satisfaction.  
Access to advanced technology
Outsourced call centers have access to the latest technology and tools, which can help to improve business operations. 
For example, advanced call routing systems can transfer calls to the right agent based on the type of inquiry, reducing wait times and improving customer satisfaction. 
Other systems like IVR can provide customers with quick and easy access to information, reducing the number of calls that need to be handled by the agents. 
Similarly, real-time reporting enables monitoring call center performance and making data-driven decisions to improve operations.
Flexibility and scalability
An outsourced real estate call center enable businesses to adjust operations to meet its changing needs. 
For example, during peak periods, the number of call center agents can be increased to accommodate a higher call volume. Likewise, during off-peak periods, the number of agents can be reduced to save on costs. 
This flexibility and scalability can help improve business operations and lower costs.
Focus on core business functions
Outsourcing real estate call center operations can help free up resources and allow companies to focus on their core business functions. 
They can reduce the amount of time and resources spent on non-core activities, such as staffing and training call center agents. Doing this enables them to focus on growing their businesses and improving core operations.
Improved processes and procedures
Real estate call centers follow strict processes and procedures to ensure that customer inquiries are handled properly. These processes and procedures are regularly reviewed and updated to ensure they are aligned with industry best practices. 
By outsourcing call center operations, real estate companies can take advantage of these improved processes and procedures. As a result, it will increase their efficiency and improve their customer satisfaction.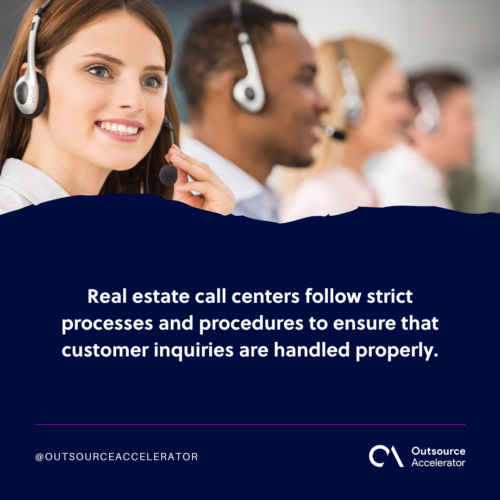 Reduced staffing and training costs
Costs associated with labor and training can be decreased by outsourcing call center operations. 
The outsourcing company trains and manages call center agents, so there is no need for internal training and management resources. This can lower the company's staffing and training expenses, benefiting the business in the long run.
Improved data management
Outsourced call centers have access to advanced data management systems, which can help to improve business operations. Call center agents can capture customer information during calls, which can then be used to improve sales and marketing efforts. 
On the other hand, real-time reporting systems can provide valuable insights into call center performance, resulting in data-driven decisions to improve your operations.
Outsourced real estate call center service is suitable for your business 
Outsourcing real estate call centers can bring numerous benefits to an organization. These benefits can help you improve business operations, increase efficiency, and enhance customer satisfaction. 
By outsourcing call center operations, companies can free up resources and focus on their core business functions. When considering outsourcing a real estate call center, working with a reputable and experienced outsourcing provider is important. 
A good outsourcing provider like Cloudstaff will have the knowledge and expertise to provide advanced call center services and will be committed to helping achieve business goals. 
It is important to choose an outsourcing provider with a proven track record of success and can deliver high-quality customer service. Outsourcing a real estate call center is a fantastic choice for businesses aiming to enhance their operations and customer experience.