Product taxonomy 101: What is it, and why is it important?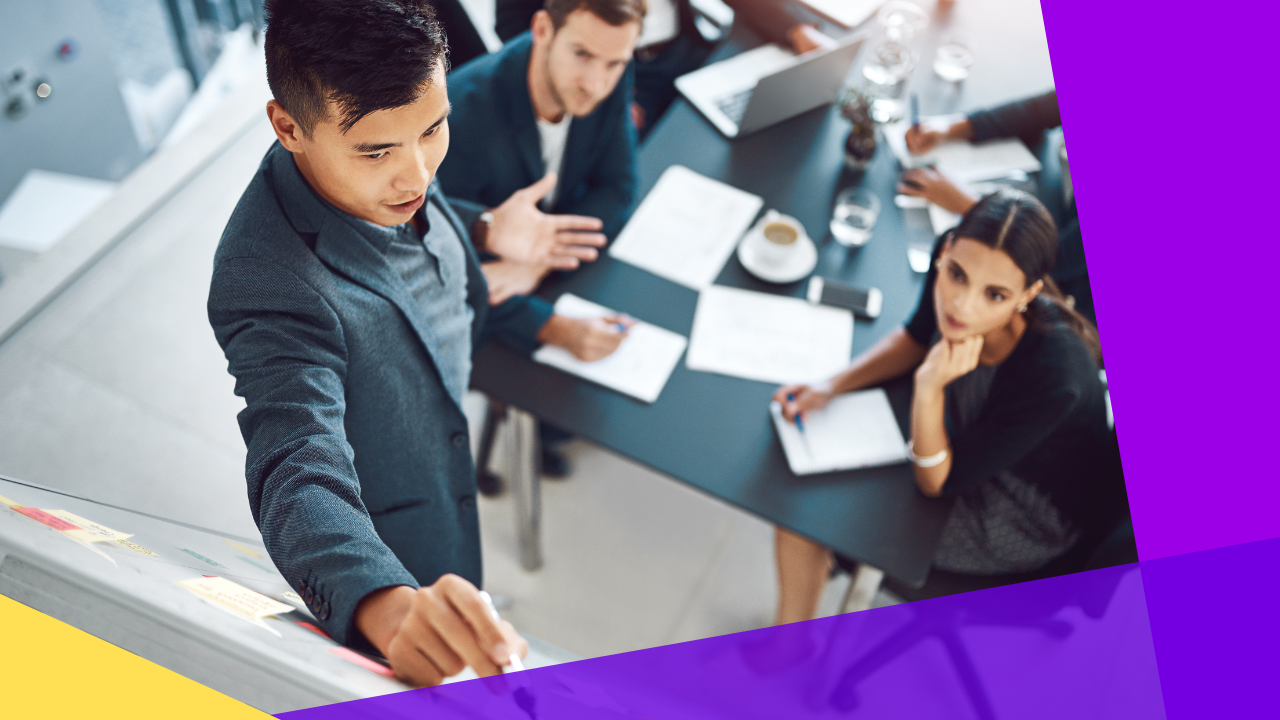 For several reasons, effectively organizing and categorizing products is crucial for businesses to succeed. A well-structured product organization enables easy navigation and search for customers, enhancing their overall shopping experience.
By providing intuitive categorization, businesses can help customers find desired products quickly, increasing customer satisfaction and higher conversion rates.
If companies fail to organize and categorize their products effectively, customers may struggle to find products, leading to frustration, increased bounce rates, and lost sales opportunities.
This is why product taxonomy is vital. Applying this method in product management eliminates ambiguity and makes it easier for businesses to maintain organized product data.
Understanding product taxonomy
Product taxonomy entails classifying products and organizing items into hierarchies or groups based on their traits and characteristics.
It also covers giving commodities unique product identifiers, categorizing them at various granularities, and creating connections between multiple products.
Product taxonomy's overarching objective is to offer a standardized framework that supports effective product management and allows seamless user experiences.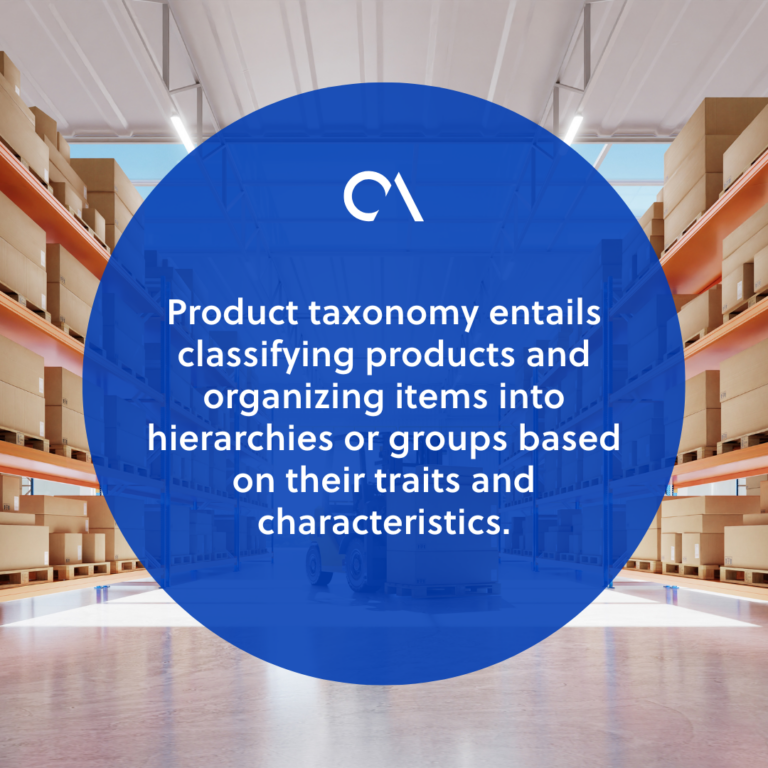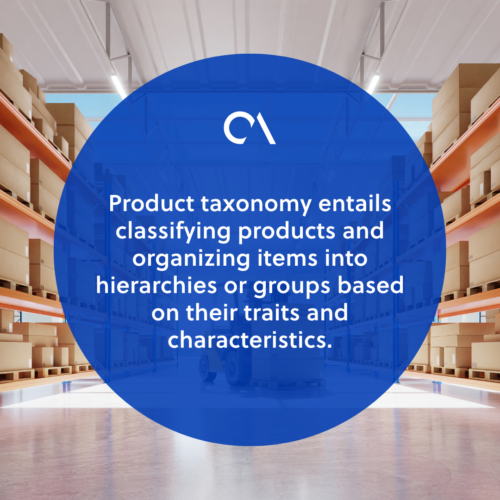 Applications of product taxonomy
Product taxonomy is used in many different business sectors and industries. Some of its applications are the following:

E-commerce and online retail

. Product taxonomy allows businesses to enhance the user experience via improved search functionality. It also drives conversions by categorizing products into relevant and intuitive categories.

Supply chain management

. Companies can optimize storage and distribution processes and improve operational efficiency by implementing a standardized product taxonomy process.

Data analysis and business intelligence

. A robust product taxonomy enables firms to gain valuable

consumer behavior insights

, market trends, and sales patterns by categorizing products based on their attributes.
6 key components of product taxonomy 
Understanding these key components will provide a solid foundation for grasping the intricacies and importance of product taxonomy. 
Below are the six building blocks contributing to a successful product taxonomy implementation:
1. Classification codes or numbers
Product taxonomy relies on classification codes or numbers since they give a unique identity for each product. These IDs facilitate product identification, grouping, and retrieval inside the taxonomy. 
There are several standardized coding systems:
United Nations Standard Products and Services Code (UNSPSC)
UNSPSC is a worldwide accepted categorization system for arranging products and services across industries.
The UNSPSC's hierarchical structure and many degrees of granularity provide exact categorization and classification. It allows firms to conduct accurate product identification and arrangement within a taxonomy.
Global Product Classification (GPC)
The GPC is an industry-developed standardized classification system for consumer products. Its goal is to create a universal language for product classification. This is to facilitate easy data transmission and coordination among business partners.
The GPC establishes a standard framework for categorizing items and assuring compatibility and interoperability in worldwide supply networks.

North American Industry Classification System (NAICS)
The NAICS is a market classification system exclusive to North America. It classifies firms and industries according to their economic activities. 
NAICS provides a consistent data analysis, reporting, and industry comparison framework. Businesses may use the NAICS to evaluate market trends, identify rivals, and make educated decisions based on correct industry classification.
Standard Industrial Classification (SIC)
Standard Industrial categorization (SIC) is an older categorization system widely used in the United States. The SIC categorizes and analyzes enterprises according to their principal economic activity.
Although the NAICS has mostly replaced it, the SIC is still used in some industries.
Data quality standards (ISO 8000)
ISO 8000 is a global standard focusing on data quality management, particularly product data management within a taxonomy.
It maintains product data's accuracy, consistency, and dependability, encouraging high-quality information for decision-making processes.
The quality assurance manager may preserve data integrity, increase data accuracy, and improve the overall quality of their product taxonomy by conforming to ISO 8000.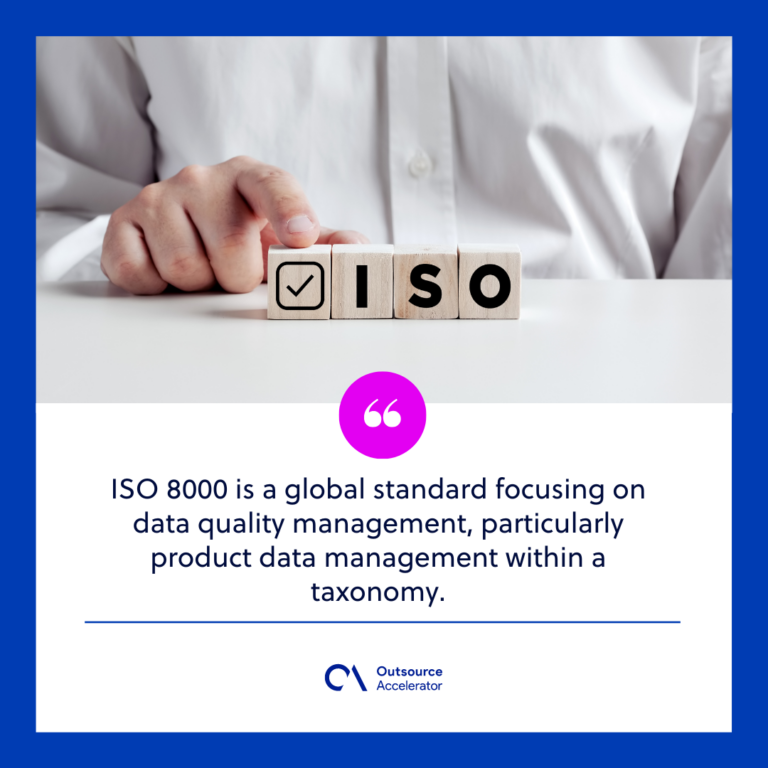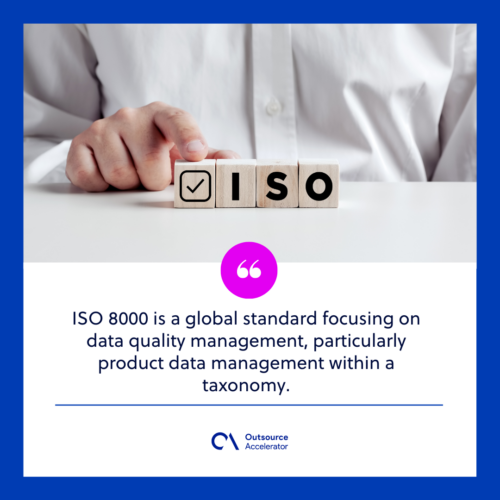 2. Metadata and tagging system
Additional information on goods, such as qualities, standards, or defining tags, is called metadata.
These two product labeling techniques significantly increase the practical value of product taxonomy. Product attributes, such as materials, sizes, and colors, can all be listed on tags.
By implementing a sophisticated metadata system, businesses may give contextual information, increase search accuracy, and enable tailored suggestions. 
An effective grouping and categorization of items based on certain traits or characteristics is made possible by a well-designed tagging system.
Overall, with correct metadata and effective tagging, firms may also:
Increase searchability

Provide complex filtering choices

Enhance customer experience
3. Relationships between products
Product taxonomy relies heavily on establishing linkages between commodities. Relationships allow organizations to build product hierarchies and dependencies. 
A laptop, for instance, can be classified as "electronics" and then further classified as a "computer." These relationships allow for easier navigation between related products. It also allows businesses to suggest complementary items, providing customers a seamless browsing experience.
When buyers search for a given product, the taxonomy might recommend similar items or accessories, boosting the possibility of subsequent sales.
Corporations may maximize their cross-selling and upselling process by strengthening business partnerships.
4. Synonyms and aliases for product names
Customers may refer to the same product using multiple terminology or phrases.
In an e-commerce platform, buyers may locate what they seek by including synonyms and aliases in the product taxonomy regardless of the terminology they enter.
This search and navigation flexibility level decreases client annoyance, increases satisfaction, and eliminates lost sales chances.
For instance, a consumer searching for a "hooded sweatshirt" may also locate the same product using keywords such as "hoodie" or "hooded jumper."
5. Image and multimedia assets for product representation
In product taxonomy, e-commerce visual representation, such as AR/VR, gives clients an immersive and interesting experience using premium photos/videos and multimedia materials in the taxonomy.
Customers use images to visualize things and make wise purchasing decisions. Videos and 360-degree views are examples of multimedia assets that improve product representation. It gives customers a thorough overview of the product's capabilities, functioning, and design.
The accurate visual depiction of the items inside the taxonomy facilitates a better customer experience and improved brand image.
Businesses may eliminate consumer confusion, limit refunds, and foster trust using visual and multimedia materials.
6. Cross-referencing and linking mechanisms
A well-established product taxonomy includes cross-referencing (product matching) and connecting methods. These techniques link together relevant items, categories, or traits.
By cross-referencing ad linking, businesses can improve navigation between related items. For instance, if a consumer searches for a camera, the taxonomy can recommend lenses, tripods, or accessories.
This improves the consumer experience and raises the possibility of future transactions to other related items.
Further, cross-referencing and linking technologies enable firms to develop dynamic links inside the taxonomy—increasing product visibility.
Essential benefits of product taxonomy
Implementing a robust product taxonomy offers several significant benefits for businesses. Here are some of the advantages it provides:
Enhanced search and navigation capabilities
Customers may locate items more quickly and simply with the help of a well-organized product taxonomy.
Product taxonomy creates a logical and user-friendly navigation system by classifying items into relevant categories, subcategories, and qualities. This makes it easier and faster to find desired items and improves the overall customer journey.
A smooth shopping experience is further enhanced by accurate search results and effective filtering tools, which lower bounce rates and boost conversion rates.
Improved customer experience and personalization
Enterprises can provide customized product suggestions by looking into consumer behavior and purchasing trends inside the taxonomy. As a result, they may deliver focused marketing campaigns, individualized promotions, and a smooth shopping experience.
The enhanced product taxonomy influences higher customer engagement, customer retention, and overall business growth.

Streamlined inventory management and supply chain operations
Efficient inventory management is crucial for optimizing supply chain operations, and a well-designed product taxonomy greatly facilitates this process.
Organizations gain better visibility and control over their inventory by accurately categorizing and managing products within the taxonomy.
The product taxonomy provides insights into product demand patterns, enabling businesses to streamline inventory management processes and avoid stockouts or overstock situations.
Persons in charge of this process can track stock levels, monitor product availability, and plan to restock before the stock runs out. With optimized inventory levels, businesses can reduce carrying costs, minimize storage space requirements, and ensure timely order fulfillment.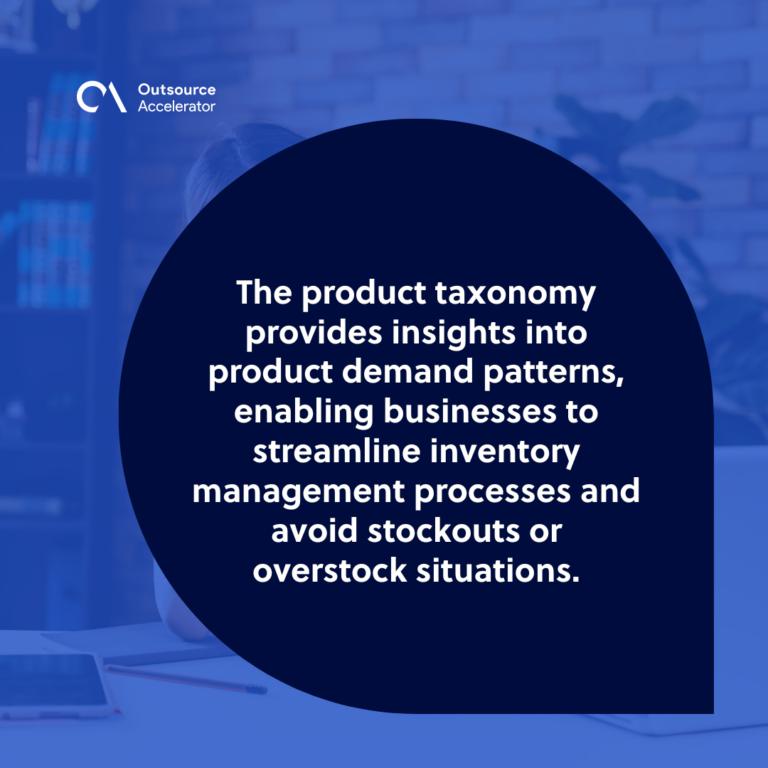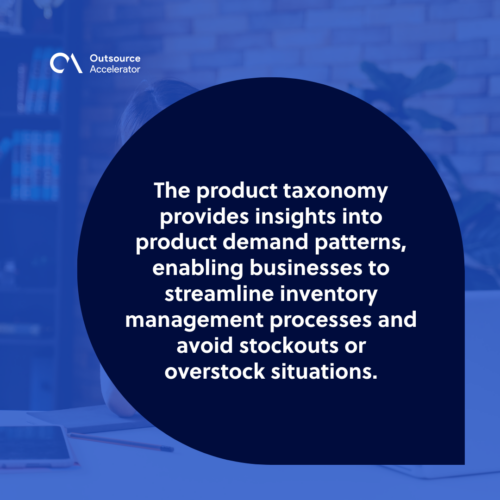 Data analysis and business intelligence
Product taxonomy serves as the foundation for valuable data analysis and business intelligence. Firms can derive insights into consumer preferences, market trends, and sales performance by organizing products based on attributes and relationships.
A well-structured product taxonomy enables organizations to analyze and arrange products into categories. Moreover, the application of product taxonomy aids organizations to improve customer interactions and identify patterns and make data-driven decisions.
Authorities can leverage this information to develop targeted marketing campaigns, optimize pricing strategies, and identify emerging market trends.
By utilizing product taxonomy for data analysis, companies can gain a competitive edge, make informed decisions, and enhance their overall business intelligence capabilities.
Product taxonomy ensures smooth supply chain operations
By offering a consistent framework for identifying, classifying, and managing items, businesses may:
Increase operational efficiency

Boost customer happiness

Promote corporate growth
Product taxonomy is the foundation of successful organizations in the digital era, supporting everything from e-commerce to inventory control and data analysis.