8 strategies for streamlining fulfillment logistics in e-commerce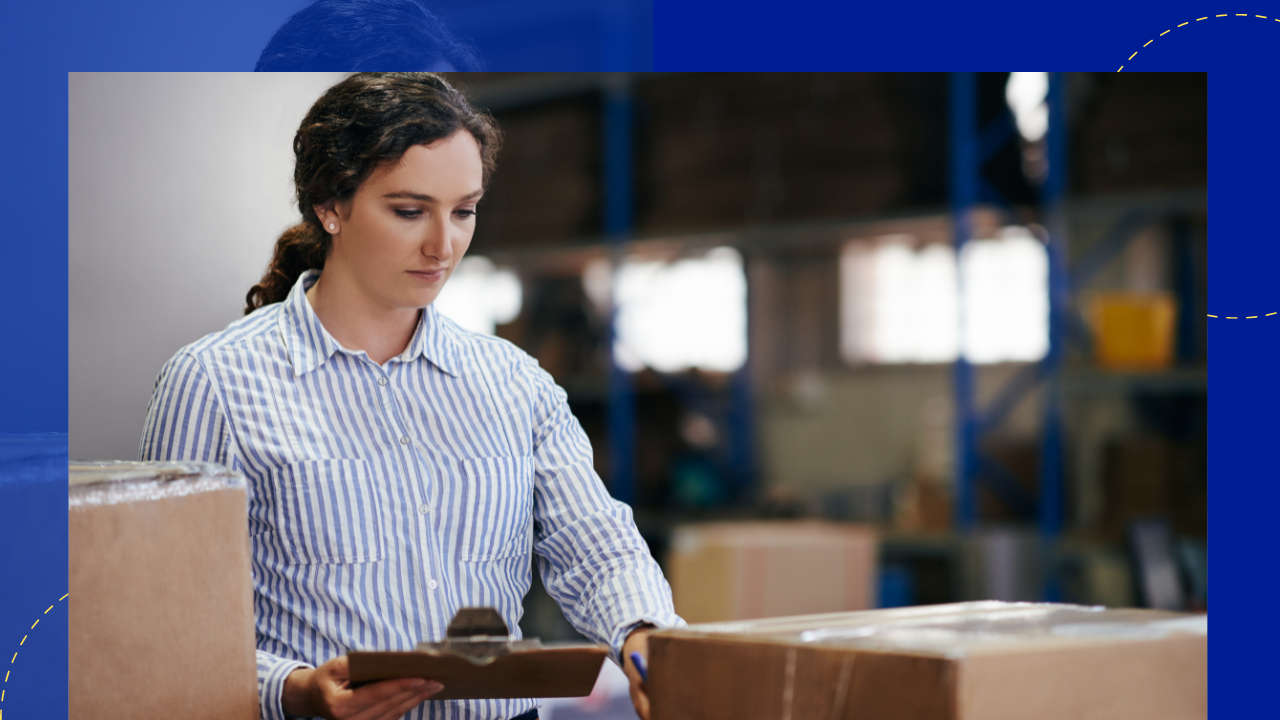 With each passing day, customer expectations increase, and competition grows fiercer. But fulfillment logistics holds the key to a business's success or downfall.
And the secret ingredient to thriving sales is utilizing effective strategies to transform an ordinary online store into a customer-centric powerhouse.
This blog post discusses the pivotal role of fulfillment logistics. We'll also cover its key components and unveil eight game-changing strategies to revamp your e-commerce operational efficiency.
Defining fulfillment logistics
Fulfillment logistics is the foundation of a successful e-commerce business. It covers a complete set of activities designed to process, handle, and fulfill consumer orders along the supply chain. 
It is the key player that takes place behind the scenes of product production to guarantee that items flow smoothly from the minute an order is made—to delivery.
At its core, fulfillment logistics includes several interrelated jobs, each of which is important in providing a good customer experience.
These interrelated jobs are:
Order processing

. Establishes the groundwork for precise and effective order handling.

Inventory management

. Optimizes stock levels, avoiding order concerns like stockouts or costly overstocking scenarios.

Warehouse supervision

. Transforms operational efficiency with planned layouts and systematic processes that maximize productivity.
Quality control inspection.

Guarantees that warehouse packages are delivered to the consumer on time and in good condition.

Shipping coordination

. Safeguards items while providing an excellent unpacking experience. 
Understanding fulfillment logistics may push firms to boost customer satisfaction and set their business to long-term success.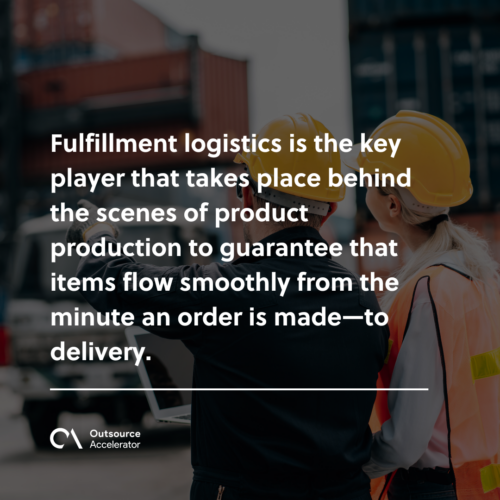 What is the significance of fulfillment logistics in e-commerce?
Fulfillment logistics directly impacts customer satisfaction, operational efficiency, and profitability. In other words, it plays a pivotal role in the success of e-commerce businesses. 
Here are a few reasons why fulfillment logistics are significant in the e-commerce landscape:
Customer satisfaction
Fulfillment logistics plays a significant role in accomplishing timely order processing, accurate inventory management, and on-time delivery. 
As a result, it contributes to positive customer experiences, increasing customer satisfaction and loyalty.
Competitive advantage
Streamlined fulfillment logistics enable e-commerce businesses to offer faster shipping times, better inventory availability, and efficient return processes.
This gives companies a competitive edge in the market.
Cost efficienc
Effective fulfillment logistics can reduce operational costs by:
Optimizing inventory levels

Minimizing storage space requirements

Improving overall supply chain efficiency
Scalability
Well-designed fulfillment logistics processes can accommodate business growth and increased order volumes. This allows e-commerce companies to scale their operations without sacrificing efficiency.
Key components of fulfillment logistics
Fulfillment logistics have key components. Each key component ensures the smooth order processing and delivery of customer orders within the e-commerce supply chain.
Let's explore the role of each component:
Order processing and management
The administration and processing of orders are the foundation of fulfillment logistics.
This part entails handling incoming orders precisely and promptly. It consists of tasks including tracking orders, processing payments, and verifying orders.
Reduce mistakes and speed up order processing
This component of fulfillment logistics entails optimizing order input procedures, integrating order management systems, and automating order tracking.
E-commerce companies may increase order accuracy, shorten the order cycle time, and raise customer happiness by improving this component.
Inventory management and optimization
Inventory management is the process of overseeing the stock levels and availability of products. It includes activities like demand forecasting, inventory tracking, and replenishment.
The role of inventory management is to strike a balance between maintaining sufficient stock to fulfill orders. It also involves minimizing excess inventory to avoid unnecessary holding costs.
Effective inventory management involves the following process:
Utilizing demand forecasting tools

Setting optimal reorder points

Implementing real-time inventory tracking systems
Moreover, this fulfillment logistics component must adopt efficient replenishment strategies such as vendor-managed inventory or just-in-time inventory management.
By optimizing inventory levels, e-commerce businesses can minimize stockouts, reduce carrying costs, and ensure timely order fulfillment.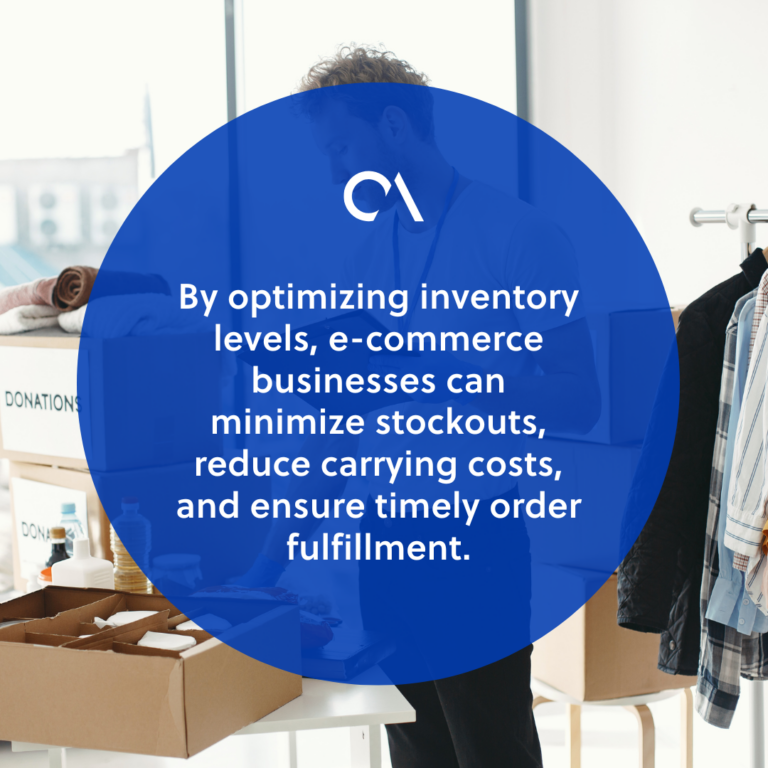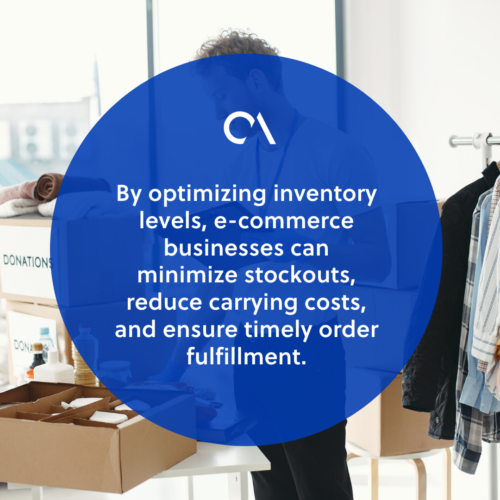 Warehouse operations and layout
Warehouse operations refer to the activities involved in the physical handling, storage, and movement of products within the warehouse.
It also involves organizing products based on demand and rate, implementing efficient picking and packing processes, and optimizing warehouse layout for streamlined material flow.
An efficient warehouse layout and optimized processes ensure smooth order fulfillment, reduced handling time, and improved inventory accuracy.
By adopting barcode scanning, automated picking systems, and warehouse management systems, e-commerce businesses can improve the following:
Order accuracy

Order cycle time

Overall warehouse efficiency
Packaging and labeling
This fulfillment logistics component is vital in protecting products during transportation. Proper packaging safeguards items from damage and ensures they arrive in excellent condition.
Accurate labeling helps with product identification, tracking, and compliance with regulatory requirements.
Meanwhile, effective packaging and labeling involve selecting appropriate packaging materials. This is based on standardized packaging processes and labeling technologies such as barcodes or RFID tags.
By focusing on quality packaging and clear labeling, e-commerce businesses can minimize product damage during transit and enhance brand reputation.
Shipping and transportation
Shipping and transportation are crucial components of fulfillment logistics that involve selecting the appropriate shipping methods to deliver products to customers.
Efficient shipping and transportation processes ensure timely and cost-effective delivery while considering factors like:
Package size

Weight

Destination

Preferred courier service

Customer preferences
This also involves negotiating favorable shipping contracts, utilizing transportation management systems for route optimization, and leveraging technology for real-time shipment tracking.
With this fulfillment logistics component, e-commerce companies may speed up delivery times and provide customers with a satisfying post-purchase experience.
8 strategies for streamlining fulfillment logistics
Now that you understand the key components of fulfillment logistics, let's explore eight strategies to streamline these processes and improve operational efficiency:
1. Automation and technology solutions
Leveraging automation and advanced technology is vital for optimizing fulfillment processes. 
Implementing robotic automation can revolutionize your operations. You can also achieve robust order management systems and warehouse management systems.
These solutions enhance order accuracy, provide real-time inventory visibility, and significantly reduce the need for manual labor.
Further, businesses can streamline operations, minimize errors, and improve efficiency.
2. Demand forecasting and planning
Accurate demand forecasting and planning are essential for effective fulfillment logistics. 
E-commerce businesses can gain valuable insights into customer demand patterns by utilizing data analytics and leveraging demand forecasting tools.
This enables firms to optimize inventory levels, avoid overstocking or stockouts, and improve overall supply chain efficiency.
By aligning inventory with projected demand, businesses can reduce holding costs, minimize waste, and enhance their ability to meet customer expectations.
3. Just-in-time inventory management
Just-in-time (JIT) inventory management is a fulfillment logistics strategy focusing on receiving inventory closer to the time needed for fulfillment.
JIT inventory management also ensures that products are available when needed—reducing the risk of stockouts—while maintaining a lean and efficient supply chain.
4. Cross-docking and drop-shipping
Cross-docking and drop-shipping fulfillment logistics strategies offer efficient alternatives to traditional inventory handling and storage.
It involves transferring goods directly from inbound shipments to outbound shipments without the need for long-term storage.
This eliminates the time-consuming process of storing and picking inventory, leading to faster order fulfillment and reduced storage costs.
Meanwhile, drop-shipping takes fulfillment logistics further by shipping products directly from suppliers to customers.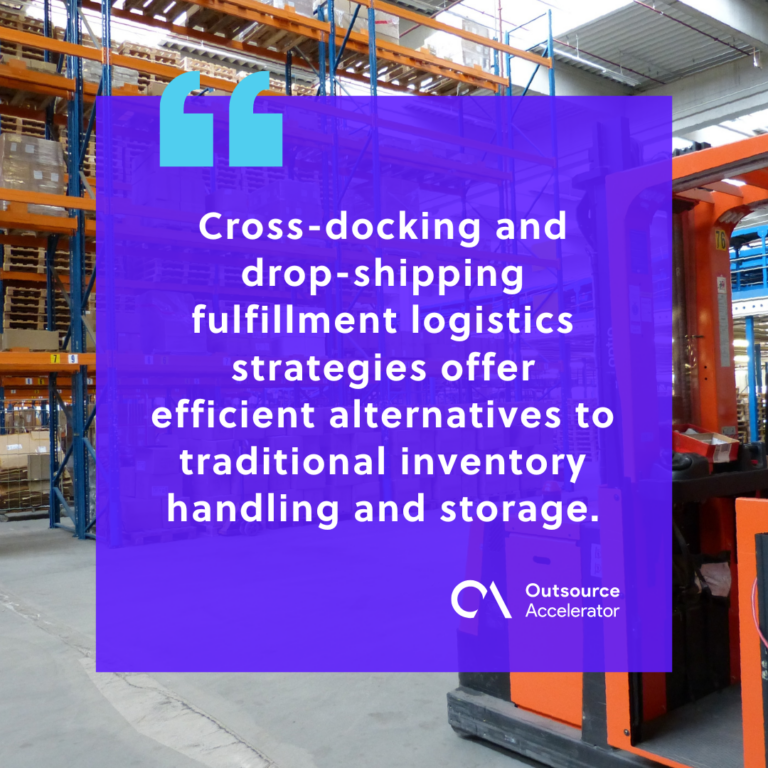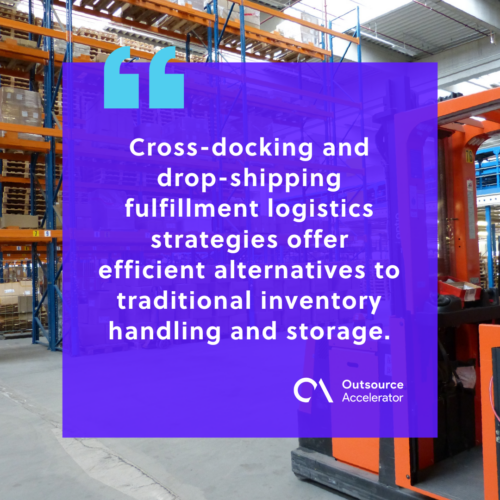 5. Reverse logistics and returns management
Efficient reverse fulfillment logistics and returns management processes are crucial in handling product returns and reverse supply chains. It simplifies the returns process for customers by offering user-friendly return policies.
This streamlined product returns procedures results in quicker reselling or refurbishing.
6. Integration of software systems
Seamless integration of various software systems is essential for efficient data flow and accurate information exchange within the fulfillment logistics process.
Integrating inventory management, order management, and shipping systems eliminates manual data entry and reduces errors.
It also enables real-time visibility of inventory levels, automates order processing, and facilitates streamlined shipping processes.
Businesses can achieve enhanced accuracy, efficiency, and a seamless end-to-end fulfillment experience by centralizing information and optimizing system integration.
7. Continuous monitoring and optimization
To stay ahead of the competition, it is crucial to regularly monitor key performance indicators (KPIs) related to fulfillment logistics.
By tracking metrics such as order accuracy, fulfillment cycle time, and delivery performance, businesses can identify areas for improvement.
Continuous monitoring can help identify bottlenecks, process inefficiencies, or spot emerging trends. It also provides the opportunity to optimize processes, implement necessary changes, and proactively address issues that may impact customer satisfaction.
8. Staff training and performance evaluation
Investing in staff training and development ensures employees possess the necessary skills and knowledge to handle fulfillment logistics effectively.
Comprehensive training programs equip staff with the tools to execute their tasks effectively, enhance their understanding of fulfillment processes, and boost their productivity.
Regularly evaluating staff performance and recognizing high performance through incentives and rewards can help maintain a productive workforce. It'll make order management much easier because employees are motivated to do extra labor.
Continuous improvement through staff training and performance evaluation ensures the fulfillment logistics team is equipped to meet growing customers' demands.
Master fulfillment logistics strategies for effective sales outcomes
Using these strategies, e-commerce enterprises may increase operational efficiency and expedite excellent order fulfillment.
Furthermore, businesses may position themselves for success in the e-commerce market by keeping this important information in mind.