How can offshore payment processing drive business growth?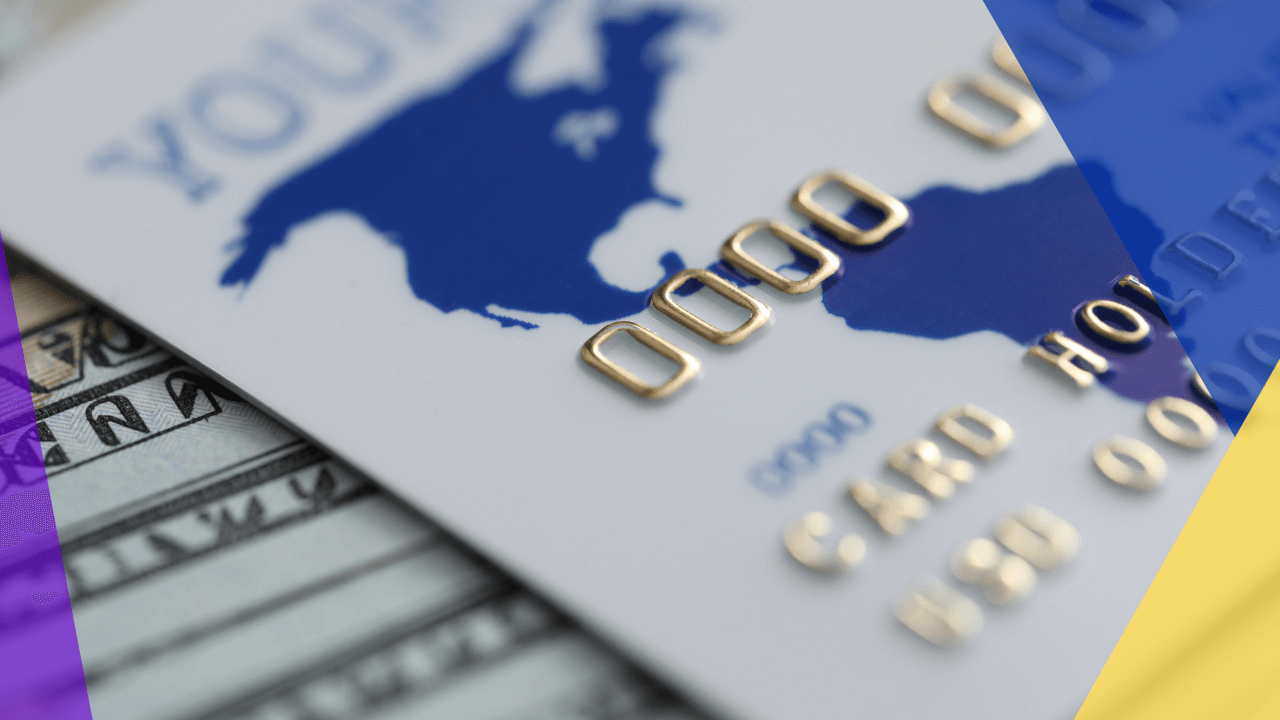 Online shopping has now become the norm as customers have opted for convenience and speedy transactions. And thanks to the internet, brands' reach is not just limited to local customers. 
As for e-commerce businesses, enabling different modes of payments like debit cards and credit cards has become a number one requirement. However, some businesses still struggle to accept and process various banking and credit card transactions. 
Good thing, there are offshore payment processing services to relieve businesses of this kind of dilemma. 
Defining offshore payment processing services
Offshore payment processing is also known as offshore merchant services. This kind of service makes it easier for e-commerce businesses, big or small, to accept payments via debit and credit cards. This includes industry-leading credit card companies like Mastercard, American Express, and Visa. 
Through offshore payment processing services, businesses can easily process online payments from customers across the globe. And this also includes fees in all types of currencies. 
Offshore payment processing providers have offshore banking solutions for organizations in all business sectors.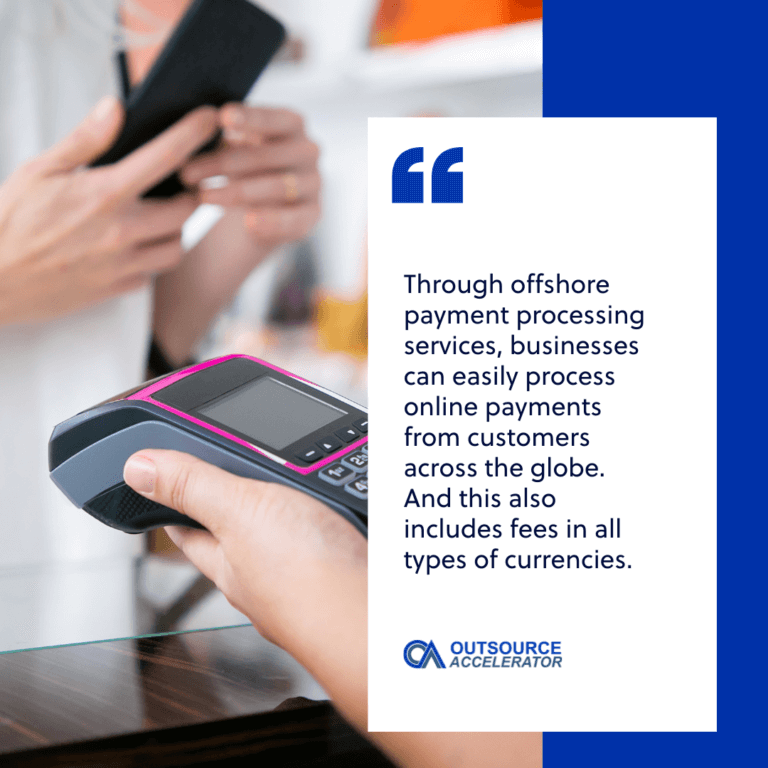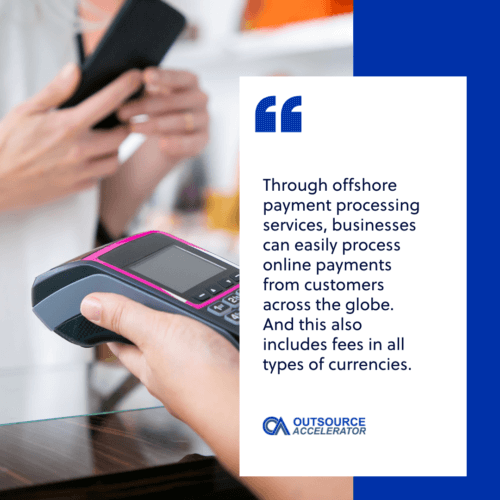 Which types of businesses offshore payment processing? 
Offshore merchant services are mainly applicable to high-risk merchants. However, other types of businesses can also acquire this type of offshoring function. 
High-risk merchants 
High-risk merchants are businesses that are vulnerable to illegal transactions. These businesses are labeled as high-risk merchants by their payment processors. Thus, they may be prone to a large number of chargebacks, fraudulent transactions, and refunds. 
Not all high-risk merchants are deemed illegal. However, some are considered to have poor credit card scores, non-compliant with security regulations, and are susceptible to high volumes of sales. With these risks, banks usually end up charging these merchants additional fees or worse case, block them from future transactions. 
Examples of merchants that are within the high-risk category are weapon retailers, blockchain, health, finance, travel, and more. 
Low-risk merchants 
Businesses that are categorized under low-risk merchants are in the beauty, retail, or restaurant sectors. Although they are classified as low-risk, they can also opt for offshore payment processing as long as they have a low chargeback ratio. 
E-commerce
E-commerce businesses typically sell to customers all over the world, and processing international payment transactions can be challenging. 
The e-commerce industry is able to take full advantage of offshore payment processing as they can reach a wider demographic. At the same time, they can boost their income generation.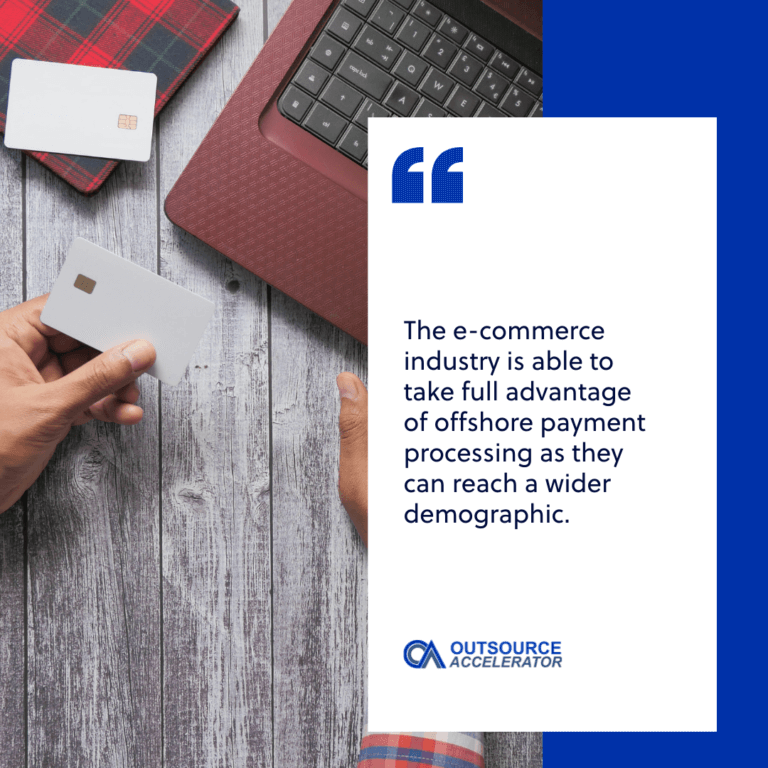 How offshore payment processing services work 
Offshore payment processing providers offer reliable online payment solutions and fraud management. Offshore processors provide payment gateways to their clients. 
This helps them ensure that all online payment transactions coming from multiple locations are successful. 
Here's how offshore payment processing typically works: 
Customers purchasing online will need to log in on the merchant's website or online portal. 

From there, they will be required to fill in the required information for their chosen payment method. These payment methods can be through the customers' debit card, credit card, online banking, and others.  

All data input will be sent to the merchant's bank. 

From the merchant's bank, it will then be transferred to the customers' issuing bank network, where the transaction can either be approved or declined.

Whatever the result is, it will be sent to the merchant's bank.

The offshore payment processing provider will forward the result to the customer in real time via the merchant's portal. 

Once the transaction is approved, the issuing bank will transfer the funds to the merchant's account. This includes automated receipts that are also sent to both the customers and the merchants. 
Both merchants and customers are guaranteed that all these steps are done securely and within a matter of seconds or a few minutes. 
4 significant perks of offshore payment processing 
Businesses can fully leverage offshore payment processing as it offers the following benefits: 
Security
Offshore payment processing providers are known to have rigorous security standards. They implement stringent security measures like screening systems, address verification systems, and fraud management. They also provide 24/7 customer support as this helps businesses with fraud detection and chargebacks.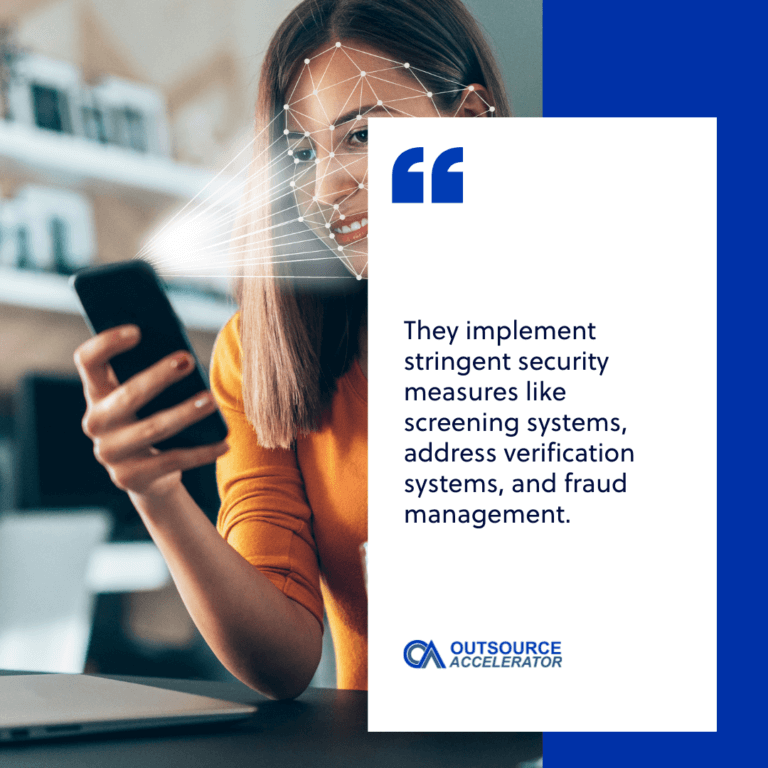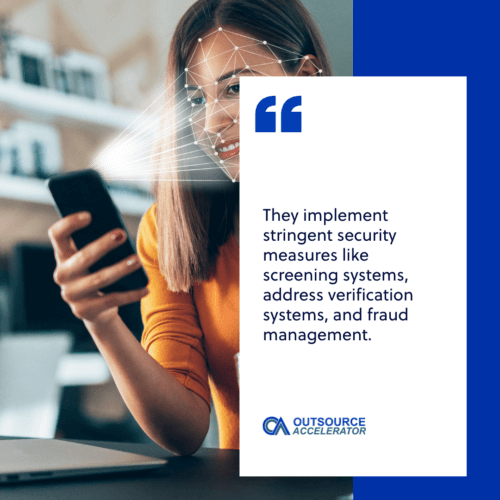 Easy payments in various currencies 
Through offshore payment processing services, organizations can accept online payments in different currencies. This greatly reduces the case of cart abandonment as consumers are allowed to pay according to their preferred currency. 
Increased profitability 
As we have mentioned, customers prefer online shopping over going on a trip to the actual store because it is more convenient. 
For this, offshore payment processing enables customers to conveniently transact with businesses online. In turn, these businesses are more likely to obtain repeat purchases and retain their customer base. 
Cost-efficiency 
Offshore payment processing grants businesses the opportunity to sell their products and services worldwide cost-effectively. Further, it also helps businesses to cut their overall costs as they can reduce foreign exchange fees and decrease their tax expenses. 
Overall, offshore payment processing helps businesses to cut a huge chunk of their operational costs.