Seven key steps of product management process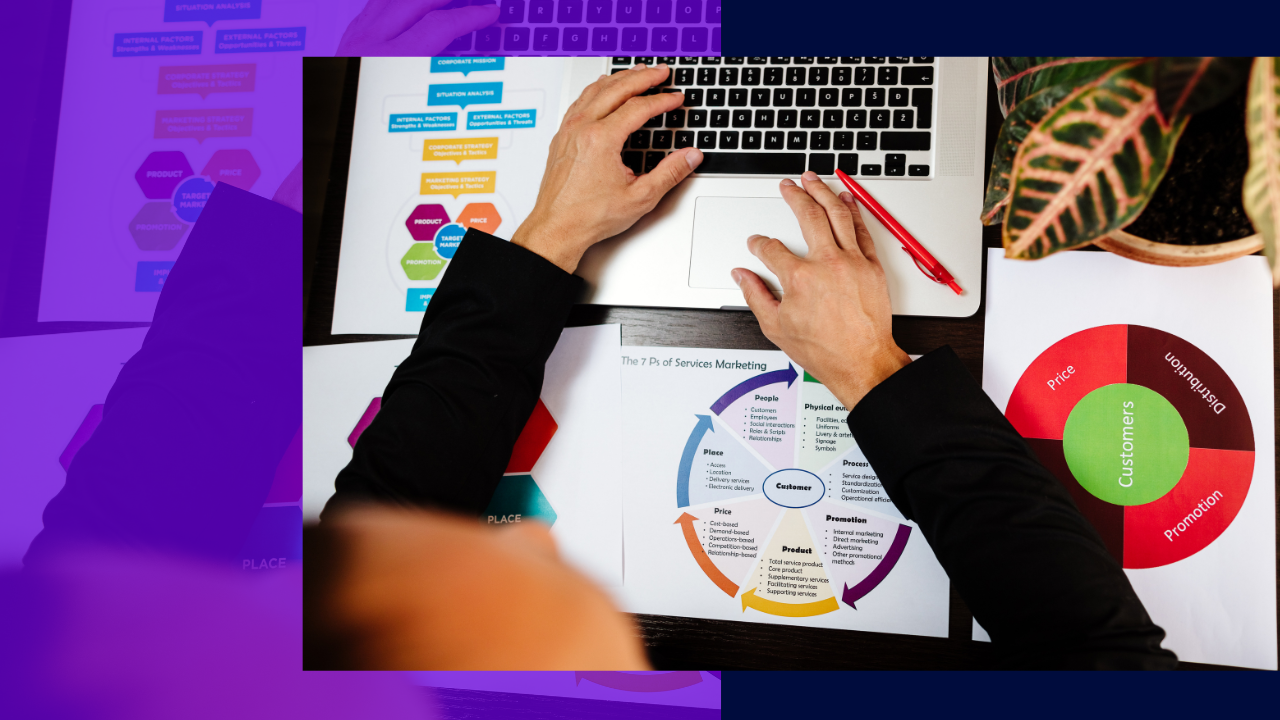 The success of product creation is derived from a comprehensive plan, great strategy, and teamwork between team members. 
Just because it is a great idea, it doesn't mean it will become successful. It requires a long-time plan, time, effort, and a team of experts. 
From researching, designing, and building to marketing, this seems to be a heavy workload for product managers. Their role is crucial for organizations. 
That said, many product managers[1] rely on the product management process to outline the series of actions toward project success. 
The product management process enables businesses, especially startups, to have seamless key processes to be performed in a strategic and logical order. 
In this article, we'll discuss what a product management process is, its importance, and the key steps businesses need to adopt. 
What is a product management process?
Every business has a strategy for managing product development. Thus, a flexible and effective process is essential to achieve business objectives. 
A product management process is a series of steps organizations perform to develop a better product. The number of steps encompasses from idea creation to designing, to market launch, and beyond. 
It can take different forms  on the organizational structure and the industry. Product managers supervise each step of the process for startups or small organizations.
While on large enterprises with more complex product development, there are designated teams to handle each step of the process.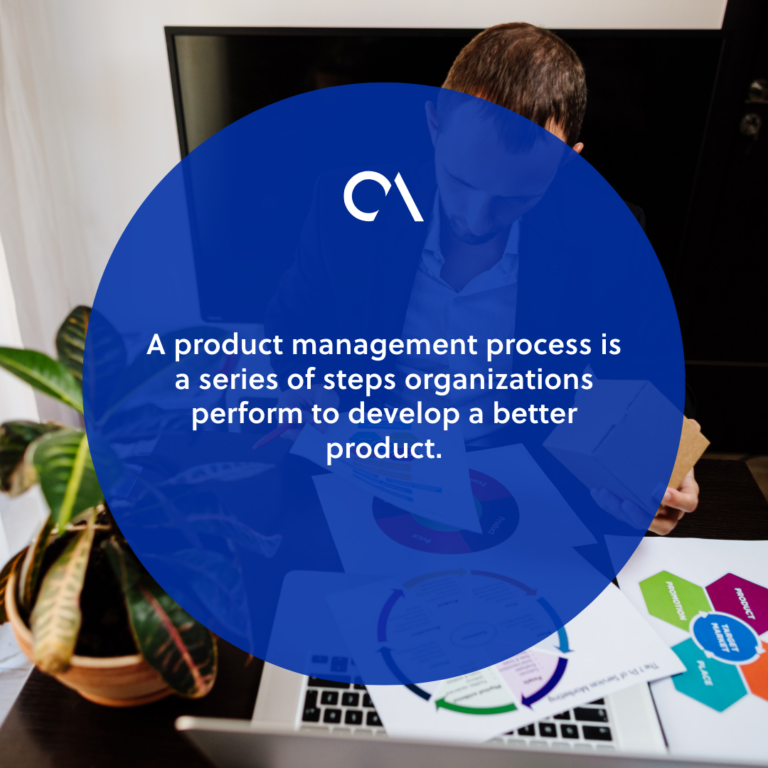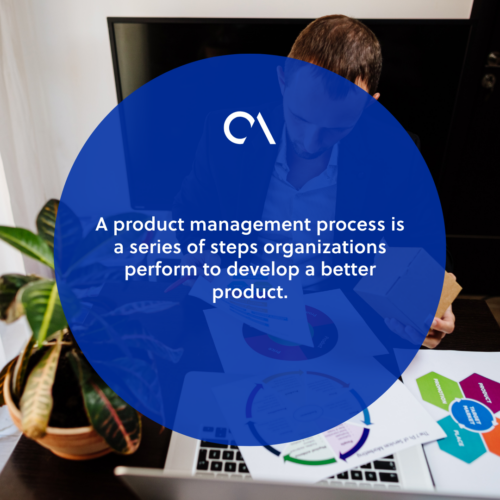 The role of a product manager in the product management process 
Product managers set up a project vision, define a product strategy, and deliver value for businesses. This can be done through the product management process. 
Having a breakdown of each stage helps companies prioritize each task and use the most resources better. 
In fact, a study conducted by PM 280 Group revealed that a fully optimized product manager increases a company's profit by 34.2%.  What's most important is it enables companies to set up certain projects from being out of the scope. 
What are the benefits of product management process?  
The product management process is a long process. However, once it is clearly outlined, it can bring a lot of benefits for organizations. 
More specifically, an effective product management process delivers the following advantages; 
Higher team productivity and greater flexibility

Improved

customer satisfaction 

Efficient and straightforward process management 

Faster delivery of products 

Effective resource allocation 
Seven key steps of product management process 
Clearly, the product management process has no rulebook. The procedures product managers follow will vary from one organization to the next, but the steps may somewhat be similar. 
Here are the seven key steps of the product management process: 
1. Identify customer pain points and manage product ideas
Researching is the starting point of product development. Before creating a product,[2] it is important to identify the customers' needs and their pain points. 
The gathered information should not just be about customer trends, it should also include the on-demand product and the growing industries. 
Through this, it can generate relevant ideas. Idea generation can be done through brainstorming sessions. It helps filter ideas and decides what the viable is for consideration. 
This stage also involves goal setting, which entails the company's vision, how the team builds a product, and its results. 
The first step of the product management process is crucial to get an overview and not be overwhelmed by the product backlog. 
2. Determine technical specifications 
During this stage, the ideas, suggestions, and feature requests from the product backlog are elaborated clearly. The product manager works closely with different stakeholders to create product specifications. 
Product specifications, sometimes referred to as product specs are the blueprints that outline the requirements involving product features and functionality. This is important to the product team it serves as a guide in building the product.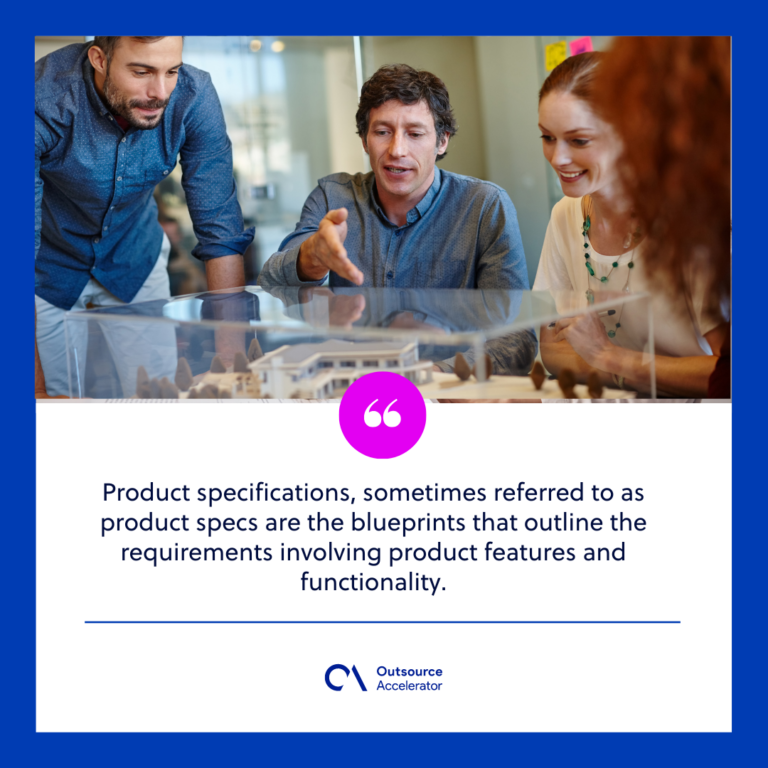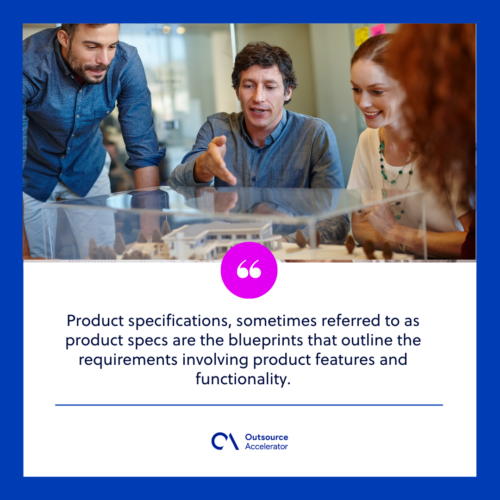 3. Create a product roadmap 
The third step of the product management process is road mapping. It comes before the prioritization stage. 
With roadmapping, the team takes into account the product vision and strategy. This step is more focused on the bigger picture. 
Most often, a product roadmap involves mapping out all the overarching specific and measurable goals for the product. 
4. Prioritization 
The prioritization phase looks into the details and decides which items from the product backlog should be prioritized. 
Product managers decide what should be built at a specific time based on what's more valuable to the user and the product. 
Some common prioritization frameworks that can be used include the MoSCoW method, RICE scoring model, value versus effort technique, and the product tree framework. 
5. Development and delivery 
Once the product roadmap and a set of prioritized items are put into place, this is when the product comes into life. The development and delivery stage varies from one organization to another. 
Developers, engineers, marketing, and support team are the key people in these steps according to the requirements set by project managers. 
These teams of experts ensure that the product features have high-quality delivery and meet the set product specifications. 
6. Analytics and experiments 
Running analytics and experiment is another important step in the product management process. 
The product development team gathers connections, correlations, causations, and other learnings using product analytics tools.
This is a great way to test and improve the product and understand its value to users before launching and increasing its chances of success. 
7. Product improvements 
Gathering customer feedback, which encompasses requests and complaints will significantly help the team to validate and improve the product and its features. 
Feedback is essential as it offers insights and suggestions which help the staff to understand the product problems that they are trying to address. 
This also applies to existing products where project managers analyze data, test it again and manage its defects. This helps with scaling operations and optimizing efficiencies while minimizing costs. 
Add more value to your product management process
The product management process isn't just a series of steps a development team must follow. Each step has essential functions to be implemented and goals to be achieved. 
These series of steps significantly help both product managers and their team members. The steps increase their efficiency in laying out priorities and guidelines on what to address in the product management process. 
Thus, the process helps development and support teams to build products that will satisfy the customer's needs. It is the overall strategy for organizations to scale up operations and achieve business goals. 
Article References:
[1] Product managers. Fuchs, C. and Diamantopoulos, A. (2012). Customer-Perceived Positioning Effectiveness: Conceptualization, Operationalization, and Implications for New Product Managers. Journal of Product Innovation Management, 29(2), pp.229–244. 
[2] Creating a product. Murphy, W. H., & Gorchels, L. (1996). How to improve product management effectiveness. Industrial Marketing Management, 25(1), 47-58. https://doi.org/10.1016/0019-8501(95)00063-1