How to measure customer satisfaction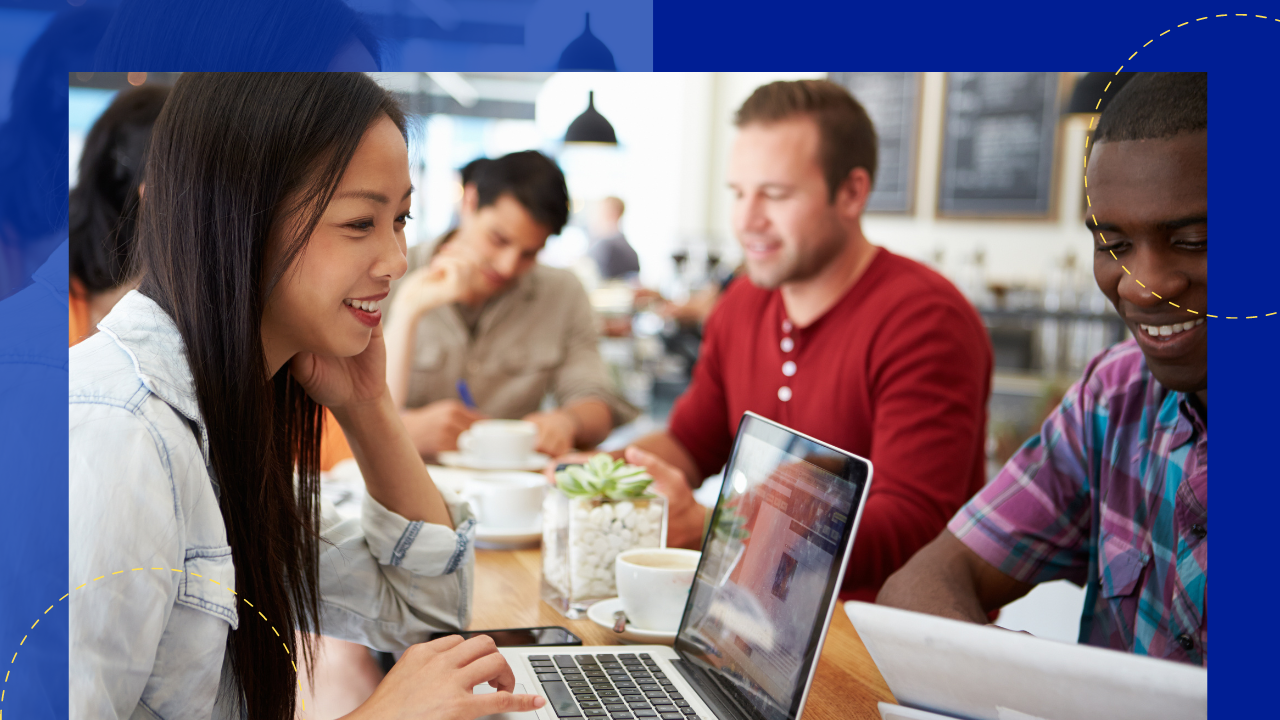 Customer satisfaction is a crucial performance measure that differentiates your business from your competitors. Working on the factors that directly affect your client's happiness with your brand helps you avoid losing them in the long run.
Defining customer satisfaction
Customer satisfaction is the measure of how the needs of your clients are addressed and delivered – and whether the services you provide meet or exceed their expectations. It determines whether a shopper is happy with your products and services. 
This gives you a clearer picture of how your brand is being perceived by your buyers. It also helps you identify your customers' future purchase decisions and loyalty to your company.
The higher the satisfaction level, the higher the chance of a buyer to come back for a repeat purchase.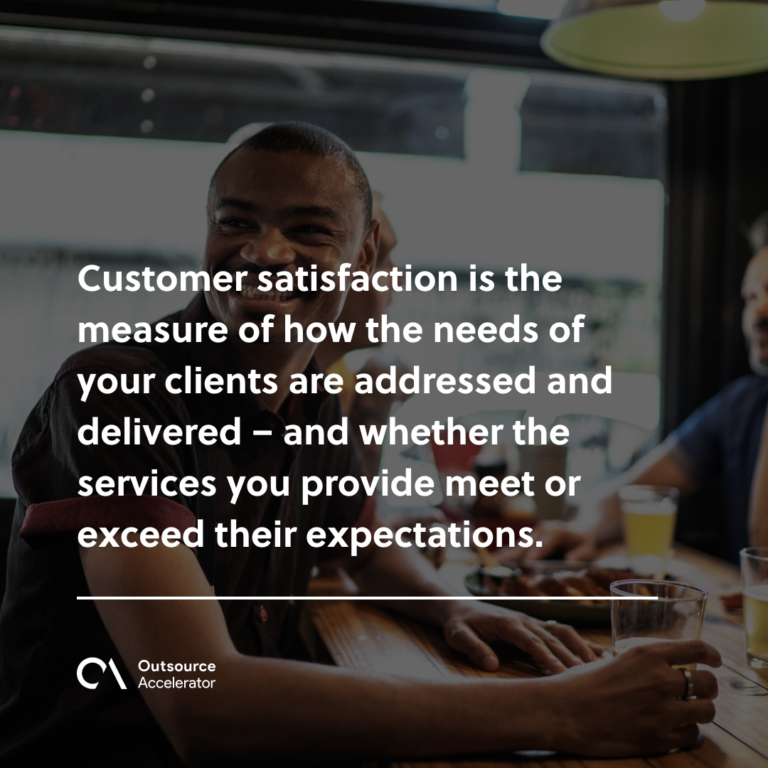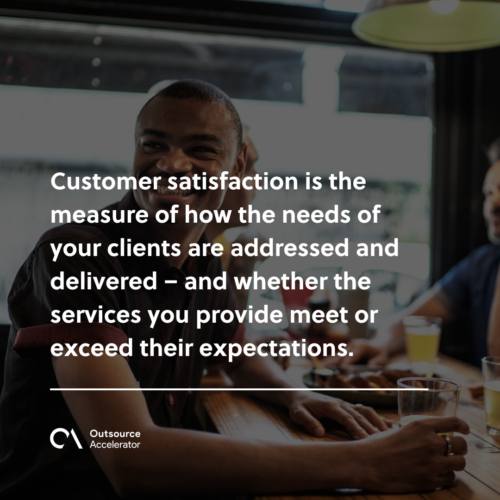 Importance of monitoring your customer satisfaction 
Regularly measuring customer satisfaction is necessary since it can indicate growth and warn you against customer churn. It provides business owners a basis on how to manage and improve their companies over time.
Organizations that provide excellent customer experiences could earn high satisfaction rates. It could also turn customers into advocates that would recommend your brand to their family, friends, and colleagues. 
Tracking your satisfaction levels will help you implement better strategies to enhance and improve the overall quality of your customer service. 
Most importantly, monitoring your customer satisfaction will help your organization identify if your target audience is actually happy with your brand's offerings.
How to measure customer satisfaction
In measuring a client's satisfaction levels, it is essential to be creative and considerate to stay relevant yet subtle to your shoppers. 
Here are several methods you can use to measure your customer satisfaction.
Surveys
A survey is the most straightforward way of collecting insights from your clients. Here are different survey types that you can use to target various demographics. 
In-app customer surveys.

These are presented to the shoppers while they use your service. This could yield an immediate reaction and a potentially high response rate.

Post-service customer surveys.

These types of surveys are distributed immediately following a service interaction.

Customer Surveys via email.

This approach can be used

if you want to ask broader questions about the entire customer experience.

Online surveys.

While these may usually lack an immediate reaction with your brand, these offer an easy and quick solution to gather reactions from the customers.
Utilizing the types above could give your team results from a diverse range of customers that supports your brand. 
Tracking your metrics
Learning how to measure customer satisfaction through various performance metrics is what an organization should do to improve every step of the customer journey. 
Here are some of the most used metrics when it comes to measuring your business' satisfaction levels.
Customer Satisfaction Score (CSAT)

. This measures the level of satisfaction or dissatisfaction with your product or service. It is an excellent metric to forecast sales and make smart decisions. 
Net Promoter Score (NPS).

This metric measures

customer loyalty

by inquiring about the likability of a client recommending your business to others. This could ensure that your relationship with customers does not end with just one transaction.

Customer Effort Score (CES). This metric helps businesses know the performance of their customer service by measuring a customer's effort to reach an agent and get their issues resolved.
With the data collected from these metrics, you can easily identify the areas in your customer service that need improvement and address them appropriately.
Feedbacks 
Collecting the customers' feedback will help your company know if your clients are getting the value out of your products or services. It will also help you nurture and retain loyal and happy customers.
You can create a comment box or an email address that shoppers can use to leave their reviews on your service. This move will get your audience involved in monitoring your overall customer experience.
Social media comments
Social media is an easy way to monitor your customers' happiness. Its personalized touch also allows your business to engage prospective buyers in an informal way.
The number of your followers, shares, comments, and likes on every platform can give you an idea of your customers' loyalty and overall satisfaction with your service.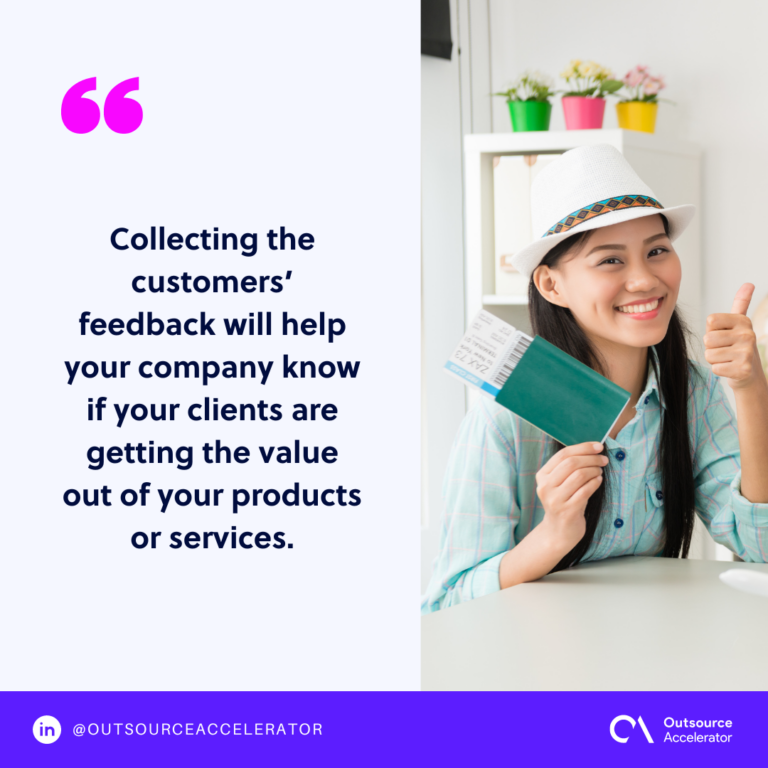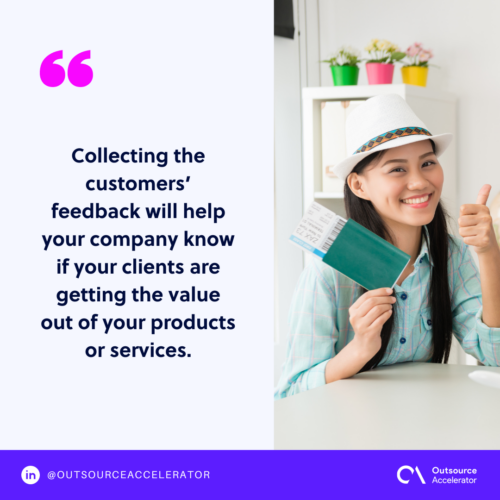 Analytics
Analytics — such as your website traffic and content views — can help you understand your customers' journey and identify their most frequent issues. You can use the data you have gathered to predict the behavior of your clients based on their previous actions.
Keep track of your content shares, the time spent on your website, and the bounce rate of your newsletters. Publishing regularly on your web pages can drive your activity and help you gain insight into your customers' habits. 
Improve your customer satisfaction with MVP Asia Pacific
Improving customer satisfaction allows you to provide your clients the best service that rivals your competitors.
Doing this quickly and efficiently can be possible with the help of a trusted outsourcing partner. MVP Asia Pacific could assist you in boosting your satisfaction levels at their very best.
It is one of the leading outsourcing agencies in the Philippines that provides 24/7 customer service, helping you grow your brand's reputation by servicing your clients around the clock.
Aside from this, MVP Asia Pacific also provides various outsourcing services that your company may need in expanding your operations.
Visit MVP Asia Pacific's website now and see the other services that they offer.