3 foolproof steps to create a robust product development plan
To help you keep your edge against your market competition, you can't always stick to what you are currently offering. As a business owner, your mindset should always be about pushing forward. Always seek better opportunities and ways you can enhance your products and services. 
However, it may not always be that simple as everyone in the business world seems to offer the same products and services with equivalent features and capabilities. 
The key here is to focus on your product development. But of course, there could be many instances where it can go out of hand. 
This is why you need a robust product development plan to guarantee its success, and that is what we will teach you in this article. 
How product development works 
Product development involves the entire journey of producing a specific product, from start to finish. It incorporates all the stages involved in turning one simple idea into a marketable product.
Product development vs product management 
Many people use the terms product development and product management interchangeably. For a business leader, it is crucial to understand that these roles are not equivalent. 
Some business leaders view product development as a type of work typically done by engineers, developers, and quality assurance (QA).
However, for product development to be successful, it needs various teams within your organization to work together. This includes the following departments:
Product management 

Product marketing

Design

Architecture

Engineering/development

Testing and quality assurance (QA)

Manufacturing 

Shipping/distribution
In connection, besides having an excellent team, you can also partner with one of the prominent outsourcing companies that offers software development.
Arcanys, for example, is one of the leading companies with top-notch talents that can cater to your firm effectively for your product development needs.
As you can see, product management is one vital part of your product development cycle. Your product development will require the participation and inputs of these different teams. You need their expertise, from conceptualization to execution and market release.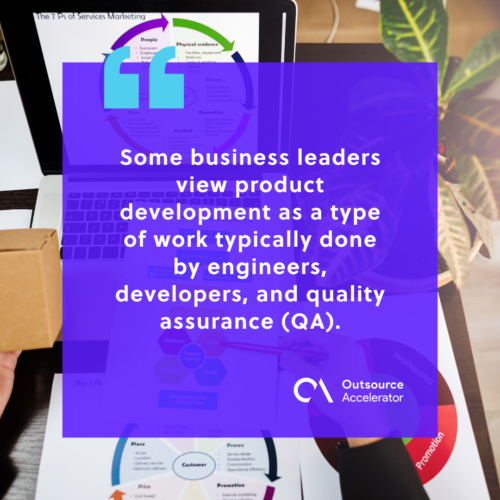 3 foolproof steps to setting up a product development plan
You will need a plan to guide you through the whole process of product development. 
In creating a product development plan, you have to include all stakeholders and make sure to tackle everything, including all their concerns, requirements, and specific needs. 
Here's how you can set up your product development plan in three easy steps: 
Have a product vision and mission
It always starts with a product vision. Note that everyone within the company should have the same vision, goals, and objectives for your product development. 
After your product vision, your product mission statement should follow. This should encompass the following: 
What your product's purpose is

Who your product is for

What your product will do for them
Once you already have your product mission and vision in place, it will be easier for your team to establish your primary goals and objectives. 
Set up your roadmap
Customer research is the key to creating your product development roadmap. Once you have data on your target customers and their profiles, your product team now has a solid basis for establishing a roadmap. 
Don't focus on specific dates, but rather prioritize adding more value to your product goals and key metrics. 
Implement your roadmap effectively 
After your entire team has constructed a roadmap, the next step is to bring it to fruition. Make sure to gather feedback from different teams involved in your product development cycle. 
It will help you identify flaws and new opportunities to improve and determine which specific areas need more work.
Do not forget to regularly update your roadmap as you continue grooming your product backlog. This will help you ensure your entire development cycle is utilized effectively. 
3 examples of successful product development 
Here, we present three renowned global companies' product development cycles. See what you can learn from these big brands: 
Hubspot 
Hubspot is perhaps one of the most sought-after sales and marketing automation platforms for years now. 
Traditionally, Hubspot was established as a customer relationship management (CRM) tool. Hubspot has since expanded its offerings to features that aid with sales, marketing, and customer support. 
As part of its product development, Hubspot utilized the customer data gathered from its CRM. It helped the company identify other customer needs and determine how to expand its services.
Netflix
Many people now aren't aware that Netflix started as a platform offering DVD rentals. To adapt to the ever-changing entertainment landscape, the company evolved into a fully digital streaming media service.
Netflix did not just stop at showing licensed movies and series. The company also produces its own original content.
Netflix's product evolution shows that they identified a specific need in the market. Thus, they have executed a successful product development that addressed this need.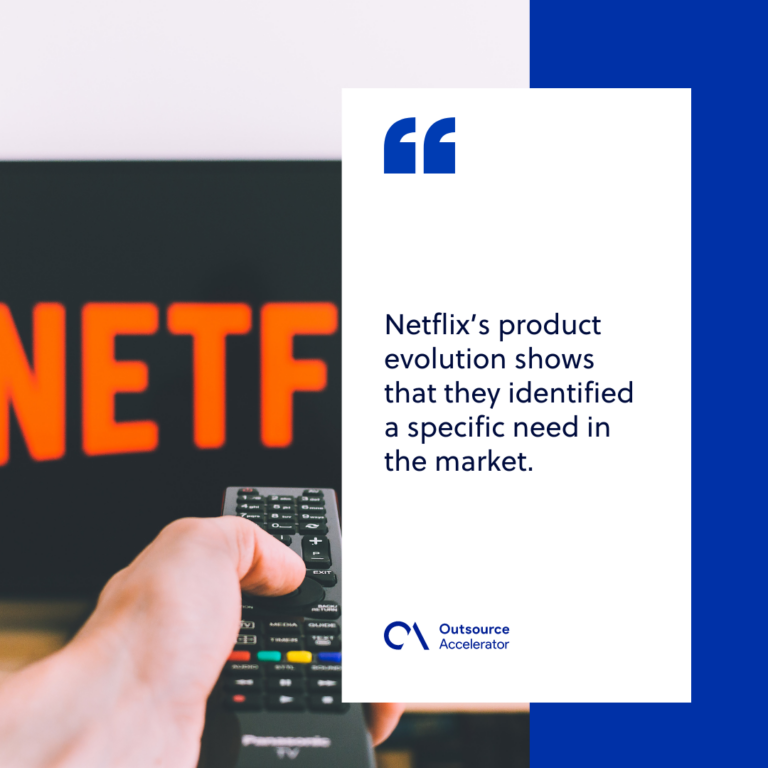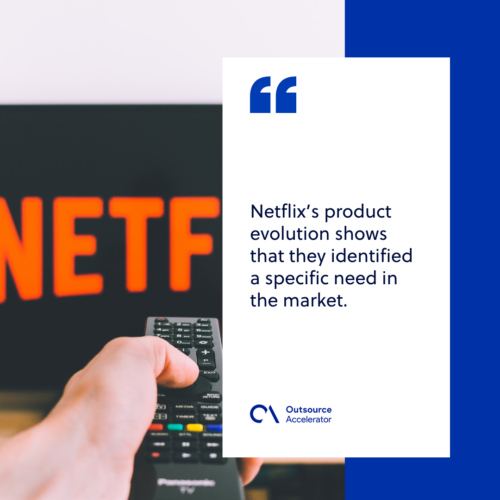 Amazon
Amazon was first introduced as an online bookstore back in 1994 by Jeff Bezos. Its continuous expansion throughout the years has led to it becoming the biggest online marketplace in the world. 
Amazon's product development approach has focused greatly on the needs of its target consumers. The company follows 14 leadership principles when it comes to working on new projects and solving problems. 
Conquer the market with flawless product development
Product development is a complex process crucial to any business, but the three key steps we've outlined will surely get you a headstart in the right direction. 
The key is to fully understand who your target customers are and make sure that your product goals and objectives are geared toward their needs.