13 best customer feedback tools that will guarantee success in 2024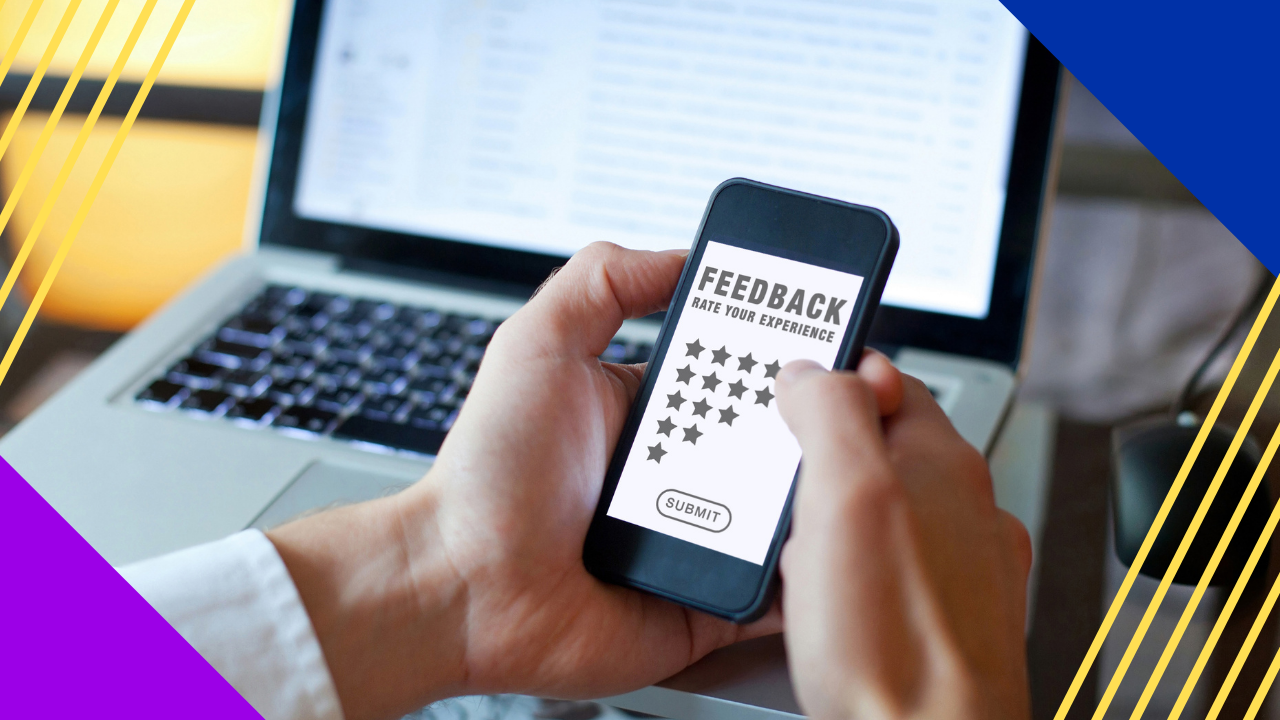 List of best customer feedback tools
In business, feedback is important to enhance customer satisfaction and improve products and services.  There are different ways to gather feedback and suggestions from customers, but in this modern day and age, digital methods are already available to ease the work.  Such methods are customer feedback tools that allow customers to freely express their opinions and businesses to keep track of real-time data.
Defining customer feedback tools
Customer feedback tools are software platforms that bridge the gap between companies and customers through features that allow for surveys, feedback monitoring, and analytics.  They are usually in the form of software that can be integrated into company or e-commerce websites and social media sites. Some are stand-alone pages or apps that can be shared via links or QR codes.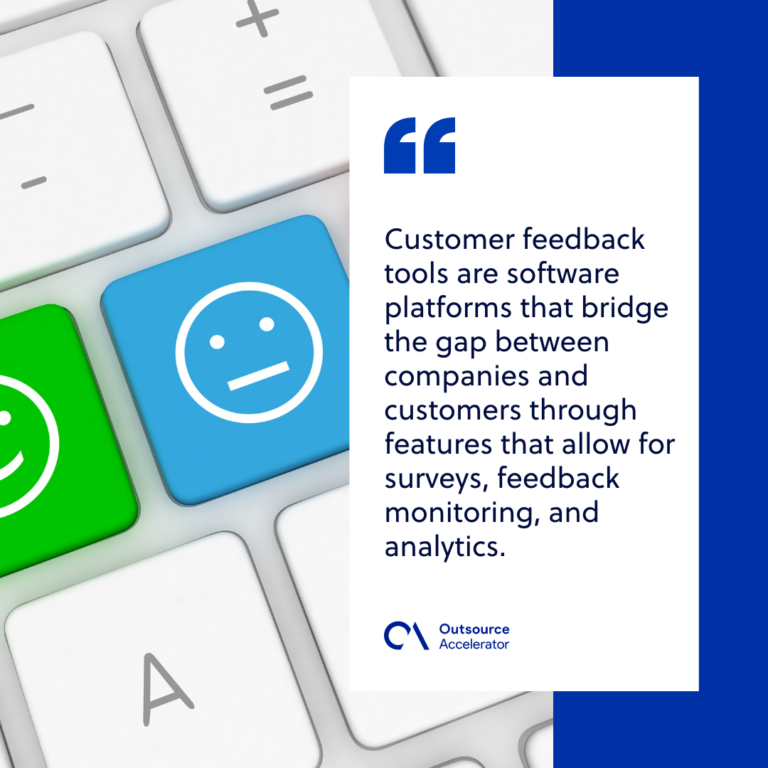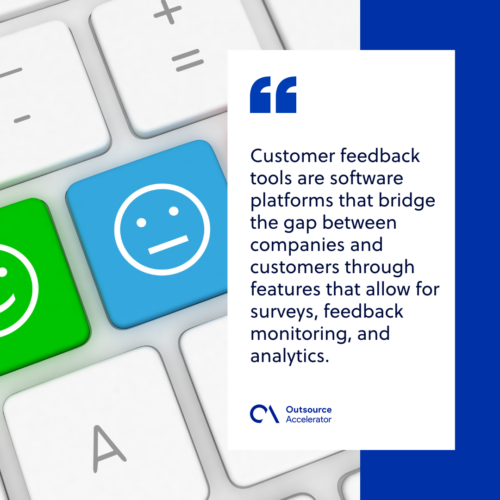 The advantage of customer feedback tools
Customer feedback tools humanize the companies and businesses that use them in a positive way. Organizations that listen to comments are more likely to retain customers than competitors that don't. In addition, having a reliable feedback system helps you identify and quickly address critical issues identified by customers. This way, you can prevent problems from escalating, which can run the risk of tainting your company's reputation.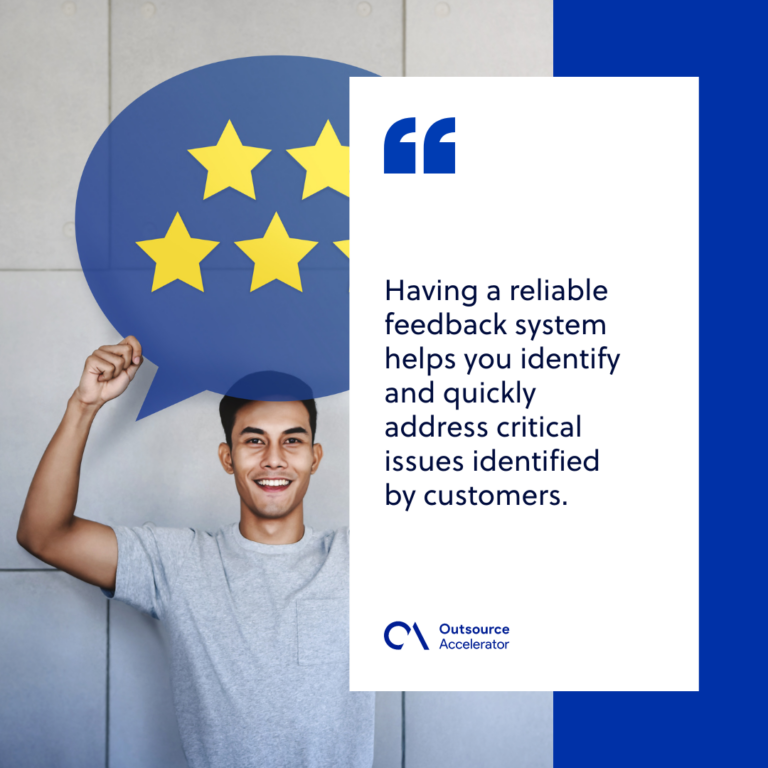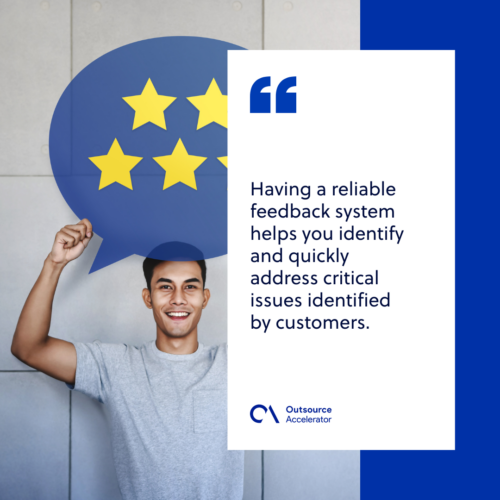 The best customer feedback tools to help companies succeed
For your business to stay ahead of the game, it's important to give customers a venue to air their concerns or share their general experiences with your brand. Here are the best customer feedback tools you can choose from. 
SurveyMonkey is a free customer feedback tool that offers free-flowing surveys with different questionnaire formats. The results can be directly accessed by the business that conducted the survey, while the copies of the answers are sent to the user.
Price: Free
Google Forms is another free customer opinion platform that anyone with a Gmail account can access. It's perfect for solopreneurs and small businesses with limited resources.  The results are automatically digested by the system as soon as a form is accomplished by a customer. In the backend, each answer is converted into visual data, like pie charts and tables. Data analysts can use these as is to report findings to the company.
Price: Free
Typeform is an enterprise-grade survey tool that comes with internal and external communication integrations, from Slack to Salesforce. These integrations made Typeform a force to reckon with. Not only does it revolutionize the whole customer feedback movement but it also simplifies the data gathering process. With a customer management tool integration, the data can be passed through between these platforms with relative ease.
Price: $25/month (to be billed annually)
Hotjar is a freemium feedback platform that focuses on the heatmaps of a website. It also provides live recordings of what the website looks like from the user's perspective.  These, along with surveys and comment forms, help businesses look for pain points that their website may have. Hotjar mainly focuses on the usability and accessibility of the website itself, and not so much on the company's products or services. That's why it's perfect for web designers and developers.
Price: Free, with plans starting from $39/month (to be billed annually)
Qualaroo is a user research and customer feedback platform that provides an informative experience for its users. The platform helps gather comments from different mediums—websites, apps, or products—along with the conversion rates. This platform provides comment forms for websites and apps in the most subtle way possible. Without much intrusion, customers can voice out their comments and ask questions using the field provided.
Price: Free trial, plans from $80/month (to be billed annually)
Zonka Feedback is a customer feedback tool that doubles as an employee feedback platform as well. It boasts an efficient collection of feedback as well as "CSAT, CES & NPS surveys and actionable insights." With this platform, businesses can better relate to their most important audience—employees and consumers.
Price: Free trial, plans from $79/month (to be billed annually)
Userbrain is more of a user testing tool than a customer opinion platform.  Nonetheless, it provides a channel in which testers—maybe even potential customers—can try out the first few phases of an app or a website before it's fully launched. For individuals who are looking for ways to get extra money, Userbrain also invites and pays people for testing a product.
Price: Free trial, plans from $35/tester with no expiration
UserReport provides a platform wherein users can vote, post, and comment on ideas that they think are worth considering. Businesses that want to connect better with their target audience can utilize this intimate platform. Comments and concerns are shot directly to the internal team, giving the audience a stronger chance of being heard.
Price: To be provided by UserReport
Feedbackify helps companies achieve two goals—retaining customers and website visitors and obtaining constructive feedback. With this customer opinion tool that can be integrated with websites in a matter of minutes, creating a form has never been easier.
Price: Free trial, $19/month
Reevoo focuses on customer engagement, the starting point of getting customer comments. It offers website and social integrations that empower customers to share their opinions and comments.
Price: To be provided via quote by Reevoo
Loop differentiates itself from the others by touting itself as a visual customer feedback tool. The platform utilizes screenshots and embeddable forums, which helps UX designers and developers understand the needs of their end-users.
Price: Free, with an option to upgrade to a paid plan at $39/month
OpinionLab is another customer feedback tool that allows companies to integrate the software into their apps and websites. It allows their customers—both new and existing—to voice out their opinions freely. This software also allows the company to have a deeper insight into the behavior of their customers and potential clients.
Price: To be provided by OpinionLab
BlockSurvey is a decentralized form-builder platform that ensures that the data remains secure and confidential, making it an ideal choice for organizations who worry about data breaches and other security threats. By emphasizing complete data protection and anonymity, BlockSurvey sets the gold standard for trusted survey platforms.
Price: Basic plan costs $29/month and it also offers a free plan for up to 3 surveys up to 30 responses
Why customer feedback is important
Feedback is where good companies thrive. It's how they connect with their audiences and tell them, "We've heard you."  Not only is it a sign of a good relationship with their customers, but it's also a great way to get ideas on how to develop better products and services that the market will love.