Outsourcing virtual assistant and admin the right way
As an entrepreneur, you want to grow your business. However, you cannot do everything alone, especially if you are getting more customers than you can handle. You may not want to spend on permanent staff yet. Fortunately, you can have an extra hand to do some of the more repetitive tasks. You can hire an outsourced virtual assistant! 
Why outsource to a virtual assistant?
What is a virtual assistant?
You are a busy entrepreneur. In fact, you thrive in the business because you are excellent at what you do. But, as you grow your business, you realize that you cannot do it alone. You need to hire help so you can focus on the essential aspects of the company.
For example, you are at your best when you negotiate with people. You can close sales for your company because you understand your customers best. Your clients call you when they have a problem with your product. They love talking to you because you make them feel at ease. You can solve their problem.
You are a people-person, and your customers love you for that. Most probably, this is one aspect of the business that you also enjoy doing. Therefore, you must focus on it so your business can keep growing.
As you grow your business, you need to delegate other tasks so that you can focus on doing things that you do best, like negotiating and closing sales. You may not have time to clean up your database. If you have a CRM solution, you may have backlogs in updating it. You cannot do it anymore.
You may not even have time to market your products and services. It takes time and effort to implement your marketing strategies. With your present schedule, you can no longer do them. You need to delegate the tasks to someone else.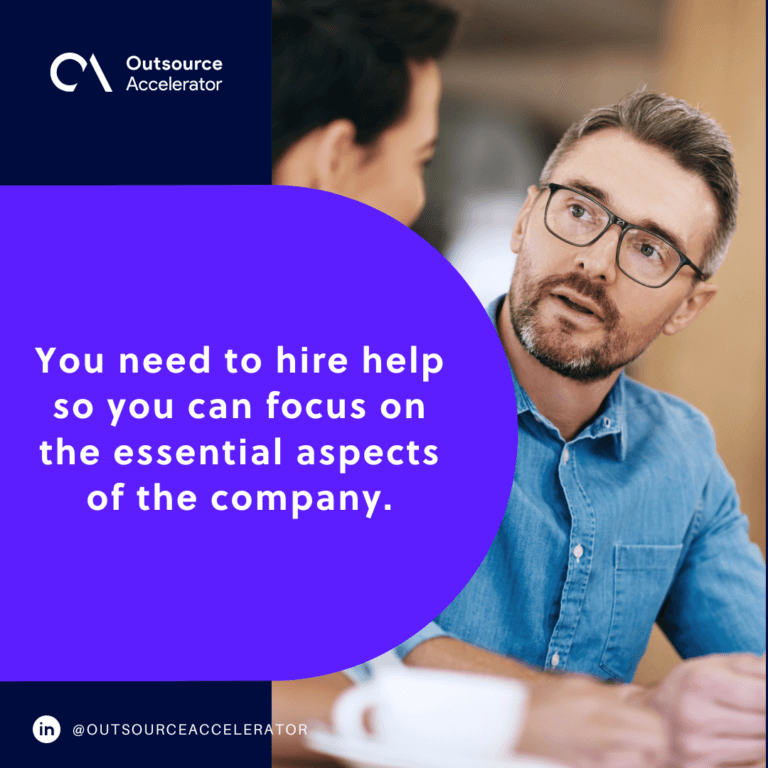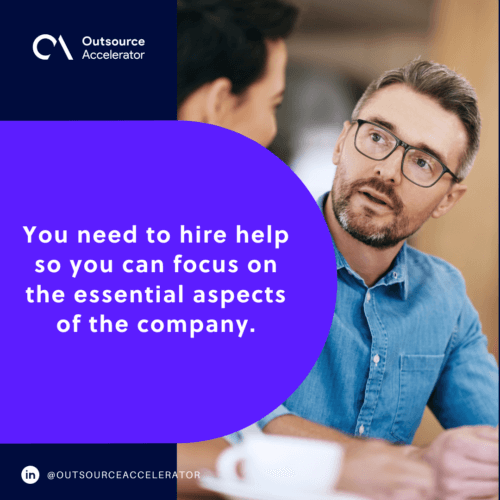 Outsource or do it in-house?
You thrive best in engaging with other people. However, your business also needs to pay taxes. Are you an accountant? Even if you are, can you still do accounting tasks? Are your books in order? If not, you need to find someone to do it for you.
These tasks are essential in your thriving business. Because you cannot do them anymore, you need to outsource some activities to an efficient and experienced virtual assistant. If there are tasks that you can no longer do, do not enjoy, do not have expertise in, or have no time to do them, you can decide to hire a driven, educated, and dedicated person.
Outsourcing a virtual assistant
If you outsource to a virtual assistant, you can increase efficiency and resources. You can have a dedicated offshore staff who will work for your company. The outsourced virtual assistant can also increase your flexibility because he can perform repetitive and mundane tasks as you negotiate and close more sales.
By hiring a virtual assistant, you can focus on more critical business activities. Because you can delegate the other tasks, you can spend more time and effort on things that need your attention. You can meet your deadlines and reach your business goals because you can focus.
In most cases, you can generate savings when you hire a virtual assistant. Instead of hiring a secretary, a bookkeeper, and a marketing expert, you can find an outsourced virtual assistant that can do all three jobs efficiently and expertly. Think of all the money you can save just because you decided to hire a remote assistant.
Advantages to outsourcing to a virtual assistant
Up to 70% Savings
English Proficient
Multi-channel Service
After-office Hours Coverage
CRM Experts
Flexible Working Hours
Fast Issue Resolution
Keen to Details
Turnkey Solutions
Upselling Specialists
Online Concierge
Confident and Pleasing
Outsourced virtual assistant jobs and roles
Travel arrangements
If you are a frequent business traveler, you need to book flights and hotels. It is an easy task, but very time-consuming. If you have an outsourced virtual assistant, you can instruct her to find the best flights and hotels for you. You can check the list first to choose the one you like. Then, you can let your VA make the booking for you.
If you have your virtual assistant for some time, you can tell her the essential details of your travel and let her do the rest. You pack your bags and have a great time.
Bookkeeping and other tasks
If you need to have your books in order, you hire a virtual assistant with a bookkeeping skill set. Aside from performing other repetitive tasks for you, your virtual assistant can also update your accounting books. This way, you receive your financial reports on time. You can even ask your VA how much money a particular client owes you. You get your answer immediately, and you have an assurance that it is the updated amount.
Your outsourced virtual assistant can also perform bank reconciliation tasks. If you have various banking transactions, she can ensure that your banking records are also in order.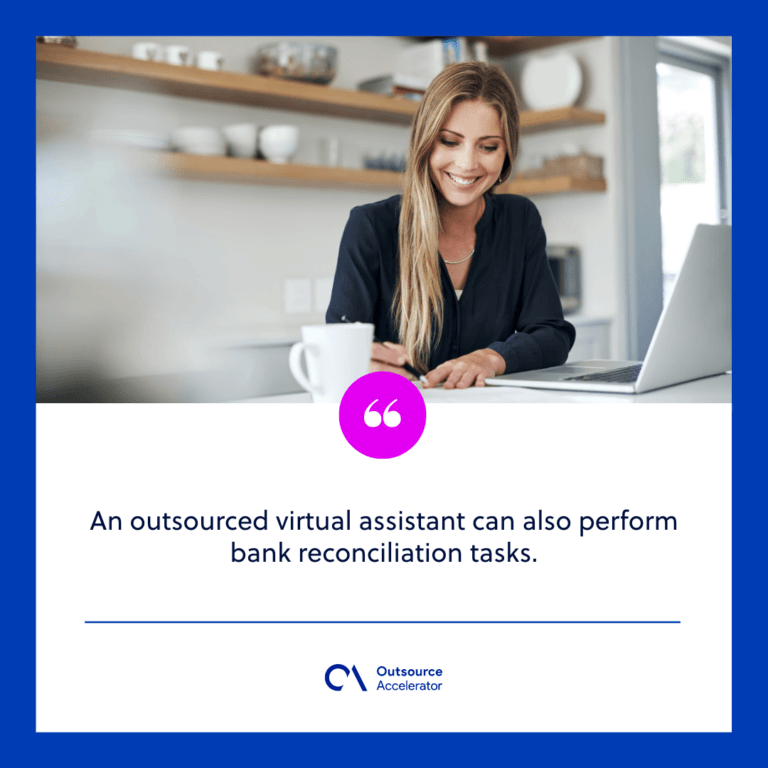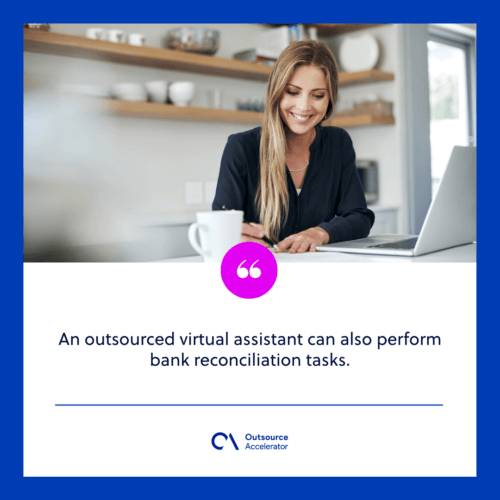 Electronic filing
An outsourced virtual assistant can file your documents digitally. She can archive your emails and put them in their respective electronic folder. If you need to know valuable information, she can easily find them because she has a system for filing documents.
Nowadays, even if everyone is going paperless, you still need to keep everything filed. This way, you can easily find information about a particular case. Your outsourced virtual assistant keeps track of all your business communications digitally.
Electronic filing may be another easy task that you can do yourself. However, if you are growing your own business, it is best to delegate it to your virtual assistant.
Online research
You may need to research on a topic online. You want to do it yourself, but you do not have the time. You would instead do more critical tasks than spend time on Google. Fortunately, you have your outsourced virtual assistant to do it for you.
You can ask her to search for industry news, flight and travel alternatives, or new competitors for the business. You can also ask her to search for information for a speech. Your virtual assistant will perform the research and submit her findings in a summary format. You get the right information without doing the research yourself.
Correspondence
Your outsourced virtual assistant can answer your emails and even respond to your phone calls. Although you can do this simple task, you can expect more emails during the holidays as more people will send holiday cards.
As a form of courtesy, you need to reply to each of these holiday greetings. If you are too busy, you can ask your virtual assistant to respond to these emails on your behalf.
Furthermore, you can instruct your virtual assistant to send courtesy greeting cards to everyone in your contact list. Your virtual assistant can even create a sweet personalized greeting card to your contacts.
Spreadsheets and presentations
Your virtual assistant has access to word processing and presentation applications. If you are giving a talk or a lecture, she can create graphs, charts, and reports that you can incorporate in your speech. She can even make a digital slideshow that you can use when you present to a group of prospective clients.
Even if you are not a creative person or have no time to do the presentation, you can rely on your outsourced virtual assistant to create nice looking reports, graphs, and charts that you can use to convince your audience. In business presentations, creativity always does wonders.
Scheduling and calendar management
Aside from maintaining your calendar, you can rely on your outsourced virtual assistant to contact concerned individuals for your online meetings and conference calls. She can also be the focal person of communication for meeting attendees, who may need guidance or information.
Your virtual assistant will ensure that you do not forget any meeting or event that you need to attend. She can also arrange everything that you need for that meeting. If it is an out of town meeting, she can book your flights and hotels. You need not deal with the nitty-gritty details so you can focus on giving your best during the event or meeting.
Website maintenance
If your business has a website, you can delegate website maintenance to your virtual assistant if she has the technical skill. If it is an e-commerce website, your outsourced virtual assistant will ensure that your customers have a great shopping experience.
She can update the web pages if you introduce more products or services, and update their prices. She can check your website for errors to ensure there are no broken links. If you have copyright, you can delegate her to ensure that it is up to date. If your copyright is not updated, prospective clients may think your business no longer exists. She can also post the latest news about your company.
Customer service
You need to make your customers happy. If you have an excellent virtual assistant with a customer service skill set, she can respond to customer questions through social media, email, live chat, or phone. Your customers can get their answers in real-time. If there are dissatisfied customers, she can handle them tactfully.
An excellent outsourced virtual assistant can help increase your conversion rates because she can provide human support in case your prospective clients have questions about a particular product or service. Besides, she may be able to upsell or cross-sell products or services if she interacts with customers. Your VA can be an asset in generating more return customers because she can provide excellent customer service.
Order processing, returns/exchanges, and inventory management
Your outsourced virtual assistant can process orders for your company. She can enter each order and coordinate shipment. Furthermore, she can prepare the invoice for each request. If there are any returns or exchanges, she can communicate with the concerned customer or supplier and facilitate any refunds, returns, or exchanges.
You can delegate inventory management to your virtual assistant who has this skill. She can track stock levels and update your online store to ensure you have no backorders. Moreover, she can inform you if you need to order more stocks. You can even delegate the ordering of products from your suppliers. She can send out invoices and ensure that you get full inventory in your warehouse.
A virtual assistant can be your handyman/handywoman online. You can rely on this individual to perform all the tasks that you are not willing to do or cannot find time to do. This way, you focus on vital functions that can grow your business and delegate the others to your reliable outsourced virtual assistant.
Why you should outsource administrative services in the Philippines
Gone are the days when remote work and outsourcing only meant call centers and customer support services. Offshore outsourcing destinations like the Philippines are full of talented and dedicated professionals that can perform various administrative tasks, as mentioned above. 
There are so many options when it comes to choosing your outsourcing destination. There's India, Poland, South Africa, Brazil, and Indonesia. However, let us enumerate why the Philippines remains the best choice:
Cost-effective solutions
The company's budget is most likely the first thing to consider when looking to outsource administrative tasks. The Philippines cannot assure that it's offering you the lowest possible rates for the services it offers. However, what the country can guarantee is that you'll be able to save up to 70% on labor costs without sacrificing the quality of service that its professionals provide.
For more information regarding this, Outsource Accelerator offers three free quotes to get you started!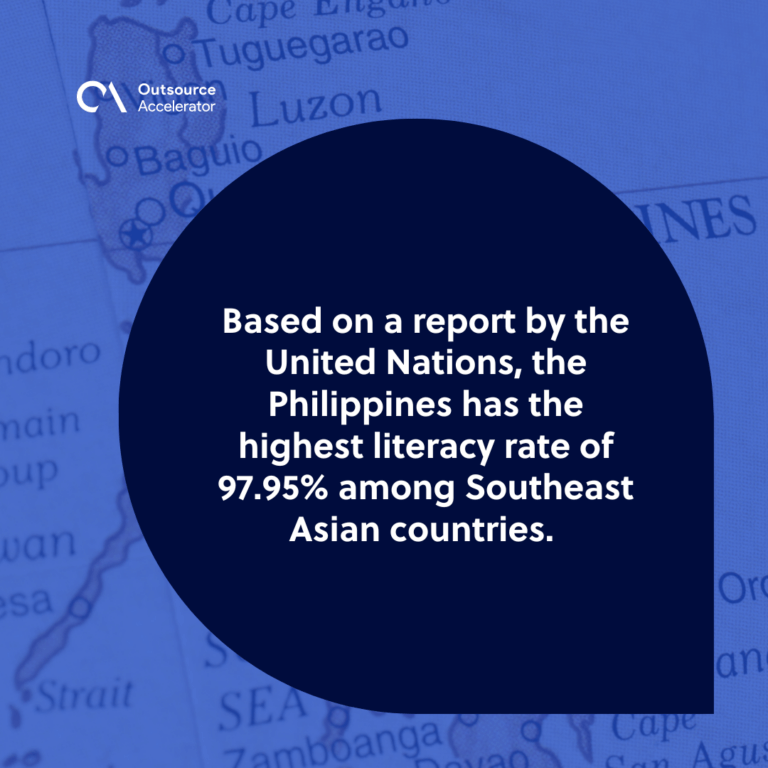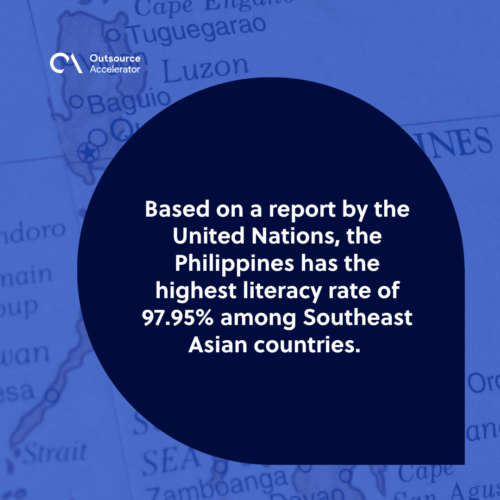 High literacy and English proficiency rates
Based on a report by the United Nations, the Philippines has the highest literacy rate of 97.95% among Southeast Asian countries. In addition, it is common knowledge that Filipinos are very proficient in the English language, since it's been taught in school since kindergarten.
The country has a very well-educated population, as there's about 640,000 graduates per year. If your company has plans of expanding in the future, you wouldn't need to worry about where to find highly competent manpower. 
Cultural alignment
Filipino citizens have a cultural alignment with the West, as they have a very "Americanized" society. Historically, the Philippines has been colonized by Spain and the United States for centuries – reasons why the citizens have a more westernized upbringing compared to its other Asian neighbors.
Professionally, this may translate to easier communication and relationship-building between the outsourced and the direct team. There will also be less misunderstandings and misinterpretations on both parties.