Secretary services and their importance in a company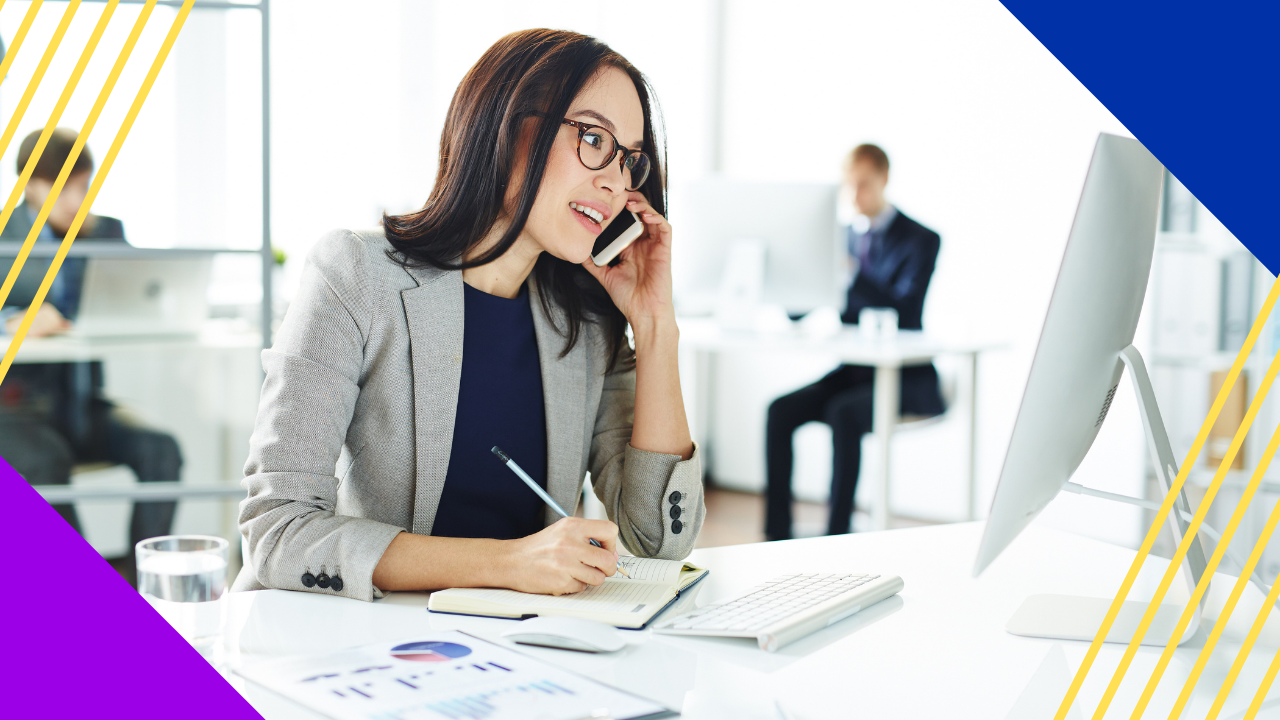 In a company, secretary services are what makes the operations efficient and productive on a daily basis. Without professional assistants, workplaces may succumb to chaos and disorganization.
Secretary services are carried out by assistants, be it an onsite employee or an outsourced one. Virtual assistants usually have the same duties as office assistants, but there are certain limitations as to what the latter can do. That is why most companies still acquire these in tandem with virtual assistants.
Nonetheless, a secretary is a great addition to any work setting. In this guide, we'll look into secretary services and their role in improving the workplace.
What are secretary services?
In the most basic sense, secretary services are a list of tasks that assistants and secretaries do day-to-day. These tasks are mostly administrative in nature, but they are heavily regarded in the workplace—especially for busy executives and higher management.
These services are often light and clerical, but some duties such as schedule and budget management may also be handled by more advanced secretary roles.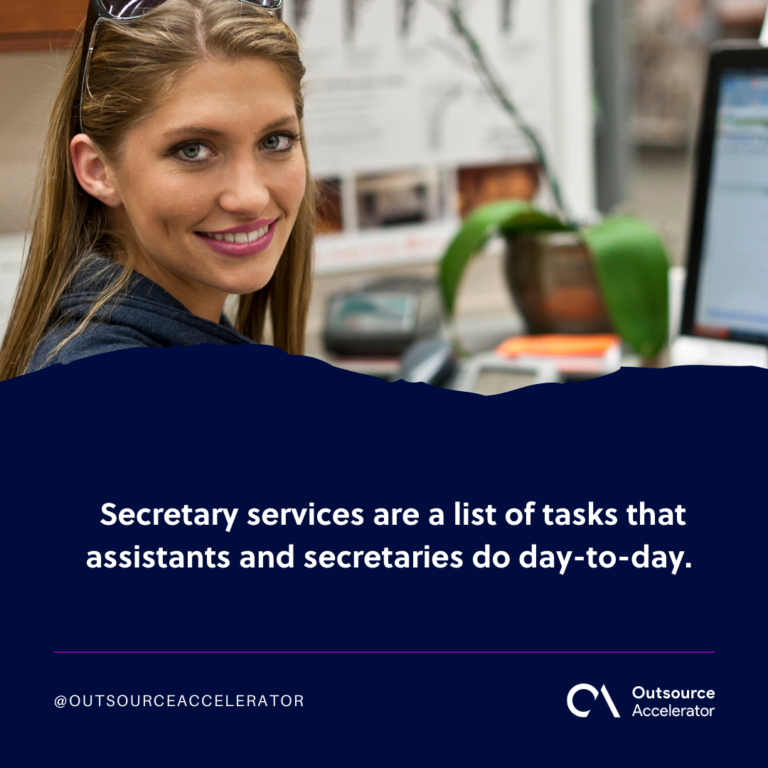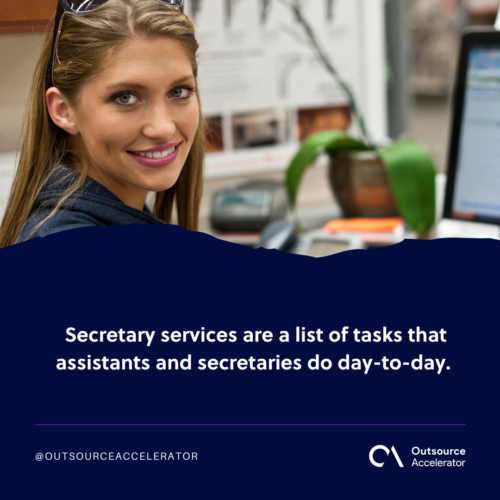 Basic responsibilities and duties of a secretary
These basic secretarial responsibilities don't include the duties of those who work with top executives. Instead, this is the scope of work for secretaries and assistants on the production floor.
Office clerks and civil administrators have these as their basic scope of work as well. But that is not to say that these are easier things to manage. Being a secretary is often a job for those who are strong-willed.
Internal and external communication
The external and internal communication duties of a secretary mainly refer to liaising with employees and incoming messages and phone calls from clients.
Services of this nature rely on the employee's communication skills, verbal and written.
When corresponding to messages, secretaries are expected to have decorum and be professional at all times.
Organization
Be it calendar organization or filing, secretarial duties almost always include "organization" in their basic work scope. Without a system for file and data safekeeping, everyone would have a hard time looking for files and information they need.
As for scheduling, secretaries need to ensure that their clients won't be double-booking appointments and that their schedules are free from any problems from morning to evening.
Meeting services
Taking meeting notes and organizing meetings between individual clients are just a couple of secretary services that make a boss's life easier.
Assistants should always be ready for sudden changes in the meeting agenda and be quick on their feet if something goes wrong during a presentation.
Administrative tasks
Document typing, exporting and importing files, and ensuring that emails are properly forwarded are just some of the administrative tasks that secretaries do.
These duties, no matter how menial, are important in keeping the workplace productive and organized.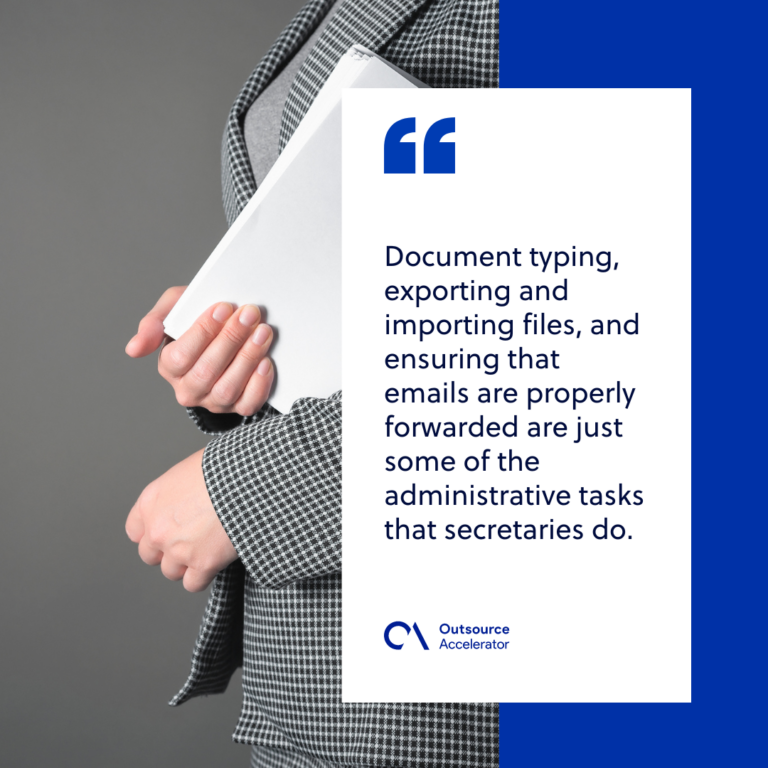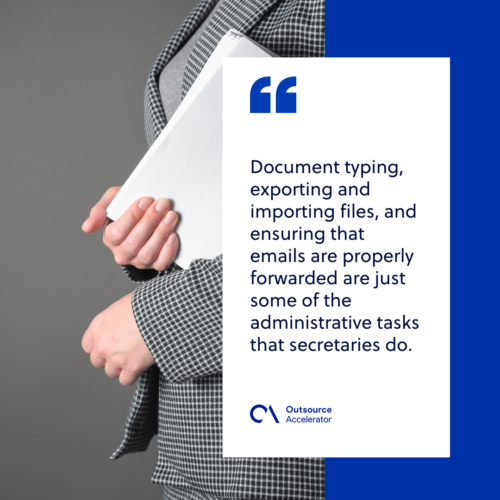 How secretary services can improve workflows
Secretarial duties, as underrated as they are, help a workplace become the best it can be. Assistants and secretaries often do tasks that no one else can do, and they are incredibly in sync with their clients and bosses.
Filing and organizing
Filing and organizing are must-have skills for any assistants and secretaries. Offices have vast collections of files and documents that need to be organized properly for easy accessibility.
Without these two secretary services, employees—even bosses—will waste precious time rummaging through disorganized piles for official document hard copies.
So yes, even with the most groundbreaking computer equipment, offices still need to print out and organize physical copies of important documents.
Transcribing services
In remote work environments, meetings are often conducted on online platforms such as Google Meet, Slack, Skype, and more.
Recording and transcribing online meetings will allow everyone to catch up on the agenda. This works with in-person meetings as well.
Transcribing using an AI assistant may be easier (and less expensive), but they tend to mess up more often than humans. A human secretary is indispensable, especially for recognizing speech nuances and heavy accents.
Appointment scheduling
Aside from taking calls and messages, secretarial duties also have appointment scheduling as part of their daily responsibilities. 
As expected, appointment scheduling is one of the most essential tasks of a secretary. This duty prevents meetings from being double-booked or forgotten.
Why assistants and secretaries are important in a workplace
Employees that perform secretary services help in maintaining a productive work environment. Without them, offices would be out of sync and disorganized, leading to more workplace mistakes.
With their help, business owners and executives can focus on core activities without worrying about minor details. In a way, assistants and clerks are an extension of themselves as they stay in sync not only with their clients but also with coworkers and their departments.
Even virtual assistants and digital assistants can lend a helping hand in times like this. But always keep in mind that the human touch is important in any company, no matter how advanced technology is.