Outsource network support the right way in 2023
Modern information technology or IT-related companies concentrate on developing their internal processes. Company growth in the contemporary era is tantamount to possessing a competitive edge in the global markets.
However, today's IT firms cannot usually perform their best on their own. Highly complex tasks abound. Corporate organizations do not always possess deep, specific, and specialized back-office competencies. 
Apparently, support is necessary. Outsource network services come into view in this typical scenario. 
IT network support-related corporate organizations worldwide have discovered that availing third-party outsourcing companies' support is certainly an advantageous path.
A focused and well-laid out path to corporate growth both in the local and in the international arena.
Outsource network support and services
It is common for companies not to possess the necessary in-house expertise for certain tasks. 
With the presence of outsourcing companies, client firms have the choice of choosing to solve their manpower and other problems using these external firms' offerings or otherwise.
The in-house administration is the process of not availing the opportunity of having to outsource network services. Companies selecting this option have chosen to build and perform everything by themselves. This decision could lead to burdensome scenarios.
Company personnel will, therefore, have to support and do everything themselves. 
Corporate establishments that follow a traditional business mindset are, hence, overloaded and most likely hampered with the tasks.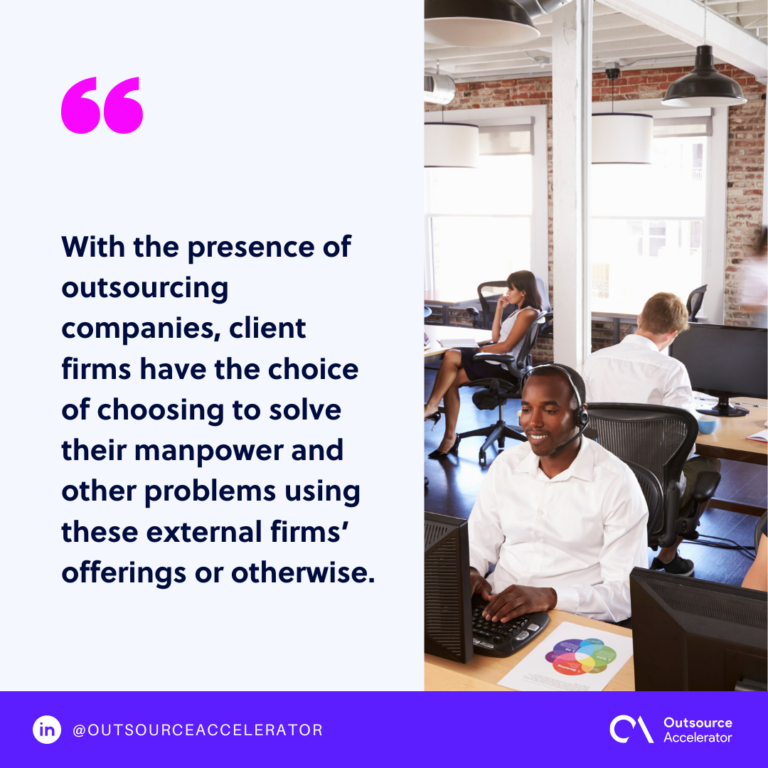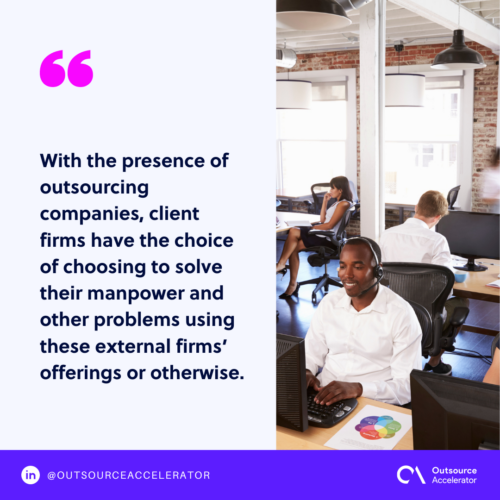 Defining the outsource network support niche
Maintaining in-house administration could certainly be more expensive, time-consuming, and challenging. By their very nature, administrative-related costs and tasks are voracious eaters of managerial time.
IT-related companies resorting to in-house administration are demoted to become not very agile in dealing with their ever-evolving business, market, and regulatory needs. In fact, they become distracted from their corporate agenda.
Why do we outsource network support and services?
These modern companies would have little funding, room, or time to respond to today's cutthroat competition in the business world. Furthermore, focusing on innovation would be difficult for them to carry out.
Technology analysts worldwide understand that a number of risks persist and plague IT-related firms:
1.These companies' computer systems may have a dearth of space and energy to power supercomputers.
2. Significant packet losses in the Transmission Control Protocol/Internet Protocol (TCP/IP) networks can result from firewalls that safeguard web browsing, e-mails, and applications.
Considerable reduction of network speeds and loss of important data can torment IT-related firms. Moreover, because some routers and switches do not possess the necessary high-speed memory, further losses can occur.
3. The in-house administration of IT network support-related functions also makes it difficult for IT managers to simplify tasks like automation and virtualization. 
On the other hand, the chance of having an outsource network service gives the department an opportunity to grow exponentially.
These processes are important in the high-performance computing of considerably large sets of data that are available today.
4. When it comes to data storage architectures, problems arise when they are insufficient, if not, lacking.  These types of digital necessities help accommodate different kinds of applications as cloud storage has increasingly become paramount in the digital world.
5. The separation of quality data from enormous data groups can also be a challenge for these corporate organizations. These companies cannot usually properly identify patterns in the data by themselves.
In addition, they may not have the personnel who can correctly evaluate them and make sound business decisions when it comes to infrastructure management.
Finally, the possession of dependable network connections is necessary for any digital organization to operate in a plain-sailing manner. 
Dealing with outsource network support managers may have a hard time dealing with IT infrastructure management.
They may need the latest network architecture design and the newest software-based techniques for data optimization. Given these problematic scenarios in corporate settings, the practice of business process outsourcing (BPOs) has been established.
Outsource network support the right way
These external service providers exist to provide a vast array of support services. BPOs handle business domains that are not "core" to a certain firm. These are back-office tasks or those jobs which do not require facing the clients.
Today's firms usually outsource activities like:
Information technology (IT)

Design services

Customer support

Sales
In addition, functions like human resources, manufacturing, accounting, payroll, finance, transportation, logistics, and security are contracted to outsourcing companies.
Benefits of
having to outsource network support
and other jobs
As contemporary corporate communities become increasingly digital and are shifting to cloud-based business models, outsourcing companies help them in their engagement with these technological advancements.
Business owners and managers discovered that external service providers are often capable of getting work done more efficiently and faster, owing to their capabilities.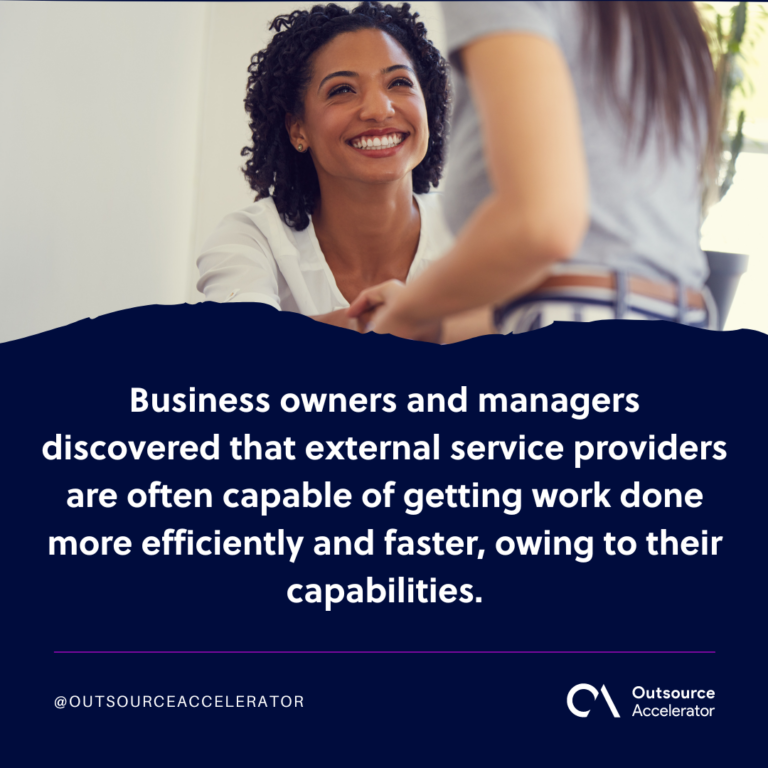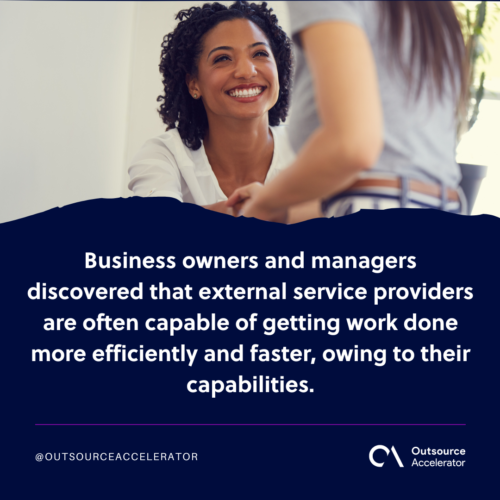 This led to the increasing trend of availing the services of BPO companies to administer business projects and functions where particularized skills are necessary.
The following are the 12 advantages of having to outsource network support-related jobs and companies.
Up to 70% savings
Tech Support Agents
English Proficient
Network System Experts
PBX Setup Specialists
Remote Network Specialists
Warranty and Returns Handling
Desktop and Application Support
Cloud Network Setup
B2B Tech Support Agents
System Administrators
Installation and Troubleshooting Agents
Site Hosting Experts
Information technology jobs that are well-handled by BPO providers
Outsourcing companies can help in a wide range of support tasks. These are in the form of jobs with the following titles and descriptions.
The following are 12 examples of numerous jobs which BPO companies offer to their clients:
1. Site hosting specialist
IT-related companies indubitably require sharing their files to one or more websites.  In addition, they need a rapid connection to the Internet.  The service of site hosting specialists is relevant in this scenario.
Also referred to as website hosting or web hosting specialists, these people help their customers with different kinds of issues. Site hosting specialists upload clients' files through a web interface or File Transfer Protocol (FTP).
In addition, they assist clients with their concerns relating to software settings and website migration. 
They can also be reached to provide help concerning troubleshooting problems in security, data storage, and Internet connectivity.
To qualify as a site hosting specialist, possessing extensive knowledge of web-hosting platforms and mainstream web-based software like Joomla and WordPress are advantageous.
Furthermore, a candidate has to understand common content-management systems, programming languages, and website databases.
Familiarity with different kinds of computer systems and software related to hosting websites is also useful.
 Finally, being a people person who is comfortable in communicating and relating to clients and their needs are also the skills relevant for this job.
2. PBX management specialist
Private Branch eXchange or (PBX) refers to a corporate telephone system that provides voice mail, multiple outbound, and inbound lines, call management features, and call routing.
This hardware system deals with handling switching and routing of calls between the telephone network and a business location.
IT-related companies may require technical personnel known as PBX management specialists to handle tasks about this system. A PBX management specialist works using a business telephone switching system.
This job comprises customer service tasks. PBX management specialists receive direct incoming communications from clients. 
They route these calls to the appropriate personnel or department within a corporate organization. 
In addition, they also send messages using voice mail if necessary.
PBX management specialists answer basic queries about the client company like direct contact numbers of relevant corporate departments and individuals, directions, and hours of operation of the business organization.
Like telephone operators, they handle similar tasks like speaking to customers using incredibly swift, automated systems.
Experiences in call centers and customer service are required to be able to qualify as a PBX management specialist. Furthermore, knowledge of how to operate a computerized telephone system is necessary.
PBX management specialists are required to have some knowledge of information technology. They should have an understanding of how the modern, compact, and efficient PBX or circuit boards function.
Manual dexterity in operating equipment such as multi-line telephones and computer keyboards is essential.
3. Computer programmer
Computer programmers are skilled professionals who can help when it comes to debugging and coding computer programs. 
They resolve computer issues by designing logical structures. Computer programmers are adept in particular computer languages like Java, C, PHP, C++, and the likes. 
As system architects or software developers develop program designs, computer programmers convert them into instructions that a computer system must follow.
These IT professionals may collaborate with experts from diverse industries to develop software. This can be specialized for certain clients or for general use.
For example, computer programmers can create programs for desktop publishing or financial planning. Moreover, they can develop educational and video games software.
Using programming editors, they write the source code of an application or a program which they use when testing, coding, or debugging.
4. Installation support agent
Customers may need assistance in installing a particular software application on their computer.  Moreover, buyers of new computer systems may need help in troubleshooting the new hardware. 
In these scenarios, the help of installation support agents is required.
They usually work in business process outsourcing companies. They are trained to provide software support and development.
Installation support agents are capable of performing system and software installation on a customer's website or computer. They can work with multiple network domains and servers.
These technical representatives can also configure and accomplish systems integration and software interaction with other systems
They are required to have demonstrated abilities in analytical and logical thinking, problem-solving, decision-making, and reasoning to aid customers to optimize operational efficiency.
In addition, BPOs require them to possess conceptual thinking capabilities, be deadline-oriented, able to deal with pressures, and understand and resolve the customers' problems using multiple tools.
Given these skills and responsibilities, Installation support agents may supervise computer programmers.
5. Remote network specialist
When users swiftly need help with their computers, they can reach a remote network specialist for immediate assistance.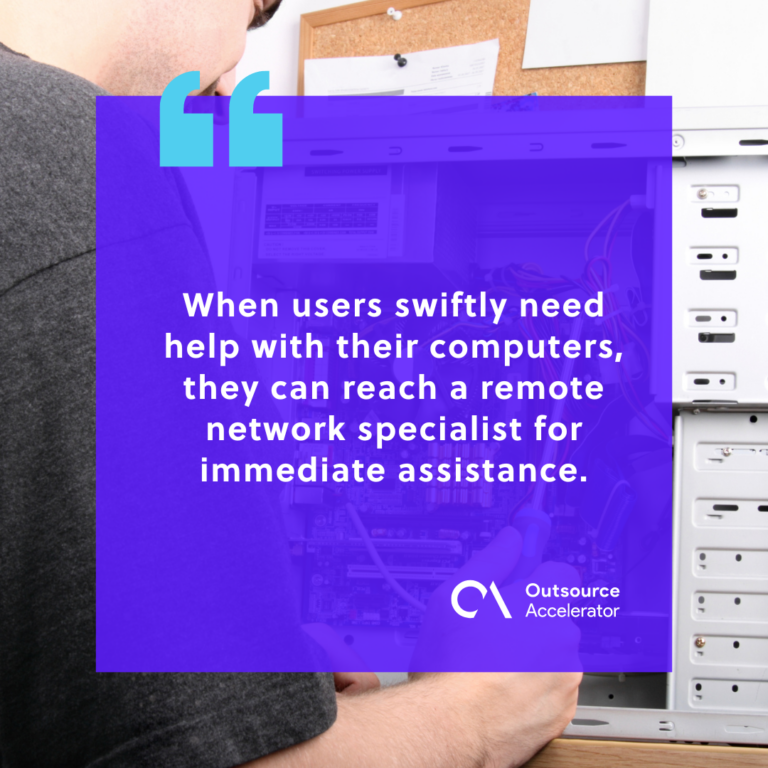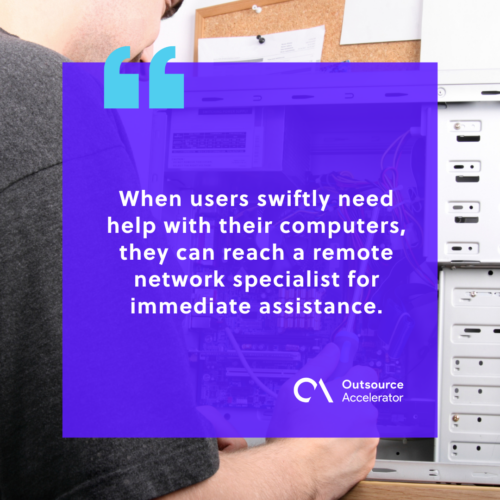 Reachable through live-chat support, telephone, or e-mail, these professionals can perform remote access or control an electronic device or a computer system anywhere.
Using a remote access application mutually installed in the user and the remote network specialists' computers, the latter can connect to the customers' device remotely and perform troubleshooting.
One example of a remote access program is TeamViewer which was developed by a German technology firm. Aside from remote access troubleshooting, it also features desktop sharing, guest accessibility, and command-line accessibility.
Users and remote network specialists can also use these kinds of programs for file synchronization and transfer. 
Remote or outsource network service specialists may ask for the customer's permission for complete control over the device or computer being used.
The IT-related technician may then open files from the customers' computer or run applications necessary to resolve his problems.
6. Office network specialist
Modern companies are deeply reliant on their computer networks to keep their staff connected with their customers and with each other. 
This is why office IT network support specialists play a vital role in ensuring that the network of a corporate organization operates smoothly.
They are trained in configuring network security, local area networks, and routers, and are usually knowledgeable when it comes to systems integration, security, and network management.
Moreover, office network specialists function by troubleshooting and maintaining computer networks. They anticipate problems, perform routine maintenance, and assist users who stumble upon these types of concerns.
Overall, office IT network service specialists ward off threats that may bring the corporate office's network down.
7. Warranty and returns agent
Customers may not be completely satisfied with the product that they purchased or the service that they availed.
In addition, they may need some clarifications regarding the warranty period within which their purchased product is covered.  A warranty and returns agent are contactable to address these concerns.
This personnel may work in outsourcing companies answering telephone inquiries, live-chat questions, and e-mails. Their primary responsibility lies in processing and responding to incoming product returns.
Warranty and returns agents are trained about the specifications of certain products and services which their client companies are selling. 
Given this knowledge, they are able to determine and take suitable actions fast when it comes to product and service dilemmas.
This personnel makes sure that customers get 100 percent satisfaction from their business transactions.
8. Desktop and application support agent
Complex issues persist and afflict computer and portable device users whether at home or the office.
Concerns like computer viruses, configuration and troubleshooting of applications in desktop computers or gadgets, and systems issues may occur anytime.  Hence, users may need help anytime within the day.
Possessing advanced technological and diagnostic skills, desktop and application support agents function by helping customers address common programming and network security problems. 
Within a corporate organization, people that outsource network support professionals ensure that business processes run smoothly.
They usually possess in-depth knowledge in software engineering, computer science, and database management. In addition, they commonly have strong skills in IT, problem-solving, and multi-tasking.
Desktop and application support agents are capable of dealing with people both on an IT and business levels of understanding.
Required to be Sherlock Holmes-like, this IT-related personnel demonstrate competent information technology literacy and capability on diverse systems and applications.
9. System administrator
System administrators are responsible for the optimal performance of computer systems.  They function by maintaining the latter's configuration and upkeep and have a broader scope of responsibilities.
These professionals ensure that support systems and IT services run smoothly. 
In large companies, system administrators are responsible for specialized computer systems that support servers.
Just like having to outsource network support, systems administrators need to do their jobs in an efficient manner.
They are capable of supporting nearly everything like a corporate organizations' wireless local area network (WLAN), local area network (LAN), hybrid cloud storage, voice over IP (VoIP) phone system, or an end users' desktop computer.
System administrators are required to be comfortable working with desktops, file servers, diverse applications storage, databases, information security systems, and networks.
Furthermore, they need to be familiar with programming, scripting, and multiple operating systems.
Nowadays, system administrators are increasingly mandated to be knowledgeable of cloud computing and virtualization.
10. Cloud network specialist
With e-commerce prevalent in the modern world, people predominantly transact through the "cloud," or simply known as the entire Internet.  The term "cloud" can also refer to particular online services that are collectively referred to as "cloud computing."
Given this modern state of things, cloud network specialists have become essential go-to people.
Expected to have a strong understanding of technology as well as excellent proficiencies in analytical reasoning. They usually help corporate organizations to transfer physical IT activities like on-site servers and file storage to virtual environments, or the so-called "cloud."
Cloud network specialists usually have a background in working with networking and software. They are capable of developing and maintaining secure virtual environments.
They use these environments in making streamlined operations for corporate organizations. Other technological duties they have involve analyzing a firm's needs and assisting them in choosing the right cloud technology.
11. B2B technical support agent
Business-to-business or B2B involve companies that provide services and products to other businesses. 
These are entrepreneurial partnerships in which B2B technical support agents are capable of smoothening out their transactions with each other.
In the B2B setup, company clients are important business lifelines and profits are important.  B2B technical support agents are skilled in speaking to both individual clients and an entire business organization.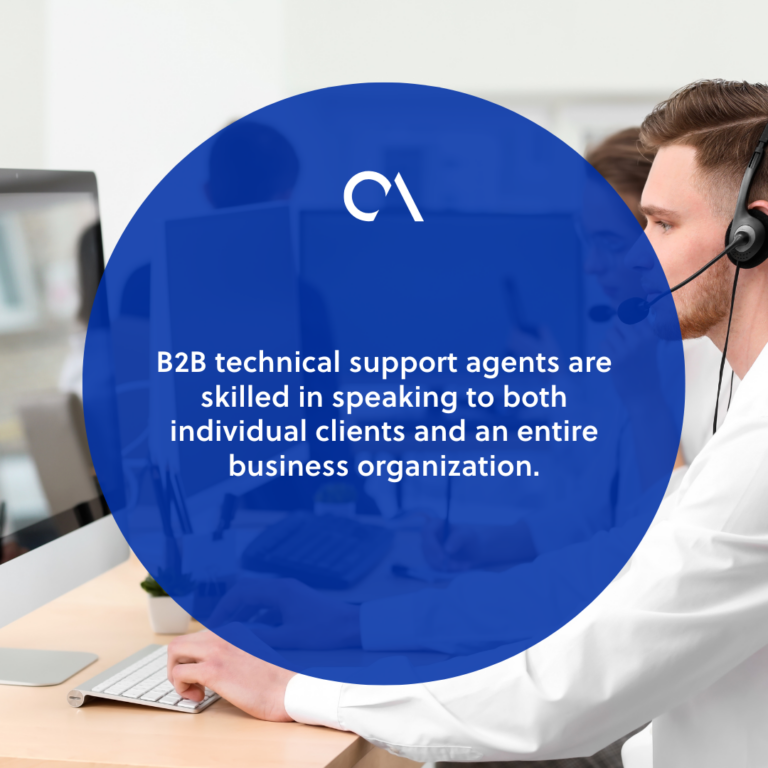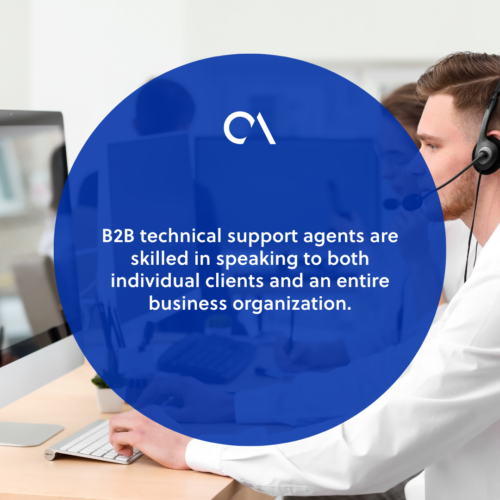 They are trained to be detail-oriented to prevent any costly mishap for the business collaborations.
Knowledgeable of the products and services offered by one company to another company, B2B technical support agents are fully aware of the B2B company's highly specialized and technical services. They are adept at handling complex issues.
In addition, B2B technical support agents possess sound interpersonal skills.  They are trained not only to understand the client customer but to treat them as business partners.
Due to customers of B2B companies becoming increasingly demanding, B2B technical support agents are expected to know who they are and their specific needs.
12. Technical support engineer
Since a plethora of IT-related problems bother customers, they will always need a professional to resolve their concerns.
Technical support engineers function to diagnose software and hardware problems.  Skilled in troubleshooting and installation, they can work on a wide array of computer programs and applications.
Using chat applications and e-mail, technical support engineers address network issues and may utilize remote desktop applications to deliver an instant remedy.
These IT workers can also configure operating systems and can quickly respond to simple IT-related problems of customers.
With the nature of being a helper, technical support engineers are required to hold college degrees related to IT, computer science, and software engineering.  Certifications on Linux, Cisco, and Microsoft are considered pluses.
The practice of having to outsource network support-related jobs and tasks can lead to accomplishing operational best practices. 
Outsourcing firms or third-party local companies are viewed as catalysts. They help client firms to have additional advantages and to be at their best most of the time.
Management experts in companies generally agree that proper outsourcing boosts the competitive edge of corporate organizations, given the natural division of labor that develops in any business milieu.
BPO organizations help contemporary corporate settings to focus on the core aspects of their operations. Moreover, they become an extension of the client company's operations team, helping reassure customers of quality services and products.
Outsourcing companies have become an important part of nearly all IT-related business ventures today. They have been responsible for giving cost-effective services to businesses worldwide.
The practice of outsourcing, indeed, serves as a path for companies to be the first on what is important. 
Optimizing the opportunity to outsource network support jobs and corporate organizations' international competitiveness is a technique to win in today's dog-eat-dog business world.