Navigating outsourcing costs and value for growth and improvement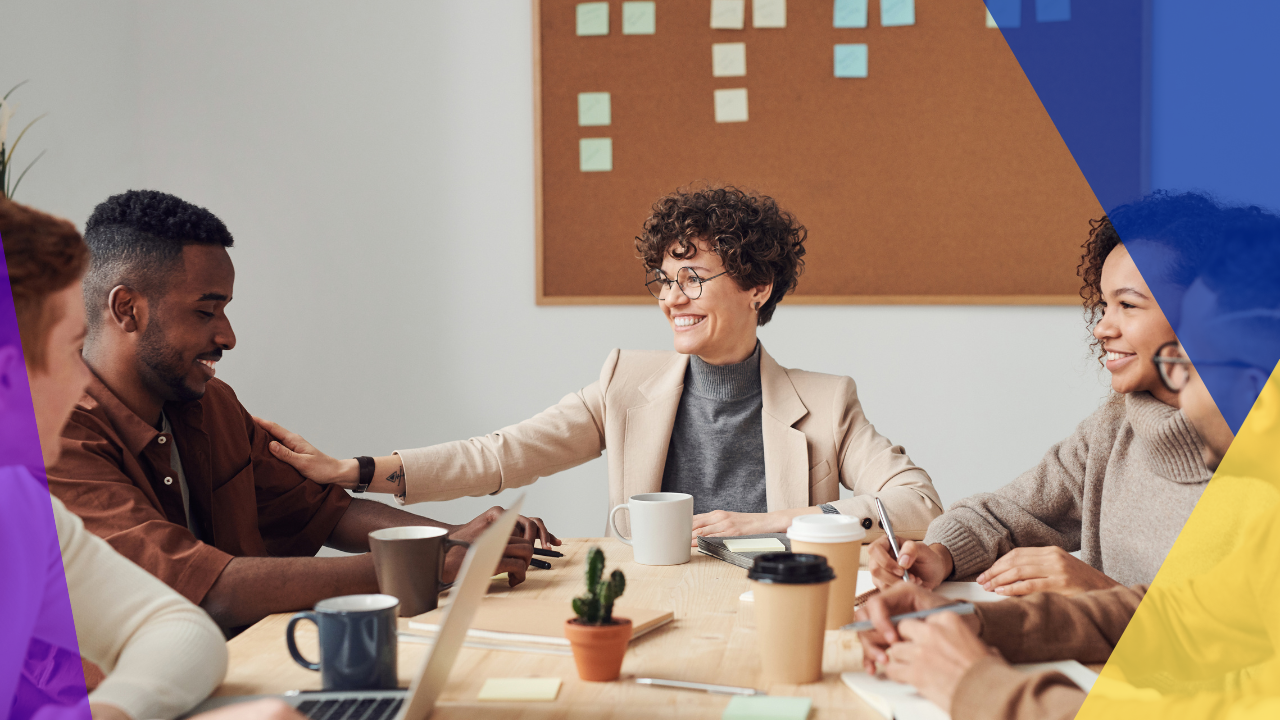 Outsourcing is contracting out a company's processes to a third-party provider. Through outsourcing, companies can focus on their core competencies and streamline their business.
Outsourcing has numerous benefits, including access to a wider talent pool and greater efficiency. But most businesses will say that the reduced outsourcing costs are the biggest advantage. 
In recent times, outsourcing has gained a reputation for attracting the low-cost mentality of buyers. When then faced with solutions considered too pricey, these buyers are immediately discouraged from pursuing the strategy further. 
In the 444th episode of the Outsource Accelerator podcast, Michael McRitchie of Satellite Office briefly discussed managing client expectations and balancing outsourcing costs and value.  
"Our preferred driver is [focusing] on how we can make improvements to your business. [And] you're going to save two-thirds, and that's great.
And that will be more scalable and more of an extension of your business long-term, which is great for both of us," Michael stated, 
Understanding the outsourcing process and costs 
When outsourcing, companies identify functions that they wish to delegate. They then evaluate potential outsourcing firms and determine potential benefits and risks.
Both parties then define and communicate the scope of the project. 
When considering this strategy, it's crucial to understand the various outsourcing costs involved. These can include: 
Service provider fees – Payment to the firm for services rendered. 

Transition and setup costs – May include knowledge transfer, data migration, and infrastructure setup. 

Communication – For effective collaboration. 

Quality assurance and monitoring costs – To ensure services meet the agreed-upon standards.

Contract and legal costs – For negotiations and legal considerations. 

Management and oversight costs – To manage and oversee the outsourcing relationship. 

Risk management costs – To mitigate potential risks and safeguard interests. 

Transition back costs – In the event of a reversion to in-house operations. 
Michael narrows down Satellite Office's business model more simply. 
"There's two components to the cost. There's the direct cost of the staff, [and] you've got your solution fee, which covers any of the costs we incur around rental property or IT-related services and our team to provide everything we do.
The two of those combined is the total cost of the staff member. Our rule of thumb is you'll get around three staff to one. So it's 66% [in savings]."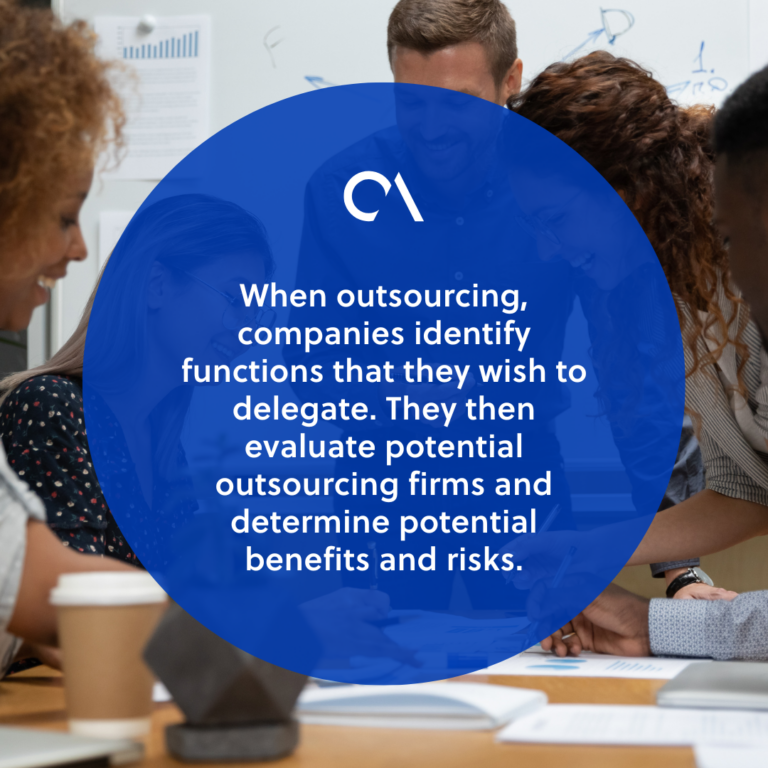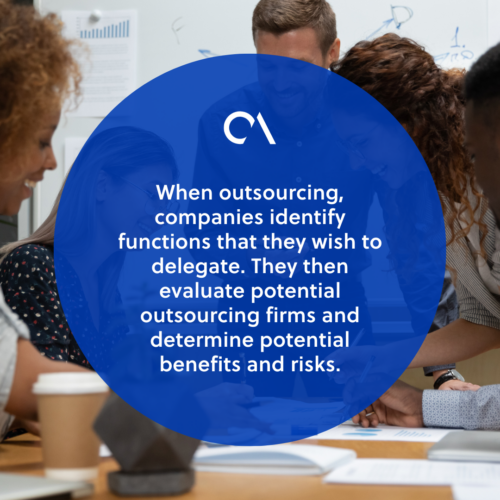 What services can be outsourced? 
A wide range of solutions can be outsourced, servicing different industries and business requirements. 
When asked whether outsourcing would become a default for businesses, Michael says, "Do they have services that are performed offshore? I would say across most businesses, the answer to that would be yes."
"[Even if] they're using their own service providers that might be home-based, [those] service providers, be it marketing, finance, [or] law, have teams offshore in the Philippines or other jurisdictions." 
Here are some of the most commonly outsourced services: 
Information technology 
Information technology (IT) is a global industry that includes developing, implementing, supporting, and managing IT software and systems. 
IT is considered one of the crucial factors behind economic growth. IT has enabled businesses to reduce costs and become more efficient, as well as allowed individuals to access global, online markets. 
With millions of people around the world working in IT, it's possible to hire software developers, project managers, and other professionals to help your business grow.
Human resources
Human resource outsourcing allows businesses to focus on core competencies while trusted partners manage the day-to-day operational issues. This service is especially beneficial for companies that lack the resources or expertise to manage their HR needs in-house. 
Common HR services include: 
Payroll outsourcing 

Benefits administration

Compensation management 

Performance management

Training and development
Customer service
Customer service is integral as it's a business's first point of contact with customers looking for information about products.
The quality of customer service can make or break your company, so it's essential to hire professionals who can deliver the right assistance. 
Outsourcing customer service is particularly useful for companies wishing to provide 24/7 support or needing additional workforce during peak seasons. 
Digital marketing 
Digital marketing uses online channels to reach consumers. The process begins with understanding your customers' needs, then using this information to deliver customized messaging that will encourage them to purchase. 
Digital marketing has become a key component of business strategy and can help you grow your business by increasing awareness of your brand.
Digital marketing services include:
Content creation

Social media management

Search engine optimization (SEO)

Pay-per-click (PPC) advertising

Email marketing

Website design and development
Accounting
Accounting outsourcing contracts third-party organizations to handle all or parts of your financial functions. It's a strategic way for small businesses to save time and money. 
Accounting services can include the following: 
Bookkeeping

Tax preparation and filing

Payroll services

Invoicing and billing

Budgeting and forecasting
The importance of balancing outsourcing costs and value 
Outsourcing costs is a critical factor that companies must consider. It's also a major consideration for businesses that are already outsourcing and want to evaluate their current relationship with their service providers. 
Outsourcing costs are important but shouldn't be the only concern. This strategy can have a significant impact on your bottom line, so it's crucial to consider the value you're getting as well. 
The worth of this move rests on your ability to balance costs and value. It's a way to get more done with limited resources.
The key is finding a partner who delivers plenty of value at the most cost-effective rate. 
For their part, Satellite Office emphasizes to their clients the value their services offer.
"We haven't had a huge influence of clients trying to get that 66% [savings] to be higher. Those [clients] are not focused on quality [or] addressing whatever pain points or value-added growth considerations [with] their business. And that style is not as scalable."  
Michael asks clients, "What are the operational improvements that you'd like to achieve? What are the growth objectives that you're trying to achieve? What determines success in the team you build in the Philippines?"
"What we're aiming for is an improvement on what you have now from an operational and performance and quality perspective."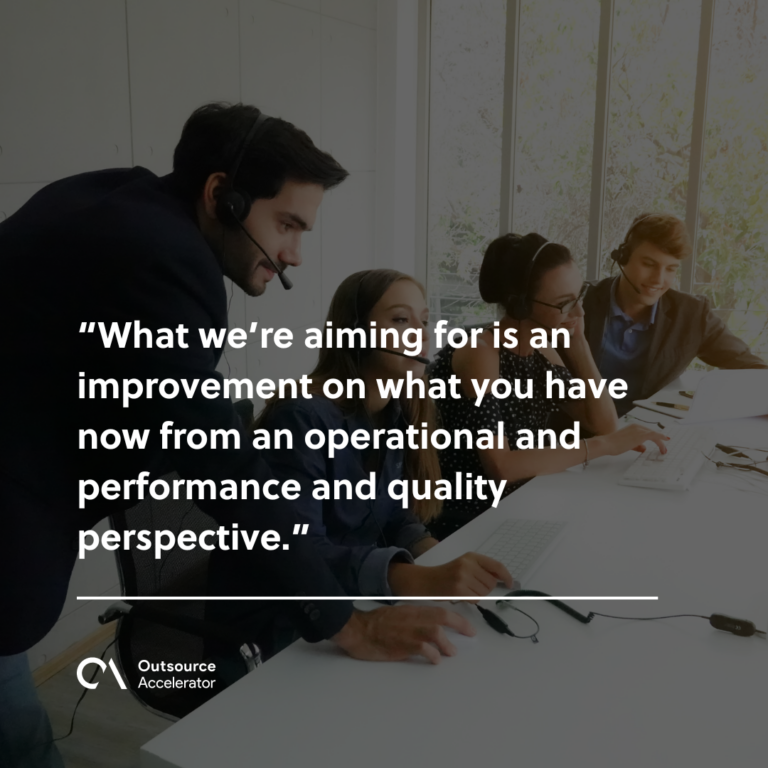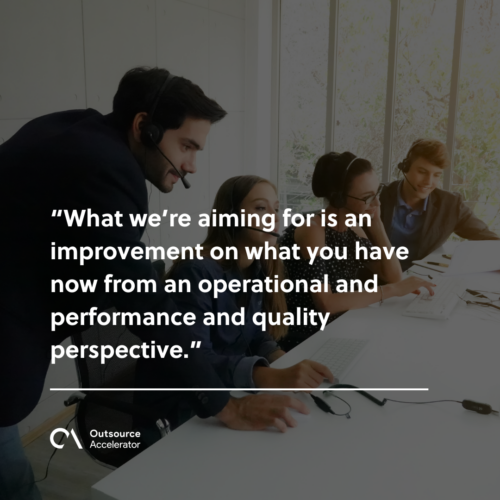 Future trends affecting outsourcing costs
Here are upcoming trends that are poised to impact outsourcing costs: 
Emerging technologies 
The adoption of new technologies has a direct impact on outsourcing costs. 
As seen recently, the proliferation of automation and artificial intelligence (AI) tools has made it possible for companies to automate many previously manual processes. This can result in lower labor costs and increased efficiency. 
As more operations move to the cloud, this also reduces the outsourcing costs for IT needs. 
Big data analytics and blockchain technology are also part of this trend.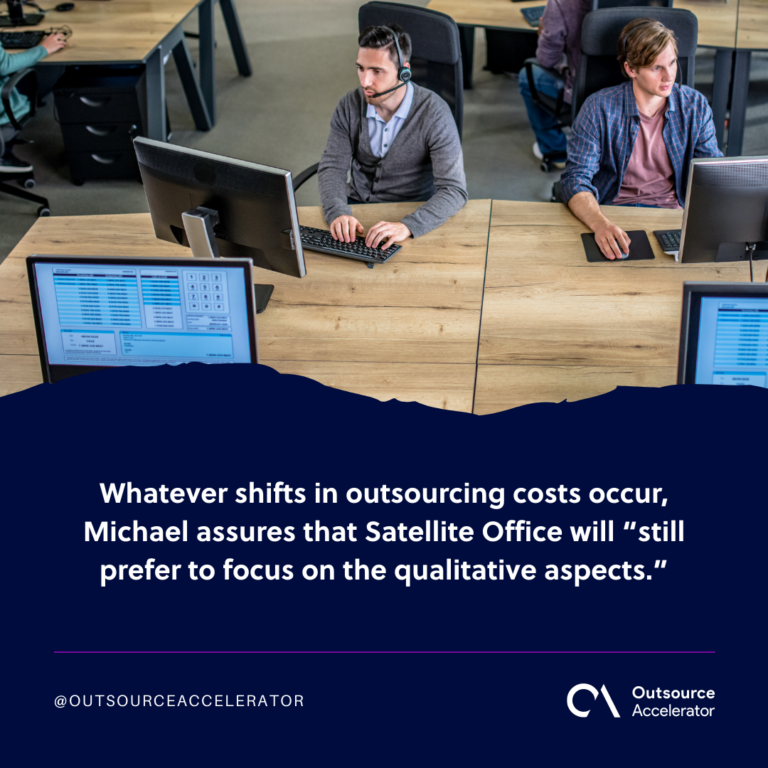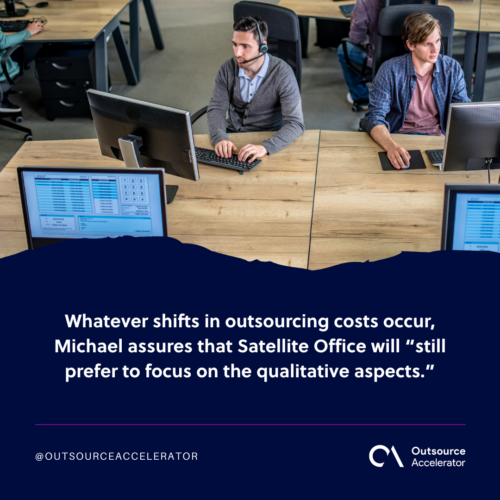 Shifts in global outsourcing destinations 
The landscape of global outsourcing is continuously evolving.
While India had long held the crown as the leading outsourcing destination, recent years have seen shifts in new places like Eastern Europe, Brazil, and Malaysia. 
Several factors, including technological advancements and the availability of a skilled labor force, drive this shift. 
The rise of many outsourcing hubs offering similar services drives down outsourcing costs, as countries try to win contracts by offering more competitive prices. 
Gig economy and freelancing
The gig economy refers to self-employed people who perform short-term jobs for a fee. Companies hire these freelancers for their specific skills and pay them upon completion of the task. 
It's no surprise that this has impacted outsourcing costs. For example, because of how freelancers are paid, it's easier for them to negotiate lower rates. 
This has also made it easier for companies to outsource projects without hiring full-time staff. This results in lower salaries and benefits costs for businesses, which translates into lower outsourcing costs.  
Whatever shifts in outsourcing costs occur, Michael assures that Satellite Office will "still prefer to focus on the qualitative aspects."
"The focus is on getting the best person for your role. And paying the little bit extra to get that best person because the return you get on the incremental focus on quality is multiples compared to that investment." 
Michael can be reached at [email protected].