Boost sales by offshoring appointment setting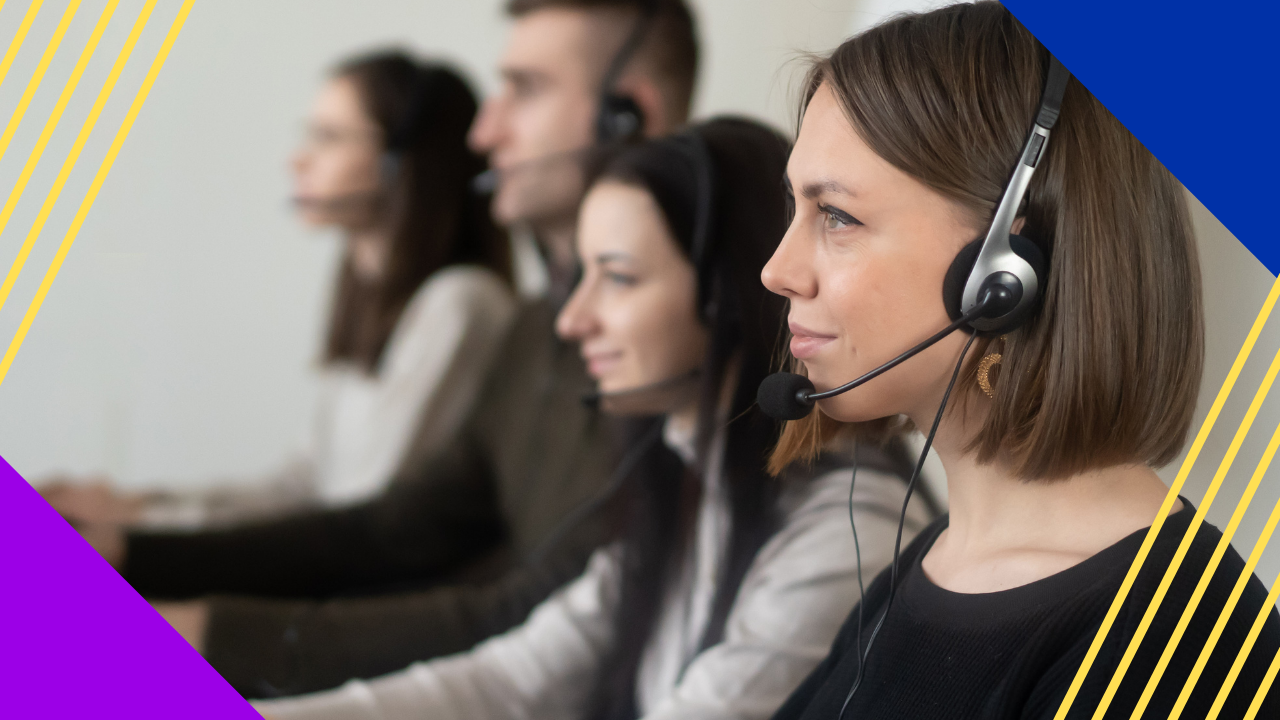 Appointment setting is among the most crucial parts of business operations and development. This is essential as it is mostly where companies can set a good first impression.
Because of its gravity in the business, it is better to leave this function to the professionals. That is why other companies prefer to outsource their appointment setting services.
To help understand the importance of an appointing setting team, this article will discuss their role and the undeniable benefits that you can get from recruiting offshore talents.
The role of an appointment setter
An appointment setter is responsible for contacting business prospects and arranging for them to meet with a sales representative. 
They possess extensive knowledge of the products and services of their companies to make customers interested enough to talk to the sales team. 
It must be noted that conversations with an appointment setting team always have the end goal of setting a meeting between a client and the company's agent to start a sales conversation.
Aside from cold calling leads, appointment setters are also in charge of the following tasks and duties:
Connecting with existing customers to discuss new products and organize follow-up meetings

Answering incoming calls and queries from clients

Staying updated with the company's new offers, including upgrades and promotional packages

Tracking the customer correspondence — from cold calling, appointment set up, and finally, sale.

Sending out product samples, brochures, and information kits to prospective clients
An appointment setter's role is not to finalize a sale, but to generate appointments for a potential sale. For this reason, an appointment setter must be an expert in convincing customers to pay attention to a brand to lead them to the sales team.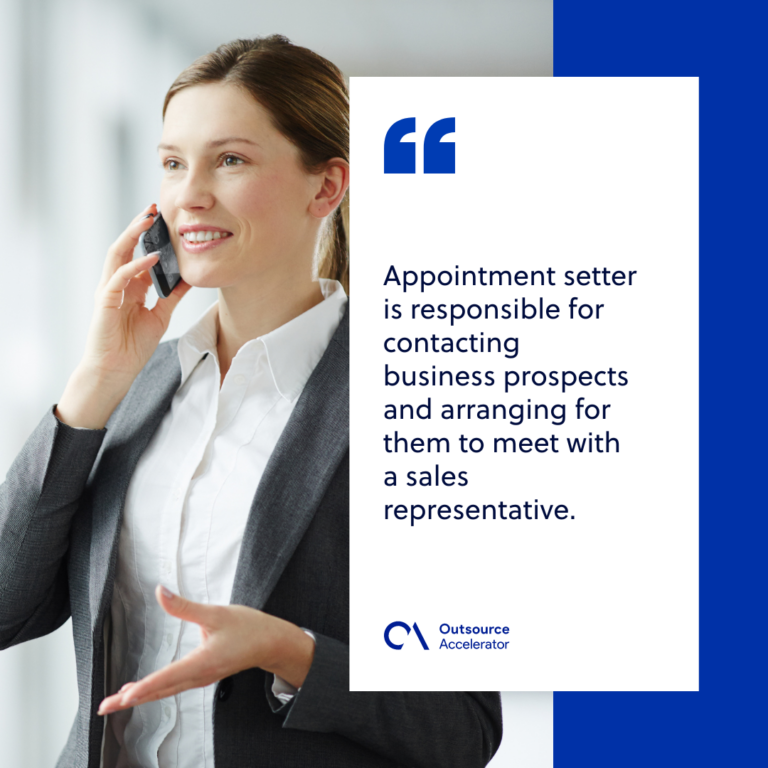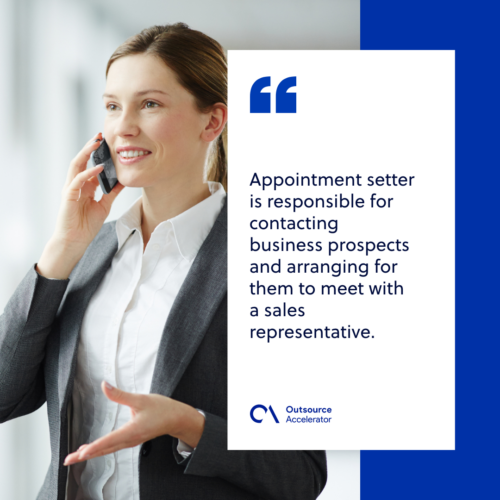 Why outsource appointment setting professionals
An offshore appointment setting team operates locally from where they are based. Your outsourcing partner will provide all the infrastructure and resources needed to fulfill the role for your organization.
While an in-house appointment setter could work for other businesses, this function is well-suited to being outsourced most of the time because of the following reasons:
Cost savings
Hiring an offshore team can help you control the costs in your organization. Other offshore service providers are offering up to 70% of cost savings compared to hiring locally.
Outsourcing lets you hire a ready-made team of appointment setters who are already skilled in their tasks. This means you may not have to recruit employees and hire supervisors to oversee their work.  
This can help you save on financial resources and office spaces.
Focus on core competencies
Aside from saving money, outsourcing appointment setters can help your in-house employees devote their time to their main tasks. 
By hiring an external team, your in-house sales reps can focus on the important aspects of their job. These may include planning marketing strategies and closing sales for your company.
With your local team able to focus on what they were hired to do, you can expect to see a positive change in your working atmosphere as they perform higher value, revenue-generating work.
Specialized professionals
Outsourcing helps you employ seasoned talents in your team. These professionals are expected to be well-trained in their tasks and are perfectly capable in talking to a diverse set of clients.
Because they are the top talents in the field, they already have an effective system in place to better perform their duties. With their expertise, you can generate and convert more high-quality leads and nurture them into paying customers for your business.
Data access
An established offshore appointment setting provider will take time to identify your company's buyer personas. They will then help narrow down your target audience to an efficient sales funnel.
They then use this analysis to collect greater insights into several ways to reach your prospective clients and generate high-quality leads.
Boost sales
Offshore appointment setters are not merely telemarketers who cold-call clients, but they are also an extension of your sales department. They can potentially help boost your in-house sales team.
They are set to work alongside your in-house team to increase your sales and conduct research on potential companies and clients to contact.
By adding an offshore staff, your local employees will have additional capacity to take on more work and grow your business sustainably.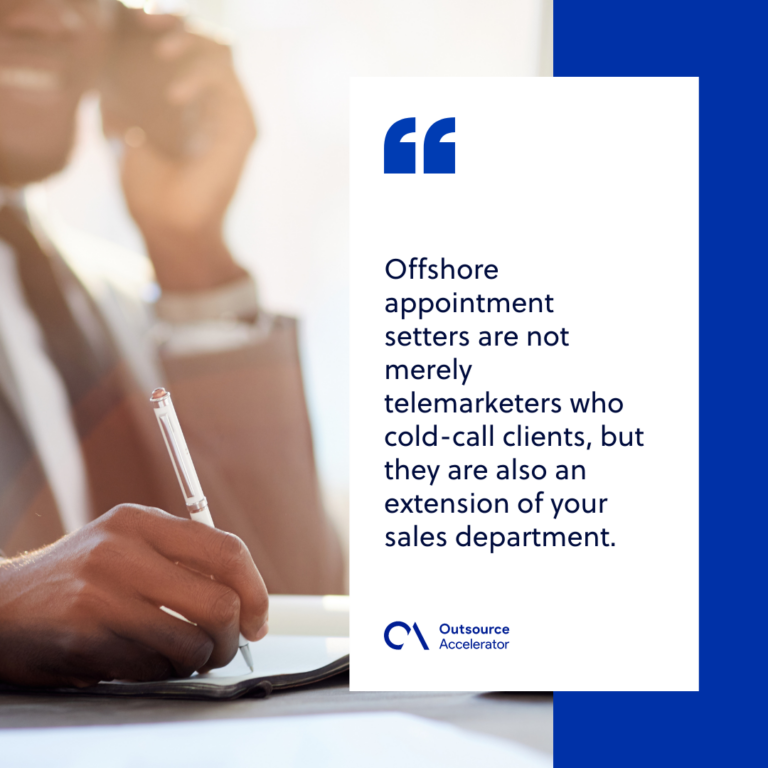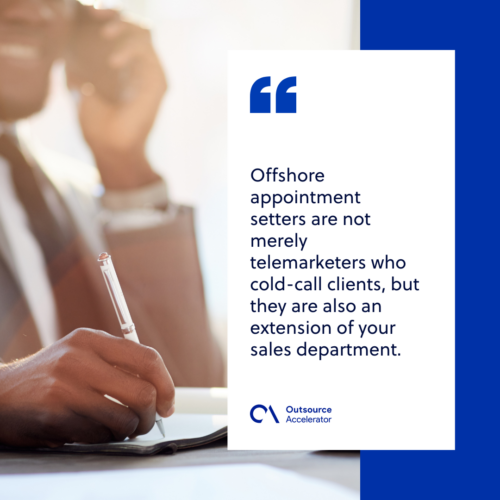 Set your appointments with 123Employee's offshore team
After deciding to delegate your appointment setting tasks to an offshore team, the next problem to address is which company will you partner with. Luckily, BPO firm 123Employees can provide you with an excellent appointment setting solution!
123Employee is a premier US-managed marketing and BPO service provider. They provide exceptionally trained employees that offer a range of voice-related services to companies across the world.
Their skilled team can help represent your brand to your target audience anytime. Aside from that, they can also assist in other services including telemarketing, inbound calling, helpdesk, and tech support, among others. 
Visit 123Employee's website and listen to sample audios of their voice talents now.