10 job fair tips to make you stand out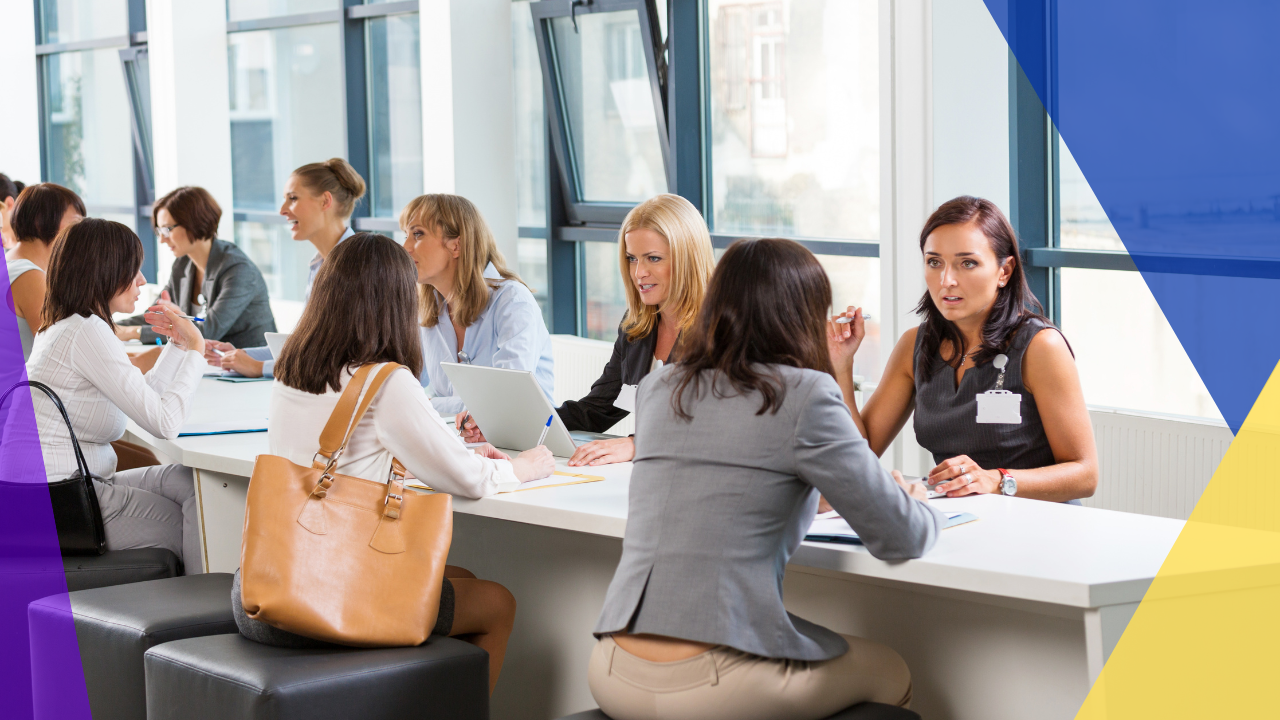 Job fairs are not just opportunities for job seekers — they're also invaluable for employers looking to connect with potential candidates and other companies.
An NPR interview with a recruitment agency president revealed up to 80% of successful job searches are because of networking. This includes attending hiring events and linking up with various professionals.
You need a well-thought-out strategy to stand out as an employer and attract top talent at job fairs.
This article lists ten job fair tips tailored to help recruiters make a strong impression and successfully find the best candidates.
What is a job fair?
Before diving into the job fair tips, let's first understand what the occasion is all about.
A job fair is an event where multiple employers and job seekers gather under one roof or virtually to connect and discuss potential employment opportunities.
Educational institutions, career centers, or community organizations typically organize these events.
A job fair provides a platform for employers to showcase their company, culture, and available positions.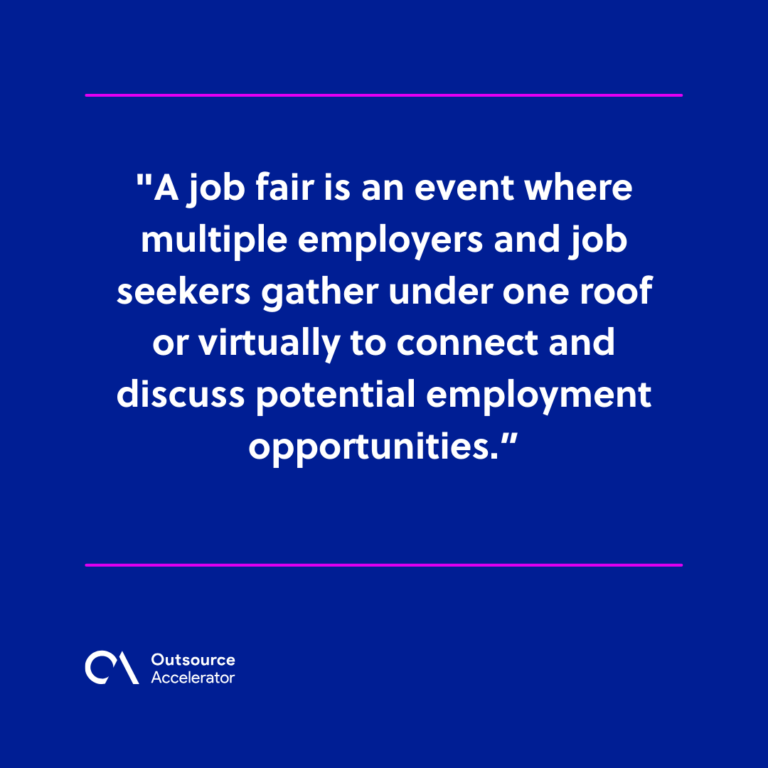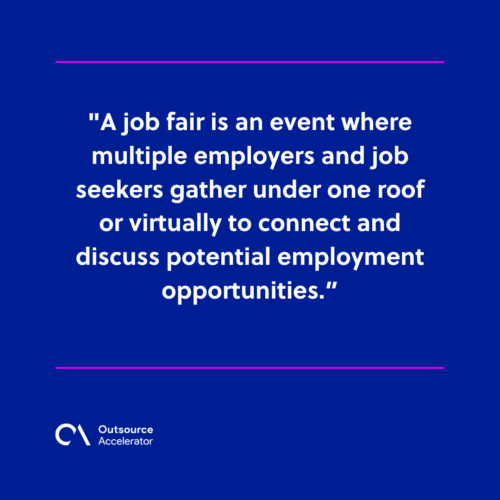 10 job fair tips to keep in mind
Now that we've established what the event is, here are ten job fair tips to help employers stand out, attract top talent, and optimize recruitment efforts:

1. Decide on which job fairs to attend
Research and choose job or career fairs that align with your company's needs, industry, and target audience.
Consider the event's reputation, the caliber of attending candidates, and whether it matches your recruitment objectives. 
You can usually find a list of upcoming job fairs, conventions, and trade shows on government or industry-sector websites.
2. Establish a recruitment goal
Before attending a hiring event, clearly define your recruitment goals.
Determine the specific positions you want to fill, the required skills and qualifications, and the overarching recruitment strategy. This will help you focus your efforts and attract suitable candidates.
3. Plan your booth setup
One of the most important job fair tips is to pay close attention to your booth setup. Ensure it is visually appealing, well-organized, and showcases your company's unique selling points.
Use attractive visuals, banners, and displays that accurately represent your brand and attract candidates to stop by and learn more.
4. Pick your team
Choose representatives who embody your organization's values and culture.
Select individuals who are knowledgeable about your business, passionate about your industry, and skilled in engaging and communicating.
They should be able to effectively articulate your company's mission, values, and opportunities available.
5. Develop branding and marketing strategies
Stand out by developing impactful branding and marketing strategies that accurately reflect your organization and its culture.
Use compelling promotional materials, like brochures, business cards, and branded merchandise, to create a lasting impression. Craft a concise and persuasive elevator pitch to communicate what sets your company apart quickly.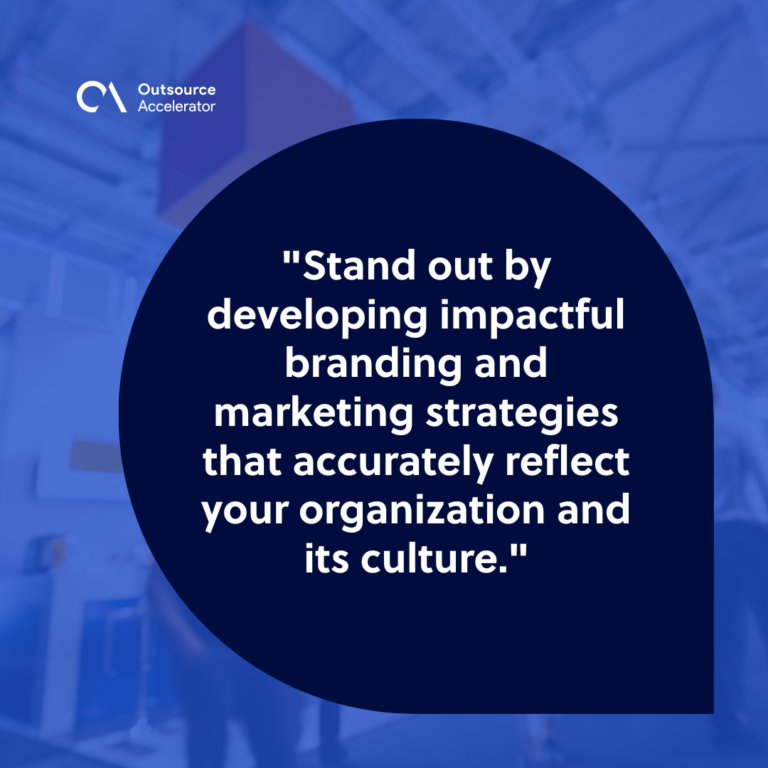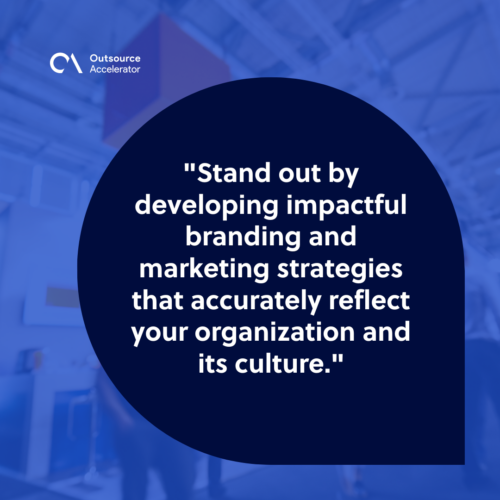 6. Prepare talking points
Another vital piece of advice among job fair tips is researching attendees' backgrounds and qualifications.
Prepare a list of questions or talking points to engage with job seekers and show your genuine interest in their skills and experiences.
Engage in meaningful conversations that highlight how your firm can fulfill their career aspirations.
6. Network, network, network
Take advantage of the networking opportunities provided at career fairs. Connect and build relationships with industry professionals, potential future employees, and even competitors. 
Exchange contact information, follow up with personalized messages, and expand your professional network.
7. Make the most out of interviews
Some job fairs offer the option to conduct on-the-spot interviews. Prepare interview questions specific to each role and assess candidates' fit with your company culture.
Make sure to provide clear information about the next steps and follow up promptly with applicants you are interested in.
8. Arrive early and be prepared
Arriving early gives you an advantage in establishing your presence. It lets you network with candidates and other firms before the event gets crowded.
Be well-prepared with relevant materials, enough copies of job descriptions or applications, and a proper understanding of the roles you are recruiting for.
9. Enjoy the experience
While job fairs can be intense, maintaining a positive and enthusiastic attitude is essential. 
Candidates are more likely to be attracted to employers who are approachable, friendly, and genuinely interested in their skills and aspirations.
10. Strategize for the next job fair
As you use these job fair tips at each event, evaluate the success of your participation.
Review the quality of candidates you connected with, the effectiveness of your booth setup, and the engagement of your team.
Learn from each experience and make necessary adjustments for future hiring events.
Virtual job fair tips
In today's digital age, virtual job fairs have become increasingly prevalent. Here are a few additional tips to help you succeed in a virtual hiring event:
Familiarize yourself with the virtual platform being used and ensure you have a stable internet connection.

Use a clean and professional digital background or set up your workspace in an organized and visually appealing manner.

Provide clear instructions to candidates on navigating the virtual fair and interacting with your company representatives.

Leverage technology to conduct video interviews or live chat sessions to assess applicants remotely.

Have digital copies of your company's brochures, job descriptions, and any relevant documents ready to share during online discussions.

Practice

digital etiquette

and uphold professionalism in all online interactions.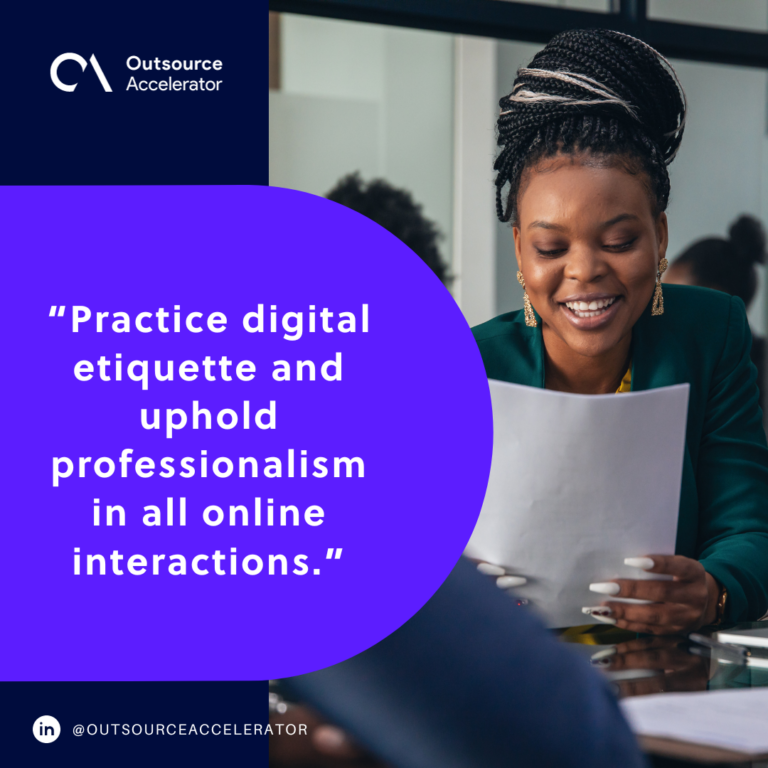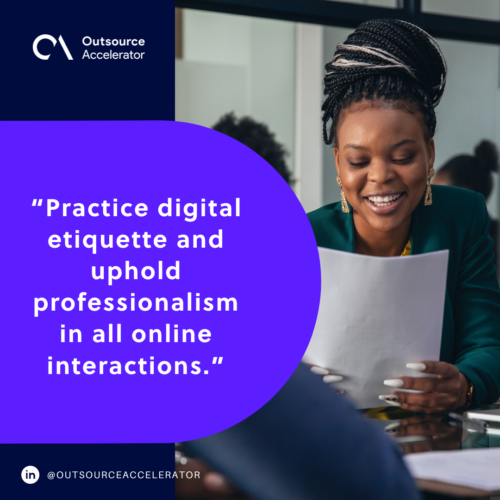 How to stand out at a job fair
To stand out as an employer at a job fair, it's essential to have a well-prepared strategy and effective communication. Authenticity, a strong company brand, and meaningful connections are key to attracting top talent.
By following the provided job fair tips, whether in-person or virtually, you'll be well-equipped to make a lasting impression. Eventually, you'll find and hire the best candidates for your organization.