Leveraging the power of a walk-in interview for better hires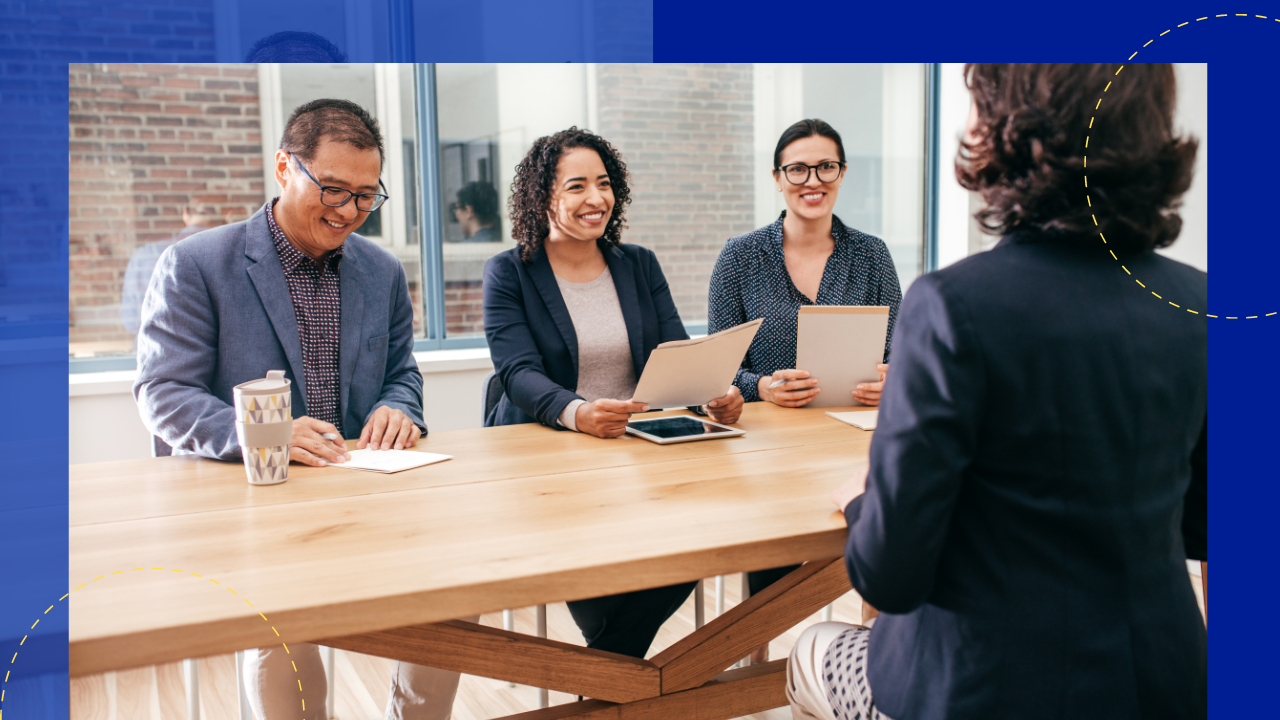 Finding the right employees to fill vacant positions in your organization can be a challenge. Companies constantly seek innovative ways to attract top talents and streamline their hiring process.
However, relying on time-tested methods to get better hires faster can still be wise for companies. One of these reliable recruitment methods is the walk-in interview.
Read on to learn how conducting a walk-in interview can benefit your organization and the best ways to conduct them.
What is a walk-in interview?
A walk-in interview is an employment screening process wherein applicants can directly go to a company's premises without setting up appointments.
Unlike other screening methods, such as phone calls or emails, a walk-in interview lets candidates present themselves spontaneously and showcase their skills in person.
Walk-in applicants may be subjected to initial screenings or mini-interviews to assess their suitability for the role they are applying for.
Conducting a walk-in interview is beneficial to both job seekers and recruiters. It allows applicants to attend the interview without preparations or planning. On the flip side, it lets recruiters efficiently evaluate a larger pool of applicants in a shorter period.
For this reason, the walk-in interview method has gained popularity among employers as a dynamic and effective talent acquisition method.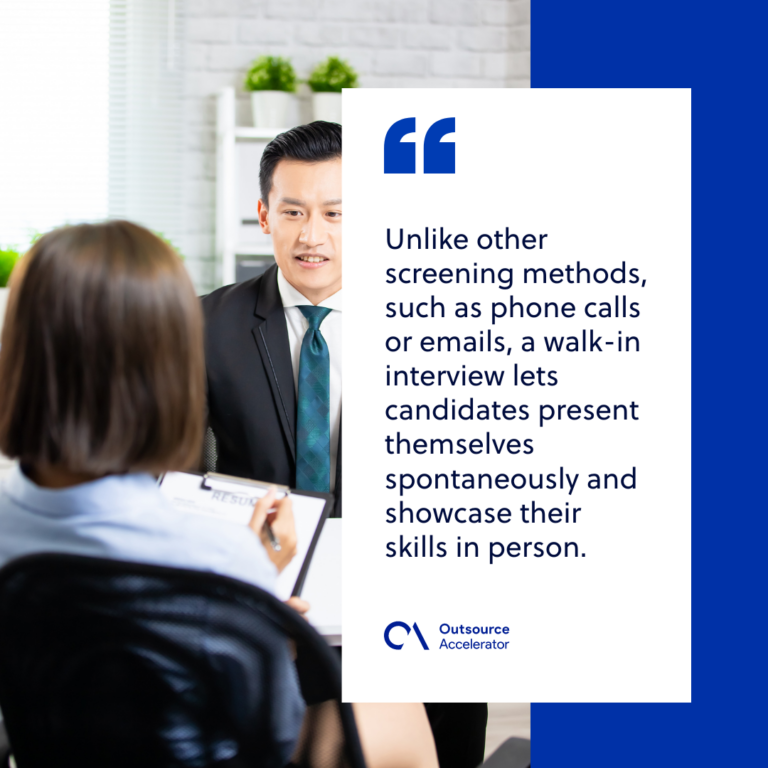 Walk-in interview vs. Scheduled interview
Another popular way of conducting job screenings is through scheduled interviews. In contrast to a walk-in interview, scheduled interviews require applicants to show up at a predetermined time and date.
Aside from the need to show up on time, there are other differences between a scheduled and walk-in interview.
The tables below show how the two interview methods differ.
Scheduling
Walk-in interview
Scheduled interview

Does not require prior appointments.

Candidates can appear at the employer's premises within a designated time frame without scheduling a specific date and time in advance.

Arranged by setting a specific date and time for each candidate.

Both the employer and the candidate commit to the pre-arranged appointment.
Flexibility
Walk-in interview
Scheduled interview

Job seekers can attend the interview at their convenience during the designated walk-in hours without needing to take time off work or plan their schedules around the interview.

Requires candidates to adjust their schedules to accommodate the specific interview time, potentially necessitating time off from their current job or other commitments.
Time efficiency
Walk-in interview
Scheduled interview

More comprehensive and longer in duration.

Each candidate is allocated specific time slots, allowing for in-depth discussions and a thorough evaluation of their qualifications and fit for the position.
Candidate pool
Walk-in interview
Scheduled interview

Walk-in interviews attract a diverse pool of candidates, including those who may not have applied through traditional means. 

Can lead to a more varied range of applicants, potentially discovering hidden talents.

Scheduled interviews primarily include candidates who have submitted formal applications.

The candidate pool may be narrower but can be more focused on those who are genuinely interested in the position and have tailored their applications accordingly.
Advantages of accommodating a walk-in interview
A walk-in interview is not beneficial to just the applicants. This recruitment method also brings several benefits to employers as well.
Some of the advantages of allowing a walk-in interview include:
Efficient screening of applicants
A walk-in interview allows employers to process more applicants in less time. Since candidates show up without prior appointments, initial screenings can be conducted quickly. 
It helps employers identify potential matches for the job requirements swiftly.
Cost-effective recruitment
Conducting a walk-in interview instead of scheduled ones eliminates the need for lengthy pre-screening procedures. Shorter recruitment cycles translate to lower overall recruitment costs.
Creating positive candidate experience
A walk-in interview provides candidates with a convenient and accessible way to engage with companies. 
Even if they are not selected, a positive experience can encourage them to consider future opportunities with the company or recommend it to others. This further enhances the employer's brand image.
How to best handle a walk-in interview
Handling a walk-in interview requires careful planning and execution to ensure a positive and efficient experience for the company and the candidates.
Below are some actionable advice to help you skillfully pull off a successful walk-in interview:
Preparation is key
Before the walk-in interview event, ensure all necessary preparations are in place. Train the interviewers on the evaluation process and the key criteria for assessing candidates.
Have all interview materials, such as evaluation forms and candidate sign-in sheets, ready in advance.
Create a welcoming environment
Set up a welcoming registration area for candidates to check in. Provide clear instructions on the interview process and any necessary paperwork they need to complete upon arrival. 
Friendly staff or volunteers can assist candidates and create a positive first impression of your company.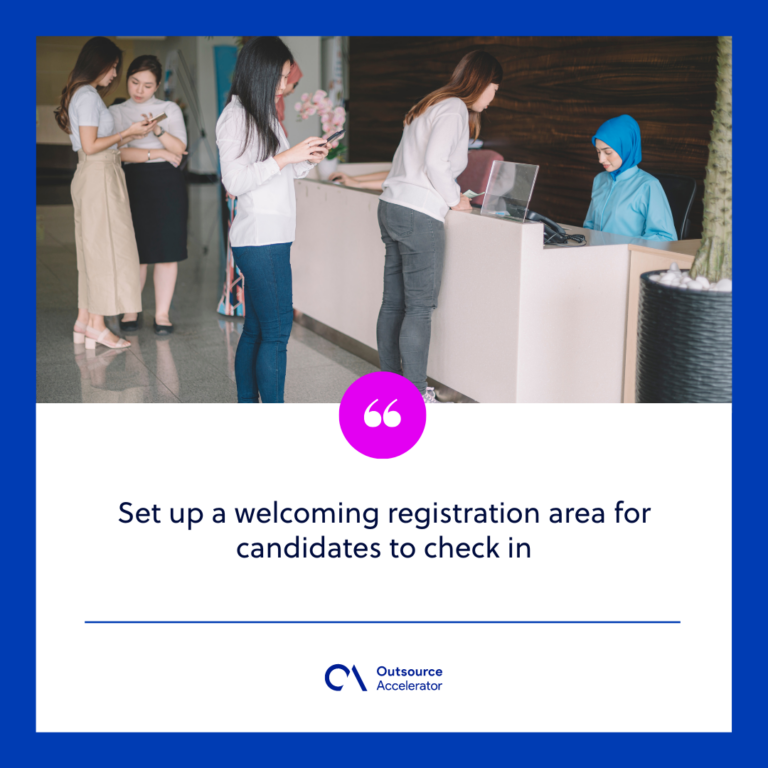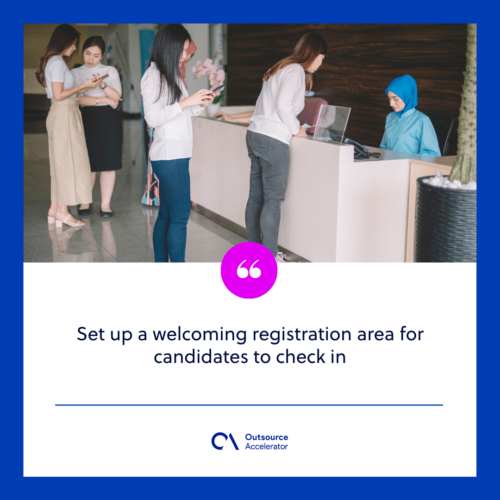 Know your job requirements
Clearly define the roles and qualifications you are looking for in candidates. This will help you quickly identify suitable candidates during the initial screening process.
You should also be prepared to ask relevant questions to assess candidates' skills and experience accurately.