A brief guide to IT modernization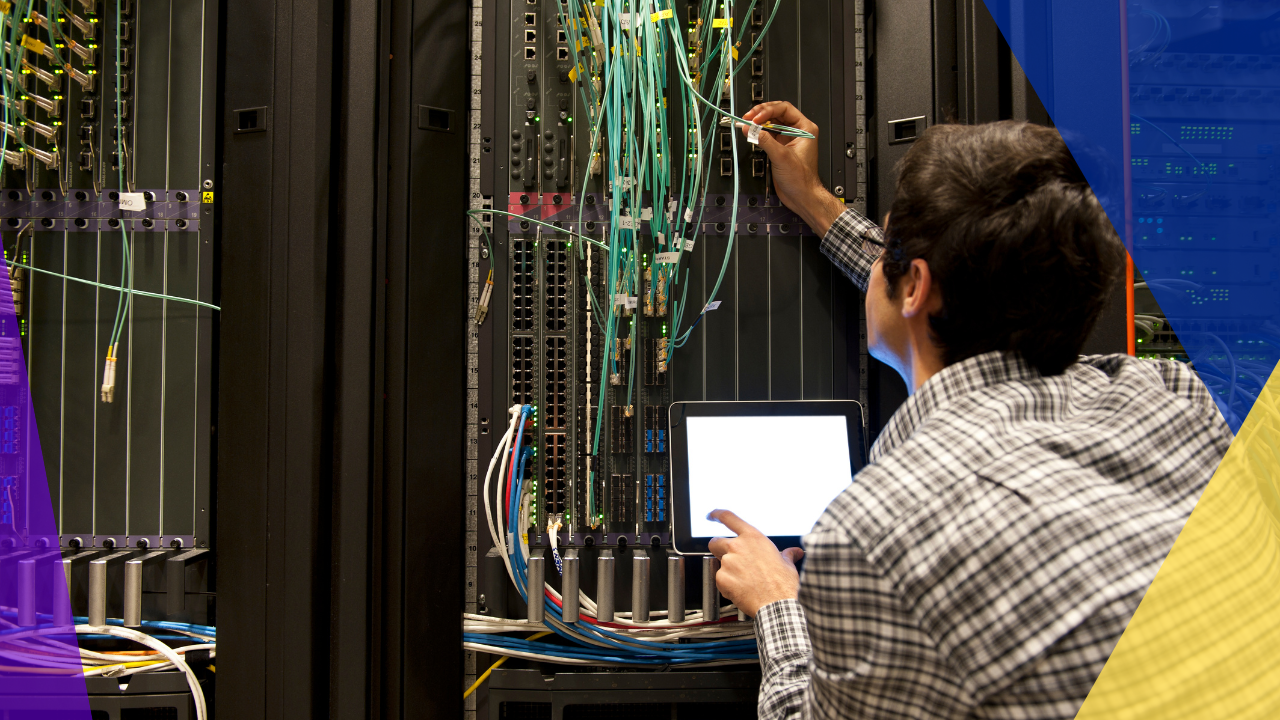 We're seeing a rapid evolution of technology and digitalization. Many organizations have begun to see the benefits of investing in modernization projects to boost their productivity, efficiency, and overall competitiveness. 
Data management firm Cohesity reported that nearly half of their survey respondents (over 2000 IT and SecOps professionals) say their companies depend on outdated systems. 
IT modernization aims to remedy this problem. An updated IT infrastructure ensures your company has the resources to keep up with this new digital economy. 
What is IT modernization?
IT modernization is when a company improves, upgrades, or replaces its IT infrastructure with more modern frameworks and methods. IT modernization encompasses updating company applications to upgrading hardware concepts and software systems. 
Every company must undergo IT modernization at least a few times in its lifetime. Current legacy systems are complex, inefficient, and require expensive maintenance. 
They also lack many tools for effective collaboration and come with hidden costs that could cause liabilities in the future. 
IT modernization is a way to improve efficiency, reduce costs, and increase security, making it easier for employees to do their jobs.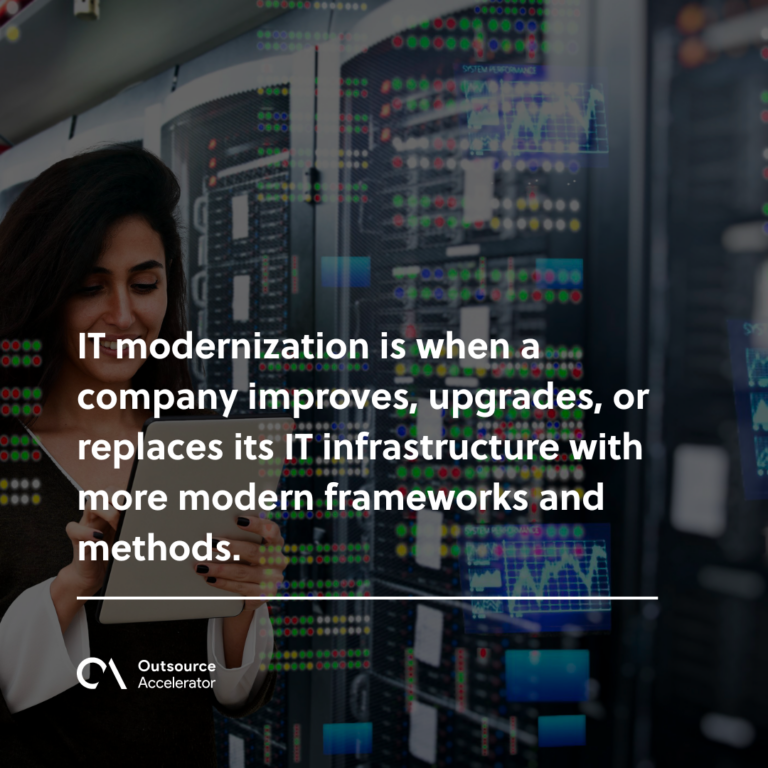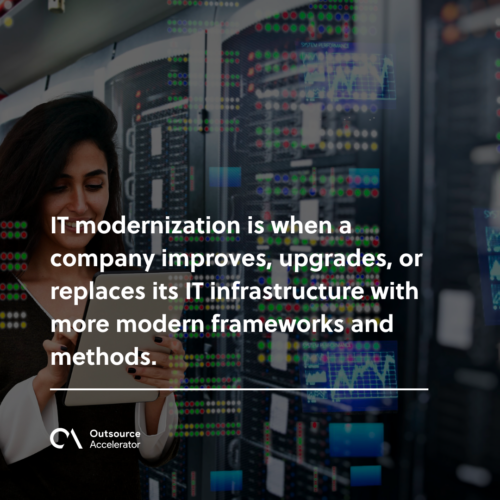 IT modernization vs. Digital transformation 
IT modernization and digital transformation are frequently used interchangeably to describe the process of updating IT infrastructure. However, they're not quite the same thing. 
IT modernization's goal is to create a resilient and flexible IT infrastructure to support the business. It makes sure your systems are up-to-date and properly working. IT modernization also heavily focuses on your IT strategy's tangible aspect.  
Digital transformation's goal, on the other hand, is transforming how your business operates to conform to a digital mindset. 
It's rethinking how you do business, not just what technology you'll use. Digital transformation uses technology as a tool to streamline processes and bring greater impact to the world, even outside work.
Key areas of IT modernization
The IT department is the hub of an organization's tech operations. It comprises many key areas, each with its own role that must also undergo modernization. 
Infrastructure
Infrastructure IT modernization replaces outdated IT systems with new infrastructure, usually based in the cloud. This type of IT modernization is usually the first step in the effort because it provides the foundation for other initiatives. 
IT modernization for infrastructure ensures that your organization can handle today's workloads and tomorrow's applications.
Data center migration
IT modernization for data center migration moves existing applications and services to a new, more reliable, and cost-efficient environment. 
Moving to the cloud consolidates data into one or two locations that can support the latest technologies, like virtualization and cloud computing.
Networking
Businesses manage multiple computers on their network, requiring them to keep up with hardware and software upgrades. IT modernization increases performance by providing additional bandwidth and agility to scale when necessary. 
Applications
An organization's applications do the heavy lifting in terms of work. They must therefore be constantly updated to run with modern hardware and software platforms. 
Applications are the most visible part of your IT modernization plan. If your system shuts down due to being outdated, your applications die as well, and so does your productivity.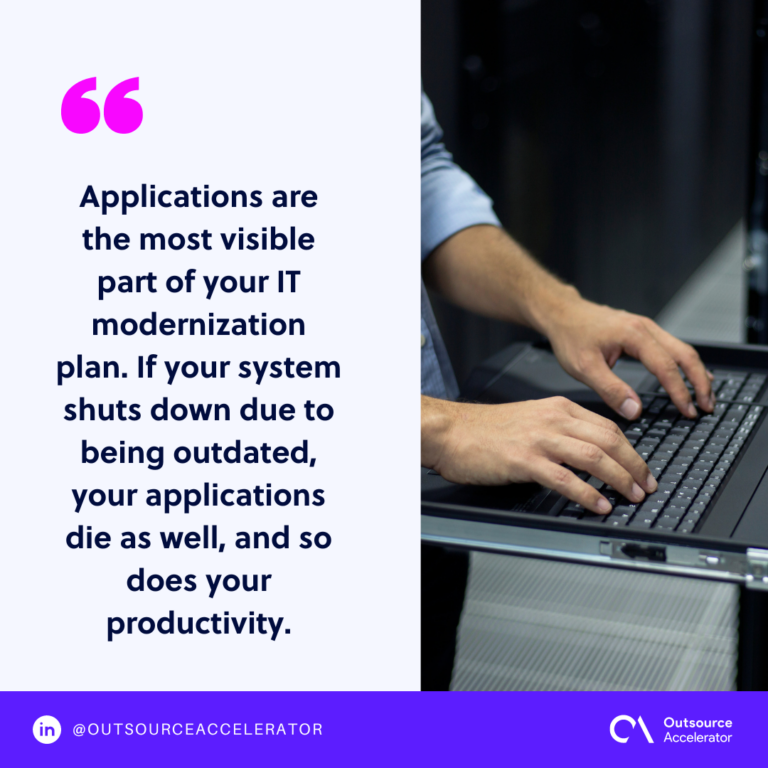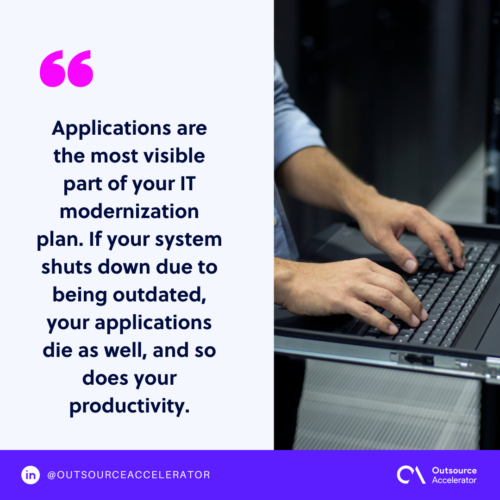 Devices
Devices like smartphones, tablets, and laptops are becoming part and parcel of every business operation. They're also more portable and secure than desktop computers. 
To ensure IT modernization with these external devices, equip them with antivirus software and back up their data regularly. You should also enable remote access capabilities so employees can reach relevant company resources anytime.
Lifecycle
The usual practice of IT organizations is to develop on-site systems and applications and run them as long as possible until they reach the end of their lifecycle. This is risky because it provides little flexibility and increases cyberattacks. 
IT modernization moves away from this model by always updating the latest technology.
Security 
Security is one of the most important but difficult-to-implement areas of IT modernization. It's about protecting data, intellectual property, and customer information, and a security mindset must run through every aspect of your business. 
Management 
IT modernization requires a shift in management to monitor the health of their IT infrastructure. This comes paired with a constant eye on new products on the market and knowing when to invest. 
Managing legacy systems can be challenging, but modernized infrastructure allows you to monitor performance easily.
Training
Training helps staff understand the new technologies that IT modernization brings. IT modernization should include training in at least the following areas:

System administration and operations

Application development and deployment

Data governance and management

Security awareness

Training for end-users on new systems



Strategies for a successful IT modernization 
To make your IT modernization as successful as possible, here are some strategies to get you started:
Focus on business issues
Coordinate your IT modernization strategy with your business goals. You must have a clear idea of what you want to achieve, or you will waste time and money. 
Remember that IT modernization is done so that business processes are improved. You replace legacy systems to make sure that you have technology that supports how you do business.
Build for speed and insights
As part of IT modernization, you'll need to identify where your infrastructure's speed and agility fall short. This usually involves redesigning services to make them more flexible. 
IT modernization makes apps fast and easy to use, giving users access to real-time data and analytics. This leads to faster decision-making for better business outcomes.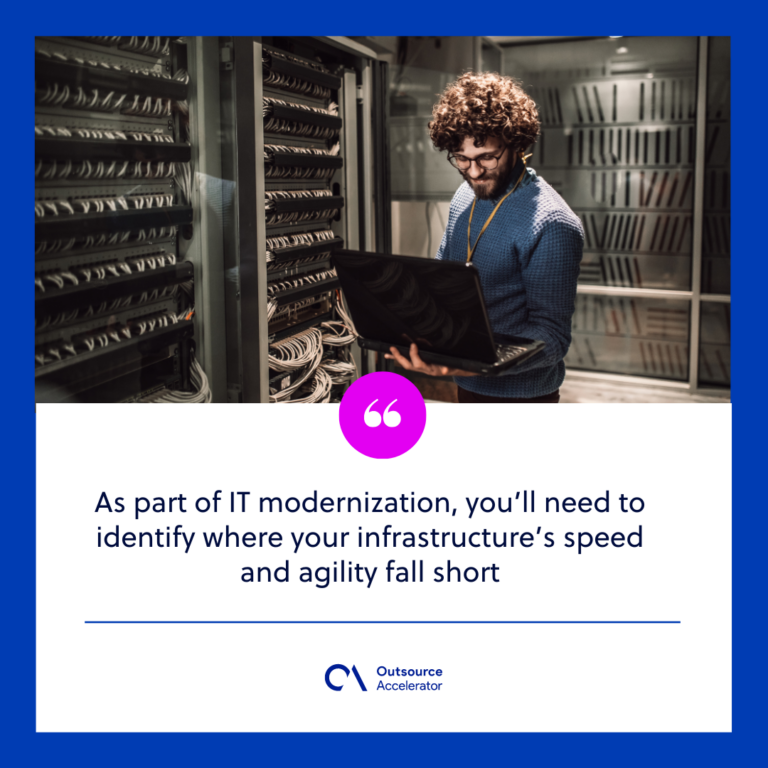 Analyze your workload portfolio
Your workload portfolio is a visual representation of how your applications connect and interact with customers, suppliers, and other business processes. 
The applications that are most frequently used are the ones that bring the most value to your organization. Prioritize these in your IT modernization list. 
When analyzing your workload portfolio, don't just think about what exists today but also anticipate what will exist in the future. Research upcoming technologies that could affect your workload over time.
Plan on change management
Change management handles the processes of change within an organization. It's a strategy that details why change is happening, its impacts, and how your employees can be involved. 
Change management is integral to every IT modernization effort. We recommend embedding it into your overall project plan and making it a key part of your strategy.