Tips to implement security awareness into your business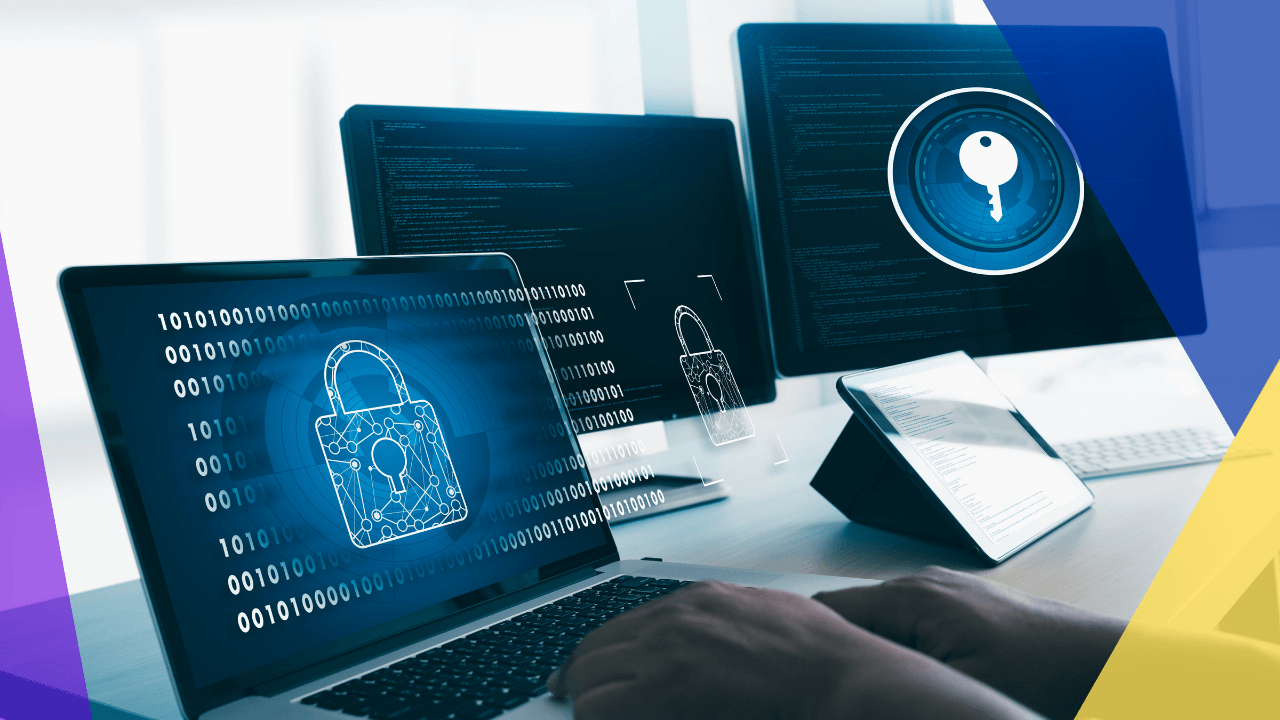 The digital landscape allows commercial businesses to do business more efficiently. Unfortunately, it also exposes businesses to hazards that business owners and employees did not previously have to worry about.
Enterprises must now protect themselves from cyber dangers such as ransomware, data theft, and DDOS attacks, among others.
Businesses must be aware of the dangers they confront while operating online in order to install appropriate precautions. Cyber security awareness training is a vital component that any company should prioritize.
The following suggestions can help your company get on track in terms of security awareness.
Security awareness tips for your business
Create clear policies and procedures
The more time and effort you spend on your policies, the stronger the basis of your security culture.
Your rules and procedures will be used to demonstrate compliance, train employees, and support day-to-day operations. Allow your staff simple access to up-to-date security information.
Your rules and procedures should include the following items:
You should also list any data security compliance standards, such as PCI DSS, HIPAA, and GDPR, that you may be obligated to comply with.
Also, after the policies and procedures are developed, make sure they are not just placed on a shelf and forgotten about. Make these documents a focal point in the workplace.
Include your policies and procedures in your training, and make time to update them on a regular basis.
Know which tools you need
The right security technologies are crucial for securing your company's data. Data breaches are common as a result of a lack of adequate tools, which aren't always used or set up effectively.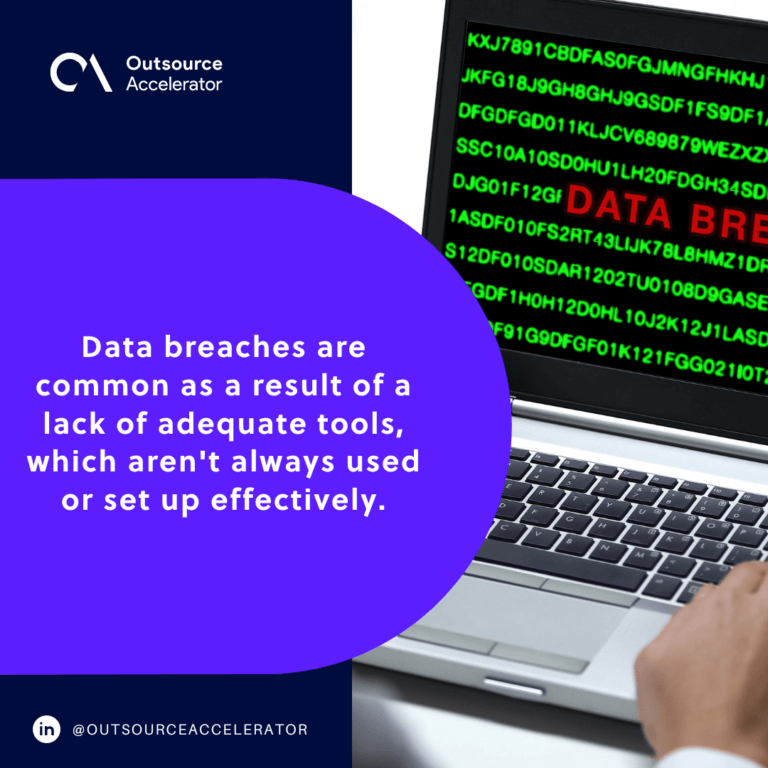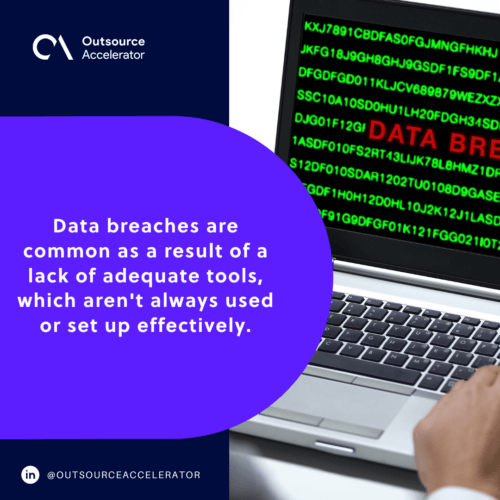 Here are some of the most essential tools you need to ensure data security and privacy:
Firewalls — Protect vital sensitive data by filtering potentially hazardous Internet traffic.

Anti-Virus Software — Adds an extra layer of security to any system on a network.

Cloud archiving software

— Minimizes the chances of data loss, helps ensures compliance, and reduces storage costs.

Virtual Private Networks (VPNs) — Provide a secure virtual connection between devices and networks. 

Multi-Factor Authentication (MFA) — Ensures additional security when accessing accounts. 

Password Managers — Helps users create stronger passwords, which need less maintenance.

Log monitoring and management — If necessary, install third-party log monitoring and management software.

Vulnerability Scanning — Automated internal and external scans that look for vulnerabilities at a high level.

Penetration Testing — A professional's in-person attempt to ethically "hack" into your surroundings.
It is critical to educate yourself and avoid purchasing solutions without understanding different kinds of security technologies, what they accomplish, or whether they are really essential for your setting.
Finally, when you buy tools, make sure you train and educate all employees who will use them.
Make sure everyone is familiar with compliance requirements
It is your obligation to teach, educate, and get all staff on board when it comes to compliance. There are several types of compliance that necessitate data security safeguards.
Some of the most common data protection requirements businesses need to be familiar with are PCI DSS, HIPAA, and GDPR. Each of these data security regulations has its own set of requirements and penalties for noncompliance.
There is considerable overlap in terms of criteria and security procedures, but each mandate was developed for a specific purpose and to safeguard various categories of data.
Teach your employees how to manage sensitive data
You must educate your staff on how to use sensitive data securely.  Teach employees about when to use sensitive data, which different kinds of data have different levels of sensitivity, and about proper handling of sensitive data. 
Good data security practices include the following: 
Not sharing sensitive data with unauthorized people 

Properly disposing of data you no longer need

Backing up sensitive data 

Encrypting sensitive data 

Having strong passwords 

Reporting a data breach 

Securing portable devices 
Most companies have some sort of employee training program. Many employee classes teach IT staff about data security, but these classes should be taught to all staff.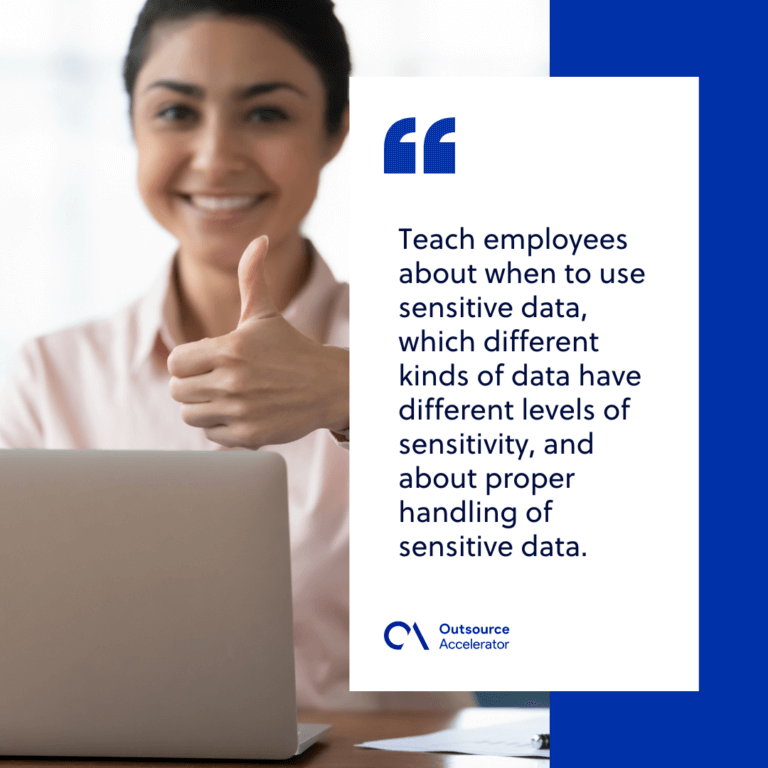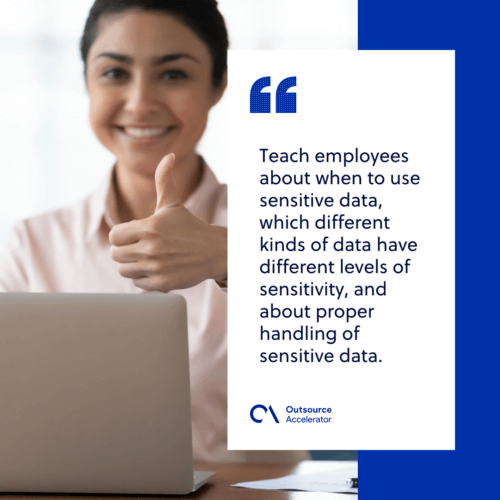 Prepare your employees to respond in the event of a data breach
Attacks on data breaches are unavoidable. If your data gets compromised, you'll be pleased you have a reaction strategy in place.
A proper data breach response plan would contain items such as a pre-written public relations statement, a contact list for emergency communications, and a forensic analysis list to begin your in-house forensic procedure.
Roles, conceivable situations, and a strong focus on what not to do (for example, don't automatically erase all your data if a breach happens) should all be covered in training.
Your data breach response strategy should be tested as part of your training.
Over to you
Implementing a security awareness program requires time and effort. However, in the long run, it will provide numerous benefits. 
Businesses that prioritize security awareness are better prepared to face the hazards of the digital age.
If your company implements a security awareness program, you'll be in a better position to protect your company's sensitive data.