Is Flexjobs legit? Everything you need to know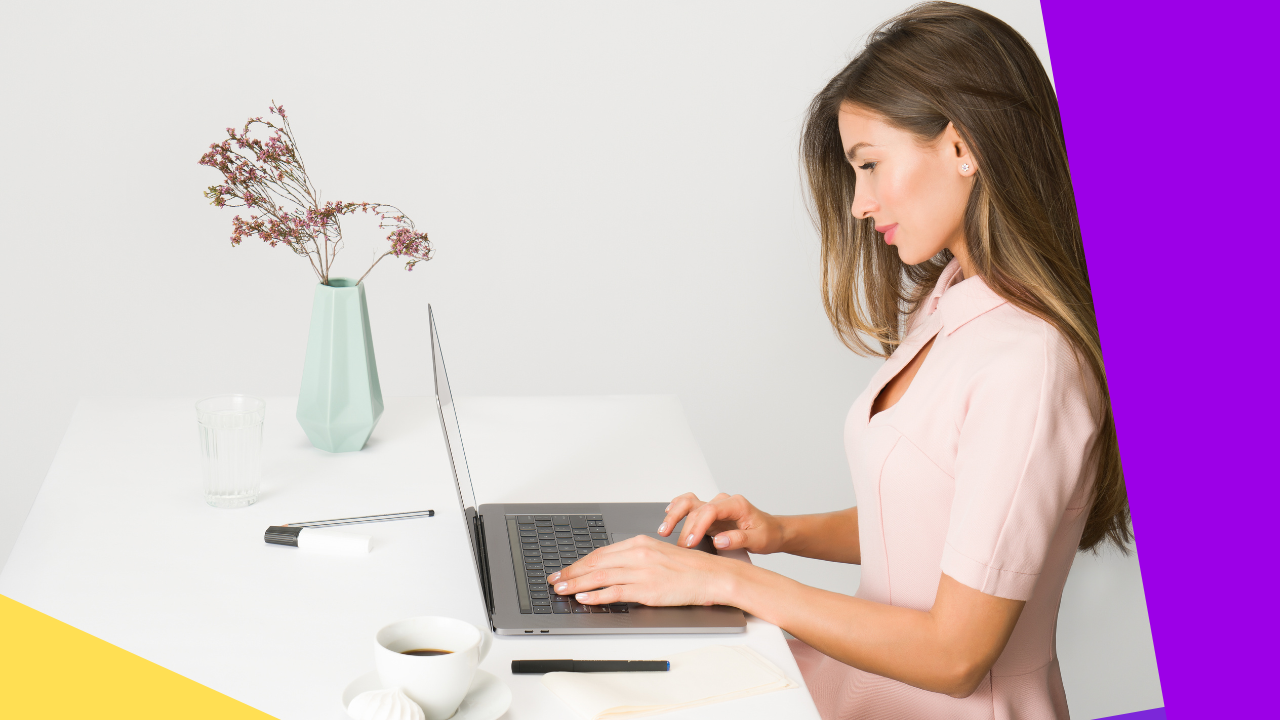 Looking for legitimate, stable, and reliable freelance gigs is harder as the competition gets tougher. 
Freelancing platforms in the market for decades have become too congested. New freelancers find it harder and harder to get clients and projects that can build their profiles. 
Not to mention, the chances of landing a scam job are higher with too many job postings across various social media platforms. 
The good news is that Flexjobs has 30,000 jobs available with over 50 work categories for all freelancers. It offers various freelance jobs that anyone can avail of. In addition, the platform personally searches and selects all the jobs, ensuring their authenticity and specifics. 
However, many freelancers may opt to ask is flexjobs legit? How does it work? And what are the different benefits that they can avail once they become a member?
All of these and more are in the succeeding sections. 
What is Flexjobs?
Flexjobs is a membership-based job website where members can look for flexible working arrangements. The jobs they get can be in the form of freelancing, part-time, or full-remote setup. 
The good thing about Flexjobs is that it is ad-free and different from a traditional job board website. The management team fully vetted and handpicked every job opportunity on the platform. They check each company and the job posts they release. 
Flexjobs also provides various features and tools that help improve the profile and chances of the freelancer to land a job. It also has a feature to better market and highlights the skills and competencies of the member. 
How Flexjobs started
Flexjobs was founded by Sarah Sutton, a new mother back then who was in need of flexible work arrangements to raise her child.
She created the site out of frustration with other job boards, which were full of job ads that were scams and misleading. 
To avoid this experience from being repeated all over again, she made sure to vet all the jobs that would be posted on Flexjobs. They had a team of researchers who spent time checking the companies and the authenticity of the job ads. 
To improve their status and reputation in the market, they were featured in various media outlets such as CNN, Business Insider, and Forbes. They have given the site an A+ rating for its purpose and authenticity in providing freelancers with the best and most reliable jobs.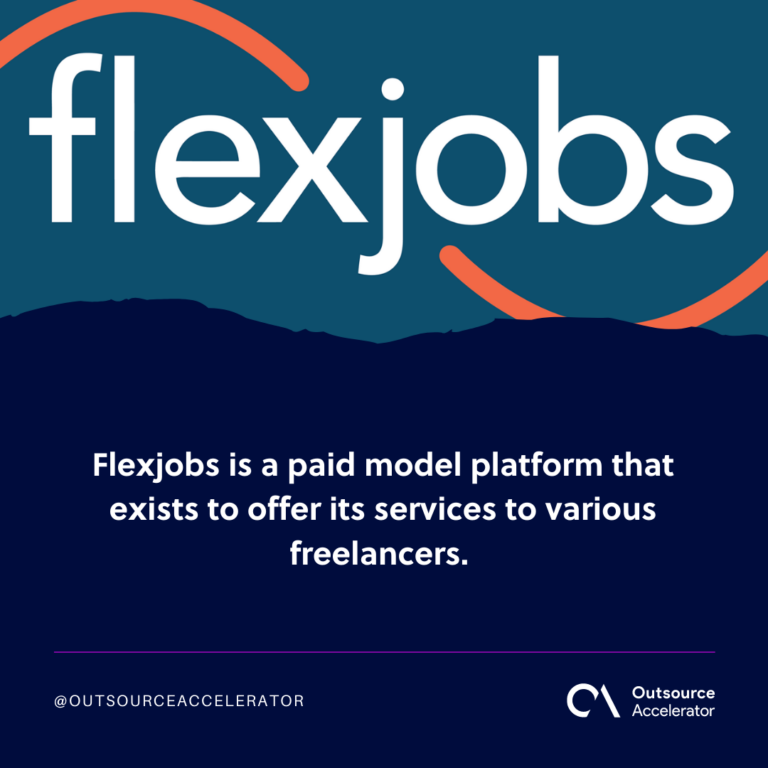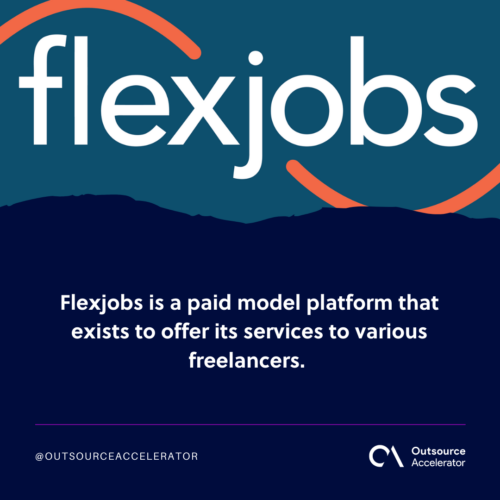 Is Flexjobs legit?
This is quite an understandable concern for the users as Flexjobs is a paid model platform that exists to offer its services to various freelancers. 
With the number of scams and rip-offs in the freelancing scene, many freelancers have become cautious about online opportunities. They do not wish to spend a dime and energy, which might result in a huge scam. 
But in the case of Flexjobs, the platform is 100% legit. It has been in the industry since 2007. 
Flexjobs target market
Flexjobs is a platform open to anyone after flexible and freelance working arrangements. 
It offers a wide array of job opportunities for independent professionals across the globe. 
Flexjobs do not discriminate against age, sex, nationality, or any physical challenges. They support individuals who would like to pursue a life of independence.
It is ideal for new young mothers who wish to continue their careers and earn money while raising their kids or building a family. 
Some of the ideal freelancers include:
Established freelancers looking for new clients.

Travelers who like to go around while working.

Working students who would like to earn while finishing their education.   
In a nutshell, Flexjobs cater to anyone who is looking for flexible working options, regardless if they are entry-level or seasoned experts. 
Works available in Flexjobs
Currently, there are 30,000 work opportunities available on the platform. The number keeps on growing as the company grows and continues to expand. 
Some of the most common work opportunities on the website are for programmers, graphic designers, and IT specialists. 
Finding a job on the platform is not hard. The team made it easy for anyone to navigate the website using its customizable filters in the Find Jobs section. 
Under it, are various specific subheadings such as New Jobs, Featured Employer, and many more. It is also possible to search for executive director positions under this function. 
The platform can be further customized depending on the needs and preferences of the user. 
One of the important features of the platform is that it posts a lot of opportunities from big companies such as Apple, Duolingo, and Capital One.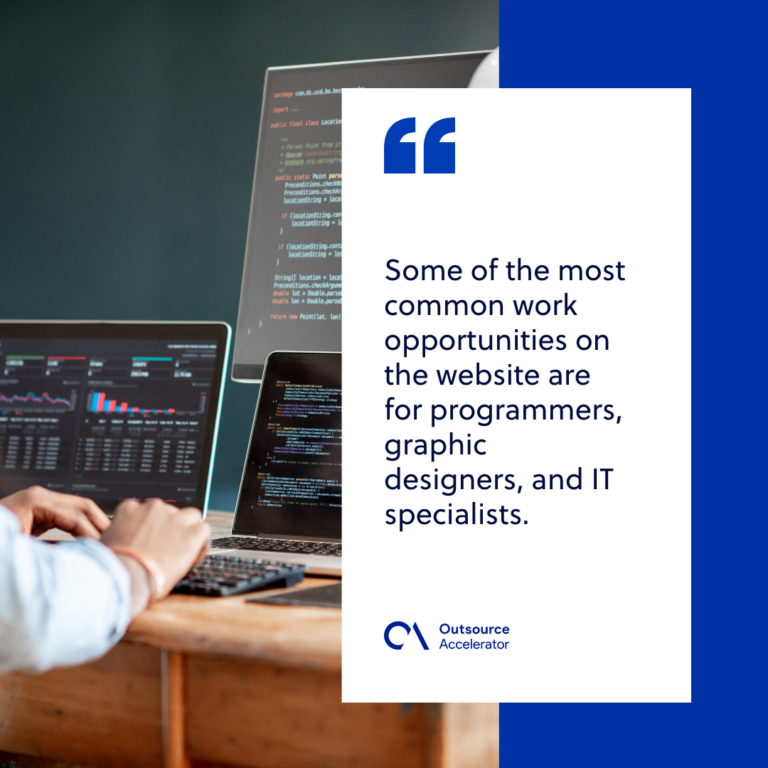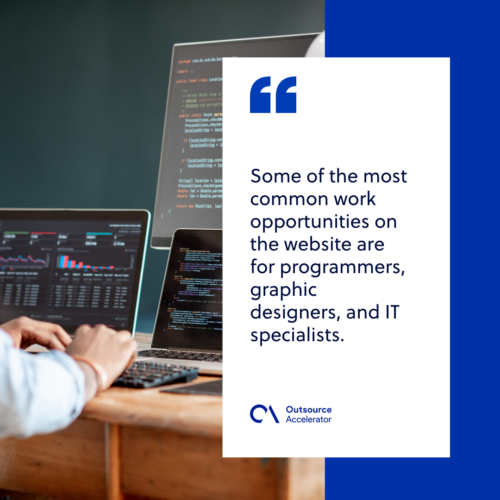 How Flexjobs works
Like any other job platform, Flexjobs curate several legitimate job offers based on the preference and expertise of freelancers. 
Normally, they will be asked to customize their selection and search button. Any saved jobs will trigger the website's algorithm to show any similar openings to the freelancer. 
More features in the job search tool can further improve the search experience based on company, location, and type of job. In other cases, the jobs can be divided by career level, ideal schedule, proximity, and the type of independence the job seeker desires.  
These features are available under free visitor access, which will give an idea of what is in store under paid access. 
In addition, the website has created a good tagging system where job seekers can jump straight to the jobs which best fit their profile. 
After searching, the list shown is sorted by relevance to the inquired position. The website also has some downloadable reports and guides that members can check while navigating the platform such as:

Downloadable guides

Research statistics

Advice articles

Webinar library
Benefits of Flexjobs to members
Members who have paid the premium subscription are entitled to the following benefits. These premium services are subject to change based on the evaluation and improvements of the management:
Job application
This is perhaps the most common feature that the membership offers. Since this is a paid platform, those who paid the subscription can send as many expressions of interest to anyone. 
They can see the entire job posting details, such as the company, the position, salary, and contact information. This will give the job seeker an idea of what the company is looking for. 
Once the job seeker decides to apply, they can click the apply button. It is important to note that the applicant will be redirected to a third-party website for the process. 
Some companies will require the applicant to create a profile for their own website. This only shows that Flexjobs is not a streamlined platform, but it does provide legitimate opportunities. 
Personalized dashboard 
Members can personalize their dashboard to their liking, preference, and job needs. The good thing about this dashboard is that applicants can track their activities. 
Saved and viewed jobs can be seen through a checklist allowing the member to circle back to the openings that suit them.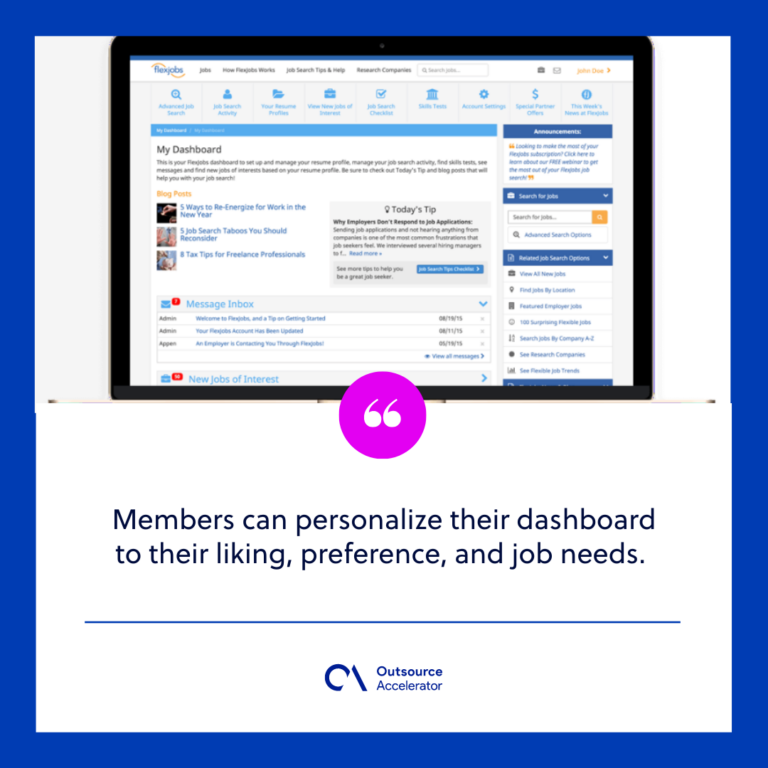 Resume Profile
The resume profile creator enables candidates to tailor their resumes and highlight the necessary skills, competencies, and experiences to provide credence to their capacity. 
There are unique templates for various industries and positions that will better showcase skills and talents to their future employers. 

Email alerts 
One of the best things in Flexjobs is that it can be linked to the member's email. This will allow candidates to receive notifications and alerts on new matches and openings. 
This will help the applicant get more opportunities to work on various jobs and for different clients. 
Aside from the four highlighted above, members can enjoy benefits like video courses, skills testing, virtual job fairs, and referrals and discounts on FlexJobs. 
Why use Flexjobs?
Flexjobs is a legitimate platform that caters to the needs of many freelancers. It connects them from various fully-vetted companies decreasing the risks of scams and rip-offs. 
While the platform has a paid subscription, it is a small investment to get full access to the entire network and the benefits Flexjobs offers. 
Not to mention that the fee can be given back in the first job alone.