10 most reliable iOS and Android messaging apps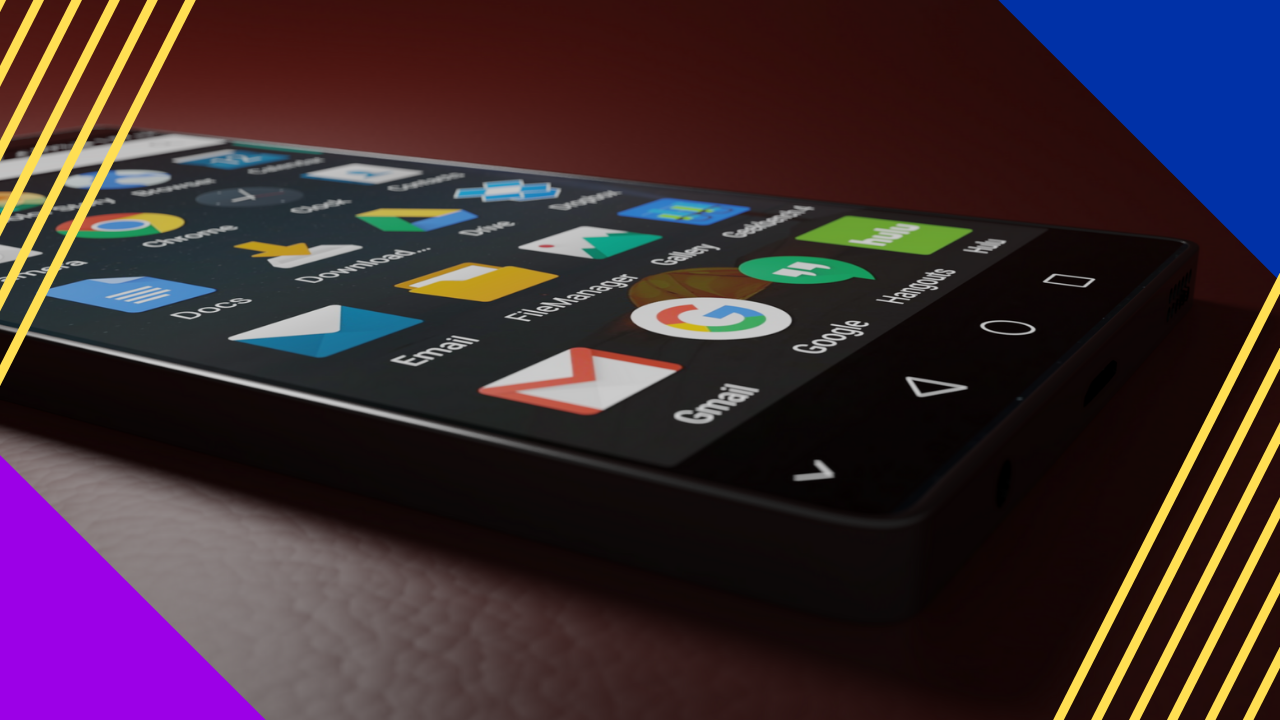 The demand for messaging apps has blown up the same way as the use of social media apps. 
People not only use iOS and Android messaging apps to keep in touch with friends and families anymore. Even organizations these days are reaping the benefits of these messaging apps. 
Proper communication is crucial in performing daily work, maintaining a business, and catering to clients and customers. And communication tools available on mobile, such as iOS and Android messaging apps, have played a significant role in achieving this. 
66% of consumers prefer messaging apps when reaching out to brands. It shows that these apps have become an essential part of every business. They are especially important for companies engaging in digital marketing. 
In this article, get to know the various uses and advantages of iOS and Android messaging apps to businesses. Further, we'll also give you a list of messaging apps that made it to our top 10 list this year.
Benefits and uses of iOS and Android messaging apps
Communication and collaboration are the two key essentials in establishing an excellent working culture and environment. Mobile messaging apps help streamline daily business communications, especially in a remote work setup.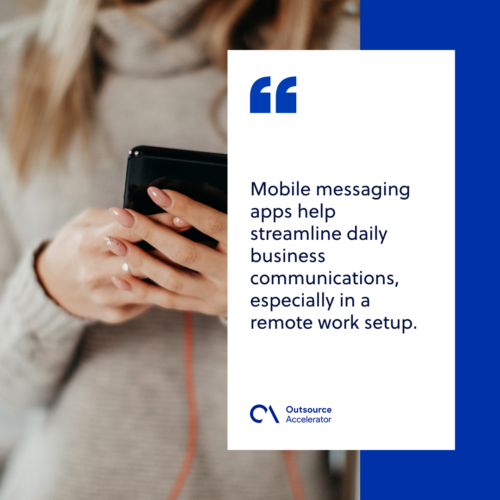 Below, we've listed five uses and benefits iOS and Android messaging apps for business: 
They speed up communication within the organization
iOS and Android messaging apps let remote teams connect and communicate with each other in real time. People can talk to one another instantly, skim important messages, and reply instantaneously. 
Compared to emails, messaging apps have no gatekeepers. Employees can immediately know who the recipient of the message is. They have no filters or spam folders. 
If these communication apps are used responsibly, they can potentially replace lengthy chains of emails, thus promoting productivity within the organization.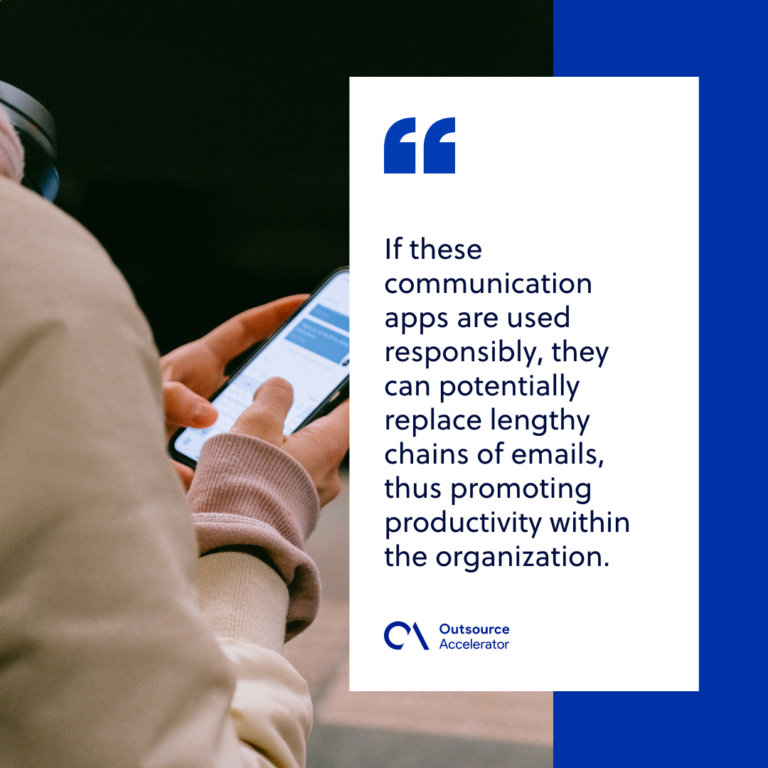 They democratize the working environment 
Mobile chat apps encourage democracy within the working environment, especially in uniting remote workers from different parts of the world. 
They help teams establish a work culture built with trust, loyalty, and accountability. They help form a collaboration between employees regardless of seniority or position. 
iOS and Android messaging apps are convenient 
These messaging apps have been the top communication channels people use today for one good reason: convenience. Smartphones have become an indispensable tool for everybody, and these apps are made to complement them. 
For instance, any staff can send an urgent private message, even while on a client call or at a meeting. 
Business leaders today have also embraced the importance of communication tools in bringing their distributed workforce together. 
They bring teams closer together 
Amid the widespread of remote work, communicating and engaging with co-workers is not as easy as in a physical office setup. Simple interactions after a meeting or even during breaks are not possible in remote work. 
Luckily, through iOS and Android messaging apps, remote workers can share ideas, have discussions, or have informal chats. They bring teams together by providing a digital platform for the usual in-office conversations. 
Even sending simple emojis, GIFs, or anything to smile about can help boost employees' morale while nurturing good working relationships. 
iOS and Android messaging apps are free
Besides sending instant messages to clients, customers, and workmates around the world, these messaging apps also save costs, especially on international calls.
Most messaging apps on iOS and Android are completely free and only require internet and mobile phones. However, businesses have to be aware and comply with data privacy laws like GDPR and CCPA. 
10 most reliable iOS and Android messaging apps 
Now, let's go to our list of the top 10 iOS and Android messaging apps for 2023: 
With millions of active users, Telegram is touted as one of the fastest iOS and Android messaging apps around. 
Users can also store their chat histories on their iCloud, with unlimited file-sharing. Its group chat feature supports up to 200,000 recipients. Other features include:
Photo and video editing

Stickers, animation, GIFs

Scheduled voice chats

Chatbots

Secret Chat feature
In terms of security, chats are protected with 256-bit symmetric AES encryption, 2048-bit RSA encryption, and Diffie-Helman secure key exchange. The app also has an encrypted Secret Chat feature that automatically deletes messages based on the set time.
Telegram is free of charge and ad-free. Apart from mobile phones, it works on other devices like tablets, iPad, and desktop platforms.
WhatsApp is one of the most popular iOS and Android messaging apps across the globe. It is downloadable for free and effortless to set up and use. Besides instant messaging, WhatsApp features include: 
Location sharing 

Photo, video, file, sticker, GIF, contact sharing

Individual or group voice and video calls (for up to 8 people) 

Customizable chat wallpapers

Snapchat-like editing features

Auto-delete chats after seven days
WhatsApp is owned by Facebook. This type of instant messaging app is built with end-to-end encryption for privacy and security. 
Facebook has made it easier for individuals to chat or call friends, family, or colleagues through its separate messaging app. 
Facebook Messenger automatically captures all contacts saved in Facebook itself. Users also can add more contacts individually by scanning a unique code. Its other features are: 
Voice and video calls

Location, file, document, video, and photo sharing

GIF and animated sticker sharing 

Sending money in several online marketplaces 

Secret Conversations and Vanish Mode
Facebook Messenger has also recently launched Messenger Rooms, which enables users to host over 50 people. It lets users create a unique link to the chat and share it with different people even if they are not on Facebook. 
KakaoTalk is the go-to instant messaging app in South Korea, and it has also been recently made available in the US. It claims to be one of the fastest and reliable iOS and Android messaging apps no matter the network. 
What makes this app stand out from other apps is its e-commerce feature. It offers deals and exclusive coupons from different brands, and users can also share them with their friends and families. 
Its other features are: 
Video chat

Appointment scheduling

Calendar organizing feature 

Kakao Pay
Since this app has gotten very popular for online transactions, KakaoTalk now offers branded credit cards that can be used along with virtual currencies. 
Viber has over 1 billion users all over the world, and it is also among the popular iOS and Android messaging apps at present. It automatically adds users' mobile contacts within the application.
This instant messaging app has Viber Communities, wherein users can join or create group chats for people with the same likes, passions, or hobbies. Viber also has other amazing features like: 
Group chats (up to 250 recipients)

Free Viber-to-Viber calls 

Encrypted color-coded messaging

Shorts (short story feature)

Create-your-own-GIF

Self-destructing chats

Cheap non-Viber worldwide phone calls
Line is a very famous instant messaging app from Japan, with over 600 million users around the world. It has a timeline feature similar to Facebook wherein users can post anything and friends can also comment on it. 
Line also offers other features like:
Free Line-to-Line voice and video calls

Paid landline calls

Exclusive stickers with Line characters

Group chats that support up to 500 users 

Line Pay
Many companies, brands, and artists have profiles on the Line app, where users can follow and interact with them. The app offers various advertising and promotional features in-app.
WeCom, also known as WeChat Work, is a messaging app developed by the creators of WeChat. Although it offers the same communication experience as WeChat, WeCom is designed particularly for office management. 
WeCom's features include: 
Corporate directory management

Video conference

Group Live streaming

Message exchange with WeChat
This iOS and Android messaging app can also be integrated with Mac and Windows. 
GroupMe is another instant messaging app that is created and managed by Microsoft. The only downside to this app is that Microsoft has not developed end-to-end encryption for it yet. 
While users may not be assured of their privacy, GroupMe has other offered features such as:
Create group chats for up to 500 recipients

Send GIFs, images, videos, or custom emojis

Share files, documents, or voice memos
Through the GroupMe app, individuals can also contact other people that are based in the US, even if they do not use the app. 
Discord was initially introduced in 2015 for gamers to engage with one another as they play online together. It has since grown in popularity among professionals from various sectors as a great communication option for smooth voice, video, and screen-sharing features. 
At present, Discord has over 300 million users across the globe for various messaging purposes. Its notable features are: 
Group chats for up to 10 participants

Hands-free voice chat feature 

Chat messaging with end-to-end encryption
WickrMe ensures the privacy of its users through end-to-end encryption. Users can send private messages, voice recordings, videos, or photos that self-destruct. It also has a Shredder feature that deletes attached files and other forms of documents securely. 
Other features include: 
Group chats for up to 10 participants

Conference calls

Pinning specific messages or groups on top of conversations
Unlike other iOS and Android messaging apps, WickrMe does not require an email address or a phone number to register to the app.