Inside sales outsourcing: Is it worth it?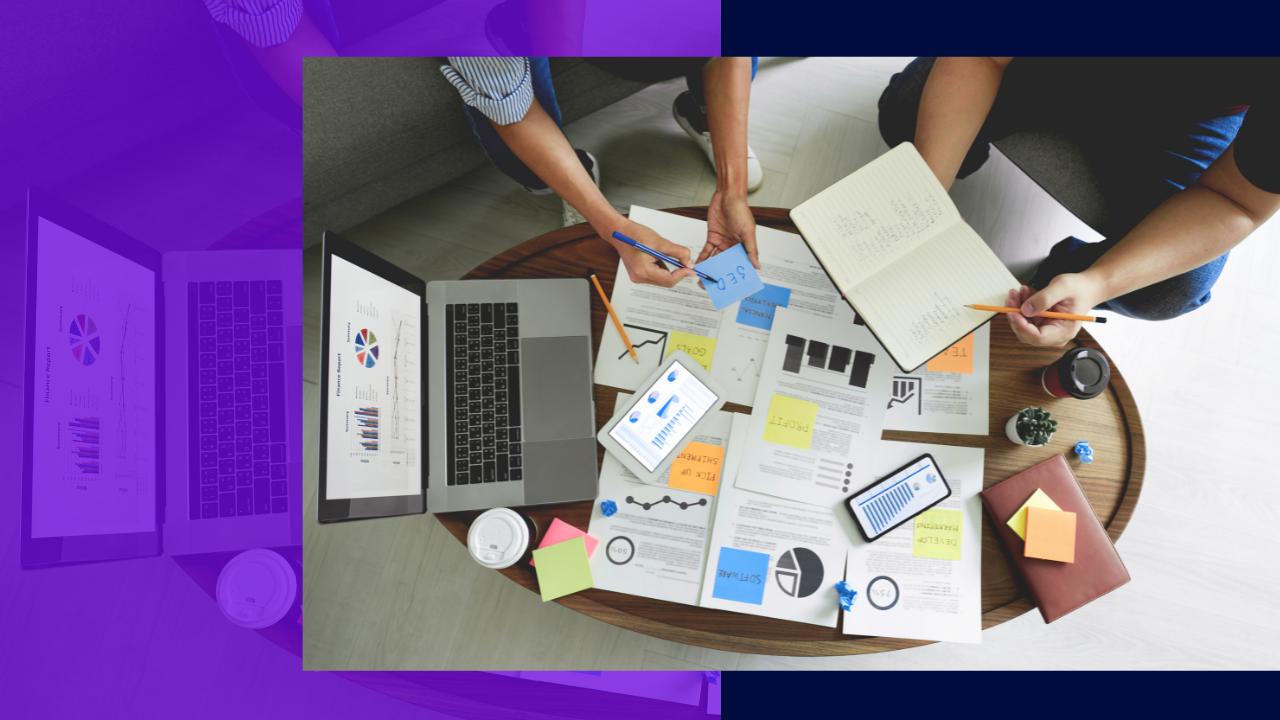 In a very dynamic market, businesses are constantly on the lookout for strategies to enhance their bottom line.
Outsourcing helps boost the bottom line by cutting unnecessary or saveable expenses. This is backed up by a Deloitte report that says the major reason why companies outsource is to reduce costs.
One specific strategy that has been gaining momentum is inside sales outsourcing.  But what exactly is inside sales outsourcing, and is it worth it for your business?
What is inside sales outsourcing?
Inside sales outsourcing is the practice of hiring a third-party company to handle your company's sales efforts. This typically includes lead generation, cold calling, appointment setting, and closing deals.
Essentially, you are hiring a team of sales professionals to act as an extension of your in-house sales team.
Outsourced sales reps work remotely and may be located across the globe. They use various technologies such as video conferencing, email, and phone to communicate with prospective clients and customers.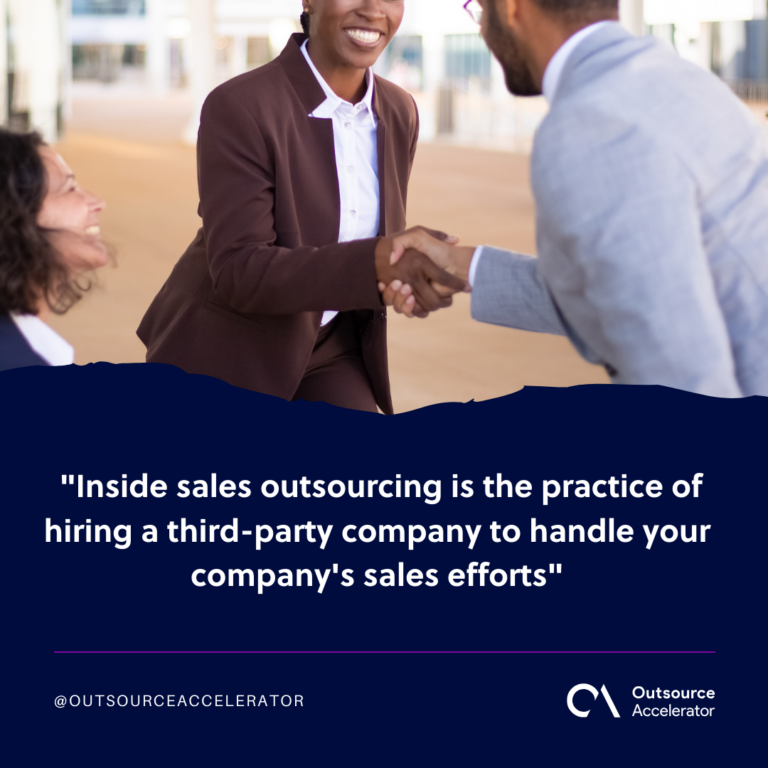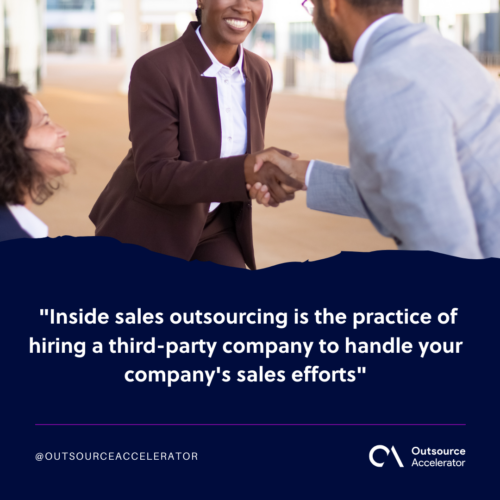 Benefits of inside sales outsourcing
Outsourcing inside sales presents a number of advantages, including:
Increased cost efficiency
As we've established, one of the primary benefits of outsourcing, in general, is it saves costs and resources.
When you outsource your sales functions, you avoid the overhead expenses of hiring, training, and managing an in-house sales team.
Some BPO firms work on a pay-for-performance model, meaning you only pay for actual results.
Expertise and specialization
Inside sales outsourcing companies obviously specialize in sales. They're equipped with teams of professionals who are well-versed in the art of selling.
These experts are trained to handle various aspects of the sales process. It means there's assurance your campaigns are executed effectively and professionally.
Scalability
Offshoring offers the flexibility to scale your sales efforts according to your needs.
Whether you require more resources during peak season or less during a lull, outsourcing allows you to adapt quickly. Plus, you won't need to worry about the challenges of managing an in-house team.
Focus on core competencies
You can redirect your in-house team's focus on core business activities by offloading sales functions to a third-party provider. This ensures that your resources are allocated efficiently, leading to better overall productivity.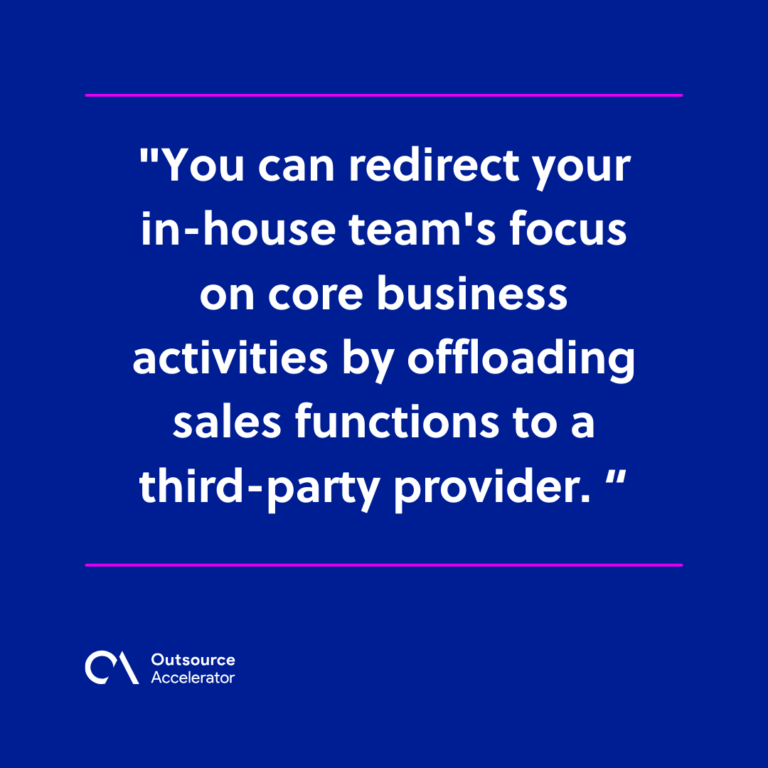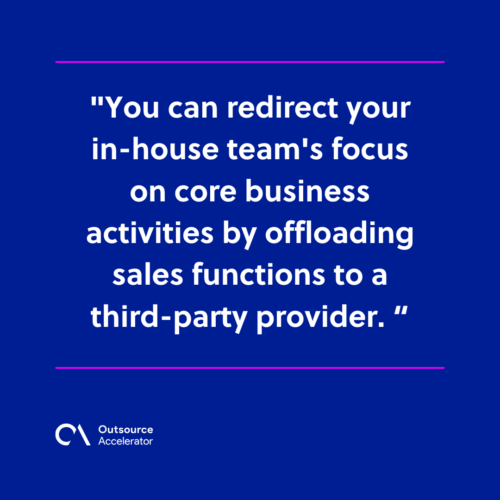 Access to advanced tools and technologies
Many inside sales outsourcing companies streamline their operations using cutting-edge tools and technologies.
By partnering with them, you gain access to these resources without the cost and hassle of acquiring them yourself.
Global reach
BPO providers often have a global presence, which can be particularly helpful if you want to tap into international markets. They can help you reach a broader audience and navigate the complexities of different regions.
When to consider inside sales outsourcing
While inside sales outsourcing offers several benefits, it's not a one-size-fits-all solution. Here are some scenarios in which it might make sense for your business:
Limited in-house expertise

. Outsourcing can bridge the gap if you lack the expertise and resources to manage an in-house sales team effectively.

Cost constraints

. When budget constraints challenge hiring, training, and managing a sales team,

external staffing

offers a more cost-effective alternative.

Need for rapid expansion

. If you're looking to expand your sales operations swiftly, outsourcing can provide the agility required to scale up.

Seasonal fluctuations

. Businesses with seasonal sales patterns can benefit from the flexibility that outsourcing provides. It lets you easily adjust your sales force to match demand.

Prioritize core competencies

. When you want your in-house team to concentrate on core business functions and strategic initiatives, doling out sales activities can free up their time and energy.
Choosing the best inside sales outsourcing companies
Selecting the right inside sales outsourcing partner is crucial for a successful collaboration. Here are important things to think about:
1. Industry experience. Look for BPO providers with experience in your specific industry or sector. They're more likely to understand your target audience, sales process, and unique challenges.
2. Reputation and track record. Do some research on the reputation and track record of potential outsourcing companies. Case studies, client testimonials, and referrals can provide valuable insights into their performance.
3. Scalability. Verify if the provider can scale their services to match your needs, especially if your business experiences fluctuations in sales volume.
4. Communication. Successful partnerships rely on effective communication. Choose a provider with clear communication channels and a dedicated point of contact.
5. Technology and tools. Inquire about the technology and tools the outsourcing firm uses. A tech-savvy partner can leverage advanced solutions to enhance your sales efforts.
6. Cost structure. Understand the provider's pricing structure and confirm it matches your budget and needs. Clarify any hidden costs to avoid surprises later.
7. Data security. Sales often involve sensitive customer data. Verify that the outsourcing company has robust data security measures in place to protect this information.
Improving performance with inside sales outsourcing
Inside sales outsourcing is a dynamic strategy that can significantly impact your business's sales performance.
By leveraging the expertise and resources of a trusted external partner, you can enhance efficiency, reduce costs, and expand your sales efforts effectively.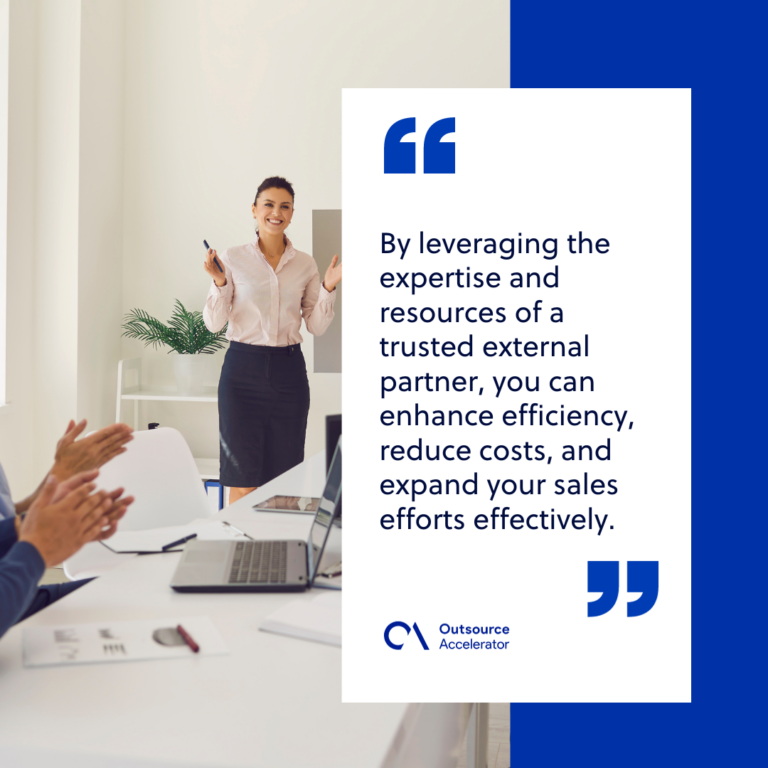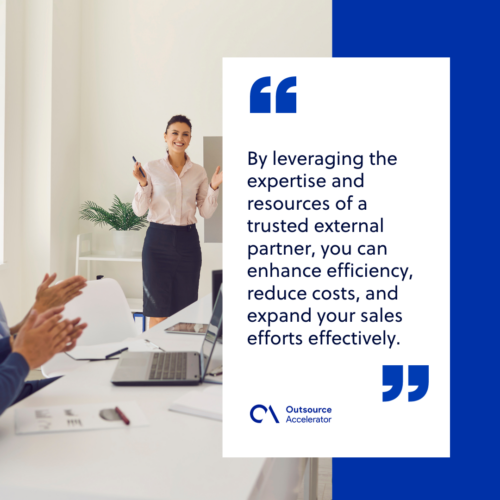 To make the most of this approach, carefully select a provider that aligns with your needs and continuously collaborate to optimize performance.
With the right strategy and the support of a reputable outsourcing company, you can unlock your business's full sales potential.