Companies around the globe are facing perilous trading conditions as Covid-19 bites hard.
They are dealing with heavy overheads, high staff salaries and decimated revenues.
If nothing else, the pandemic has shown business owners that the expensive office space they're leasing, isn't as critical as they thought as their employees work from home.
>>> Read the OA Business Recovery Plan
>>> Working Post-Pandemic: What Employers Need to Know
Put simply, using offshore staff will help you cut costs, rebuild your business and grow your revenues – all of which is critically important during the pandemic.
Helping rebuild your business
Offshore staffing can provide the skills you need at a fraction of the cost:
Prices start at $6/hr all-in
you can employ highly qualified staff, including the office space, hardware and account management from just $6/hr all-in. You can't afford not to consider this for your business.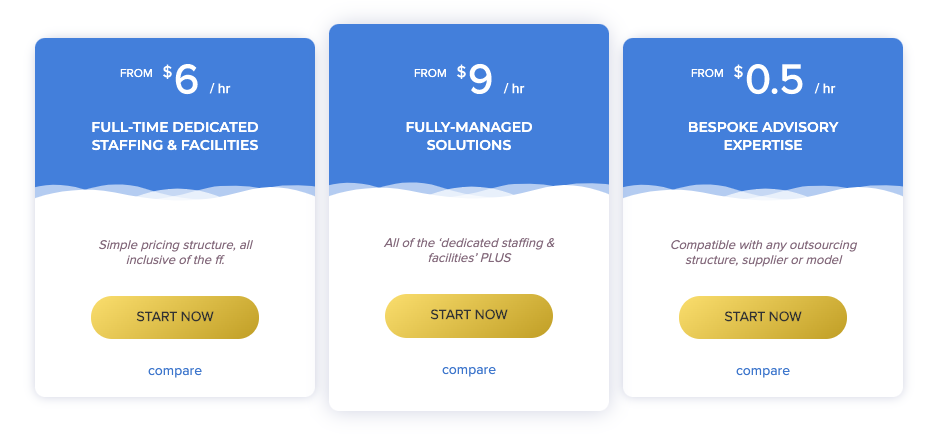 The all-in price includes A Grade facilities, hardware, internet, HR compliance, government contributions and health insurance for the staff, and account management – and of course, the salary.
The world leader in staffing solutions
The Philippines is known as the outsourcing capital of the world. It has a highly-qualified highly-skilled workforce that speaks natural English and is culturally aligned. The country produces over 650,000 college graduates every year, and salaries range from $500-$1,000 / mo. India is slightly cheaper, but overall the Philippines offers a broader range of generalist skillsets, lower friction, and better more reliable results.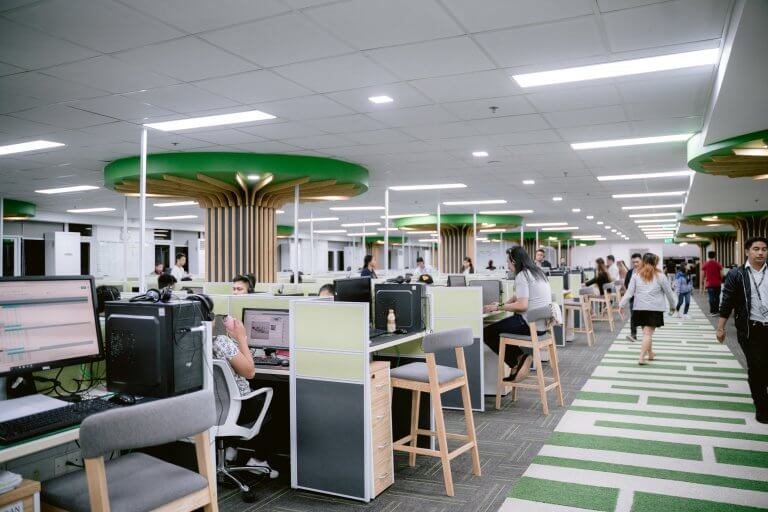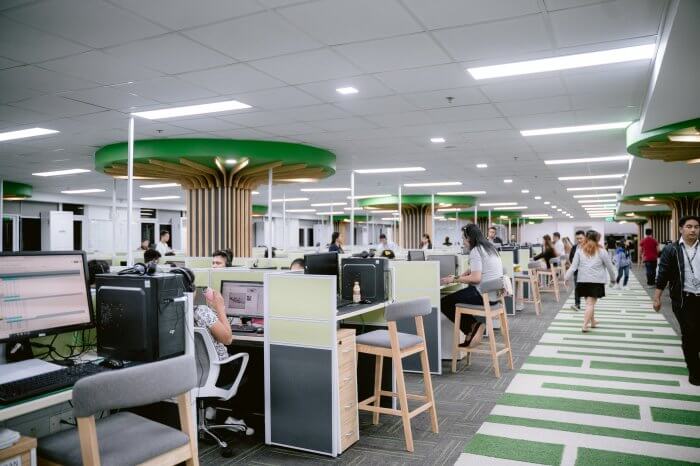 Great reasons to outsource
Outsourcing not only saves you 70% on your staffing costs; you can easily build the exact team you need fast and on flexible terms.
Save 70% on your labour cost

Your staff costs constitute a major part of your company's monthly expenses. Salaries in the Philippines can be 60%-90% cheaper than your local market. This means that you can afford to hire the best people to work for your business without breaking the bank.

Your offshore team will work from an A-grade office using the latest computers in an inspiring environment. All of this is taken care of for you – allowing you and your team to concentrate on your core business. All-in, you will save 70% on your staffing costs.
Fluent English

The Philippines instituted English as an official language to be taught in all schools, the only country in the region to do so. Today the Philippines is the third largest English-speaking country in the world, second only to the US and UK. English is the official language for science, math, and technology.

Good English coverts to more sales, happier customers, and smoothly business processing. It's that simple. And our research showed customers in the US & UK just prefer the Filipino accent compared to, say, India.
Flexible workforce (& costs!)

In this environment you want to have cost flexibility. Business is bad today, but it might come back quickly.

Outsourcing will add flexibility to your company as you can tap into the scale, technologies, and infrastructure of your outsourcing partner. Whether you want to start with 2, 5, or 50 employees, they can quickly find the talent to fit your needs. You might start with two accountants, three developers, an executive assistant, and scale from there.
Highly skilled workforce

Outsource Accelerator, for example, introduced us to all college graduates, and these guys are equally as smart as western educated staff, just at a fraction of the cost. Actually, we found they work harder than our staff in in Australia and the UK!

Also, business from many different industries outsource to the Philippines. This means that you can find more senior employees with experience ranging from accounting to e-commerce, managed service providers to graphic design.

Outsource Accelerator have dedicated Account Managers who specialise in providing solutions for your industry. They will be with you every step of the way, providing the support and advice to help you get the most out of your remote team.
Reduced legal risk

Businesses in the United States are at a high risk of being sued by their employees – especially around the pandemic! In normal times (non-pandemic), small and medium businesses face a 12% chance of a lawsuit each year. Even worse, the average cost of going to court is $125,000.

Working with an outsourcing company removes this risk. The company takes on the risk and you benefit from the staff.
What can they do?
You can find any skill you need for any role in any sector. If the work can be done in front of a computer, then it can be done offshore at an equal quality for 70% cheaper.
Back office

Data entry & processing

Data entry and processing is among the first processes to be successfully outsourced to offshore providers as the workflow processes are simple, performance is easy to measure, and cost savings are quickly evident. The process can include everything from data entry work, creating new databases to research and document management systems.

Customer support services

Call centres dominate the Filipino outsourcing industry with voice-based services accounting for more than 70% of BPO revenue. The Philippines is currently ranked #1 globally in offshore voice-based outsourcing services, and is considered the best source for proficient English language speakers with neutral accents and a strong familiarity with Western diction and figures of speech.

Customer support outsourcing with Outsource Accelerator allows you access to specialised knowledge of call centre operations for specific industries. We have a pool of highly-trained customer support professionals who can assist you with valuable insights and strategies that can only come from years of experience in the field.

Transcription services

Leveraging transcription services outsourcing has become a proven way for all types of organisations to manage costs, improve the balance sheet, and focus on core competencies. Outsourcing your transcription services with Outsource Accelerator not only relieves you of the responsibility of recruiting for transcription jobs; it also frees you from the hassle of maintaining and training a dedicated staff for that purpose.

HR & recruitment services

With over 80% of overhead costs going to human resources, your ability to recruit effectively and retain high-performing talent present a significant competitive advantage. If your business is rapidly growing, administrative tasks are increasing, or if you're not quite ready to hire a full-time HR team altogether, outsourcing some HR and recruitment functions might work for you. It allows you access to a talented pool of HR practitioners, all with relevant university degrees, experience and qualifications.

You also save on heavy recruiter fees typically charged by firms in the US or UK.
Finance & accounting

Qualified accountants

We only select skilled and knowledgeable Finance and Accounting personnel who are well–versed with industry best practices and are experienced in optimising key processes to better enhance your business's operational and financial agility. Here's what to expect from Outsource Accelerator accountants:

Fully trained English-speaking CPAs, ready to work in your timezone, and overseen by in-house qualified CPAs
Enterprise-level data protection provided by us in one of our secure offices or through our own office-grade security and performance technology, with 24/7 IT security and support
Accountants and Bookkeepers experienced in AU, US, UK or Canadian tax and business environments
With a network of Xero advisors and experts in MYOB, QuickBooks, Sage Handisoft, Xero and other major accounting tools and software
Up to 70% lower cost than comparable locally-based accountants and bookkeepers.
Outsource Accelerator hires highly qualified loan processors for you and they get the job done. Loan processing can get tedious and burdensome as they are the go-between the borrower and the lender. They negotiate the loan on behalf of the clients and handle the full cycle of loan processing from lodgment and tracking to settlement. Alongside, they provide general admin support including bank reconciliations and issuance of insurance documentation.
Payroll support personnel prepare and process payroll data of employees correctly and in timely manner by sourcing and consolidating information from timekeeping records. They file, maintain, and update payroll records including exemptions, resignations and transfers. They also ensure payroll policies are adhered to and that payroll issues or discrepancies are validated, reconciled and resolved.
Marketing & sales

Marketing associates

Marketing associates provide support to a wide range of marketing activities. They help in planning and executing initiatives required by your business. Your dedicated team is focused on initiating ideas, implementing strategies to create awareness, advocate and market your brand, and maintain database all the while remaining cost-efficient. Outsource Accelerator provides growth opportunities for marketing associates as their roles and functions are highly progressive.

Copywriters

Our highly-skilled copywriters work with you closely in building the brand of your business by providing you with well-written, fresh and a range of content types as you need it. Businesses rely on Outsource Accelerator's pool of writers who can readily write persuasive copy according to your desired brand style and requirement. They may also be assigned in creating and developing other marketing collaterals and publicity materials for your business.

Graphic designers

Graphic designers are responsible for layout designs and visual projects from conceptualisation to completion and ensure these are aligned with your requirements. Outsourcing graphic designers comes with several benefits including scalability of work, saving time, flexibility, gaining fresher perspectives for your visual brand presence and most importantly, keeping you engaged in building your target audience.

Media planners

We can provide you a roster of competent media planners who can negotiate with media vendors and manage media placements directed at your prospective or target audience. We source out the suitable media planner who is able in identifying media channels for your marketing and communication efforts. You can benefit from the experienced talents who are adept in using and analysing research data needed for advertising strategy.

Why companies need offshore telemarketing services

Telemarketing is a very effective way of reaching your target audience and generating sales. Outsourced telemarketing services are a cost-saving and cost-effective way to generate leads in bulk. With Outsource Accelerator's approach to recruiting top-grade telemarketers, you are assured of getting only exceptionally talented individuals who are experienced in inbound sales, inbound customer services, outbound sales and research, telemarketing sales and outbound lead generation.
IT developers & support

Web developers

Outsource Accelerator recruits skilled web developers to build and maintain any kind of website – getting you a reliable output while you save on costs. Our web developers use the latest technologies to give your website the optimum competitive edge.

Web developers are responsible for customising, coding and enhancing layouts, images and text of your website. They create unique user experience (UX) by utilising website building platforms. It is essential that you tap web developers with top-notch programming skills and extensive experience in web functions and standards and every domain.

Software developers

Business can tap Outsource Accelerator in recruiting and selecting able software developers. They are responsible for the design, installation, testing and maintenance of software systems.

Among the other core responsibilities of software developers include writing program codes and presenting and developing ideas for system improvements. Whether you need software developers for the design and analysis of new or existing software applications, offshore development is a viable solution that Outsource Accelerator can provide you.

Network administrators

Network administrators manage all hardware or software that server or system administrators install and configure. They keep the organisation's computer network up to date and running smoothly. If your company utilises multiple hardware and software platforms, you may opt to offshore network administrators to do this job. Network administrators manages the IT infrastructure daily. They also oversee and monitor the maintenance, repair or upgrade of the computer servers and network systems.

Database administrators

Database administrators plan and develop database. They maintain the overall integrity and performance of the company's databases and ensure that these are secured. They also work hand in hand with the IT project managers and programmers. Firms that are data-intensive like insurance and finance count on the reliability and competence of database administrators.

Technical support

The scope of roles of technical support can be vast and these require both hard skills and soft skills. Among their main responsibilities include configuring and installing computer systems. They also address technical problems, provide assistance, and diagnose hardware or software glitches and problems.

Game developers

Onshore game developers these days cost a lot as pay rates continue to get higher. Outsource Accelerator can access a pool of highly regarded offshore game developers whose pay rates are lower than their Western counterparts.

Offshore game developers are well-versed in programming languages and creating video games. They are heavily involved in the process of creation of prototypes and production of games from conceptualisation, designing, coding and programming, and testing. They also address and solve complex technical problems during game production and design review.
That's just a snapshot of some of the skills and solutions available. What are your requirements?
Rebuild your business
The biggest challenge of the Covid-19 crisis is simply staying in business until the first phase of this crisis is over. then, it's about slashing costs, adapting to the new normal, and rebuilding.
Outsourcing with Outsource Accelerator can help reduce costs and access the skilled resources you need instantly.
Get a quote from Outsource Accelerator now to see what you can save, streamline & improve.