5 unfailing sales tactics to help you surpass your quota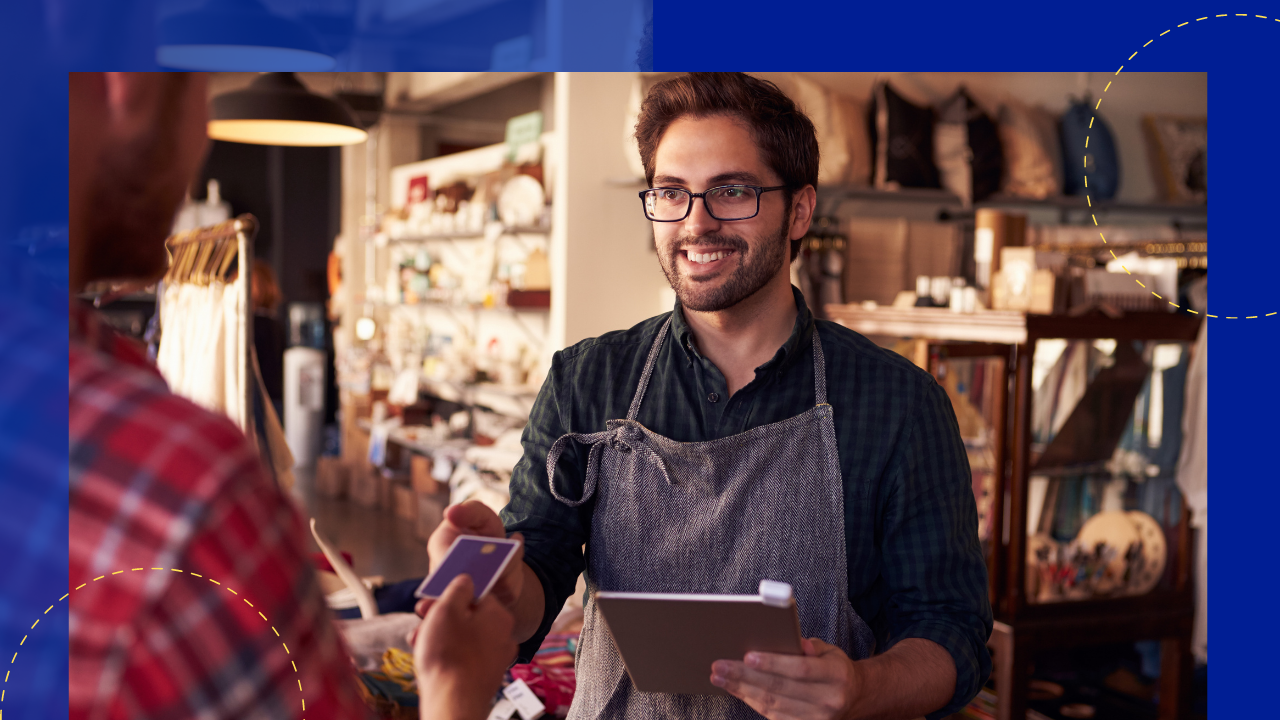 Working in sales can be pretty challenging and demanding. It is a critical part of every business, running on the profits the department brings in. In other words, an organization's financial success and health are defined by its sales flow. 
Moreover, it is the responsibility of salespeople to cultivate a good relationship with target consumers, which leads to sales. Apart from having the right set of skills and knowledge, sales teams also make use of robust sales tactics to attract the right customers.
Let us find out how these sales tactics can be used to help your reach and even exceed your sales goals! We also reveal five sales tactics that you can follow to boost your sales performance. 
Significance of sales tactics to a sales strategy 
Marketers and sales representatives incorporate sales tactics into their sales strategies to ensure that their target consumers buy what they are selling. 
Sales strategy and sales tactics are two distinct tools that should always go hand-in-hand. However, in most cases, sales tactics and sales strategies are often interchanged. 
When working in sales, it is vital to know the difference between the two: 
Sales strategy
A sales strategy serves as an organization's blueprint on how they will be able to reach their marketing and sales goals. It involves a deeper understanding of brand knowledge, your target consumer market, and what your competitors are currently selling or doing. 
A sales strategy should always answer the questions, "What if?" and "What for?"
Sales tactics
Your sales tactics will define your sales strategy. It refers to how you'll be able to put your sales strategy into action. One example of a sales tactic is when you create and utilize your website to gain more leads. 
Just like how marketing and sales should work together, sales strategies and tactics are two concepts that effectively work conjointly. Sales strategy lays out your goals and objectives, while sales tactics define how you'll bring them to life.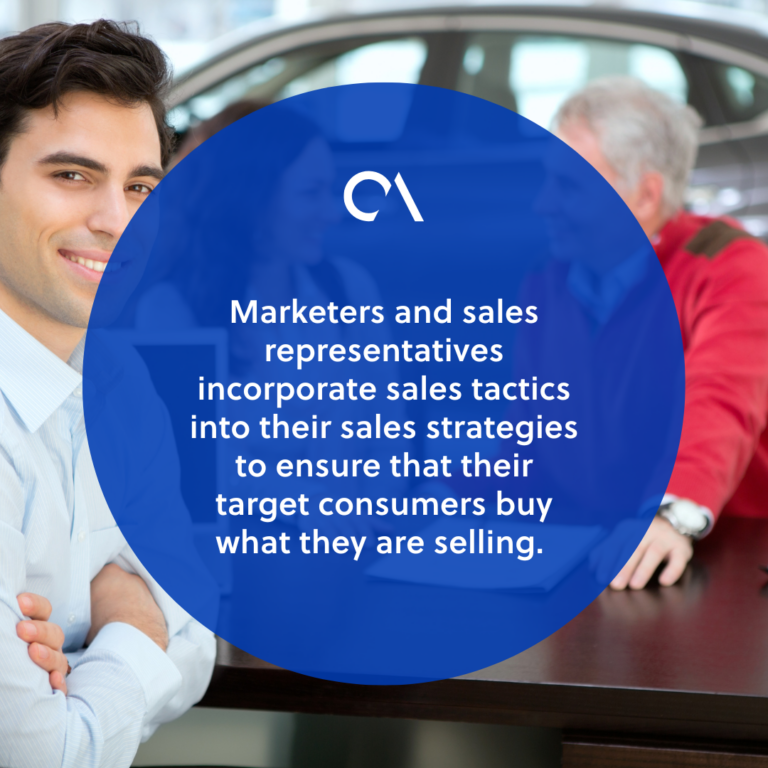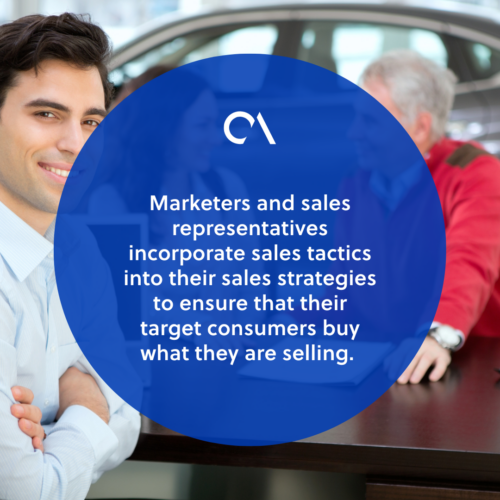 5 absolute sales tactics to help exceed your quota 
Besides having excellent skills, you need tactics to help you in bagging those sales. Below are five unfailing sales tactics to effectively persuade your target consumers to buy your products and services: 
Utilize social media in finding more leads
A lot of business decisions made by most organizations these days cater to the younger generation. And social media is the ultimate avenue where you can find this type of customer base. 
A recent survey conducted by Sprout Social has shown that 75% of millennials make use of social media platforms to communicate with brands. Even the younger and older generations are often found interacting with brands online. 
So if you want to reach them, social media is the fastest and most effective way to go. To find new leads, you can use platforms like Facebook, Instagram, and Twitter to showcase your products and services and engage with your customers.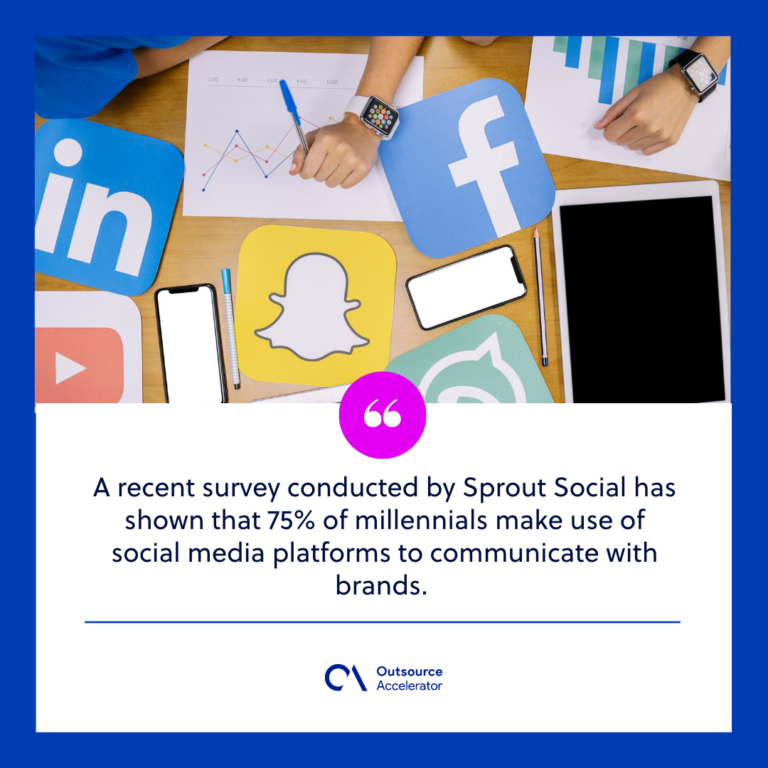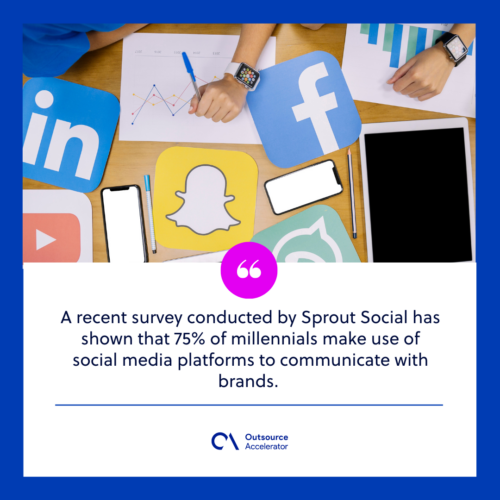 Provide solutions to your customers' problems
It is unethical to jump straight to selling when engaging with customers. Rather, a good sales tactic is about demonstrating how your products and services can positively impact their day-to-day lives. 
Focus on your products and services' features and how they are uniquely different from your competitors. 
Take advantage of your customer referrals 
Saasquatch's 2020 survey has revealed that referred customers are 18% more loyal and have a shorter sales cycle than non-referred customers. This only goes to show that word-of-mouth referrals can help you gain the most valuable customers. 
Note: Before you can earn customer referrals, make sure to provide a high-quality customer service experience. Happy and satisfied customers will be delighted to refer more customers to salespeople that they like.
Invest in the right tools and technology
Your manual repetitive sales tasks can now be automated in today's tech-driven world. All you have to do is invest in the right tools to help you focus on more important tasks, especially in strategizing your sales tactics. 
Examples of the sales tools you should consider investing in are CRM software, email automation, sales intelligence, and PR and link-building tools. 
Offer incentives to your existing customers 
You should be able to maintain a good relationship with your existing and loyal customers. Part of your role as a sales professional is to regularly keep your past customers in check. 
Offering discounts and incentives encourages customers to buy more of your products and services. A customer incentive program is one of the best sales tactics businesses can use to help generate a solid return of investment (ROI).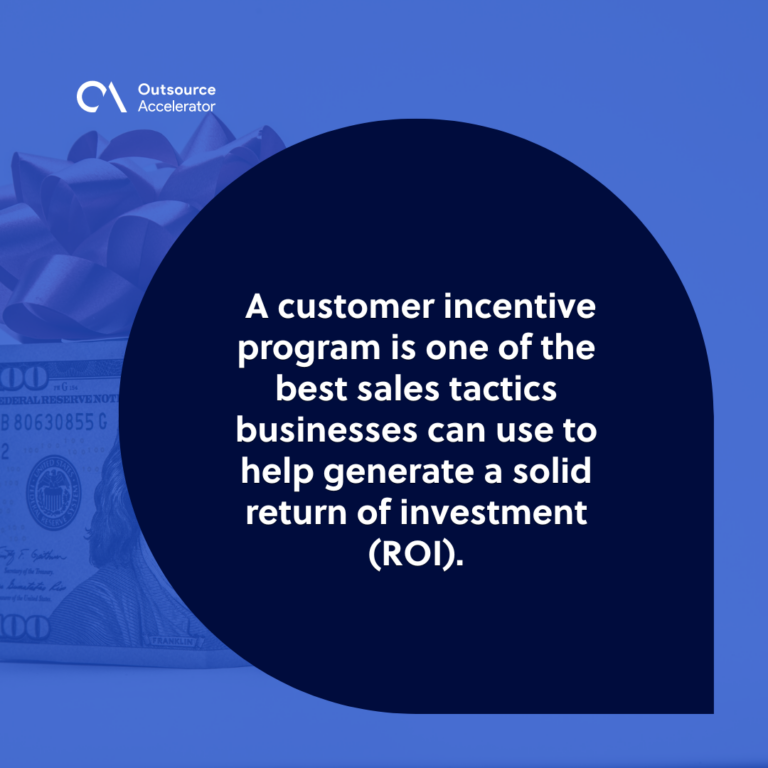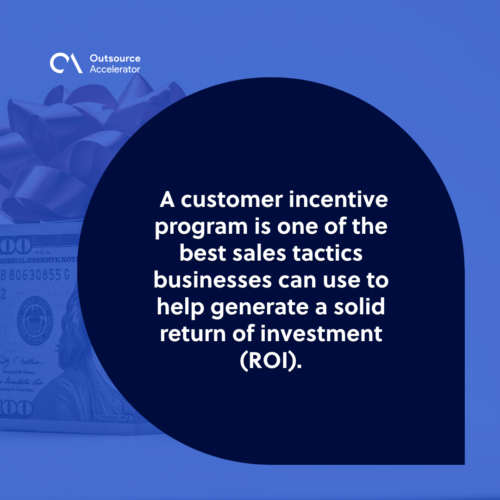 Do sales tactics really work? 
You need to have sales tactics as much as you need a sales strategy. Making use of sales tactics, particularly what we have discussed above, can surely help you close more sales and even exceed your sales quota. 
Sales tactics are your key essentials to not just enriching your sales pipeline but ultimately, ensuring that you close more deals! If you need further help in improving your sales tactics, reach out to trusted BPO providers like SixEleven BPO to get all the assistance that you may require.