Top 10 sales intelligence tools this 2023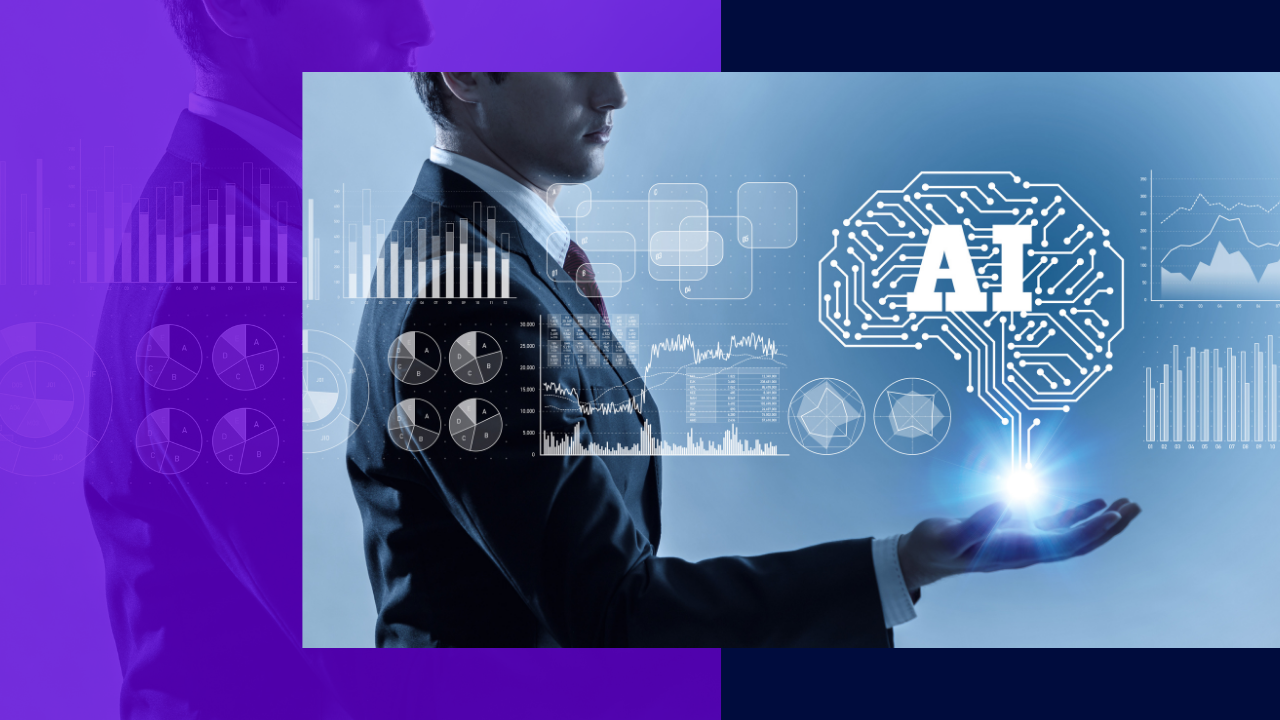 In an increasingly digitized world, global companies have tighter competition in all aspects, including sales. With traditional sales prospecting becoming obsolete, they must look for ways to improve their sales efficiency and have more customers.
Fast-paced sales teams nowadays should be matched with an efficient tool at work. One of the secrets to improving their performance is to have a sales intelligence tool that will help them close deals better.
While most tools offer all-in-one solutions, some of the top sales intelligence tools in the market specialize in a certain function. This makes it easier for companies to customize according to their goals and metrics. 
We have listed the top 10 sales intelligence tools used by most sales teams this 2023. 
What are sales intelligence tools?
Sales intelligence tools monitor data points to identify sales triggers. They help sales teams find an ideal customer profile by crawling millions of data from websites and matching them to their existing profiles.
Sales intelligence tools usually overlap with several online tools such as CRM, email tracking, and predictive sales analytics in terms of their features. Some of their most common functionalities include the following.
Filling up missing customer information

Qualifying leads

Adding company and industry details

Tracking website interactions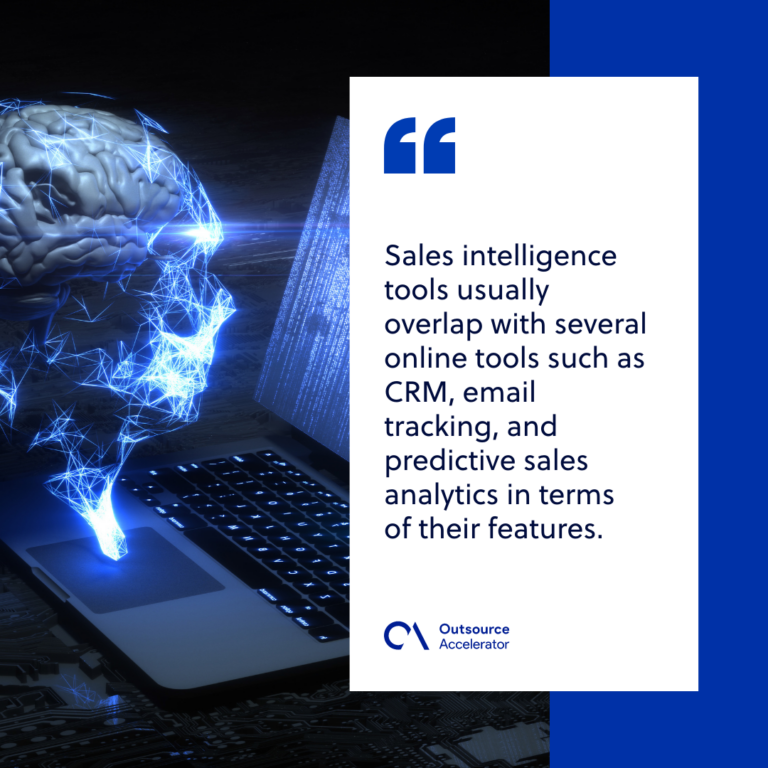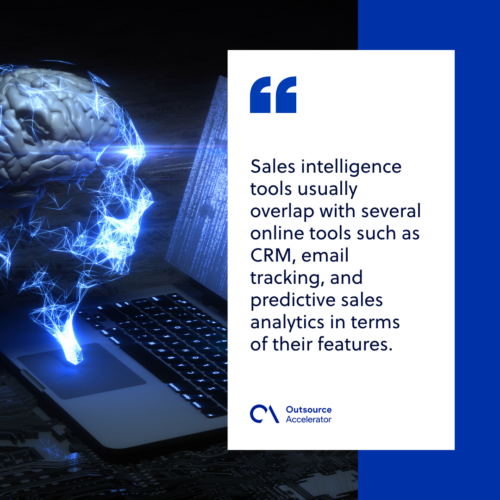 How sales intelligence tools will benefit you
By using sales intelligence tools, businesses can have access to better sales opportunities. More specifically, it can give them the following benefits.
Improve a team's data quality

. Based on a

Gartner survey

, poor data quality costs global firms an average of US$12.9 million. Using sales intelligence tools helps them clean and improve the data quality used for sales and other functions.

Conduct market research

. Most businesses are still not able to unlock their full sales potential with their untapped markets. They can conduct more thorough market research and discover new leads for their products with sales intelligence tools.

Upsell and cross-sell better

. At the same time, these tools can help them personalize their strategies for each customer, leading them to

upsell

and cross-sell better.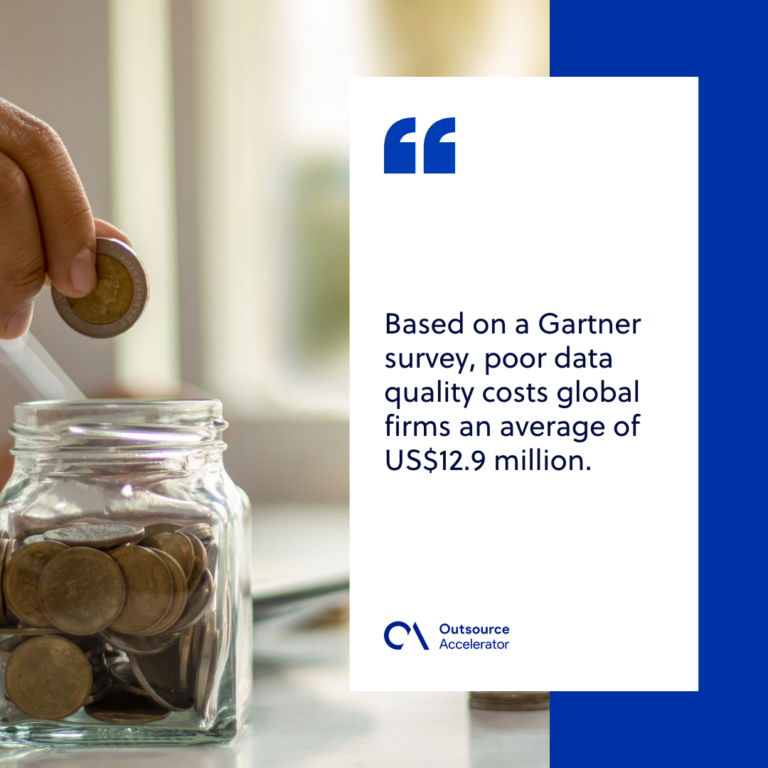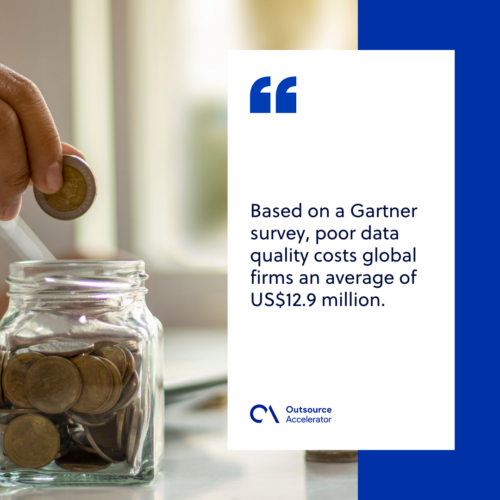 Top 10 sales intelligence tools to use this 2023
| | | | |
| --- | --- | --- | --- |
| | Price point | Free trial? | Integrations available |
| ZoomInfo | – | Yes | CRM, marketing automation, communications (Zoom, Slack, etc.) |
| Wingman | US$60.00 /month | Yes | CRM, calendar, marketing automation, video communications (Skype, Google Meet) |
| Salesloft | Free | No | CRM, video conferencing, sales productivity |
| Chorus.ai | – | Yes | CRM, automation, calendar, communications |
| Invoca | US$1,000.00 | Yes | CRM, customer experience (CX), social media, web analytics |
| HubSpot Sales Hub | US$50.00 /month | Yes | 1,000+ tools, including CRM, communications, and calendar |
| Outreach | – | Yes | CRM, marketing, chat |
| LinkedIn Sales Navigator | US$79.99 /month | Yes | CRM, email building |
| Overloop | €39.00 (US$ 42) /month | Yes | CRM, collaboration, calendar, email |
| Salesforce Sales Cloud | US$ 25.00 /month | Yes | N/A |
While some tools provide all-in-one features for lead generation and record management, most sales teams would use multiple software depending on their requirements.
Here are the top sales intelligence tools commonly used this 2023.
Firstly, ZoomInfo is a comprehensive B2B sales intelligence platform helping companies "connect with and close [their] most valuable buyers." 
The platform combines its extensive business directory with technology to provide a "360-degree view" of its customers and sales opportunities.
ZoomInfo pricing and trial
Pricing plans on the platform are calculated based on several elements, including features, licenses, and integrations to be done. While they do not offer fixed pricing for each package, it tailors to the usage volume each client needs in a certain period.
A free trial is provided for firms to try out ZoomInfo for a specific period. At the same time, firms can opt to download the Community Edition of the platform as long as they abide by its terms and conditions.
True to its name, Wingman serves as a real-time sales coaching tool for sales reps. It provides "the right information at the right time" during a call by automatically joining and providing cue cards in every situation. 
Wingman pricing and trial
The platform offers a basic "Growth" plan starting at US$60.00 per month. This plan allows up to 10 sales reps to do essential functions, such as transcription and tracking overall performance.
Salesloft is a leading sales engagement that created the Modern Revenue Workspace. The platform helps sales teams increase their revenue by automating sales tasks, guiding their sales strategies, and providing coaching for reps.
Salesloft is widely used by household names such as Shopify and IBM. 
Salesloft pricing and trial
Users can start utilizing Salesloft Labs for free with limited features. Salesloft also offers packages for specific functions such as prospecting and increasing sales engagement.
A part of ZoomInfo, Chorus.ai is a leading conversation intelligence platform designed to improve team performance and gain comprehensive market insights. It generates call notes to optimize a sales conversation and make closing easier for reps.
Chorus.ai pricing and trial
While it doesn't have specific pricing plans indicated, Chorus offers tailored pricing for users depending on their volume of calls in a certain period. A free trial is available for businesses looking to try their products before purchasing.
Invoca aims to deliver "better experiences, more conversions, and higher revenue" for businesses worldwide. It enables teams to use conversation intelligence to create a seamless experience for their customers. 
Invoca pricing and trial
Pricing for Invoca is at US$1,000.00 for starters. While it doesn't have fixed pricing for its plans, interested users can ask for a tailored quote depending on their estimated usage.
HubSpot Sales Hub is an all-in-one platform designed to help teams close more deals and maintain good client relations during a sales transaction.
It eliminates friction and inefficiency in sales functions with its integrated features. With this, sales teams don't have to pull up multiple tools for email tracking, lead generation, and call tracking.
HubSpot Sales Hub pricing and trial
HubSpot Sales Hub offers limited free features, including live chat and deal pipeline. Additional sales functions such as automation and goal setting are available with a paid plan starting at US$45.00 per month.
Outreach is a sales intelligence platform that helps companies increase their productivity and customer engagement. 
Trusted by thousands of companies worldwide, it claims to be the only provider that integrates engagement, conversation intelligence, and revenue intelligence on one platform.
Outreach pricing and trial
Like most tools, Outreach tailors its pricing depending on its client's requirements. It offers a demo trial for companies upon request and a limited period.
LinkedIn Sales Navigator helps businesses "tap into the full power of LinkedIn" to increase sales. It lets users find and reach out to prospects and clients on the site, build relationships with them, and convert them into customers in no time.
LinkedIn Sales Navigator pricing and trial
Annual plans for LinkedIn Sales Navigator start at US$79.99 per month for core features. It also offers a free trial for a limited period.
Formerly Prospect.io, Overloop is tagged as the "CRM made for outbound sales teams." The platform makes outbound sales easier with the help of features such as cold email campaigns and automated list-building.
Overloop pricing and trial
Overloop has a lite plan limited to one user starting at €39.00 (US$ 42) per month. Companies can expand to additional users and features by upgrading to a standard or advanced plan.
Lastly, Salesforce Sales Cloud prides itself on helping global firms grow through sales. One of its highlighted features is Slack integration for easier management of functions and services.
Salesforce Sales Cloud pricing and trial
Pricing for Salesforce Sales Cloud starts at US$25.00 per month for each user. While it offers limited features and support, users can opt to expand their plans to get more.
How to choose the top sales intelligence tools for you?
Given the abundance of sales intelligence tools in the market, it's easy to be confused in looking for a suitable one for a company.
Some firms don't simply rely on looking for the top sales intelligence tools as long as they suit the following criteria.
Pricing

. Pricing is most crucial for startups and small businesses new to automating sales. With this, setting a price benchmark for the tool they will get is natural for them.

Usability

. Aside from the price, most companies would look for easy-to-use platforms so their teams will be more efficient at their work.

Flexibility

. Lastly, sales teams would be better off with a sales intelligence tool that is easier to customize depending on their needs.