Top 7 upselling tactics that guarantee success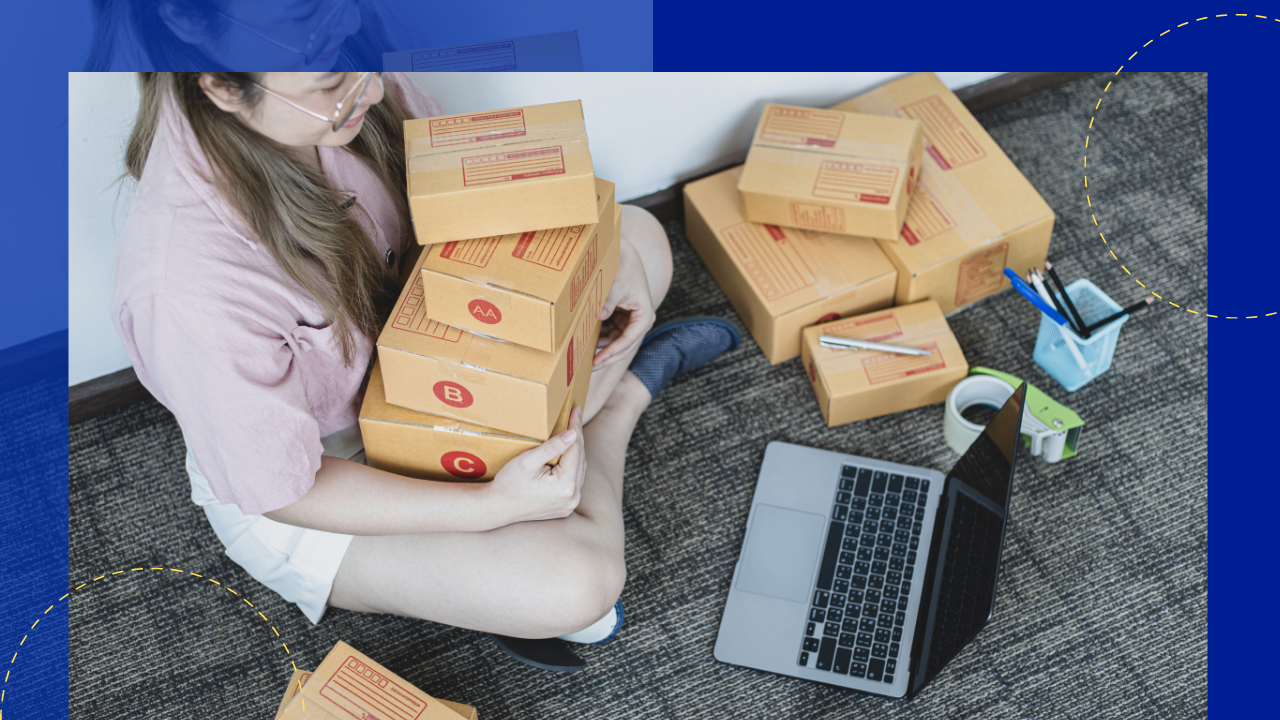 Sometimes closing one sale just doesn't cut the deal. Salespersons need to find a way to sell more, further increasing a company's profit.
Upselling is a known strategy for this. Companies are coming up with different strategies to upsell more and help their customers win in return. 
Customers often reject upselling for various reasons. While they would say "no" to an offer due to financial limitations, most find it too intimidating that they get discouraged to go back to a business.
Upselling isn't inherently wrong, as long as it is done right. Let's find out how to retain and satisfy your customers through upselling with the following tactics.
What is upselling?
Upselling is a sales technique used to encourage customers to upgrade their purchases. It lets customers choose between 'tiers' of a product, showing better features they can receive should they upgrade.
The main goals in upselling are to help clients increase their satisfaction in their purchases. This could help them get the best value out of an item by adding a small fee or even a discount from an upgrade. It is also an efficient way to retain existing customers and attract new ones better.
Upselling is practiced on business-to-business (B2B) and business-to-consumer (B2C) businesses.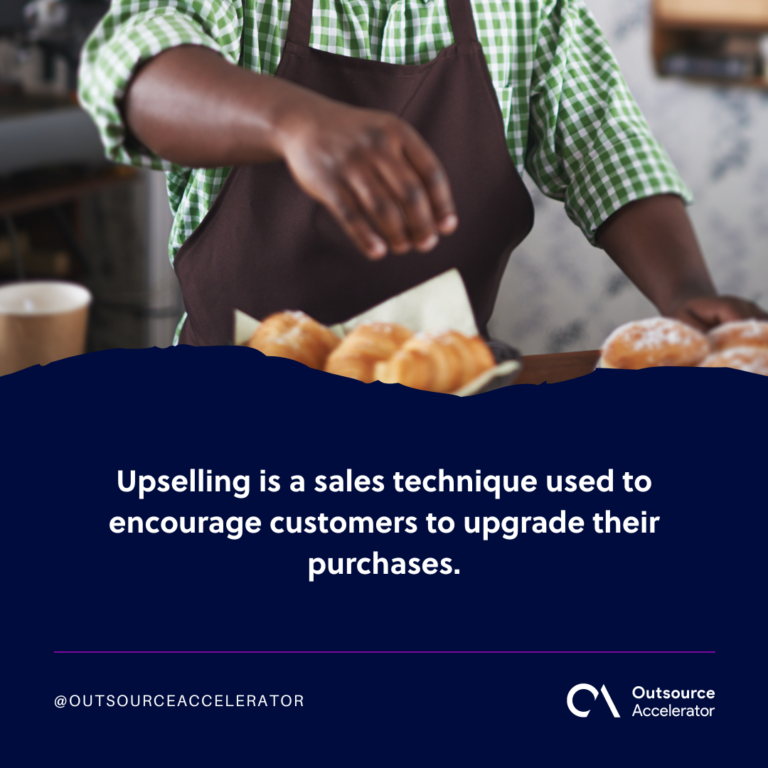 Upselling vs cross-selling
Simply put, upselling is upgrading a customer's purchase. Companies will offer value-added services to maximize a product for their customers. 
Meanwhile, cross-selling offers a complimentary product or service on top of the initial item. It is usually shown as an add-on or a bundle to help a product be more valuable.
The difference between the two is best distinguished through online purchases. Microsoft offering upgrades from a monthly to an annual plan or additional apps to use is considered upselling.
On the other hand, offering an adaptor and a phone case along with a charging cord is an example of cross-selling.
Why do customers hate upselling
While upselling is a win for customers and businesses, some clients turned out to hate it. Some of the reasons for this include the following.
Disinterest

. While customers would go for the

best value and offers

, some clients are not interested in getting add-ons and upgrades. 

Limitations

. As much as they want the upgrade, customers would stick to a product according to their budget and resource limitations.

Intimidation

. Even before, salespeople could be

too pushy or aggressive

when upselling to their clients. This further discourages them from purchasing an item in return.
8 upselling tactics to satisfy your customers
Upselling won't harm your relationships with your customers as long as it is done correctly. Your salespersons would have different tactics in selling products and services. However, adding or modifying a few of their strategies would be a good idea.
The following are some upselling tactics to add to your strategies to help retain and satisfy your customers.
Study your customers' behavior
Utilize your customer data and behavior to know what and when to upsell to them. Get to know them according to their demographics, buying pattern and frequency, and their preferences in a product or service.
Choose which upsell suits best
You can offer more types of upselling aside from the usual premium upgrade, including:.
Customization

. You can let your clients "customize" their purchases according to their needs. Each add-on feature will increase its price.

Extended service

. Rather than having an upgraded product, you can offer a extended service contract for a discounted value.

Added protection

. Another option you can offer is to add protection to a product in case of unexpected circumstances such as malfunction and theft. This is most common in selling electronic devices such as laptops.
Create solutions
Find out your customer's problems and why they chose a certain product for it. From here, try to offer solutions that will increase the value of the item they purchased. Keep in mind here that you're trying to help your customers solve their problems through upselling.
Highlight the benefits
This is the part where your sales training may come in handy. Highlight the benefits that the upgrade or add-on has right off the bat. Echo back the issues they're having with their old equipment with a positive spin.
You can even compare the upgrade to their current purchase or what the add-on does to increase its value.
Provide testimonials if needed
Most clients want to see social proof or recommendations from other customers that guarantee the quality of your products. 
This can be easily seen in online stores such as Amazon. In this case, customer reviews, recommendations, and the "people also buy" section showcase what other clients purchased and recommended in a store.
It's all about the timing
Successful upselling is all about timing. Learn when is the right time to upsell to a customer and let them know you're there when they need it in the future.
Another thing you can do is to find out your next step once a client is done with their purchase.
Don't be aggressive
One of the biggest mistakes in selling is not accepting "no" for an offer. A good salesperson never coerces their customers into purchasing. 
Never try to pressure a customer into acquiring an upgrade. Pressuring some people into upgrading their nearly-purchased product or service may turn them away.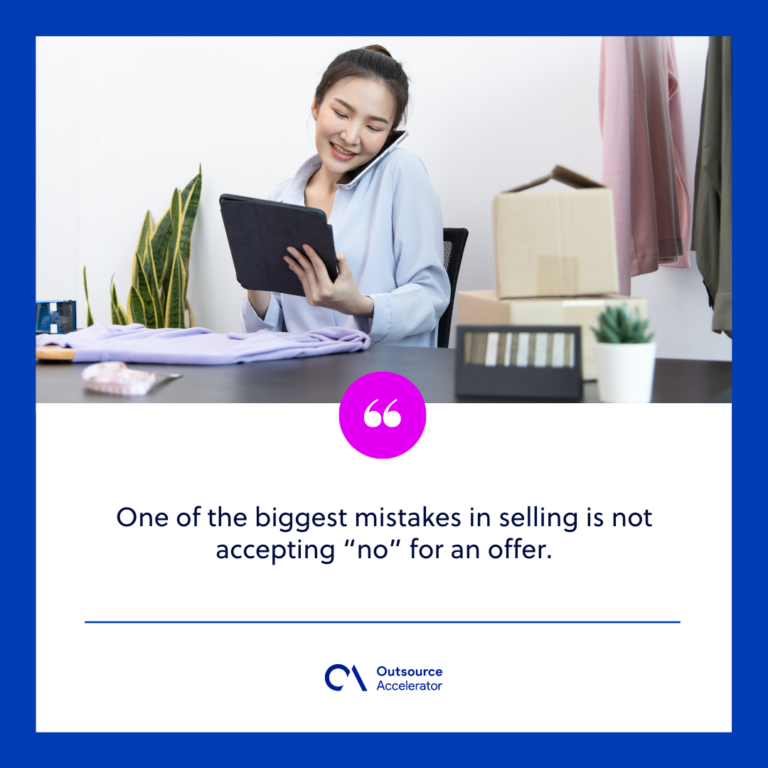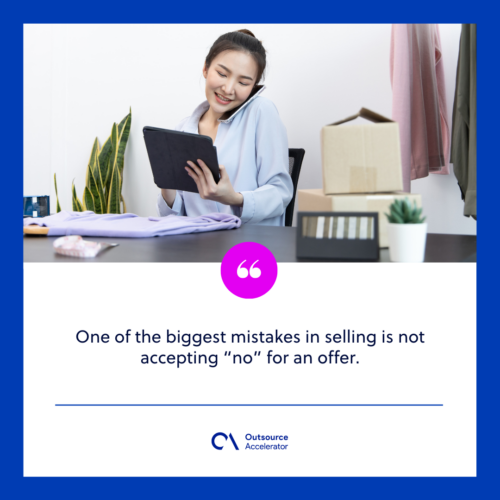 Offer vouchers, discounts, and freebies
Who doesn't love these three? After a successful deal, most companies and businesses send in a limited, one-off offer to their customers. These will come in handy in case they decide on upgrading their purchase.
Using upselling tactics to your advantage
Successful upselling requires time, patience, and good sales talk to work. It does not just happen overnight. With the increasing competition in most industries, companies must level up on taking care of their customers through upselling.
As a growing business, you should train your sales team to constantly adapt to the market shift and trend changes. The upselling tactics listed above can be a great place to start. Keep in mind that a business' growth and development starts from within.
Further, to make things easier for you and your in-house team, you can also outsource this task to leading BPO providers like 123Employee. 123Employee doesn't only handle sales, but they can also take care of your firm's customer support functions.