Top 7 upselling tactics that guarantee success
Last updated: September 24, 2021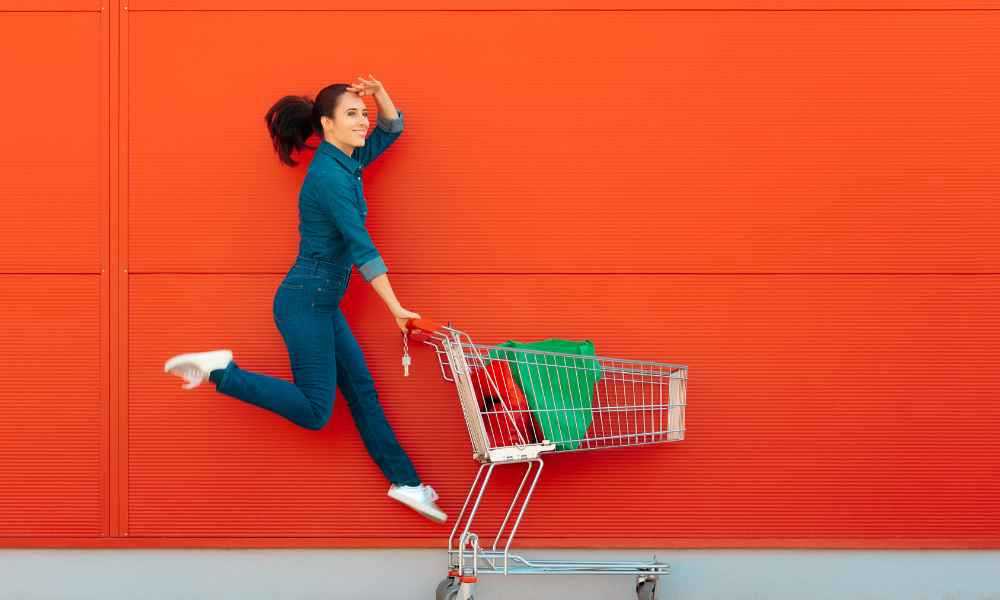 Sometimes closing one sale just doesn't cut the deal. Salespeople are coming up with different ways and strategies to upsell more products and services to their customers. Upselling isn't inherently bad, as long as it's still relevant to the needs of the customer.
Customers often reject upselling for various reasons—so let's find out how to re-ignite upselling and earn more.
The preface: telesales
Before we dive deeper into all things upselling, let's brush up on telesales first.
The act and the process of closing a deal and finishing a sale through the phone are what we refer to as telesales.
In which people, often called salespeople, actively pursue and encourage their prospects to acquire a product or a service from the brand they're representing.
Telesales vs telemarketing: The age-old question
For the uninitiated, telesales and telemarketing are pretty much the same. But professionals and practitioners of both beg to differ.
As mentioned above, telesales is the act of closing a deal over the phone. It may take several phone calls for it to happen but that's just part of the job.
Now, on the other hand, telemarketing is the process of gauging someone's interest over the phone. Whether it's for closing a sale, for a survey, or for re-engaging someone, it's still called telemarketing.
What is upselling?
Shopify defines upselling as "a sales technique used to get a customer to spend more by buying an upgraded or premium version of what's being purchased."
It's letting people choose between 'tiers' of a product or a service.
One notable example of this is Netflix's plans: basic, standard, and premium. These levels of service are different from each other. This means that they have different benefits from one another whether you downgrade or upgrade.
In some countries, mainly India and the Philippines, the streaming giant made a 'mobile' plan available. The cheapest option of all four has access to the complete collection of movies and TV shows but is only limited to mobile devices.
Now from the mobile plan, there's nowhere to go but up. Upgrading the plan will allow the user to access the library on a computer, gaming console, smart TVs, and more.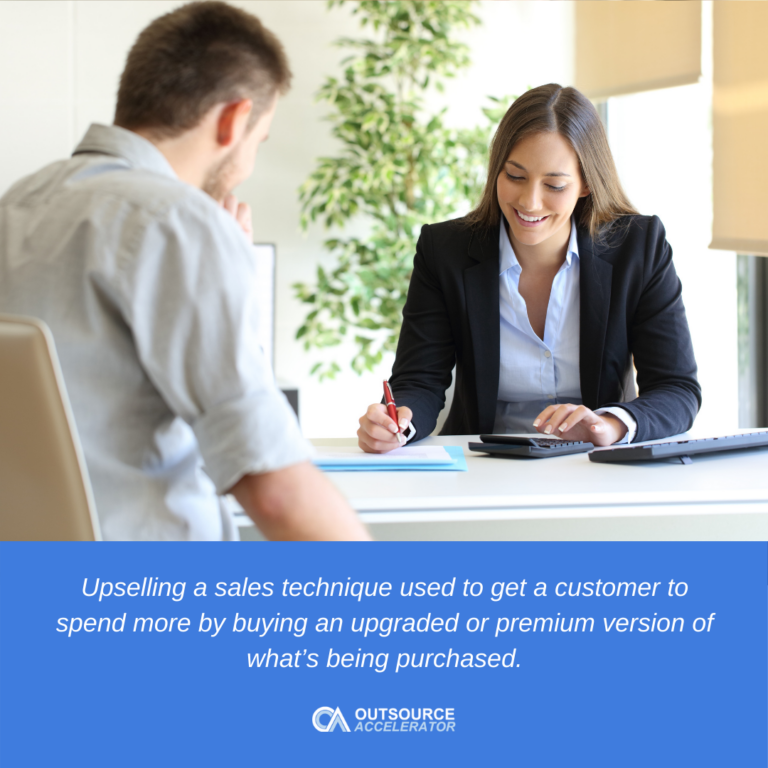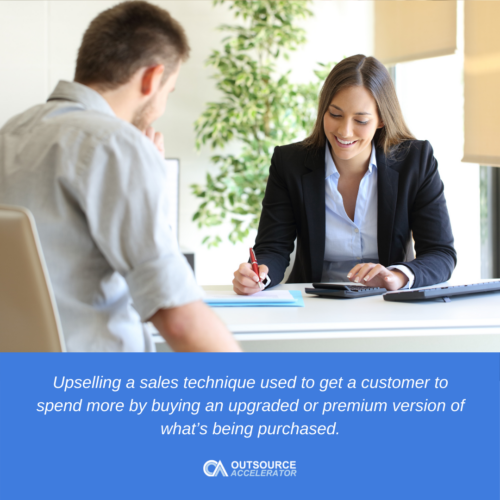 The difference between upselling and cross-selling
This is where things get a little bit bungled up — differentiating upselling and cross-selling.
In the simplest of terms, upselling is upgrading while cross-selling is the act of convincing a customer to buy a complementary product or service on top of the initial purchase.
This is more prominent in the e-commerce and fast food industry. For instance, when cashiers ask you "do you want a drink with that?" This is already cross-selling, especially when the meal doesn't come with any drinks at all.
In e-commerce, most shops will have a "customers also bought" section just below the checkout page. Amazon does this wisely as you can see the "people also bought" banner under the product you're looking at.
Top 7 upselling tactics that guarantee success
A salesperson's tactic may differ from everyone else's. However, there are tried-and-tested upselling strategies that will guarantee a sale every single time.
1. Stay on the course
Relevancy is key. For instance, if your customer is buying a desktop computer, it's justifiable that you try to get them to buy an upgraded build.
2. Create solutions
Piggybacking off the first scenario, find out why your customer is buying a new computer set up. If they say that it's because of slowness and lag, lead them to buy a setup that has better specs than their old one.
3. Options, options, options
Give your customer at least three other options. Be mindful of their budget as well. These options may range from the more economically-friendly setup, the mid-range one, and the best (and most expensive) built yet.
4. Highlight the benefits
This is the part where your sales training may come in handy. Highlight the benefits that the product has right off the bat. Echo back the issues they're having with their old equipment with a positive spin.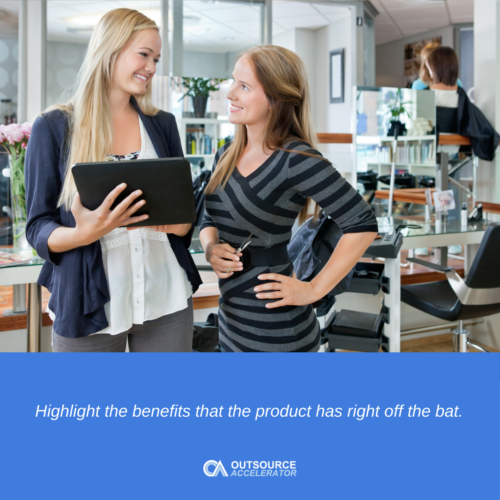 5. It's all about the timing
Upselling is an art that any salesperson can master. If your customer has a slight bit of hesitance or they just want that one thing, it's better to leave your upselling spiel for another day.
Tip: Use your better judgment and keep in mind that it never hurts to ask.
6. Don't be aggressive
Never ever try to pressure a customer into acquiring an upgrade. Pressuring some people into upgrading their nearly-purchased product or service may turn them away. 
A good salesperson never coerces their customers into purchasing.
7. Offer vouchers, discounts, and freebies
Who doesn't love these three? After a successful deal, most companies and businesses send in a limited, one-off offer to their customers. These will come in handy in case they decide on upgrading their purchase.
That being said, companies train their sales team to be more adaptable to the market shift and trend changes. Keep in mind that the growth and development of a business start from within.