Why sales efficiency should be your #1 priority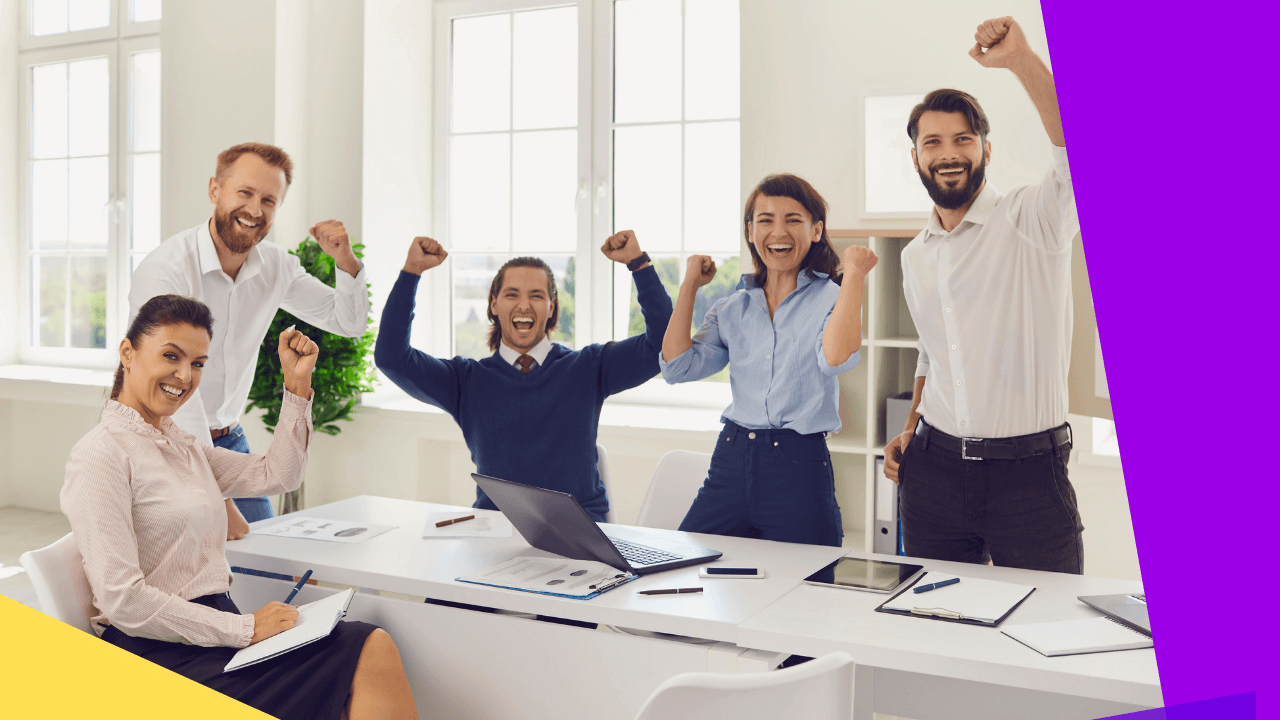 Sales efficiency is a crucial element in any business. Monitoring it allows every organization to know whether they are getting back everything they have invested in their company.
That is why building better sales efficiency is the key to getting the maximum return on investment in a brand. 
The following article will take a closer look at sales efficiency, how to measure it, and how getting an excellent sales efficiency score impacts your overall operations.
Defining sales efficiency
Sales efficiency is a metric used to understand the total revenue gained from every amount of investment that has been put into the company. It is the direct relationship between sales performance and revenue generated in a specific period.
Essentially, it explains if your sales representatives have delivered excellent results out of the company's existing budget.
Everyone wants efficiency in just about everything — especially sales. That is why sales efficiency is one of the most important metrics to understand, track, and ultimately improve. 
Having an excellent sales efficiency strategy helps in growing your business faster and making expansion into other markets possible.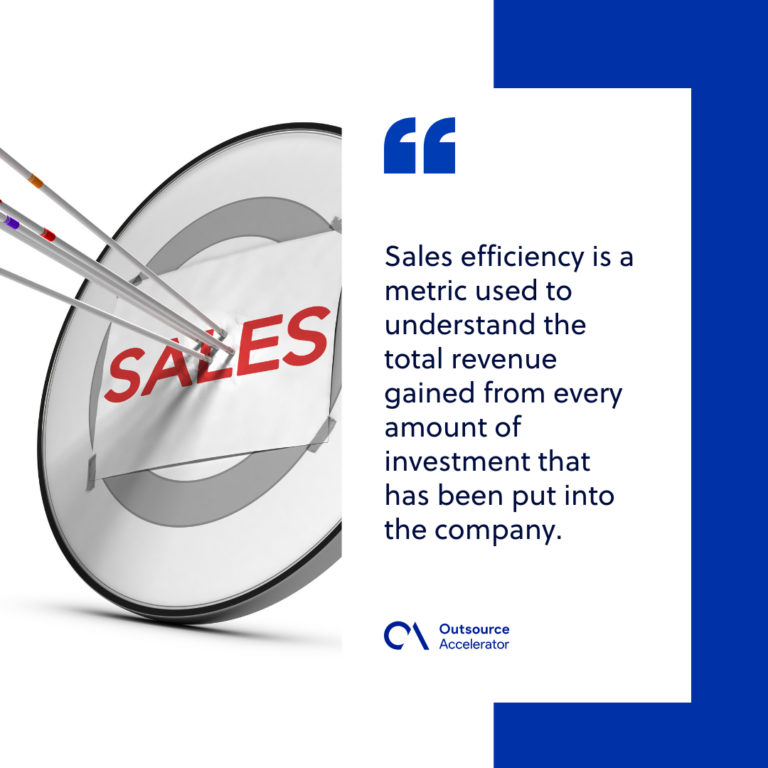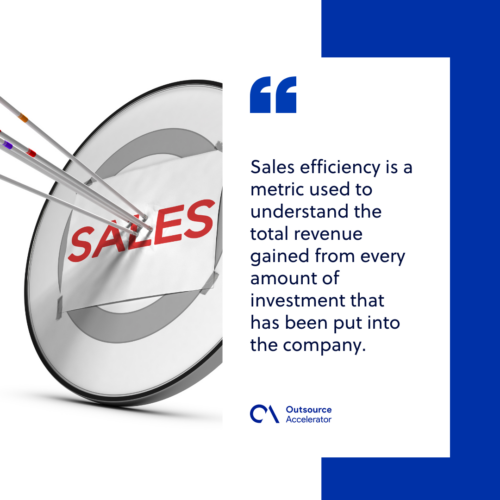 Magic number: The perfect sales efficiency 
Calculating a team's sales efficiency ratio is pretty easy. Just divide the sales revenue of the team by the company's budget, then multiply it by 100, and you now have the magic number!
Sales efficiency = (Revenue from sales ÷ Cost of sales) x 100
The magic number that you should aim for is above 100%. That means that the sales team has been creating more revenue than the amount spent on the business.
Meanwhile, if the resulting sales efficiency rate is an exact 100%, the company is breaking even — meaning, the revenue is just equal to the amount that was spent on the entire sales campaign.
However, a score below 100% indicates that the sales team is having difficulties selling the brand to the intended audience. This also means that the company should create a new plan to reach positive sales efficiency in the next evaluation period.
Here is an example to better understand the sales efficiency ratio:
For the first half of the year, a haircare business earned $20 million in revenue while running on a $10 million budget. Following the formula would result in a sales efficiency of 200% for the sales team.
Since they generated revenue that's twice their budget, the haircare business's sales team made the most out of their existing resources during the given period.
Impact of sales efficiency on your business
Sales efficiency helps you consider everything that happens in your team's sales efforts. Having an excellent sales efficiency strategy will give your business the following advantages:
Shorten sales cycle
A long sales cycle is tiresome — both for your team and your clients. It will waste a lot of time on your representative's part if they only focus on one client, and it runs the risk of a customer losing interest in your offerings.
To prevent these things from happening, it is important to keep the sales cycle short and effective. An improved sales efficiency strategy can lead to less time convincing and more time selling products and services.
Close more deals
One thing that sales representatives look forward to is closing deals. This means that they have already sold the item to the customer and have earned their money in return. 
Part of having an effective sales efficiency strategy is getting to know the company's main target audience. Taking the time to create a profile of the company's ideal consumer will greatly improve the team's chances of closing more deals.
Doing this can help make clients more interested in your services which, in turn, increases the chances of more closed deals.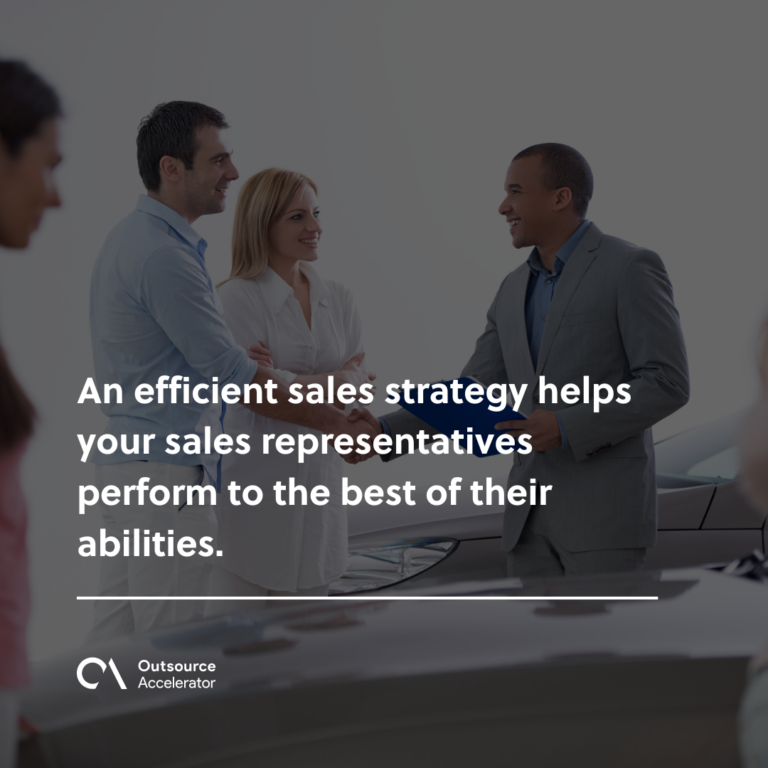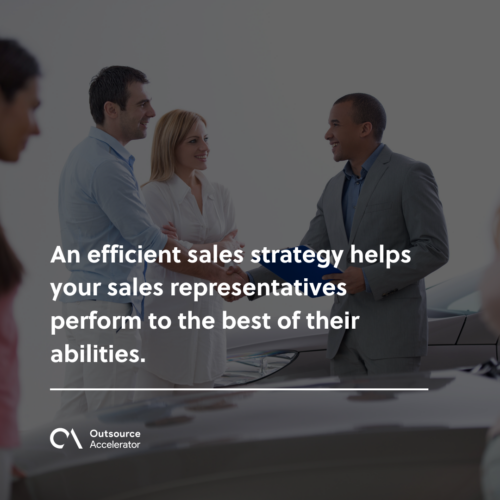 Increase sales productivity
Improving your team's sales efficiency is the fastest way to boost the company's sales productivity. It helps employees use their time in more productive ways.
Eliminating mundane tasks from your sales team — such as managing emails, recording activities, logging sales data, and writing notes about customers — helps them get back to their main job, which is selling your brand to your target audience.
Get more selling time back
Poor sales efficiency results mean that the team is wasting valuable time and resources on tasks that do not add value to the company's revenue. 
Time is important, especially in the business world. Therefore, everyone must do their best to produce excellent results in just a short period. 
Sales efficiency helps every representative determine the best possible way that they could use their workdays to boost revenue. 
Transform your team into top sales performers
An efficient sales strategy helps your sales representatives perform to the best of their abilities. Because they already know what to do, who to call, and what to pitch, they have more chances of making sales happen instead of getting their efforts rejected.
Each deal closed contributes to each of your rep's sales records, resulting in an exceptional sales team that outshines even the toughest competition and market challenges.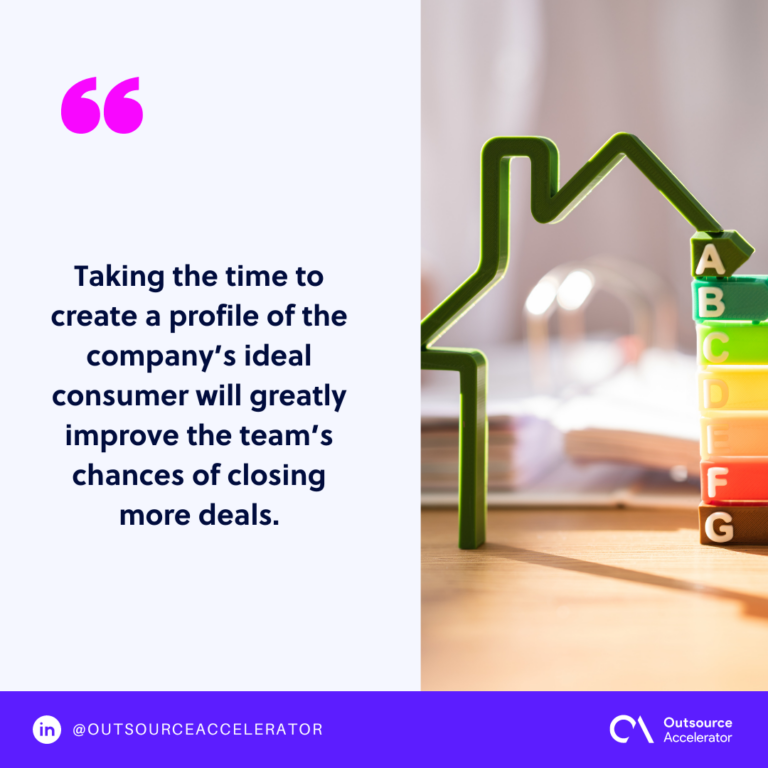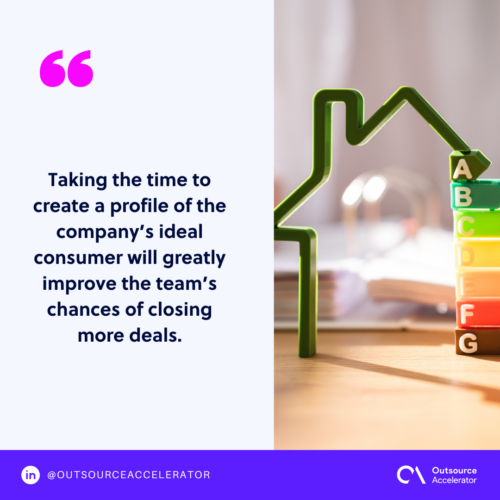 Start tracking your sales efficiency with these metrics
Performance metrics are a measure of each employee's tasks and activities. They are tracked over a quantifiable period — days, weeks, months, or years — to identify the sales team's performance and know if it needs improvement.
Here are several metrics that you can use to measure your sales inefficiency.
Conversion rate
Measuring the sales team's conversion rate is a great way to know the efficiency of your sales strategy. It refers to the total number of leads that have become paying customers of a company.
To get your conversion rate, start by dividing the total of converted customers by the total of qualified leads. Multiply the result by 100, and you'll get the percentage rate.
Conversion rate = (Total conversions ÷ Qualified leads) x 100
Win rate
As the term suggests, the win rate measures the team's success in making sales out of those that are in the pipeline within a certain period. This is among the most commonly tracked sales metrics because it helps determine whether the company is bringing in more business than its competitors.
To know your team's win rate, simply follow this formula:
Win rate = (Sales opportunities won / Total opportunities available) x 100
Sales length
Sales length refers to the time between opening and closing an opportunity. It measures the time spent nurturing a lead before they finally decide to buy your product.
A prospective client begins their sales journey when they become leads. Closing a deal means that your sales representative can finally put an end date on a customer's sales cycle.
Here is how you should measure the length of your sales:
Average sales length cycle = (No. of days to close all deals ÷ Total number of deals) x 100
Average deal size
A company's average deal size refers to the total revenue achieved in a set period. Deal sizes vary based on the following factors:
The type of your product (e.g., customized or pre-packaged)

Your client (e.g., a single consumer, small business, or big enterprise)

What you are promoting in your product (benefits vs value)
This is how the average deal size is determined:
Average deal size = Total money earned ÷ No. of closed deals 
Retention rate
The customer retention rate refers to the percentage of people who remain to be loyal to your business. Measuring this metric reveals what your customers love in your company, which gives you a chance to improve your customer service.
Customer retention varies per industry, with at least a 60% rate, but it's always best to aim high with regard to keeping your customers loyal. 
To know your retention rate, you need to determine these factors first:
The number of existing customers at the start of a time period (A)

The number of customers at the end (B)

The number of new customers added (C )
After that, you can now follow the formula to get your retention rate:
Customer retention rate = [(B-C)÷A] x 100