High-touch customer service: Definition, strategies, and advantages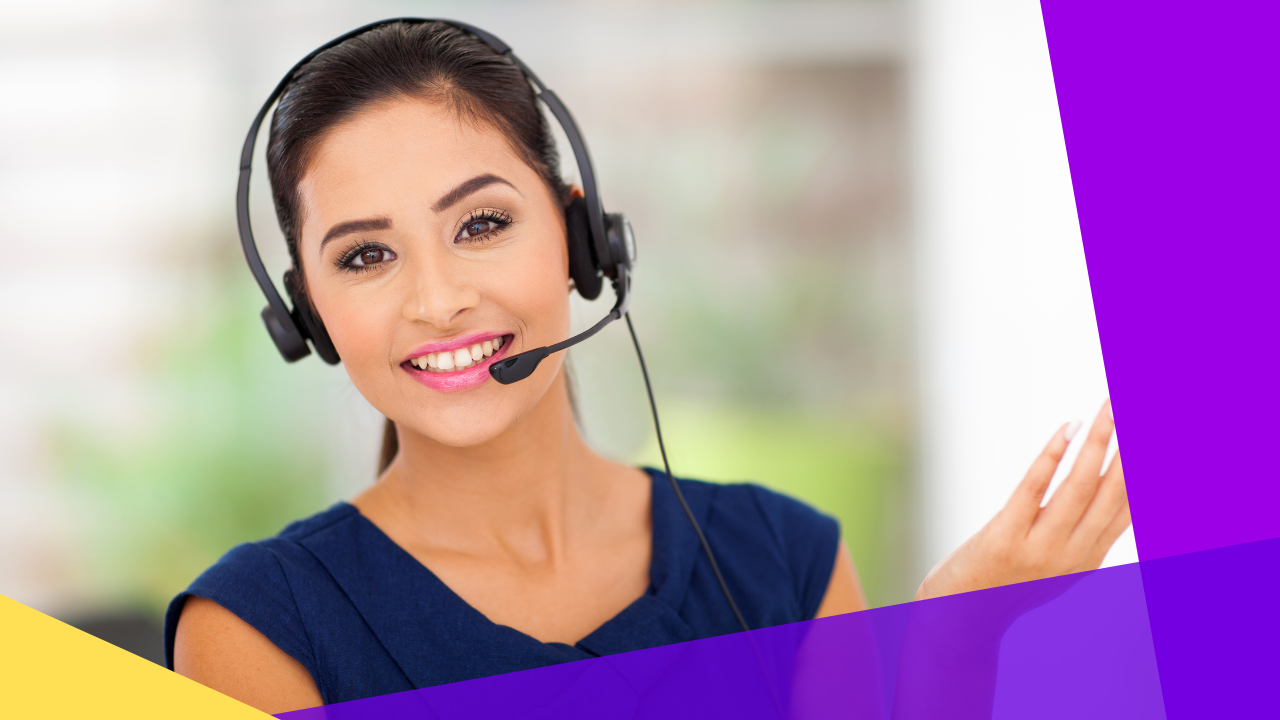 At the heart of good customer service is the idea that your clients are human. They have needs and concerns, as well as questions and feedback. They want to feel that you care about their problems. 
In an age where technological automation is prevalent, it can be easy to forget that real people are behind each transaction. The truth is that most people desire a genuine connection with their brands. 
This is what high-touch customer service provides. 
What does high-touch customer service mean? 
High-touch customer service describes a more personal and intimate form of customer service. It's also known as "premium" or "boutique" customer service. 
This method generally means that one's interactions with a company are more personal than when dealing with a large, indifferent corporation. Customers engage with people instead of automated software. 
In some cases, this can mean that the customer is dealing with an agent who works directly for the brand. The agent can better answer questions about products and services. Sometimes, it simply means that the agent is deeply interested in helping the customer get what they need. 
High-touch customer service can be applied to any type of business and industry but often shows up in industries with high customer interaction. These include the hospitality, travel, retail, and financial industries.
High-touch customer service includes ways like: 
Phone calls, emails, and in-person meetings 

Emotional support 

Face-to-face interactions

Customer education sessions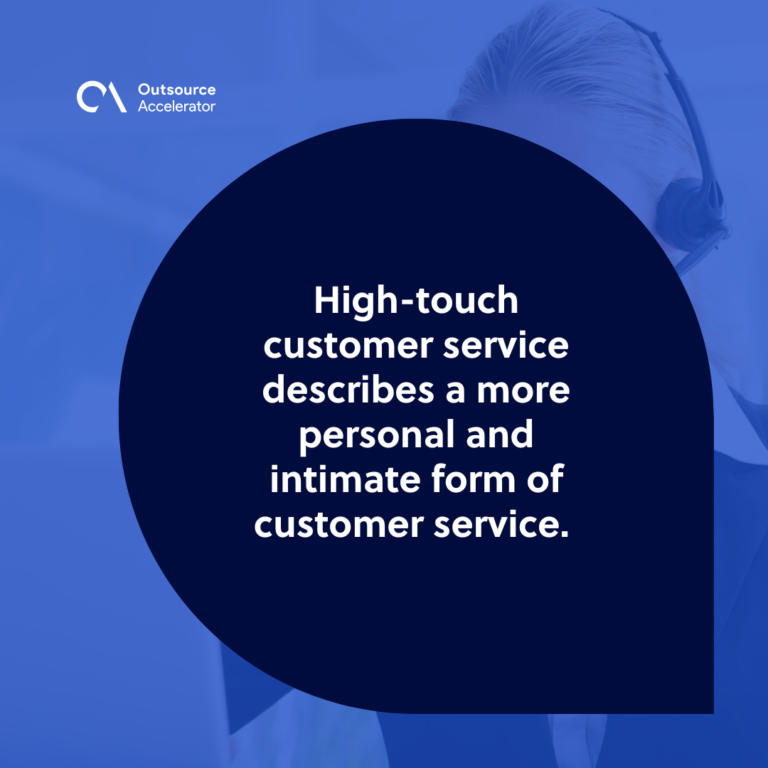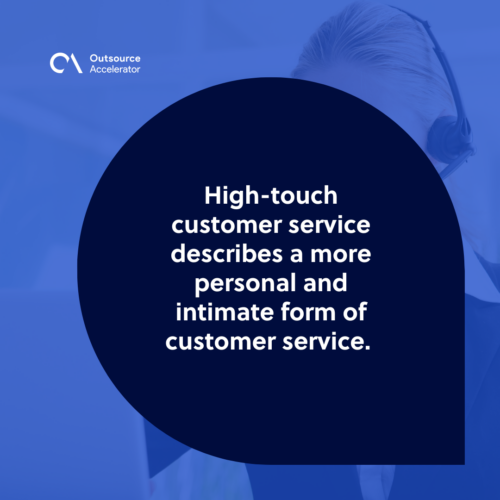 Low-touch vs. High-touch customer service 
Businesses either adopt high-touch customer service or low-touch customer service as their primary strategy. 
This section looks at the key differences between these two approaches:
| | | |
| --- | --- | --- |
| | Low-touch customer service | High-touch customer service  |
| Customer interaction | Focuses on quick, transactional interactions | Aims to build relationships on a deeper level |
| Personalization | Limited personalization | Emphasizes personalization |
| Communication style  | Relies on concise, straightforward communication | Involves more comprehensive communication |
| Relationship building | Less emphasis on building relationships | Prioritizes relationship-building |
| Customer satisfaction | Focus is on transactional efficiency over overall satisfaction | Dedicated to customer satisfaction |
| Customer loyalty | May struggle to foster long-term customer loyalty | Higher potential to build strong customer loyalty |
Strategies for implementing high-touch customer service
Implementing high-touch customer service requires a thoughtful and deliberate approach that puts customers at the forefront of every interaction.
Here are some strategies for implementing high-touch customer service: 
Personalized communication 
Personalized communication is a key strategy for providing high-touch customer service. 
This can be delivered through email, text, or social media. If you want to be unique, you can also use traditional channels like phone calls or letters. 
The key to effective personalized communication is ensuring customers receive the right message at the right time. You can use data about each customer's past purchases and preferences to tailor relevant and interesting content. 
Personalized communication is significantly more effective at engaging customers. Salesforce reports that 56% of customers expect their offers to be personalized. 
Proactive engagement 
High-touch customer service also involves engaging with customers before they have any issues. 
Proactive engagement means that you anticipate customer needs before they arise and provide solutions right away. This can be achieved through predictive analytics, which uses historical data to identify patterns in customer behavior. 
Here are some practical ways to implement proactive engagement:

Follow up on every transaction

Ask for feedback after every interaction 

Use social media to connect

Create a FAQ page for common questions
Empower frontline employees
Your frontline employees are the ones who deal with customers daily, so they should be educated on what works and what doesn't. 
Encourage them to develop their own ideas for high-touch customer service and share their insights in regular meetings. 
You don't want a situation where your frontline employee is clueless and passes issues up the chain of command. This frequently leads to confusion and frustration among customers. 
Here are some strategies to help you empower your frontline employees for high-touch customer service: 
Give them the necessary tools (e.g., CRM software, call center technology, and other applications).

Train them on how and when to use those tools. 

Give them feedback on their performance so they can improve.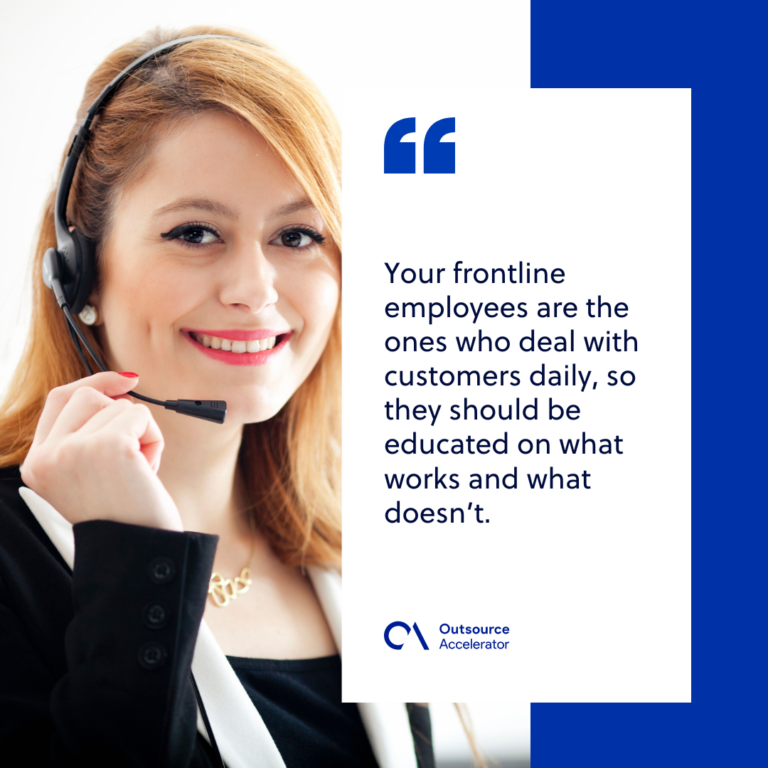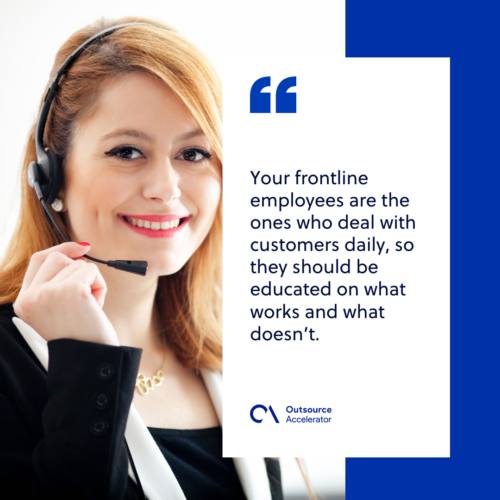 Offer exclusive benefits
Exclusive benefits are reserved only for special customers. When creating high-touch customer service, the key here is to tie these benefits to specific purchases so that your customers know exactly what they're getting. 
For example, if you run a sporting goods store, you can offer discounts on clothing items when people buy a pair of exercise shoes. 
Your customers will appreciate knowing they're getting something special from doing business with you. And when people feel appreciated, they tend to spend more money over time.  
Leverage technology
High-touch customer service doesn't mean cutting out technology altogether. It means you must find ways to use technology to enhance the customer experience.  
Leveraging technology to improve the customer experience has become a critical component of business strategy. 
Here are some ways you can implement technology in your high-touch customer service plan: 
Call center technology

– This allows you to connect with customers in real-time and monitor their experience during each interaction. 

Customer relationship management (CRM) software

– This enables you to track customer interactions over time. You can use the data to spot trends and predict future needs. 

Chatbots

– Chatbots let you automate basic customer service requests so you can focus on more complex issues that require human intervention. 
Advantages of high-touch customer service 
By embracing high-touch customer service, businesses can reap these advantages:
Enhanced customer satisfaction 
The key advantage of high-touch customer service is enhanced satisfaction. The human touch can provide a level of personalization that machines cannot.  
This type of service offers more opportunities for interaction with knowledgeable employees who can address any concerns. Good interactions lead to increased loyalty, which means repeat business and referrals.

Positive brand reputation 
As mentioned, when customers receive excellent customer service, they're more likely to recommend that brand to others. They also feel better about supporting the company and its products, which translates to loyalty. 
High-touch customer service thus gives your business a competitive edge over larger competitors who can't provide the same level of intimate service. 
Better customer insights
High-touch customer service grants you an opportunity to get to know your customers better. You can learn more about their needs and preferences so you can provide them with the right services at a suitable time. 
This kind of insight will help you create better solutions and continuously improve your efforts. 
For example, you can tailor your marketing campaigns towards specific needs and interests, even down to the individual level. 
Improved upselling and cross-selling opportunities 
Because high-touch customer service builds stronger user relationships, it is easier for you to offer additional products and services. 
When a customer is at the point of sale, sales teams can offer relevant products to benefit them. High-touch customer service also allows them to serve as advisers who can help with spending decisions, thus leading them to higher-priced services.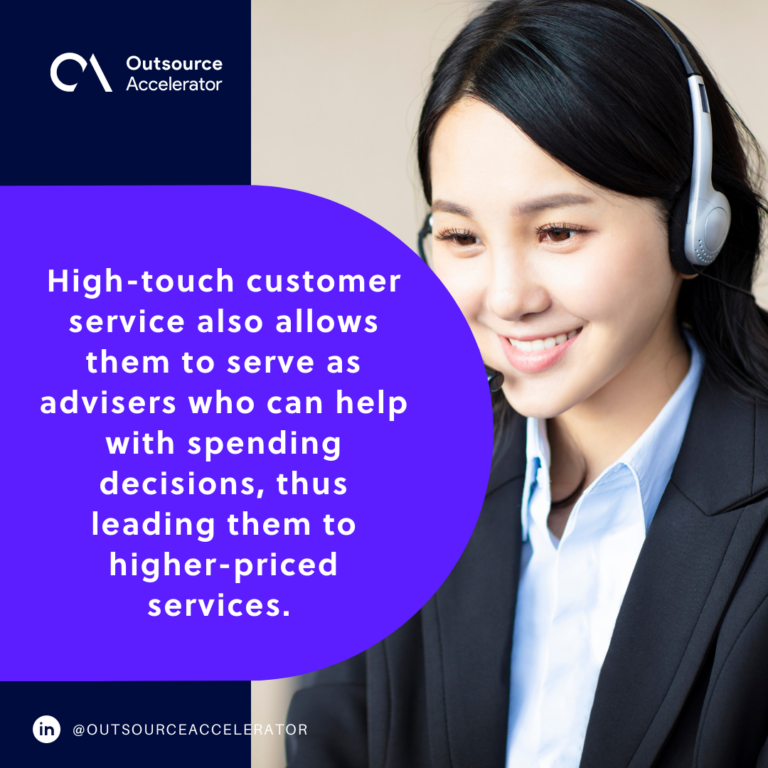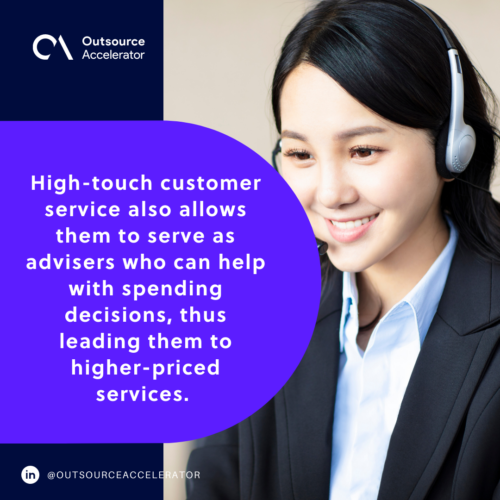 Higher customer retention
When you offer personalized interactions with your customers, they feel like you really care about their concerns. This makes them more likely to stay loyal to your brand. 
High-touch customer service allows them to feel more valued and appreciated. Trust is a fundamental element of customer loyalty. 
By consistently building trust, companies can transform their customers into advocates for the brand.