What is a healthcare data analyst?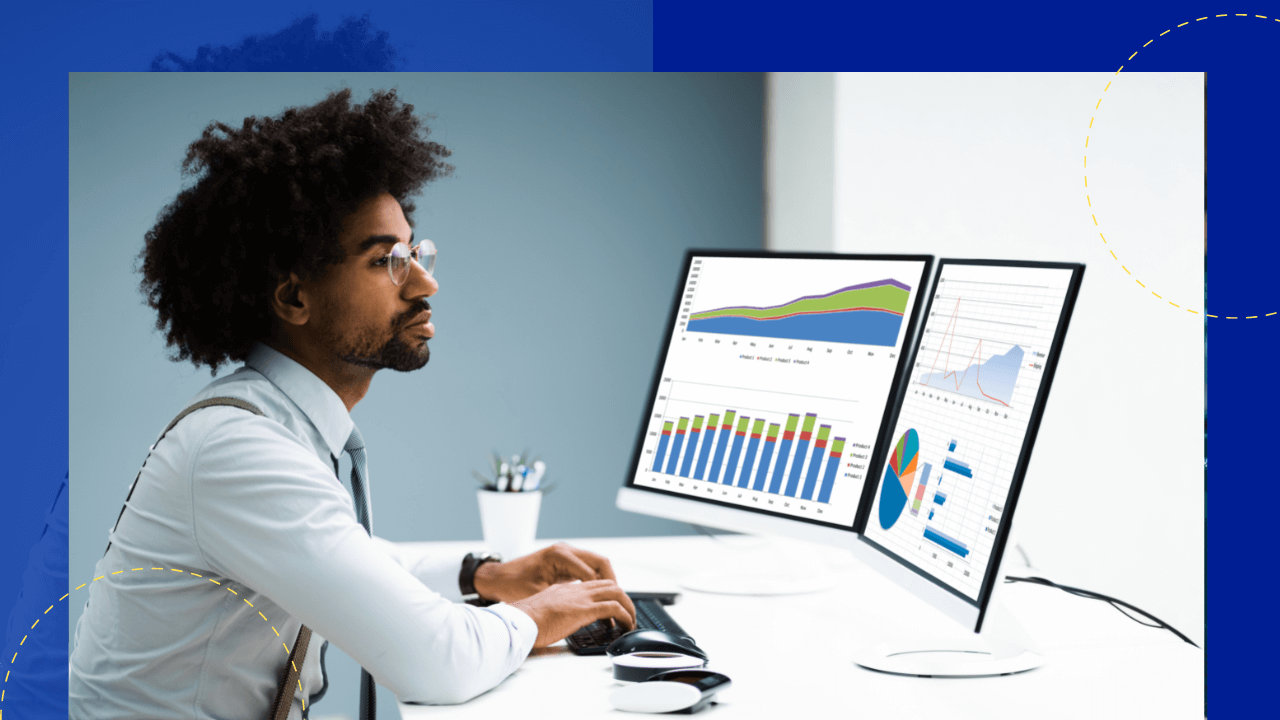 Data analytics is increasingly popular across various industries including in the healthcare industry.
In fact, according to Fortune Business Insights, the global healthcare analytics market size is projected to grow at 80.21 billion USD with a compound annual growth rate (CAGR) of 27.5% by 2028. 
As big data and informatics drive improvements in the healthcare system, there has been a growing demand for healthcare data analysts who play vital roles in better healthcare business operations. 
Healthcare data analysts provide expertise in data gathering and management, analysis, and interpretation associated directly with healthcare data. 
In this article, we'll discuss the fundamental questions about healthcare data analyst, their roles and responsibilities, and their significance in the healthcare industry.  
What does a healthcare data analyst do?  
A healthcare data analyst is responsible for gathering, analyzing, interpreting, and organizing data from a variety of sources e.g., electronic health records, satisfaction surveys, billing claims, or cost reports. 
They play a vital role for organizations in improving the quality and reducing the cost of health care, increasing efficiency in patient outcomes or experiences, and streamlining existing processes. 
In the simplest terms, healthcare data analysts are more focused on data-driven quality improvements. These individuals collect raw data and convert it into a visual presentation to make it more understandable.
This data offers actionable insights for hospital executives in hospitals, health organizations, and other industry employers, which can be used to improve operations.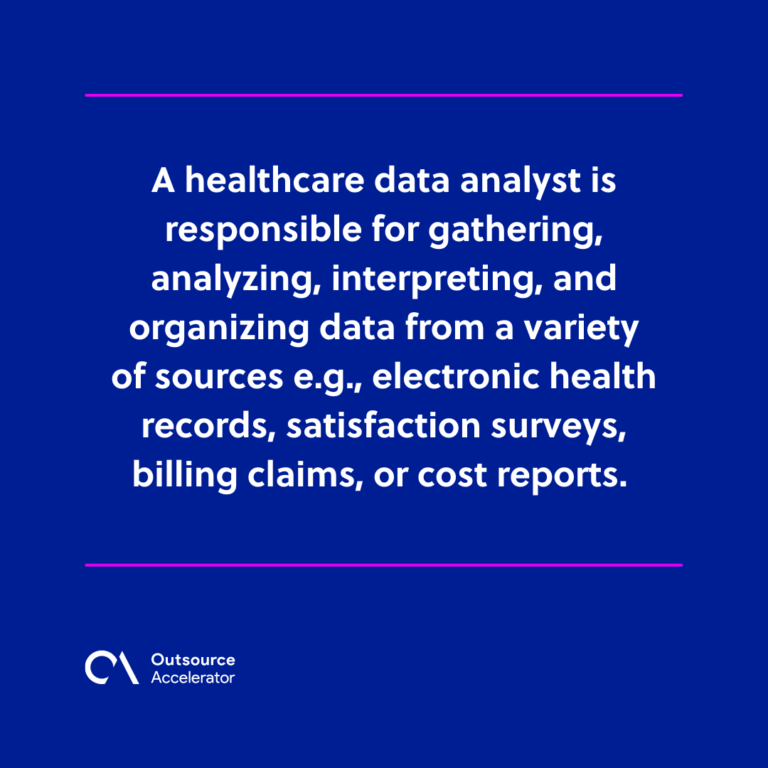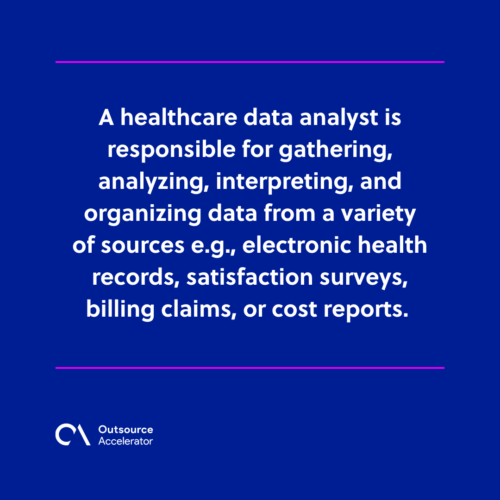 A healthcare data analyst's roles and responsibilities
A healthcare data analyst encompasses many roles and responsibilities. Along with health executives and administrators, they serve as problem-solvers that make strategic decisions in achieving business objectives. 
Here is the breakdown of healthcare data analyst roles and responsibilities:
Compiling and organizing healthcare data from a variety of sources

Analyzing data helps to deliver optimal health care management and decision-making 

Retrieving healthcare data from database management systems

Analyzing and investigating patterns and trends in healthcare data 

Interpreting and converting data to usable information 

Creating reports and presentations

Communicating data analytic insights to management based on those findings
Essential skills a healthcare data analyst needs 
As healthcare data analysts handle big data relevant to solving problems for organizations, technical skills are necessary.
There are specific technical skills, according to HealthCatalyst.com. These include the following:
Structured query language 
A healthcare data analyst must be able to speak and manipulate databases through structured query language (SQL) code. 
Having knowledge of SQL code is important as it is the beginning of the data analysis process. 
Export, Transform and Load (ETL)
The ability to perform the export, transform and load (ETL) processes is also an essential part of being a healthcare data analyst. It simply means transferring data from one system and putting it into another. 
With expertise in the ETL process, healthcare data analysts can manage a diverse array of data. ETL process allows reading the data quickly and converting it into a standard model. 
Data modeling 
A healthcare data analyst must be able to write code that models real-world processes and workflows.
Through data modeling, these codes are merged with all the information necessary for a particular workflow.
For instance, hospital admission requires all the healthcare data elements, such as demographic information or the patient's medical record history. 
Data analysis
There is a huge amount of information produced in healthcare. As such, a healthcare data analyst must be able to see which one is relevant data that drives improvements in the operations. 
It is important that healthcare data analysts must be critical thinkers, which is necessary for set theory and analysis through SQL code. 
Business Intelligence (BI) reporting 
Healthcare data analysts must be able to develop visual presentations that are simple to understand and interpret by the audience. 
Telling the story 
A healthcare data analyst must be able to tell stories effectively derived from the gathered data. This means binding together data-driven insights to create a meaningful bigger picture.  
Hence, a healthcare data analyst that is proficient at telling stories in both technical elements and bigger picture thinking understands the organization's needs.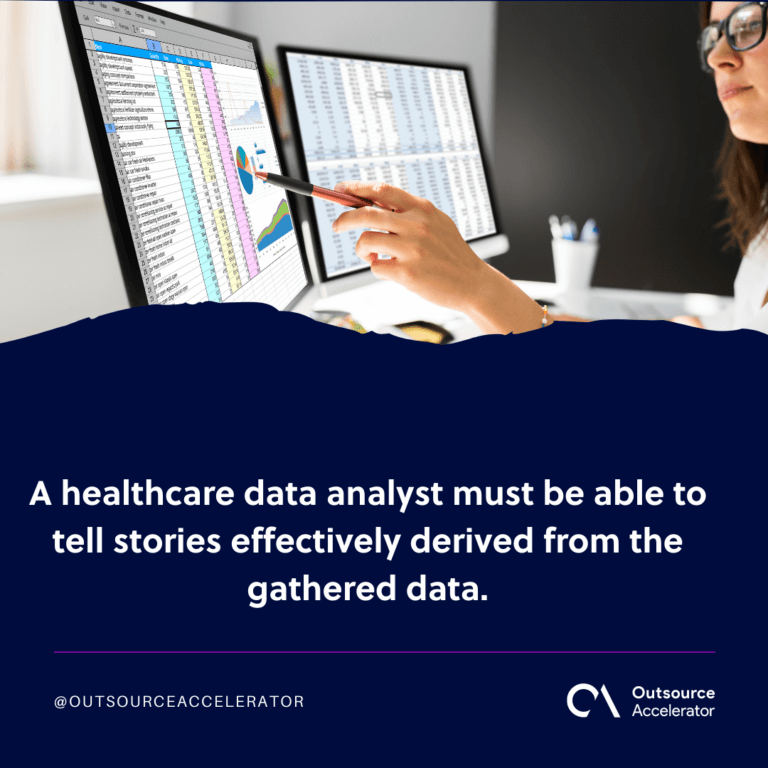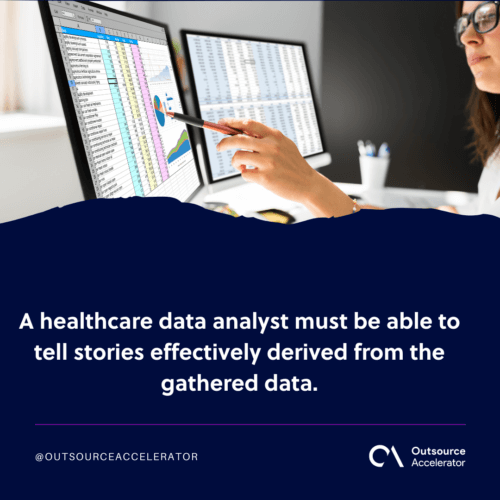 Importance of healthcare data analysts in healthcare industry 
A healthcare data analyst plays an integral role in any organization. Their role is notably valuable, and their expertise is needed in a wide array of workplace settings such as hospitals and healthcare organizations. 
Thus, this vast amount of healthcare data is nothing without the work of healthcare data analysts whose solely responsible for making sense of this data. 
These data have been scrutinized by healthcare data analysts, which will present findings for particular management can use to make informed decisions.
Ultimately, the data gathered by healthcare data analysts improve a particular organization's day-to-day operations, improve patient care, and can be used to predict future trends.