12 best Fiverr alternatives for businesses and freelancers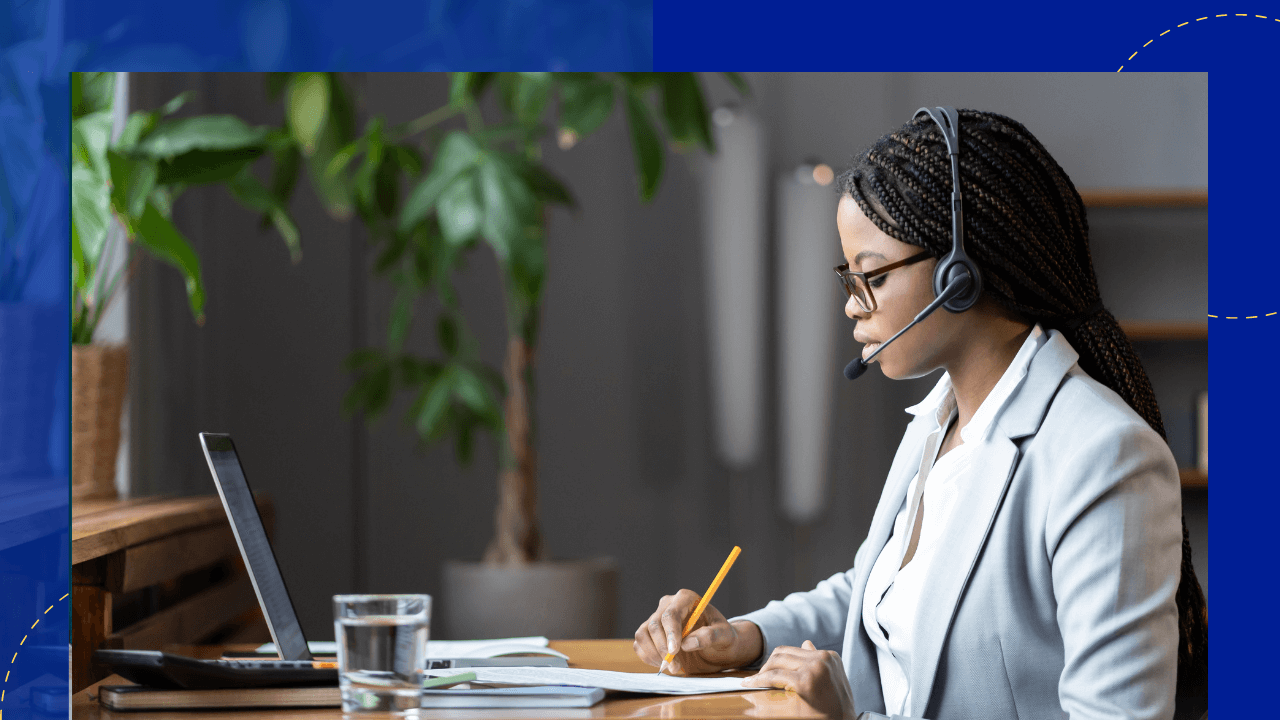 It is inarguable that Fiverr is one of the best freelance marketplaces in the world. It has become popular for years already and serves as a go-to source in the freelancing world. 
Fiverr is an excellent freelance platform with several freelancing services ranging from graphic design, and web development, to video editing.
However, the platform isn't free from flaws. Fiverr has a lot of drawbacks which lead to businesses and freelancers choosing available alternatives. 
All that said, many other alternatives similar to Fiverr give the same quality service suited to one's business model. 
This article will discuss the fundamental questions about Fiverr, its benefits, and the common Fiverr alternatives that businesses and freelancers can use. 
How Fiverr works
Fiverr was founded in Tel Aviv and has been in the market since 2010. At present, almost every professional in the freelancing world or "gig economy" knows what it is. It has become a well-known platform that helps individuals get jobs as freelancers.
As the world's leading freelance services marketplace, Fiverr has over a million job listings. It typically supports various industries in their digital buy and sell transactions. 
Fiverr works when individuals offer a tailored service package called "gig" to clients according to their skillsets. 
The starting price point will depend on the gig worker. As such, Fiverr receive 20% percent from each gig sale. The common services posted on Fiverr are graphic design, web development, programming, content editing, video, and animation, with a price tag ranging from $5 to $1000.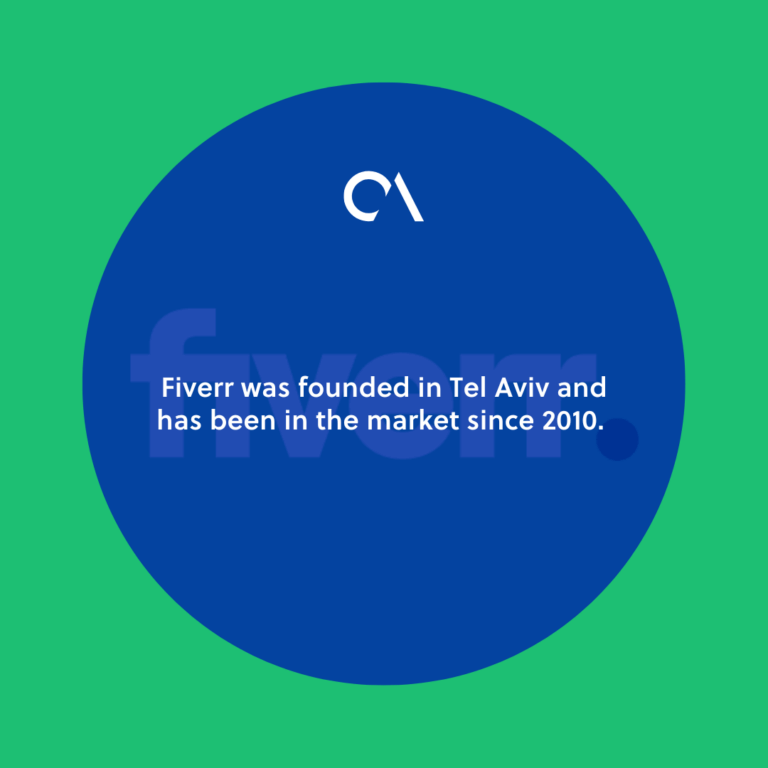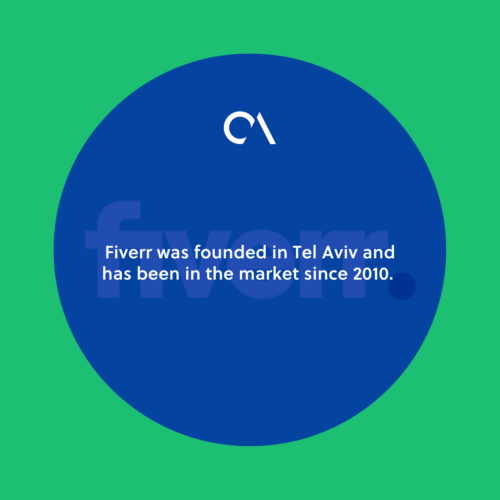 Benefits of Fiverr
Fiverr is an ideal choice for your business if you're looking for a high-quality service at a lower cost. 
The platform offers seamless and fast features in terms of finding services. It has a catalog and search section, making it easier to place an order. Once you click a job offer, it automatically displays the job description alongside the design portfolio and the pricing. 
Fiverr is also a great place for freelancers that seek work by connecting directly with potential clients.  
However, just like any other platform, there are certain cons with Fiverr. For instance, the platform lacks a comprehensive vetting procedure.  
Some Fiverr-based freelancers may lack enough skills and experience to handle a certain function. For businesses looking to hire top-notch freelancers, you should also consider Fiverr alternatives fit for your business needs.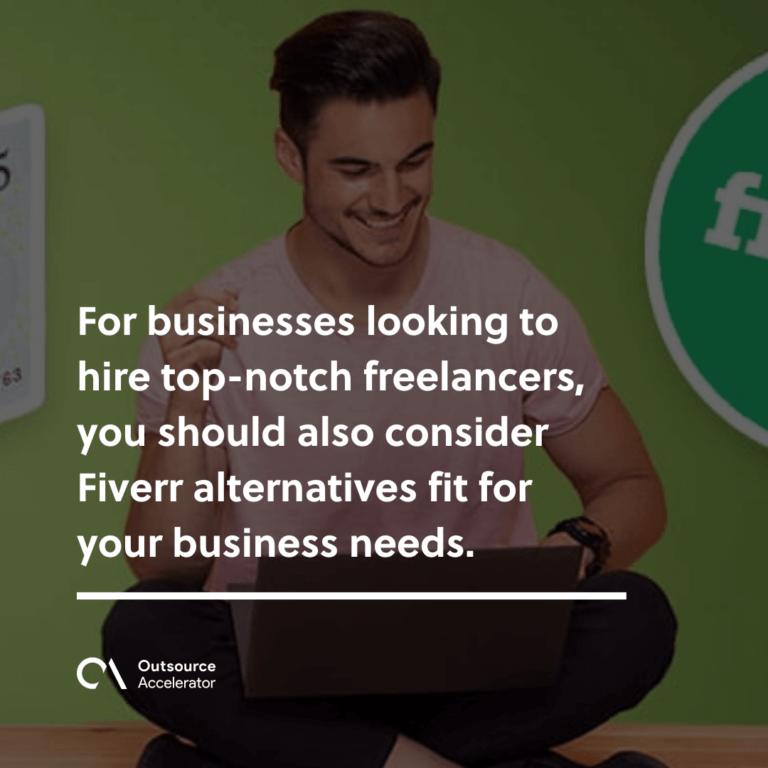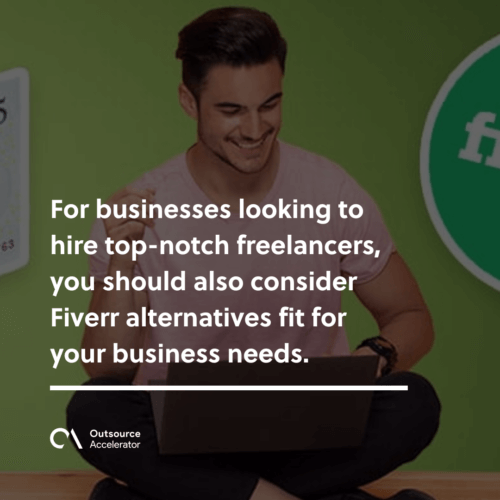 Top 12 Fiverr alternatives 
Here are some of the best Fiverr alternatives that cater to more skill sets and high-quality services: 
Upwork is one of the biggest competitors of Fiverr as it is also popular and user-friendly. The platform offers a vast range of services keeping its longstanding reputation in the market. 
It is an open marketplace that boasts 12 million freelancers providing professional standards and more safety regulations for payment exchanges. 
The platform works when the buyers post a job, and it allows you to wait for freelancers to send a certain proposal. 
Unlike Fiverr, Upwork operates quite differently in terms of its bidding system. Its sliding base fee applies depending on the total lifetime billings with a particular client. 
Upwork takes a 20% processing fee for a freelancer's first $500 total earnings and 10% on additional earnings.
On Upwork, freelancers' common job areas are IT, data science, sales and marketing, writing, translation, admin work, customer support, finance, and accounting.
Guru was founded in 1998 in Pittsburgh and is considered one of the oldest and largest freelancing platforms on the list. It is a networking platform that connects businesses in need of professional services with over two million freelancers across the globe.
It is an ideal choice for small businesses where one person can do one full task. Guru is more focused on design works, digital marketing, and web development.
The platform offers efficiency in tracking payments that include hourly pay recurring fees by tasks as well as the progress on a certain project. 
Guru is quite similar to Upwork, both have excellent security policies that give safety and protection to buyers and sellers. 
Toptal comprises the top 3% of freelance talent available from various industries. The platform offers top-quality talent at a much higher price than Upwork. 
The platform undergoes a rigorous freelance screening process. Their 5-stage screening process includes language proficiency, personality assessment, and skill set. 
While Fiverr connects businesses with freelancers at a lower price, Toptal connects businesses with a small range yet experts for a high cost. 
Professionals that work with Toptal are software engineers, coders, UX UI specialists, finance experts, interaction designers, digital managers, and digital & technical project managers.  
Freelancer has been in the market for almost 13 years. It is a central place for freelancing, crowdsourcing, and outsourcing work. 
It is a budget-friendly platform well suited for businesses and freelancers. The platform boosts over 56 million registered freelancers and employers across various industries. 
Examples of job categories offered in Freelancer are – web designing, web development, content writing, software architecture, graphic design, programming, data entry, transcribing, and human resources.
Freelancer is one of the great alternatives to Fiverr, which offers significantly cheap fees. The hourly project and fixed-price jobs cost as low as 10%. 
PeoplePerHour is a UK-based platform that is perfect for small to medium businesses, where it connects clients with the right skill set. 
The platform payment system is by the hour. PeoplePerHour is a budget-friendly platform that offers attractive seller fees. The bigger money a particular buyer spends, the lower the commission charges they take. 
It allows freelancers to post their services under various categories and get hired by employers with a guaranteed payment before proceeding with a project. 
PeoplePerHour vets freelancers through an assessment done by its internal team to ensure the quality of services for clients. 
One big advantage of PeoplePerHour is providing users multiple protections and safeguards against scams or fraud. 
In addition, the platform usually focuses on the areas of designing, content creation, and promotion. 
Founded in 2011 by Jordan Delozier, SEOClerks is a niche marketplace specializing in SEO services. 
SEOClerks allows users to filter jobs by prices, level, skills, and experience. Unlike other platforms, this is among the Fiverr alternatives that only charge 10% to buyers. 
More specifically, SEOClerks allows users to search for on-page SEO, increase website traffic, establish backlinks, or buy social media followers. 
In a nutshell, SEOClerks is more about ranking gigs. Depending on the merits, the platform automatically ranks different user levels.
Truelancer is one of the biggest Fiverr alternatives, with hundreds of freelance jobs posted. They offer businesses a wide talent pool of professionals from around the world. 
The platform provides quality work at a low-cost price. Its job categories include IT, programming, web design, multimedia & design, search engine optimization, finance, admin, and more. 
Truelancer offers lower freelance rates since most of Truelancer's talent comes from areas with a low cost of living, such as India and Pakistan. 
However, it is not ideal for freelancers since it has membership fees ranging from 8-10%. If the client refunds after 30 days, Truelancer takes 5% of the project's total value. 
Outsourcely was founded in 2014. The platform serves as a staffing network and manages startup-ups rather than hiring freelancers for one-off assignments.
The platform currently has over 50,000 startups, allowing them to access a vast talent pool of more than 400,000 freelancers. 
The site offers services in sales & marketing, designing & multimedia, web development, content writing, administrative support, and customer service. 
Outsourcely pays the remote workers directly without any extra fees. In addition, it helps businesses to establish long-term professional relationships. 
If you are a beginner looking for the perfect website fit for you, SolidGigs should be one of the Fiverr alternatives to consider. 
It gives daily job alerts to keep clients posted. It also has a variety of job areas related to administration, designing, accounting, and transcribing. 
In addition, the site also includes over 129 different courses, downloadable lessons, tools, templates & spreadsheets, videos, and other materials relevant to enhancing skills. 
SoldGigs has a membership fee worth $19. 
99designs is a freelance website specializing in designs and is considered one of the best Fiverr alternatives. 
As opposed to Fiverr, 99designs evaluates designers ensuring buyers get top-quality work. The platform helps designers to match with the right clients.
As for the client's end, it supports companies looking for graphic designers that offer high-quality design projects without much trouble.
99designs allows clients to post a job with specific guidelines & requirements, and they allow them to choose and pay who among the designers has excellent outputs. 
Thus, the platform is all about design contests. Another advantage of 99designs is that it offers a money-back guarantee for projects. 
Envato Studio is also one of the excellent Fiverr alternatives consisting of a wide array of experts. The platform offers various services, including digital design, web development, programming, online marketing, video, and animation. 
This freelance platform ensures clients get the best designers and developers in the market suited for their type of project. 
Moreover, Envato Studio has a unique feature that allows companies and freelancers to exchange files and communicate with each other. 
Flexjobs is one of the best platforms with many job opportunities according to freelancers' skills and experience. Like Fiverr, it is also easier to find full-time or part-time freelancing gigs is also easier. 
On Flexjobs, users do not have to worry about scams, broken links, duplicate posts, or ads. It is one of the safest and most reliable Fiverr alternatives today.
Flexjobs consists of 50 job categories with over 5,000 companies and more than 25,000 career opportunities available on the site. 
Why choose a Fiverr alternative?
Fiverr is indeed a great platform that helps freelancers land projects and clients acquire cost-effective and efficient services. 
However, venturing into Fiverr alternatives gives clients a vast variety of global professionals in different fields and specializations.
On top of that, these alternatives also offer the best deals while ensuring the best quality of services.