Unlocking the potential of e-governance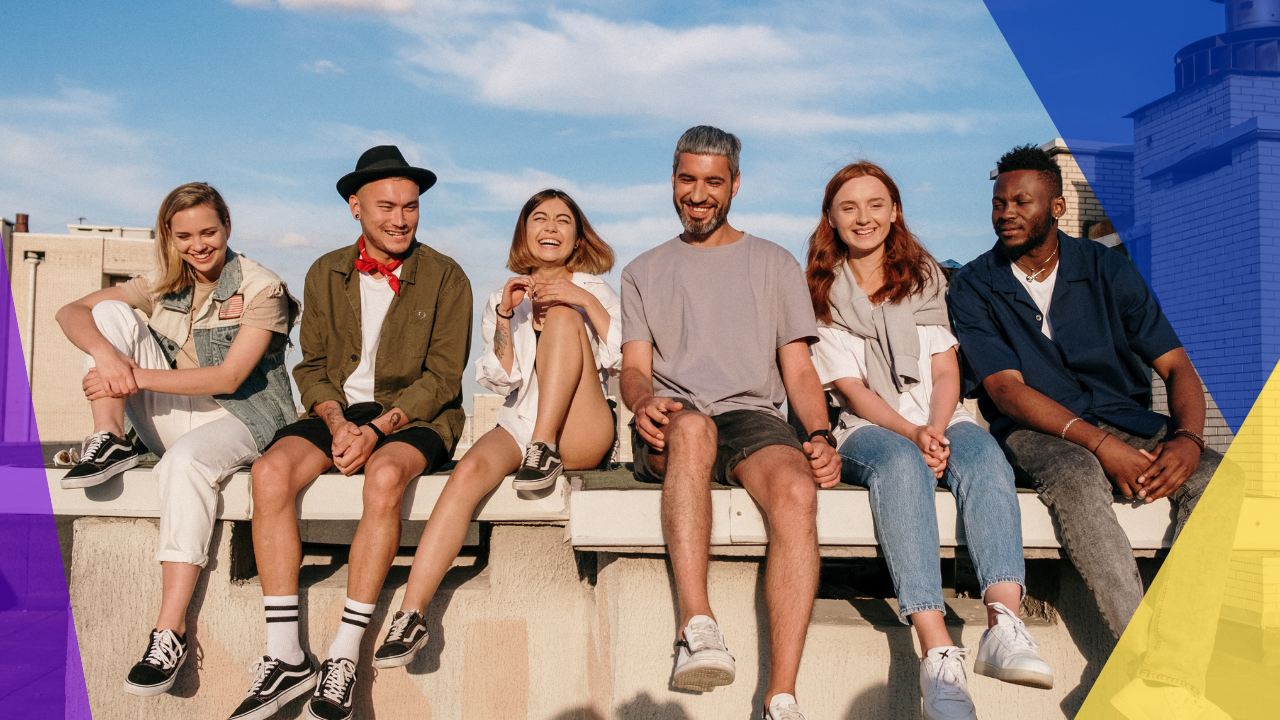 Governments worldwide are embracing digital transformation to improve their service delivery and engage with citizens more effectively. 
E-governance is a key aspect of this transformation. It involves using technology to provide public services, exchange information, and engage with people more efficiently and transparently.
Let's elaborate on e-governance, its benefits, challenges, some examples, and the best practices for its implementation.
What is e-governance?
E-governance, or electronic governance, uses information and communications technologies (ICTs) to transform how governments interact with citizens, businesses, and other stakeholders. 
Traditional governance methods heavily rely on paperwork and physical presence. E-governance, on the other hand, leverages digital infrastructure to improve the accessibility and efficiency of services.
The use of these digital technologies aims to raise the quality of services delivered specifically between:
Government-to-citizens (G2C)

Government-to-business (G2B)

Government-to-government (G2G)
E-governance helps reinforce the connection between communities and public officials, leading to a stronger, more accountable, and inclusive democracy.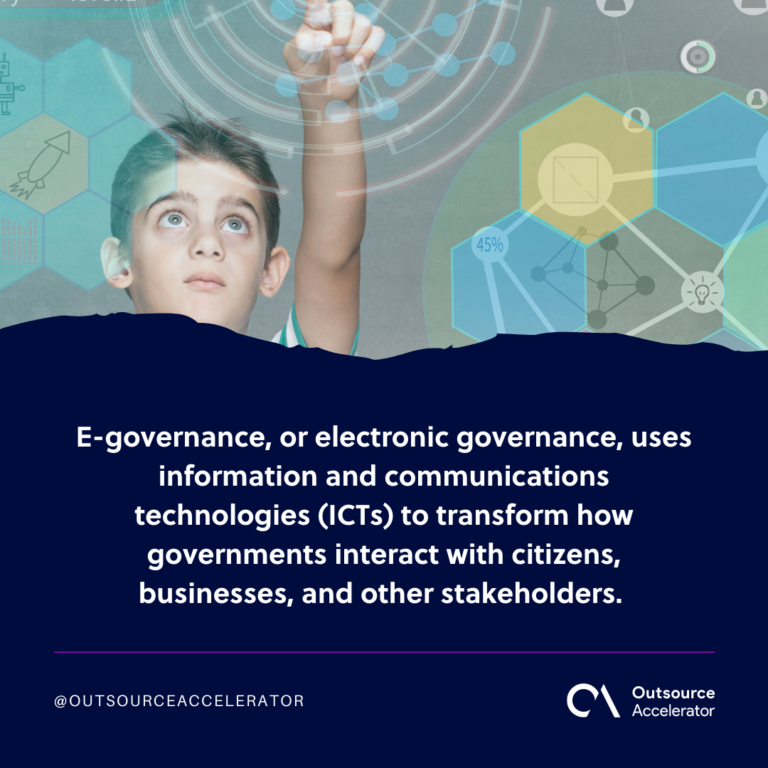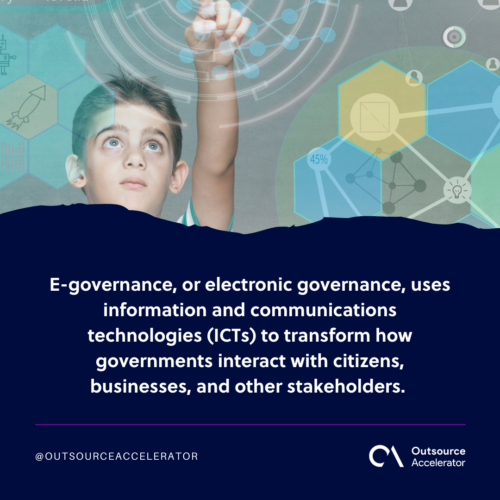 Importance of e-governance
The importance of e-governance cannot be overstated. In today's interconnected world, individuals have become accustomed to the convenience and speed of digital platforms. People expect the same level of efficiency from their governments. 
E-governance addresses this demand by utilizing technology to create a seamless experience for residents when interacting with the government. By digitizing administrative processes and services, governments can experience tons of benefits such as cost and time savings.
Components of e-governance
E-governance encompasses several key components that work together to create a robust digital governance ecosystem. The components of e-governance include:
E-services
E-services refer to the delivery of government services through digital channels. This includes online portals, mobile applications, and other digital platforms. 
E-services enable citizens to access government services from anywhere, at any time, without having to visit government offices in person. 
Examples of e-services include online tax filing, digital banking, passport applications, and driver's license renewal.
E-participation
E-participation is where digital platforms and mechanisms are used to engage people in the policymaking process. This includes online consultations, surveys, feedback mechanisms, and online voting systems. 
E-participation fosters inclusivity and empowers residents to contribute to policy formulation. This component gives the ability to provide input on government policies and programs and collaborate with government officials and other stakeholders.
E-democracy
E-democracy is where digital tools and platforms are used to facilitate democratic processes. This includes online voting, citizen initiatives, e-petitions, and other forms of digital participation. 
This part of e-governance enables citizens to participate in the political process more easily and effectively and to hold government officials accountable for their actions. It strengthens the democratic fabric by enabling people to engage with the government and voice their opinions.
E-administration
E-administration involves taking advantage of digital technologies to improve the efficiency and effectiveness of government operations. 
This includes using electronic records, digital signatures, workflow automation, data analytics, and other tools to streamline administrative processes. 
This component optimizes resource allocation and reduces bureaucratic delays, providing better services to residents.
E-information
E-information means providing information to citizens in a digital form. This includes online portals, social media, and other digital platforms where you can get access to government information, policies, and services.
This element of e-governance enables people to access government information easily and quickly, and to stay informed about government policies and programs. It ensures transparency and empowers people to make informed decisions.
Examples of e-governance initiatives
Several countries have implemented successful e-governance initiatives. Here are some examples of e-governance initiatives:
Digital India
The Digital India initiative aims to transform the South Asian nation into a digitally empowered society and knowledge economy. 
The initiative includes the development of digital infrastructure, the delivery of government services through digital channels, and the promotion of digital literacy and skills.
In 2006, the e-Kranti National e-Governance Plan (NeGP) was initiated to cover a wide range of domains, including:
Agriculture

Land records

Health

Education

Passports

Police

Courts

Municipalities

Commercial taxes

Treasuries
Through Digital India, the government has streamlined service delivery, improved transparency, and increased citizen participation.
Smart Nation Singapore
Singapore is renowned for its advanced e-governance systems. The country has developed a comprehensive suite of e-services under the Smart Nation scheme.
Examples of digital government services under the scheme include:
Singpass – A national digital identity.

Myinfo – A centralized citizen data repository.

LifeSG – A one-stop portal for government services.
According to the Singapore government, their e-governance plans aim to use tech-enabled solutions. The goal is to empower citizens to live, work, play, interact, and transact better with each other and the government.
South Korea's Digital Government
South Korea has long been a player in the e-governance realm. By the 2000s, the country had already integrated e-government practices.
South Korea's Digital Government initiative has implemented a comprehensive e-governance system. It includes digital identities, online services, and other tools to enhance government operations and service delivery.
It has been recognized as one of the most advanced in the world. In fact, the South Korean Digital Government recently ranked first in both the Word Bank GovTech Maturity Index (GTMI) and the OECD Digital Government Index.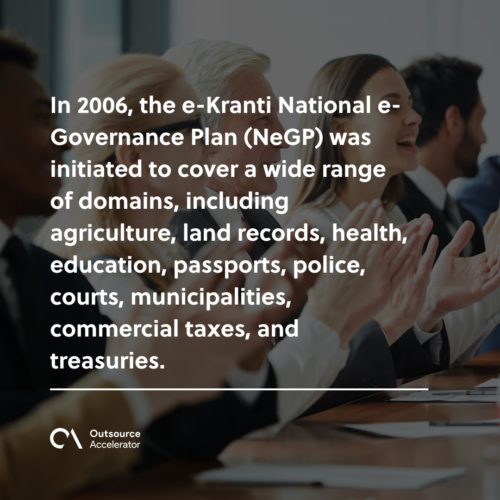 Benefits of e-governance
E-governance offers several advantages for governments and citizens alike, such as:
Increased efficiency and transparency
E-governance streamlines administrative processes, reduces paperwork, and automates repetitive tasks, leading to improved efficiency and faster service delivery. 
It also promotes transparency and accountability, as people can track government activities and hold officials accountable for their actions.
Improved access to government services
This type of technology eliminates geographical barriers and enables national residents to access government services anytime, anywhere. 
Online platforms and digital portals offer a convenient channel for people to interact with the government and avail of services without needing physical presence. This can be especially beneficial for residents in remote or underserved areas.
Enhanced citizen participation and engagement
Utilizing e-governance provides people with platforms to voice their opinions, contribute to policy-making, and participate in decision-making processes. 
This increased engagement fosters a sense of ownership and strengthens the relationship between citizens and the government.
Cost savings
E-governance reduces the cost of service delivery by automating processes and eliminating the need for physical infrastructure and paperwork. Governments can redirect saved resources towards other priority areas, benefiting the administration and communities.
Reduced corruption
By digitizing processes and increasing transparency, e-governance minimizes opportunities for corruption and malpractice. 
Digital systems enable the tracking and monitoring of transactions, reducing the scope for fraudulent activities.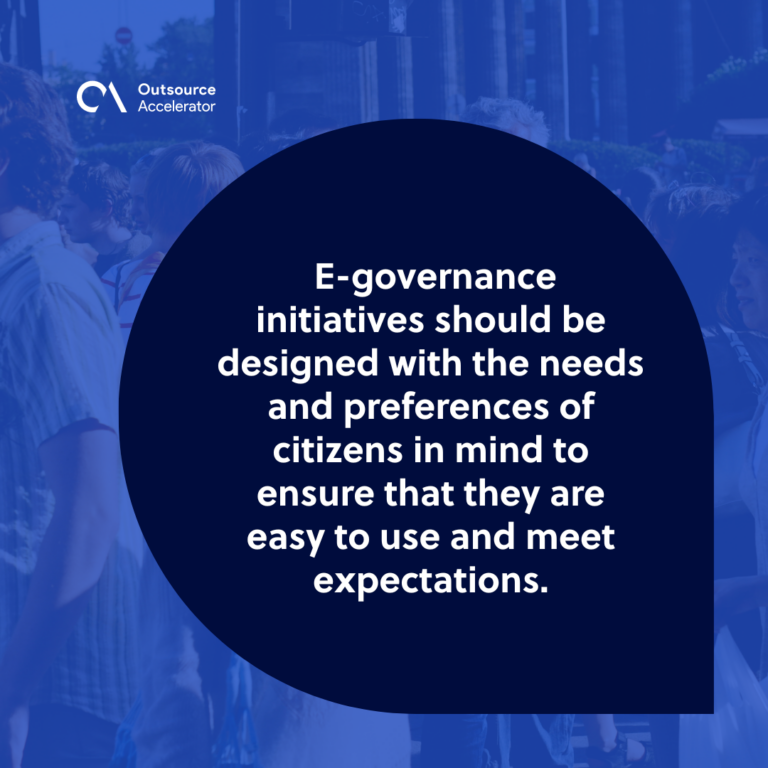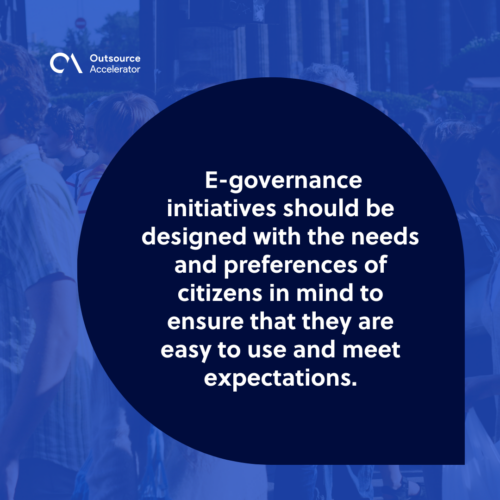 Challenges of e-governance
While e-governance offers many benefits, it also presents several challenges. Here are some of the key challenges:
Digital divide
The digital divide refers to the gap in access to technology and digital literacy between different segments of society. E-governance can exacerbate existing inequalities if not implemented carefully. 
Governments must ensure equitable access to digital infrastructure and provide training and support to bridge this divide. Citizens without access to digital technologies or skills may be left behind.
Cybersecurity concerns
Cybersecurity has become a critical issue with the increasing reliance on digital platforms. E-governance can be vulnerable to cyber-attacks and other security threats, compromising sensitive government information and undermining citizen trust.
Governments must invest in robust cybersecurity measures to protect sensitive citizen data and secure digital transactions.
Resistance to change
E-governance requires a significant shift in mindset and working culture. Resistance to change from government officials and nationals can impede the successful implementation of e-governance initiatives. 
Governments must invest in change management strategies and create awareness about the benefits of e-governance.
Lack of skills and training
The successful implementation of e-governance requires skilled professionals who can design, develop, and maintain digital systems. Governments must invest in training programs to build the necessary skills and expertise within the administration.
Legal and regulatory compliance
E-governance initiatives must adhere to legal and regulatory frameworks to protect citizen rights, privacy, and data security. Governments must establish robust legal frameworks and compliance mechanisms to address these concerns.
Best practices for e-governance
To maximize the benefits of e-governance and minimize the challenges, governments should look into how to implement it best. 
Here are some examples of best practices in e-governance:
User-centered design

– E-governance initiatives should be designed with the needs and preferences of citizens in mind to ensure that they are easy to use and meet expectations.

Collaboration and partnership

– Governments should collaborate with the people, private sector organizations, and civil society to co-create and implement e-governance initiatives. Such collaborations enhance the effectiveness and inclusivity of e-governance systems.

Standardization and interoperability

– Governments should adopt standardized formats and protocols for data exchange and

interoperability

between different e-governance systems. This ensures seamless integration and sharing of data across various platforms.

Continuous improvement and innovation

– E-governance is an evolving field, and governments must continuously evaluate and improve their systems. Regular feedback, data analysis, and innovation should be integral to the e-governance framework.

Inclusive approach

– E-governance initiatives should be inclusive and accessible to all citizens, regardless of their digital skills or socio-economic status. Measures should be taken to bridge the digital divide and support marginalized communities.
E-governance has the potential to transform the way governments interact with citizens, businesses, and other stakeholders. 
As we move towards a more digital future, unlocking the full potential of e-governance will be crucial for creating inclusive and effective governance systems.