Digital CX: Build up your digital customer experience journey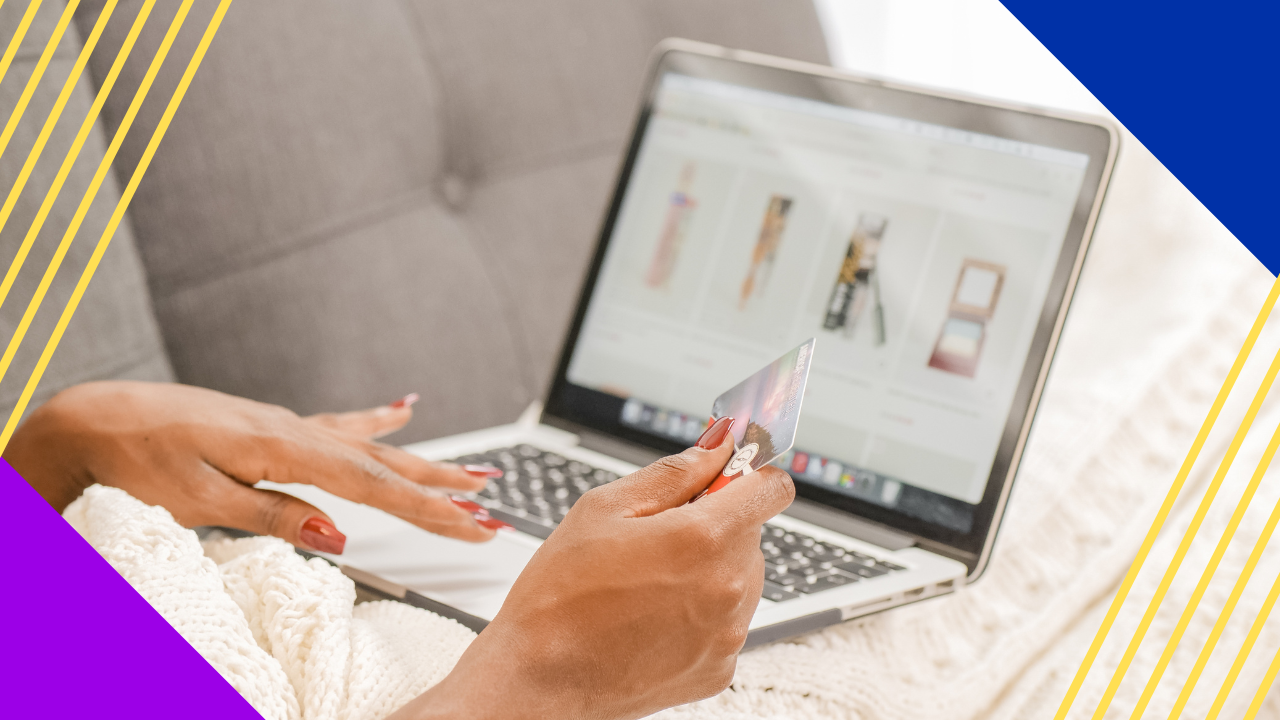 To stay relevant in today's digital world, businesses are required to be available on different digital cx platforms. This includes being accessible on mobile applications, websites, social media, and the like. 
These digital channels allow your customers to reach out, interact, and engage with your brand. It also lets you widen your scope, promote your products and services, and establish your identity in the market. 
However, despite having the opportunity to be present across multiple digital channels, it also comes with several challenges. 
The demands of digital consumers are constantly changing. This is why you have to continuously work on your digital cx to keep up with your customers' needs.  Most especially, be successful on your customer experience journey. 
What is digital cx?
Digital customer experience ("Digital CX") refers to your customers' overall perception towards your brand. It deals with all digital interactions between your customers and your business. 
Either it is through your marketing efforts, sales, customer service or support, you need to create a lasting impression on your target consumers. To boost your customer experience journey, you have to take full advantage of the current technologies and digital strategies.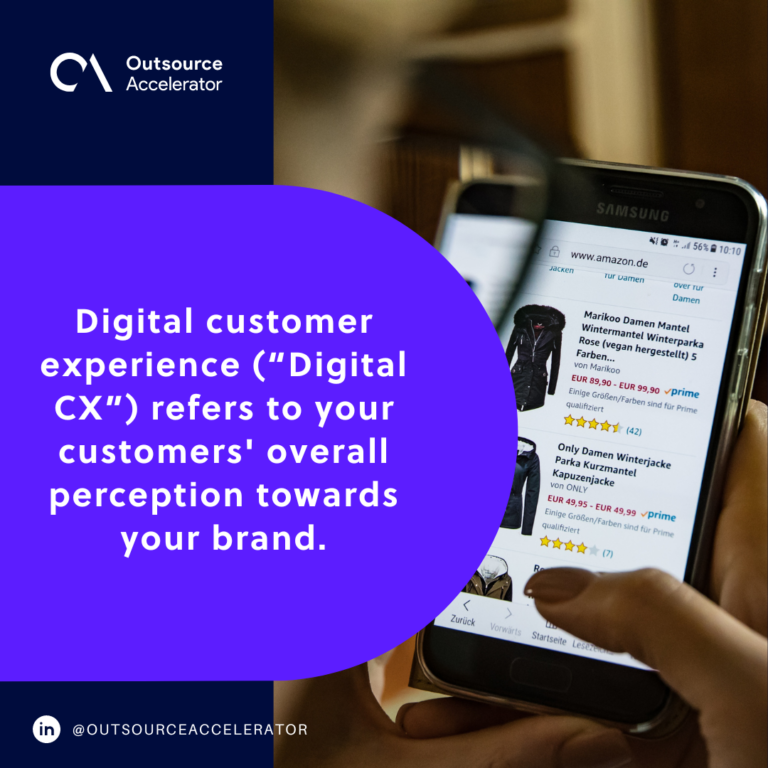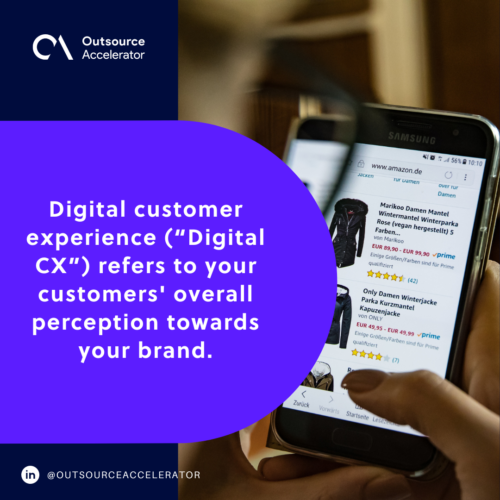 Why does your digital cx matter?
Your customers prefer the same customer experience they receive from all your communication channels. More importantly, these days, consumers require a more personalized customer experience towards various digital platforms. 
Examples of these digital CX platforms include social media channels, your website, mobile app, live chat, and email. 
Further, companies that adapt digital transformation into their business landscape are able to successfully keep track of such consumer behavior. In fact, one study shows that multichannel customers spend 10% more on different online platforms than single-channel customers. 
Take note that customers nowadays have tons of options for certain products or services, but their customer journey will mainly influence their buying decisions. Thus, customer experience will serve as a key element in choosing what brand to transact with rather than the actual product or price. 
Outsourced customer service provider Helpware can assist you in starting your digital CX journey. With their team of skilled support representatives, your brand awareness and competitive advantage are ensured to rise across various customer channels.
How to build up your digital cx journey
Your digital customer experience should focus on different digital touchpoints that you utilize to connect with your customers. To enhance your digital cx journey, you need to have a clear understanding of your customers' digital experiences. 
Here's how you can improve your digital cx journey: 
Gather insights to your digital customer experience
Since you interact with your customers through different channels and touchpoints, you also have multiple options in collecting data: 
For your social media channels, you can make use of monitoring and management tools. These tools help you track your social media platforms and respond to your customers effectively. 

As for your customer service and support, you may use Customer Relation Management (CRM) tools. A CRM tool allows your customer service and sales teams to directly communicate with your customers. 

Customer analytics also lets you determine how your customers utilize your services. 

Customer experience surveys are the most common method to gather direct customer feedback. Examples for these are

Customer Satisfaction (CSAT)

, Net Promoter Score (NPS), and more.  
Discover actionable informations on your digital cx
Now that you have collected insights to your consumers digital cx, it is time to uncover valuable information that you can act upon: 
Read through your customer experience surveys in real-time. This also enables you to address certain questions or issues immediately. 

Classify your gathered information according to specific keywords, like location, specific product, and customer service. 

Divide each classification into negative or positive feedbacks. 

Be mindful of the trends in your gathered information. Compare all insights from your surveys, CRM, CX scorers, and customer analytics. 

Results will help you identify what areas in your digital cx journey you need to focus on.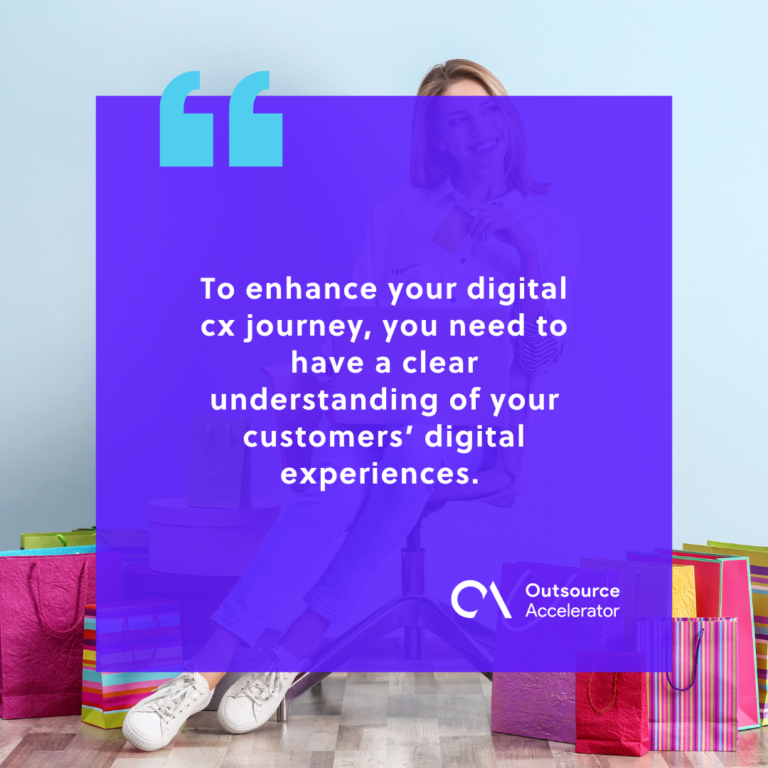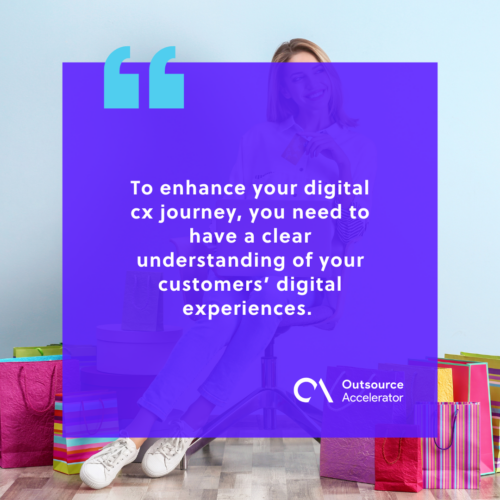 What you can do to enhance your digital cx
Besides providing quick and personalized customer service experience, you should also focus on the following: 
Transform your happy and satisfied customers into advocates

. One of the most authentic ways to promote your products and services is through your customers. You can do this by offering discounts or freebies to your loyal customers.

Reach out to your passive customers

. Your data results will also reveal who your passive customers are. It is also essential to follow up on these customers and engage proactively. Get to know how you can persuade them to make business with you. 

Learn from your unhappy customers

. Constructive criticism, negative feedback, and complaints should be viewed as opportunities to improve on your services and offerings. 
Significance of digital cx to your business
Working on your digital cx allows you to take advantage of these significant benefits: 
Excellent and effortless digital customer experience journey.

Loyal customer base and improved brand recognition.

Promote an empowered workforce.

Maintain and nurture good customer relationships.

More efficient and productive daily operations. 

Competitive advantage on traditional businesses. 
Yes, there are plenty of available digital channels. However, with the right platform and processes, you can further scale up your digital cx journey.