Generation CX: How it is reshaping the market industry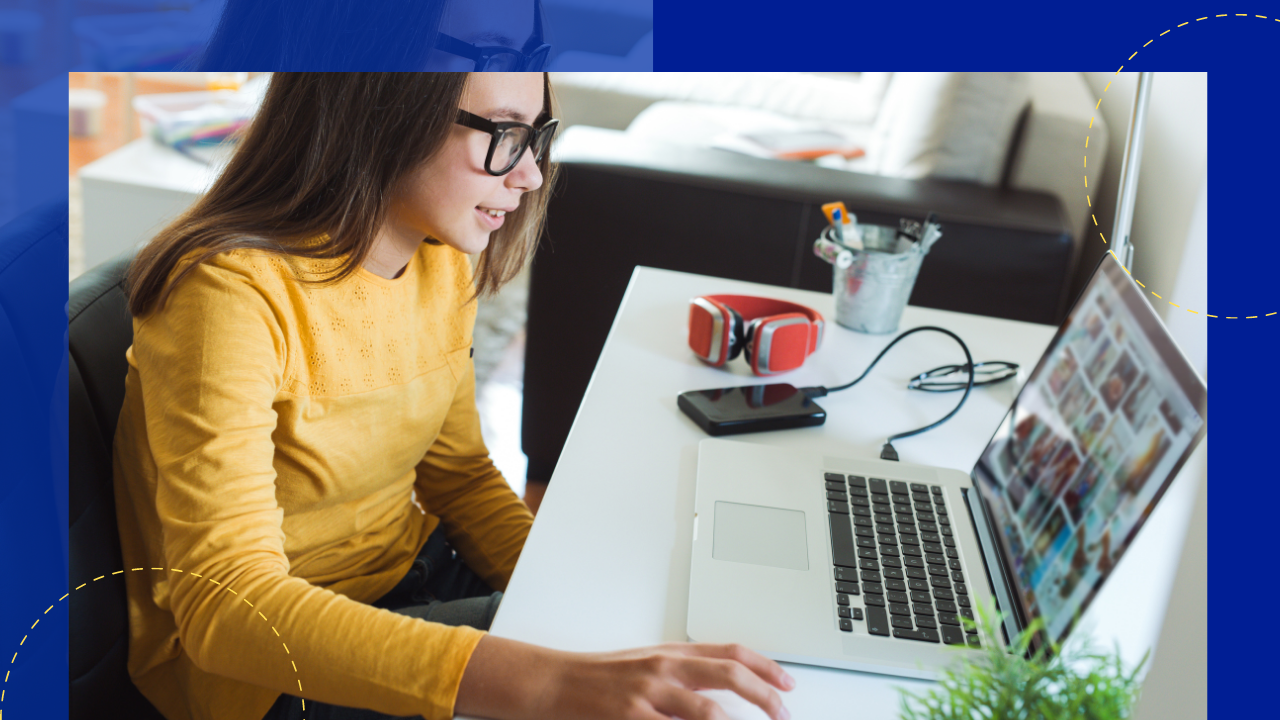 Today's generation is indeed far more different from how it was a few decades ago. From baby boomers, Gen X, and millennials to Gen Z, technological developments have traversed generations. And now, technology has entered a new era.
Compared to the bygone era, customers in the 21st century have better and more convenient ways to access information, reach out to brands, and even purchase. Apart from smartphones, tablets, and laptops, the digital age would not be possible without the internet. 
Tech innovations at our present time are continuously transforming every customer journey. This is why brands must always take into consideration their customer experience (CX) digitally. 
But when we speak about generation CX, how is it exactly transforming the entire market industry? Better yet, what is generation CX? How do technology and the internet change customers' behavior in this modern era?
What is generation CX?
Generation CX is a clear representation of our modern-day customers. As for customer-centric businesses, the key essentials in today's market industry survival are two things. They are to strengthen customer relationships and boost customer experience. And generation CX is at the heart of it all. 
There isn't a specific age group that constitutes generation CX. They can be as old as baby boomers or as young as the Gen Zers.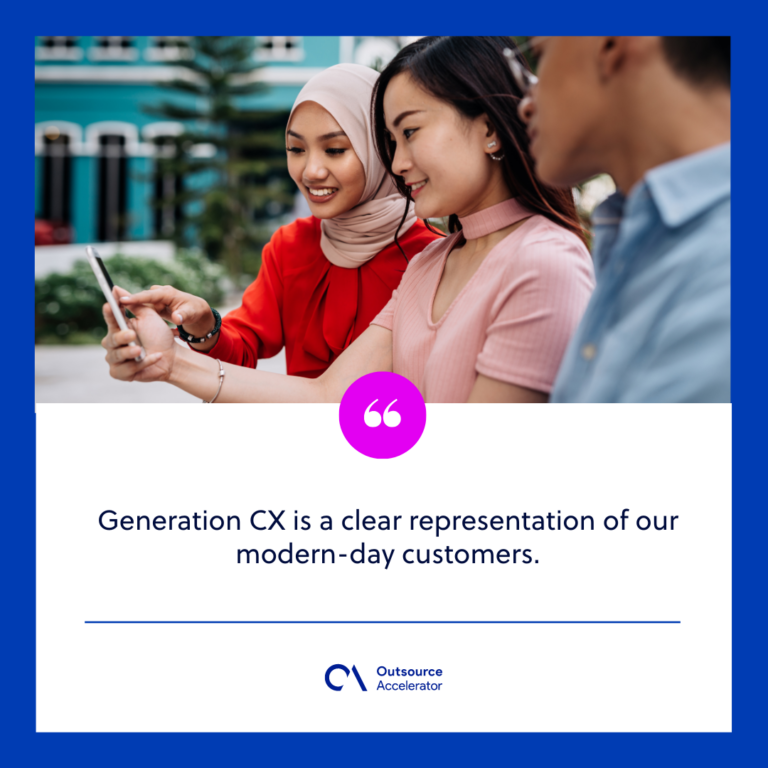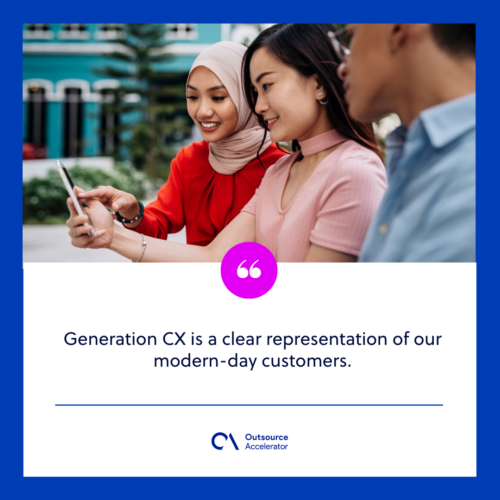 Generation CX: Baby boomers vs Gen X vs millennials vs Gen Z in the digital age 
Generation CX refers to anyone in the consumer market today—highly discerning and technologically driven. From baby boomers, Gen X, millennials, and Gen Z, anyone can be an active player in shaping the customer experience landscape.
Baby Boomers
Baby boomers are the people that were born at the end of WWII, 1946 to 1964. These are people that are now on their retirement age. Boomers are more likely to spend an hour or more on the internet out of all age groups. 
Generation X
Generation X, or Gen X, are the people born in the mid-1960 to 1980. These people are now at the peak of their working careers. As per the 2019 Pew Research, 93% of gen X are utilizing their smartphones to access the internet. 
Millennials
Millennials, on the other hand, are the children of Gen X. These are people born between 1981 to 1996. They are considered the first generation that grew up with smartphones and social media. 
Generation Z
Lastly, Gen Z or Gen Zers are people born from 1997 onwards. Millennials and Gen Zs live in an era where technology and the internet have thrived. 
However, there is no doubt that Gen X and baby boomers have now also adapted to the modern age. 
In Generation CX, the availability of the internet and technology is significantly affecting the customers' wants and needs. Thus, baby boomers and Gen X have now also learned to demand the same levels of customer experience as millennials and Gen Zs.  
Generation CX in today's retail industry sector
Generation CX is the people that are highly reliant on technology and the internet. In terms of buying behavior, they make purchase decisions based on the following: 
A generation CX customer buys a product according to when they want to consume it. This is when delivery time becomes crucial.

A generation CX customer makes a purchase depending on the platform they want. It can be through an online application, a brand's website, or a physical store. 

A generation CX customer makes a transaction according to their preference. For example, when buying coffee — 25% sugar, with whipped cream.  
In terms of brands, there are three key behavioral points to consider in dealing with generation CX consumers:
Generation CX prefers "Instagrammable" or "Instaworthy" products. It does not only mean Instagram, but it also includes other social media channels like Facebook and Twitter. 

Generation CX chooses products and services that they can relate to. Usually, they won't purchase unless they've done their research. They rely on customer reviews on a brand's site, YouTube, and social media platforms. 

Lastly, gen CX consumers prefer brands that are evolving according to their demands. For example, fast-food chains transitioned to online deliveries to meet the needs of consumers.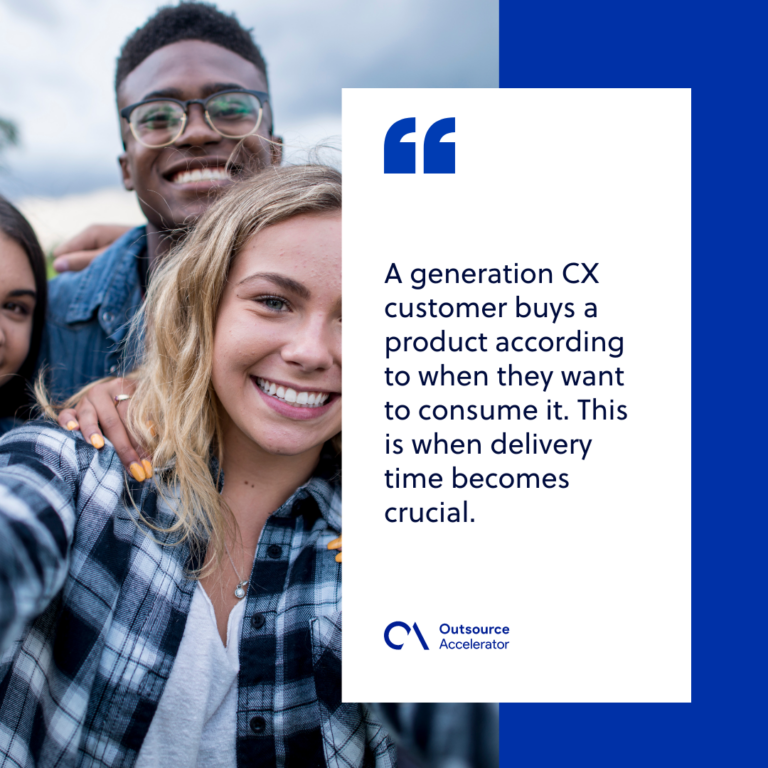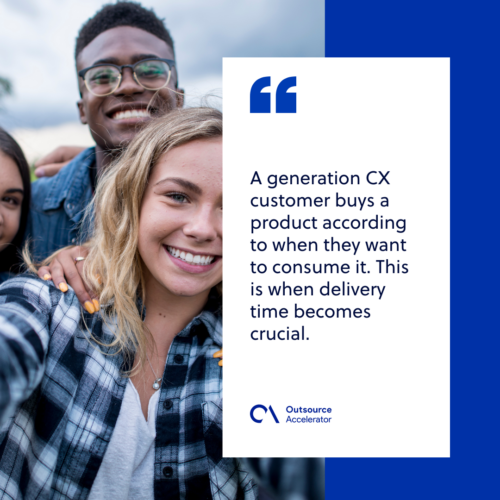 Generation CX: The era of high customer expectations
According to recent research performed by Oracle, today's era is composed of customers with very high expectations. It showed that 96% of customers require brands to have high speed, responsiveness, and accessibility to different social channels.  
Speaking of bad customer experience, 93% of customers will take actions that will have negative impacts on businesses.  
The accessibility of smartphones and various applications makes it easier for generation CX to learn about a brand, make a transaction, leave a review that can make or break a business, and reach out to customer service. 
Businesses today have to keep up with the demands of today's generation CX to maintain their competitive edge in the market industry.