Unforgettable customer retention tips and strategies for your business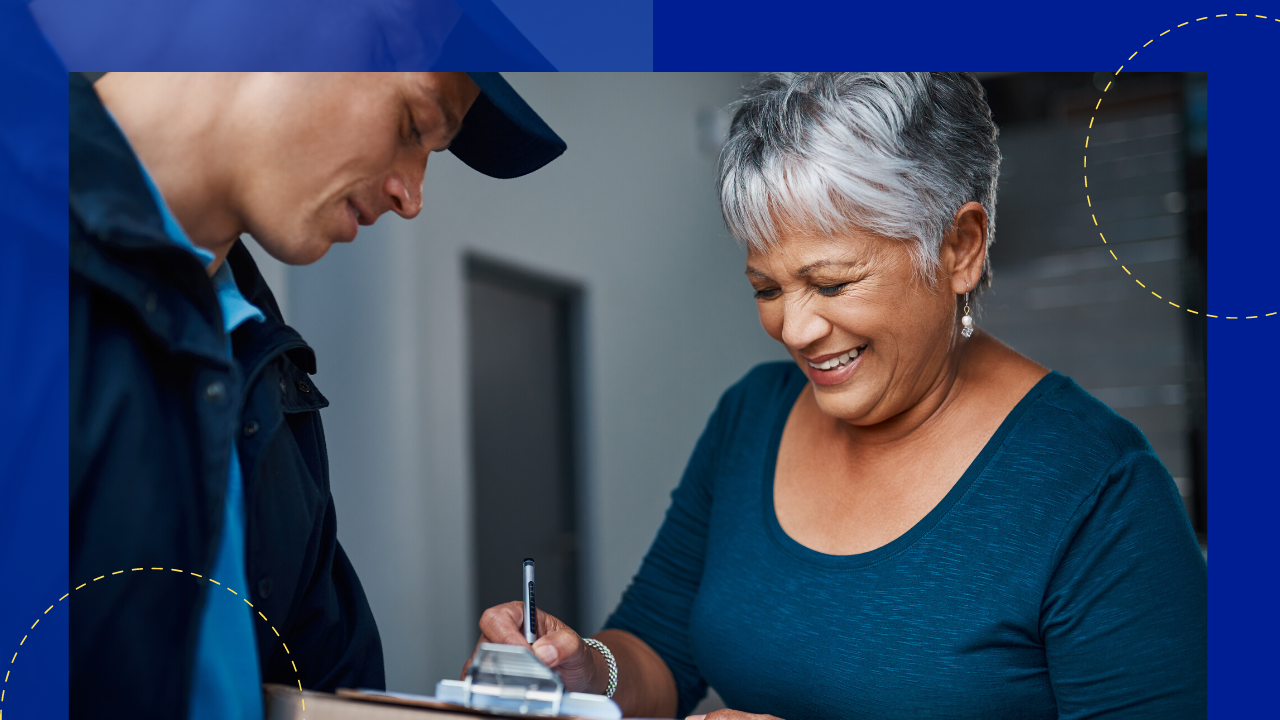 It's not simple to stay competitive in the digital era. Consumers are continually flooded with sophisticated advertisements attempting to persuade them to switch to another company or service, and it just could succeed if you don't have a solid client retention plan in place.
Customer retention has a lot of benefits for any industry. It is not only cost-effective, but it's also an excellent branding exercise for delighting consumers and turning them into brand advocates. 
With this comprehensive guide, it's time to boost your customer retention strategies.
What is Customer Retention?
Customer retention is the process of encouraging existing consumers to buy products or services from your company again. 
Customer retention also measures the company's or a product's capacity to keep customers for a set amount of time. Customers who use a product or service frequently return, continue to buy, or in some other way do not defect to another product or service or stop using it.
Customer retention is not the same as acquiring new customers or generating leads. It focuses on clients who have previously purchased a product or signed up for a service from you.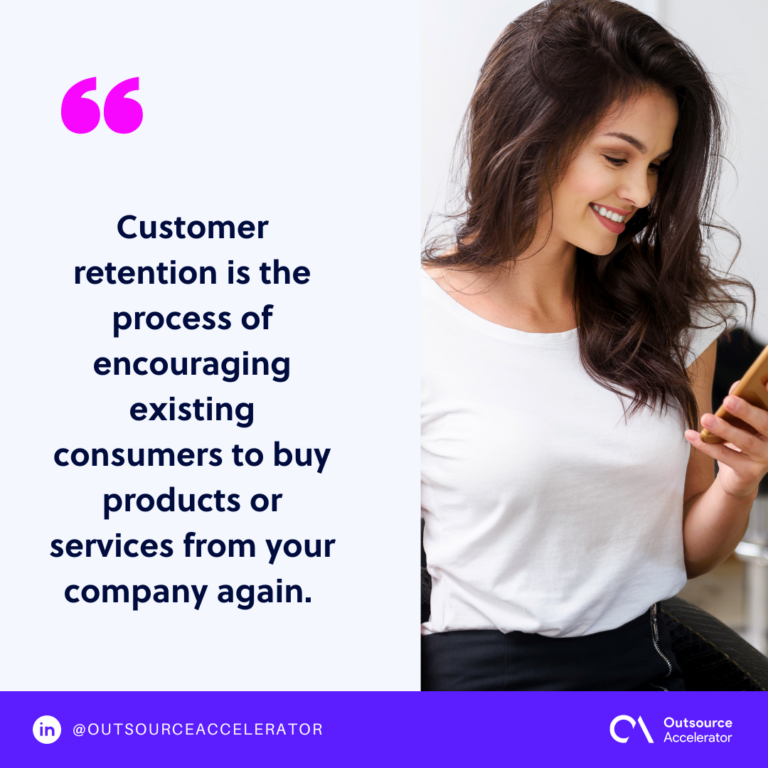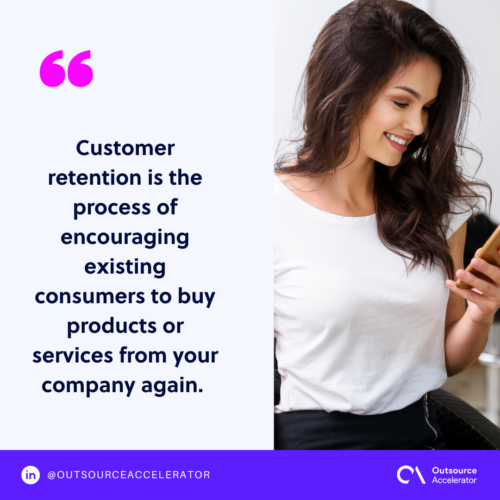 Customer Retention Benefits
While acquiring new customers is vital for company success, fulfilling the demands of your current customers is just as crucial.
Businesses who employ an excellent customer retention strategy will have the following advantages:
Customer retention is profitable
Repeat consumers account for a large amount of a company's income because they are more likely to purchase your products again. Increasing client retention rates by 5% improve profitability by 25% to 95%, based on the study of Harvard Business Review.
Regular customers will be more receptive to price hikes. The objective aim is lifetime revenue, not just momentary revenue.
Save in marketing expenses
Your current consumers are already aware of your goods and services. Word-of-mouth referrals from satisfied consumers might be more profitable and reputable than any marketing campaign.
Increase the number of customers
To be ahead of your competitors, you must continuously improve your products and services, and loyal customers may assist you in accomplishing this by providing positive feedback, recommendations, and word of mouth.
Customer retention builds regular customers
The relationship development between the company's employees and customers entails customer retention. Everyone benefits from good relationships. It's a win-win situation. Transactional sales, on the other hand, are just that.
How to measure customer retention?
Customer retention is an essential key indicator to measure since it is a critical indicator of your company's performance. Here is the formula to calculate your customer retention rate:
Calculate the number of clients you have after a specific period. It could be per week, month, or quarter of the year.

Subtract the total number of new clients you've gained throughout that time.

Divide the number of clients you had at the start of the term from the total.

Then double that by a factor of a hundred.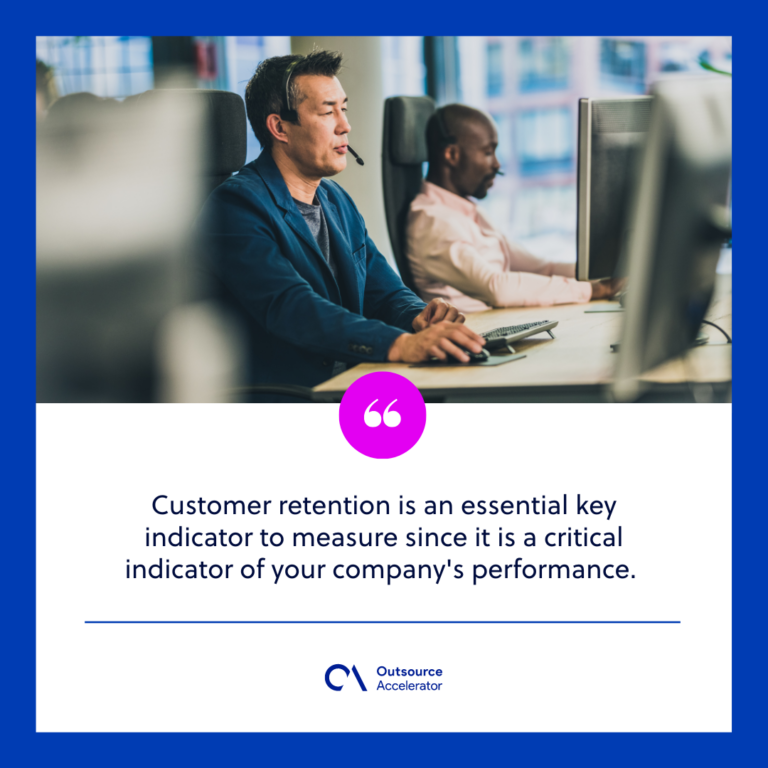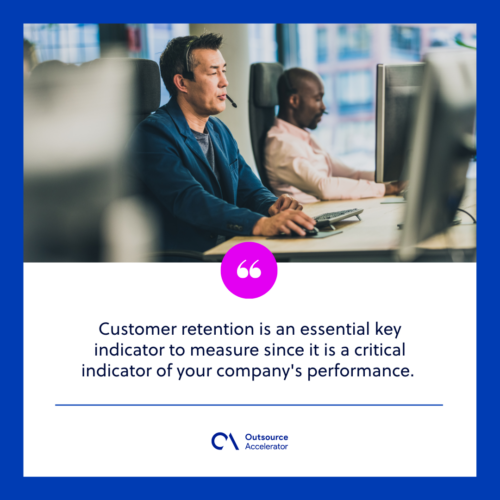 What is the average customer retention rate?
A reasonable customer retention rate is crucial to your business's success. To keep ahead of the competition, business owners all around the world are upgrading retention techniques. 
The ideal customer retention allows you to build long-term connections with customers who will become brand loyal. They may even spread the news throughout their circles of influence, making them brand ambassadors.
The customer retention rate may depend on what industry your business is in. The customer retention rate for most industries is less than 20%.
For example, in the media and financial sectors it is around 25%. Online firms, such as e-commerce and SaaS enterprises, have a client retention rate of roughly 35%.
What are the strategies to improve customer retention?
Customer retention strategies allow you to deliver and extract additional value from your current clientele. You want to ensure that the clients have a positive experience with your goods and keep deriving value from them.
Set your sales targets
To begin, determine your current client retention rate. Take into account the size of your consumer base as well as the products you sell. Some items are specifically designed to keep customers coming back.
For example, refillable household supplies such as dishwashing soap and toiletries. These products have more potential to increase customer retention rates.  
Keep track of and analyze churn statistics
Organizations should carefully measure and explore the number of customers who churn and the reasons for their departure. A firm losing consumers due to a poor pricing strategy will require a different improvement plan than losing consumers due to a broken customer service program. Track your statistics to see where your churn is coming from.
Create a customer feedback loop
It is essential to know how consumers feel about your business to enhance it. To begin keeping consumers, you'll need a plan for collecting customer feedback. Then, you'll need to efficiently communicate it with the rest of your company. 
It is where a feedback loop with customers comes into play. It offers a mechanism for gathering, evaluating, and disseminating client feedback and surveys.
You can start a customer feedback loop with these simple steps:
Ask about customer feedback.

Sort the input into categories.

Take action in response to the customer's feedback.

Follow up with customers who provided feedback.
Keep track of all customer communications calendars
The importance of excellent customer communication is vital for every business. It may promote consumer engagement, raise the market share, improve your reputation, and attract fresh ideas from the most legitimate source of feedback available to you. 
Even if your consumers aren't reaching out with comments, your staff should communicate with them regularly. If your clients haven't connected with your brand in a long time, you should reach out and re-establish contact.
Overall, a successful customer communications strategy is critical for increasing customer loyalty and retention.
Give discounts and surprise gifts
Surprise gifts and discounts are one method to show your consumers how much you value them. You may give them a discount on things they buy regularly, as well as a brief and quick letter from the customer care staff explaining why they are being surprised.
Your company's brand and style will determine the specific phrasing of the message. But, it should be clear that they are receiving this discount because they are a loyal client.
Create customer loyalty or membership cards
Another option is to create a VIP list for your returning customers and give them exclusive deals. Build customer loyalty by providing great rewards relating to your company, product, or service with every transaction.
Customers will benefit from this since they will receive a discount and feel valued as a sole club member.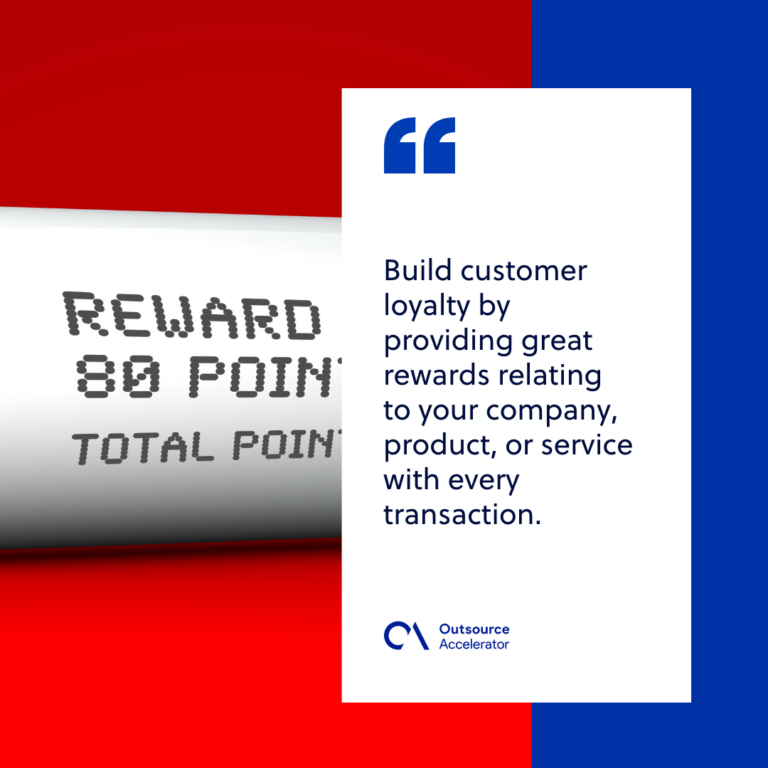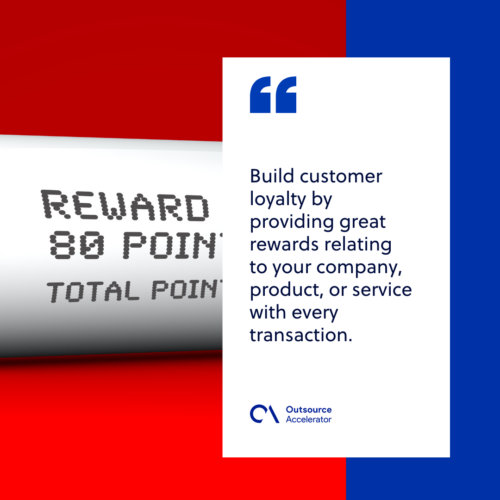 Utilize social media to its full potential
Social media is today's best platform to reach out to potential consumers and give updates to your loyal customers. After the initial transaction, social networks are highly effective for keeping in touch with customers.
By showcasing the human aspect of your business on social media, you can engage your consumers and establish trust. 
By delivering excellent customer service through social media, it can improve the negative perception of your followers. People may also ask inquiries, register complaints, and resolve product issues quickly through this platform.
Also, posting promotions and discounts motivates customers to return, it also increases brand recognition. Use it to show that your business listens to and cares about its consumers.
Improve customer service KPIs. The key performance indicator (KPI) will expose everything, including firm performance and consumer happiness. This is because they assist you in seeing what the future holds for your company and the path you should take.
You can identify what makes your clients happy or dissatisfied by carefully reviewing your key performance indicators.
Further, here are the most critical KPIs for better customer engagement:
Response time.

Response time is a metric that counts how soon you respond to emails, live chats, and sales calls from consumers.

Conversion rate.

This metric evaluates the relative response you get when you make a phone call, send or follow up an email, or engage in a live chat with a new or existing customer.

Funnel drop rate.

It's great to add new members to your list, but you should also keep track of how often they leave.

Actions per engagement. It is all of the actions and behavioral patterns that individuals engage in while your marketing strategies are running.
Update the communication calendar regularly
A communication calendar helps connect with your consumers regularly. The calendar is essentially a pre-programmed series of events, phone calls, special offers, handwritten messages, that you send to your consumers using automation software.
It is usually simple for brands that keep a communication calendar to engage with their customers. Because frequent communication minimizes post-purchase doubts, increases confidence, and persuades the buyer to return.
Make use of gamification
Gamification is a fun method to thank loyal consumers for helping your business, and it's an effective method. You can provide clients a discount for referring a friend, redeemable points for every purchase, or a visual appreciation increase in the form of a badge.